THE BLOOD OF JESUS CLEANSES YOU FROM ALL SIN AND GUILT (1 JOHN 1:7). JESUS IS THE DELIVERER!!

DEMONBUSTER.COM
DELIVERANCE MANUAL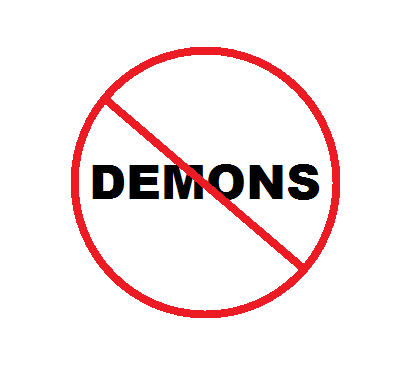 NO DEMONS ALLOWED

ALLOWING GOD TO MINISTER
IN YOUR LIFE

FROM ANOTHER DELIVERANCE MINISTRY
Faith always believes in change. satan desires to trap us. We should desire to be sifted like wheat and let God shake everything that is not of HIM out of us. We are in the signs of the times and we are seeing more and more people being trapped by the devil. Hebrews 12:27 says we are in the signs of the times as in Luke 21st Chapter. Licentiousness, and laziness are not God's idea. We need to arise up bigger than our problems and not walk about in fear. Fear begins with negativism. God never does anything in our life except help us to grow! It is time to kick against the rocks in our path and get those rough spots out of our lives.
We have the robes of righteousness on our back and we can walk victoriously in JESUS! God did not put the word "defeat" in front of our path. Give God Praise for the Praise He has made in your life. But begin to focus your thoughts, your heart, and your very being on the victories in this year. I believe that this year will be one of the greatest years in your life. Do not let the enemy try to intimidate you but WIN in JESUS! satan only works through your five senses and affects your emotions which has the biggest effect on your life. If you learn not to walk by your five senses then you can Overcome these areas that have been and are being shaken. Remember the Spirit is first and then the physical. The only areas that satan will attack you in is your physical, emotions and financially.
We must begin to separate ourselves from old life styles and learn to Overcome. God has given us power over the enemy! Every evil spirit, every dumb spirit, every infirmity, every spirit of divination, every perverse spirit and spiritual blindness must fall by the wayside. Everything not of God must be shaken out of us! If we are going to walk victoriously in this year, we have to believe that we can Overcome.
Colossians 3:8 refers to the old way or the old man. We must put away anger, wrath, malice, blasphemy, filthy language, and lies so as not to fall into those traps or fall into unrestrained spiritual hypocrisy. [DELIVERANCE is needed here.]
Unclean spirits give us unclean thoughts and actions. According to Mark 7:25 I believe the devil comes in at a very early age. Do not turn your back on the devil. Be wise and look at the situation. Do not be afraid to face your problems. You are made to be more than a conqueror and an Overcomer. In JESUS we WIN!
Let this year be your year of victory. We want to encourage you that no matter what you have been facing, your God is bigger than any problem. HE has made us to overcome every unclean spirit!"[CAST THOSE DUDES OUT IN THE NAME OF JESUS!]

JESUS IS THE DELIVERER
DON'T STOP HERE! SEE OUR INDEX FOR MORE ARTICLES.
THERE IS NO HATE, MALICE, RACISM, ETC. ON THIS SITE. THESE ARE SINS IN THE EYES OF GOD, AND ARE ALSO DEMONS. THE BIBLE MAKES IT CLEAR THAT SIN CANNOT GET INTO HEAVEN.