THE BLOOD OF JESUS CLEANSES YOU FROM ALL SIN AND GUILT (1 JOHN 1:7).
JESUS IS THE DELIVERER!!

DEMONBUSTER.COM
DELIVERANCE MANUAL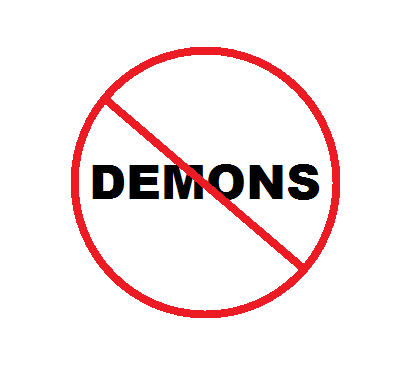 NO DEMONS ALLOWED

FALLEN ANGELS ARE NOT DEMONS
THE DEVIL IS NOT LUCIFER

If you think that demons are fallen angels, check out these three Scriptures.
Matthew 25:41 - "Then shall he say also unto them on the left hand, Depart from me, ye cursed, into everlasting fire, prepared for the devil and his angels:" -- Jesus did not say "devil and his demons"!
2 Peter 2:4 - "For God did not [even] spare angels that sinned, BUT CAST THEM INTO HELL, delivering them TO BE KEPT THERE in pits of gloom TILL THE JUDGMENT AND THEIR DOOM."
Jude 1:6 - "And angels who did not keep (care for, guard, and hold to) their own first place of power but abandoned their proper dwelling place - these HE HAS RESERVED IN CUSTODY IN ETERNAL CHAINS (bonds) under thick gloom of utter darkness UNTIL THE JUDGMENT AND DOOM OF THE GREAT DAY."
I have heard it said that these Scriptures were only for "some" of the angels. These Scriptures are very clear to me - all, not some.
Well, isn't the devil a fallen angel? NO! The Bible makes it clear that "satan" lead the revolt in Heaven. No place does the Bible say that satan was an angel. Wrong teaching says that "lucifer" and satan are the same. The word "lucifer" is only in the Bible one time, but is a very bad translation.

ANGEL BOARD - I saw a news program about an "ANGEL BOARD". The developer of the "game" said it was like a Ouija board, except you contacted "angels" instead of demons. Their demonstration showed it to be a Ouija board with a new name. This will probably make its way into many Christian homes and book stores once marketed.

JESUS IS THE DELIVERER
DON'T STOP HERE! SEE OUR INDEX FOR MORE ARTICLES.
THERE IS NO HATE, MALICE, RACISM, ETC. ON THIS SITE. THESE ARE SINS IN THE EYES OF GOD, AND ARE ALSO DEMONS. THE BIBLE MAKES IT CLEAR THAT SIN CANNOT GET INTO HEAVEN.