THE BLOOD OF JESUS CLEANSES YOU FROM ALL SIN AND GUILT (1 JOHN 1:7). JESUS IS THE DELIVERER!!

DEMONBUSTER.COM
DELIVERANCE MANUAL

OUR MAIN PAGE IS AT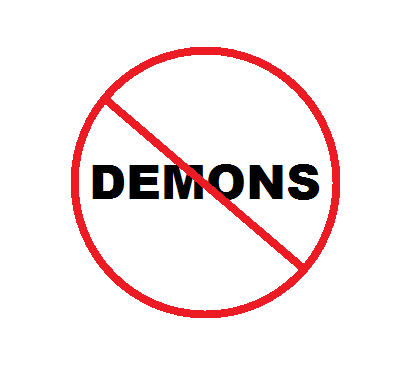 NO DEMONS ALLOWED

"TOUCH NOT MINE ANOINTED"

There are several sayings that are frequently repeated throughout the world by demons through the vocal cords of humans, in particular, "Christians".
1. "Christians cannot have demons."
2. "Light and darkness cannot dwell in the same temple."
3. "You must have a covering."
4. "TOUCH NOT MINE ANOINTED."
Well, guess what? It isn't what you think. It sounds good, when taken out of context.
If you say anything negative about any person thought to be "anointed", you get blasted with TOUCH NOT MINE ANOINTED. Both Scriptures where this statement is made is referring to "THE SEED OF ISRAEL, HIS SERVANT; O SONS OF JACOB, HIS CHOSEN ONES". It is not referring to Benny Hinn or anyone else you might think. You must read all the Scripture, and not just one line.
I Chronicles 16:12-22
12/ Remember His wonders that He has done. His signs, and the judgments of His mouth.
13/ O SEED OF ISRAEL, HIS SERVANT; O SONS OF JACOB, HIS CHOSEN ONES.
14/He is Jehovah our God, His judgments are in all the earth.
15/ Remember His covenant forever, the word He commanded to a thousand generations.
16/ Which He has made with Abraham, and His oath to Isaac;
17/ and He established it to Jacob for a statute, TO ISRAEL as a covenant forever,
18/ saying, I will give you the land of Canaan, the lot of your inheritance;
19/ when you were few in number, even very few, and sojourners in it.
20/ and they went up and down, from nation to nation, and from one kingdom to another people.
21/ He has not allowed any to oppress them; yea, for their sake he has reproved kings;
22/ TOUCH NOT MY ANOINTED ONES, and do My prophets no evil.
The above Scripture is repeated in Psalm 105:6-15. Halley's Bible Handbook says that Psalm 105 is a "Historical Psalm - a Poetic summary of Israel's History. Dwells especially on their Miraculous Delivery out of Egypt."

If your demons won't allow you to see this clearly, let's look at the word TOUCH.
Strong's Concordance number is 5060 - a prim. root; prop. to touch, i.e. lay the hand upon (for any purpose; euphem., to lie with a woman); by impl. to reach (fig. to arrive, acquire); violently, to strike (punish, defeat, destroy, etc.): - beat, (x be able to bring (down), cast, come (nigh), draw near (nigh), get up, happen, join, near, plague, reach (up), smite, strike, touch.
Now let's look at the word ANOINT.
Strong's Concordance number is 4899 - from 4886; anointed; usually a consecrated person (as a king, priest, or saint); spec. the Messiah; - anointed, Messiah.
4886 - a prim. root; to rub with oil, i.e. to anoint; by impl. to consecrate; also to paint; - anoint, paint.
The Eerdmans Bible Dictionary says, "It was important that Israel's kings be anointed, thus signifying royal competence - e.g. Saul, David, Solomon. In the Old Testament they were called THE LORD'S ANOINTED, a title applied specifically to Saul, David, and Solomon. In the Psalms it is a general title for the king. As such the Old Testament kings may be said to prefigure the great Anointed One, Jesus Christ."

JESUS IS THE DELIVERER
THERE IS NO HATE, MALICE, RACISM, ETC. ON THIS SITE. THESE ARE SINS IN THE EYES OF GOD, AND ARE ALSO DEMONS. THE BIBLE MAKES IT CLEAR THAT SIN CANNOT GET INTO HEAVEN.