THE BLOOD OF JESUS CLEANSES YOU FROM ALL SIN AND GUILT (1 JOHN 1:7). JESUS IS THE DELIVERER!!

DEMONBUSTER.COM
DELIVERANCE MANUAL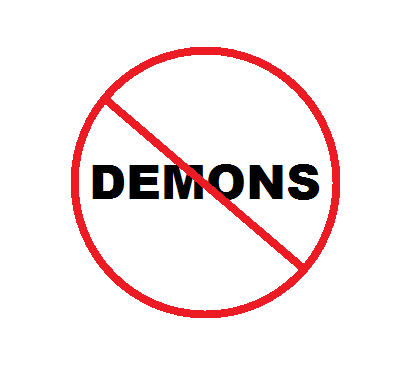 NO DEMONS ALLOWED

ANXIETY DEMONS TO CAST OUT

ANXIETY CAN BE CAUSED BY THE INIQUITIES OF OUR ANCESTORS (SEE THE INIQUITIES ARTICLE). BE SURE AND REPENT AND CONFESS THE SIN(S) THAT CAUSES ANXIETY. ONE COULD POSSIBLY BE NOT TRUSTING IN GOD.
CAST THESE DEMONS OUT IN THE NAME OF JESUS.

UNEASINESS
INTENSE FEAR
SENSE OF IMPENDING DOOM
PALPITATIONS
THROBBING, STABBING PAINS
FEELING OF TIGHTNESS AND INABILITY TO TAKE IN ENOUGH AIR
TENDENCY TO SIGH OR OVER BREATHE
HYPERVENTILATION
TENSION OF THE MUSCLES
HEADACHES
SPASMS IN THE NECK
BACK PAINS
INABILITY TO RELAX
RESTLESSNESS
TREMOR OF THE HANDS
SENSE OF TIREDNESS
DRYNESS OF THE MOUTH
FEELING OF DISTENTION
DIARRHEA
NAUSEA
CHANGES IN APPETITE
DIFFICULTY SWALLOWING
VOMITING
SEVERE PAIN MIMICKING SERIOUS ILLNESS
SWEATING
BLUSHING
PALLOR
CONSTANT NEED TO URINATE OR DEFECATE
DIZZINESS
YAWNING
LIGHTHEADEDNESS
UNCONSCIOUS CONFLICT
PARESTHESIA - PINS AND NEEDLES SENSATION
FIXED SPASM OF THE ARMS, WHICH PREVENTS THE MUSCLES FROM FUNCTIONING BY DEPRIVING THEM OF CARBON DIOXIDE
CONSTANT FEELING THAT SOMETHING BAD IS GOING TO HAPPEN
FEAR OF HAVING A CHRONIC ILLNESS
FEAR OF SAFETY OF FAMILY AND FRIENDS BEING IN DANGER
FEAR OF LOSING CONTROL
DEPENDENCE ON OTHERS
IRRITABILITY
FATIGUE
STATE OF BEING EASILY FRUSTRATED
DIFFICULTY GETTING TO SLEEP AND CONSTANT WAKING AND NOT BEING ABLE TO GET BACK TO SLEEP
FRIGHTENING DREAMS
DEPERSONALIZATION - THE SENSE OF BEING CUT OFF FROM ONESELF
DEREALIZATION - THE SENSE OF BEING CUT OFF FROM THE WORLD
FEAR OF LOSING LOVED OBJECTS
FEAR OF GOING MAD
RAISED LEVEL OF AROUSAL IN THE CENTRAL NERVOUS SYSTEM
REPRESSED UNRESOLVED CHILDHOOD EXPERIENCES (I.E. INCEST, RAPE, BEING LEFT ALONE, ABUSE, ETC.)
ANXIETY DISORDERS
HYPOCHONDRIASIS
DEPRESSION
PSYCHOSEXUAL DISORDER
MENTAL ILLNESS
ANXIETY NEUROSIS
PANIC DISORDERS - SUDDEN, INTENSE ATTACKS OF PANIC (EXTREME, UNREASONABLE FEAR AND ANXIETY)
PHOBIAS
IRRATIONAL FEARS
POSTTRAUMATIC STRESS DISORDER
OBSESSIVE - COMPULSIVE BEHAVIOR
PARANOIA
EMOTIONAL STRESS

JESUS IS THE DELIVERER
DON'T STOP HERE! SEE OUR INDEX FOR MORE ARTICLES.
THERE IS NO HATE, MALICE, RACISM, ETC. ON THIS SITE. THESE ARE SINS IN THE EYES OF GOD, AND ARE ALSO DEMONS. THE BIBLE MAKES IT CLEAR THAT SIN CANNOT GET INTO HEAVEN.