-- This is NOT the website of Gene Moody. It is the website of DEMONBUSTER.COM.

THE BLOOD OF JESUS CLEANSES YOU FROM ALL SIN AND GUILT (1 JOHN 1:7).
JESUS IS THE DELIVERER!!

DEMONBUSTER.COM
GENE AND EARLINE MOODY
DELIVERANCE MANUAL

MAIN PAGE IS AT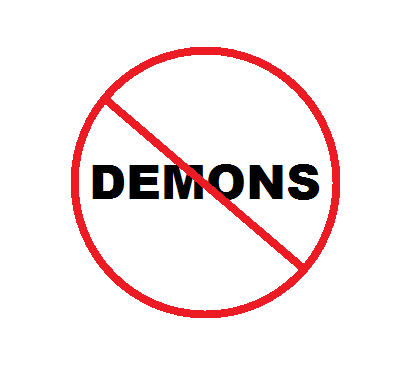 NO DEMONS ALLOWED

ASIAN RELIGIONS

PREFACE
Any religion other than Christianity is the worship of idols, worship of gods or worship of ancestors by heathen. Different types of witchcraft are practiced to contact the spiritual world. The following lists contain many types of witchcraft. Seeking any other source of information other than seeking GOD is an abomination to Him.
This will especially affect pastors because they are the spiritual leaders of the church. Whatever they do will affect the church spiritually. It is clear in the Bible that what the leader does will affect his group for good or evil.
You must physically clean your house and property of any objects that pertain to Asian Religions. Then drive the demons out of your house and off of your property. Demons reside in the cursed objects or they can come out of the objects to torment you and your family. You must spiritually clean your body of the demons that have a legal right to reside in your body.
SIMILARITIES BETWEEN RELIGIONS OF ASIA
There are many similarities between the Far Eastern Religions. This means that there are many common demon names associated with these religions and their practices. Hinduism seems to be the source for most of the practices.
PRAYER
I forgive my ancestors, descendents and other people for any sin against me. I forgive the people involved in false religions that have affected me. Please forgive me for following false religions. I forgive myself for sins against my body. In Jesus Name I pray.
Countries of Asia
In the Name of Jesus Christ, I break the curses that came on me from the countries of India, Pakistan, Sri Lanka (Ceylon), Afghanistan, Nepal, Maldives, Bhutan, Bangladesh, Siam, Burma, Thailand, Laos, Cambodia, Vietnam, Singapore, China (Mainland), China (Taiwan), Tibet, Mongolia, Japan, North Korea, South Korea, Philippines, Indonesia, Papua New Guinea, Brunei, Fiji, Kiribati, Nauru, Solomon Islands, Tonga, Tuvalu, Vanuatu and Western Samoa.
Religions of Asia
In the Name of Jesus Christ, I break the curses that came on me from Hinduism, Islam, Sikhism, Buddhism, Jainism, Zoroastrianism, Animism, Tribal Religions, Taoism, Confucianism, Cao-Dai, Shintoism, Ch'andogyo and Roman Catholicism.
DELIVERANCE
I command the following spirits and their families to leave me now:
EASTERN RELIGIONS
eastern philosophy and theology
ceremonies and rituals
Hinduism (One Eternal Religion of India)
karmic retribution and reincarnation
Hindu god Vishnu
god of the Gita
abstract monists, Vishnuites, Shivaites
complex social system
monism, pantheism, panentheism, animism, polytheism, henotheism, monotheism
karma and samsara
Rajneeshism (tantric yoga, nudity, free sex, psychospiritual therapies and techniques)
EASTERN MYSTICISM
expanding and transforming personal consciousness
mind power
Roman Catholicism
cosmic / unity consciousness
Shaktipat
third eye (kundulini energy)
demonic slain in the spirit
trance
ecumenism
spirits of the dead
Ascended Masters
space brothers
another Jesus
pagan mysticism
occultism
UNIVERSITY COURSES
Yoga Psychology
Metaphysics
Hatha Yoga
The Origins of Salem Witchcraft
Eckankar
Tarot Card Workshops
Psychic Development and Techniques
Astrology
Self-Awareness Through Self-Hypnosis
HINDUISM
RELIGIONS
Aryan
Vedic
Jainism
monotheism
Tantra
Advaita Vendanta
Hare Krishna
Sai Baba
Hinduism
Buddishim
Sikhs
Lingayats
Mahayana Buddhism (The Greater Vehicle)
pantheistic faith
millions of gods
athara-veda (magical spells, incantations)
Upanishads (magic formulas)
Zen, Tibetan / Tantric and Nichiren Shoshu Buddhism
Theravada
nontheistic
atheistic, agnostic, polytheism, antitheistic
paganism
pantheists, polytheists, monotheists, agnostics, atheists
Puranas (gods, goddesses, demons, ancestors, rituals, bhakti, caste, dharma, myths, legends)
GODS
Vishnu, Shiva (Lord Siva)
Durga (Divine Mother)
Trimutri (Brahma, Vishnu, Shiva)
Hindu deities (Indra, Soma, Varuna, Mitra)
Siva (Saivism)
Varuna
Indra(warrior god)
Agni (fire god)
Brahman (chief god)
Rama (avatar of Visnu)
Sheva
Matsya, the Fish
Kurma, the Tortoise
Varaha, the Boar
Vamana, the Dwarf
Narasimha, the Man-Lion
Parasurama
Buddha
Kalkin (avatar to come)
avatar (incarnations of gods)
personal deities
deities / divinities
Trimurti (Brahma, Visnu / Vishnu and Siva / Shiva)
Brahman (All of Hinduism)
Maitreya (spirit entity)
pantheism
goddess Kali (bloodthirsty deity)
Agni (Vedic god of altar fire)
Ganesa (god of prudence and wisdom)
Hanuman (monkey god)
Indra (Vdeic god of rain and thunder)
Lakshma (goddess of beauty and wealth)
Parvati (goddess consort of Shiva)
Sarasvati (goddess of learning, music and speech)
Soma (worshipped as a god)
Varuna (Hindu god)
yoga (physical, mental, spiritual)
Brahma (creator)
Vsinu (Vaisnavism)
Siva (The Destroyer) Shiva
Yogeshwara (Lord of Yoga)
Visnu (preserver)
vedic sun god
Krisna, the eighth avatar of Vishnu
GURUS
gurus and swamis
New Age Movement
millions of Hindu gods
drink guru's urine
drink cow's urine
cow goddess
cow dung pills
Enlightened Master
eating feces, coitus of dead bodies, cannibalism, human sacrifice
MEDITATION
mantra
Hindu goddesses and gods as mantras
mandala
self-hypnotism
OCCULTISM
levitation
invisibility
paranormal psychic powers (siddhis)
siddhi (supernational psychic powers)
occult trance state
psychic powers
magic and occultism
LOTUS SUTRA
Nagas (serpent gods), goblins, Gandharvas (half man - half bird creatures), demons, Garudas, Kinnaras, great serpents, men and beings not human
gods, demons, bodhisattvas, giantesses, goblins, garudas (bird gods), great serpents, and mythological creatures
REINCARNATION
transmigration of souls
Oriental doctrine
karma
nirvana
death and rebirth
hypnosis
amoral, senseless and hopeless
evolution
samsara
TRANSCENDENTAL MEDITATION
yoga
self-hypnosis
self-hypnotic trance
gods of the Hindu pantheon
religion
philosophy
violent shaking, hallucinations, murderous impulses
suicidal thoughts
flying into uncontrollable rages
trying to commit suicide
going insane
Hilarion (nonphysical source)
Sasha (entity)
paranormal
psychic power
alpha state
zazen
TM
Hindu occult meditation
self divinity
Hindu deities
yoga, religious exercise, philosophy, astral projection
pantheistic
altered state (as do drugs, hypnosis, drumming, dancing, visualization and shamanic techniques)
YOGA
Integral Yoga
Hatha Yoga (physical yoga)
Karma Yoga
Bhakti Yoga
Jnana Yoga
Raja Yoga
Kriya Yoga
Samadhi
telepathy
clairvoyance
astral projection
Hinduism
satanic control
self-knowledge
self-realization
Hindu religious philosophy
Yoga Sutras
EXPERIENCES
ESP
parapsychological occurrences
out-of-body experiences
precognitive takes
psychological encounter with death and rebirth
serpent power (Kundalini)
tremors, spasm and violent shaking and twisting
spiritual terrors
VARIOUS PRACTICES
linga (male sex organ)
Bhakti (devotion)
sacred texts
karma (death)
samsara (rebirth)
avatar (incarnation)
dancing
chanting
meditation
puja ritual
Sanskrit (language of the gods)
sacred cows
Maya (illusion)
nirvana
enlightenment
goddess worship
Chinese River Goddess (Qwan Yin) Goddess of Mercy
maya (illusion)
orgies and temple prostitution
sacrifices of human beings and animals
Buddha, Dharma and Sangha
human works
altered states of consciousness, ritual, psychic powers, spiritism
VEDANTA HINDUISM
God Brahman
yogan and meditation
Hindu seers and psychics
monistic and dualistic
shaman and lesser deities
Brahma-Vishnu-Shiva
spiritism, possession, occult powers
psychic powers, spiritism, divination, magic and occult practices
HARE KRISHNA
International Society of Krishna Consciousness
Hindu sect
Lord Krishna (supreme Hindu deity)
temple idols (Hindu deities)
secret mantra
guru masters
eastern religions
Vishnu Hinduism, Vishnu as God
worship of Shivas
spiritual chanting
gospel of Krishna
pantheistic, monotheistic, Lord Sri Krsna
JAINISM
Jainism, Buddhism and Sikhism
transmigration of souls after death
Mahavira (deity)
legalism
Hindu deities
ahimsa
ZOROASTRIANISM
worship of Zoroaster
Ahura-Mazda deity (wise lord)
magic
drinking haoma (soma) hallucinogenic
legalistic
Fire Temple (fire worship)
Vivedat (Venidad) magic spells
SIKHISM
general psychic abilities
Hinduism and Islam
worship of Granth Sahib
monistic pantheism
BUDDHISM
culture, language, ritual and tradition
Brahmanism
forced to accept religion
Samsara (cycle of rebirths)
Theravada, Mahayana
bodhisattvas (worshiped as gods)
holy writings possess magical powers
reincarnation and karma
American Buddhists
Buddha deity
Theravada Buddhism
Theravada and Mahayana Buddhism
metaphysical theology
worship of relics of Buddha
Jodo, Jodo-Shin (Shin), Ch'an (Zen)
Tendai Buddhism
Gohonzon (alter)
gongyo (worship ritual)
Dai-gohonzon
Zen Buddhism
monistic
Dalai Lama
Mahayana (the great vehicle)
Amida Buddha (infinite light)
Bon religion (shamanism, witchcraft, magic, primitive nature worship, yoga, spells, chants)
clairvoyance, clairaudience, telepathy, psychometry
sex rituals, erotic love, sexual intercourse, blinding passion, sexual lust
cultural, historic, ethnic and family loyalties
magic, uttering spells to call up deities, supernatural powers
ZEN BUDDHISM
Makyo (psychic phenomena)
pantheism (identifying deity with nature)
Buddha-mind (Nirvana)
monistic, syncretistic
altered states of consciousness
Rinzai, Soto, Ummon, Ikyo and Hogen schools
martial arts of Judo, Karate and Kendo
philosophy of life and religion
zazen (meditation)
chanting and occult powers
alternate reality and mental breakdown
magical omnipotence
Zen master's psychological dominance
Buddhist idols
nihilism and amoralism, antinomianism and licentiousness
libertinism
mo-wong (demon king, mentally deranged)
madness, insanity
idolatry, occultism, nihilism
chemical alteration of the brain, cosmic consciousness
spiritual deception
atheistic, ultimate despair
altered states of consciousness
self-intoxication, false security
iconoclasm, magical omnipotence
Zen Christians, mystical religion
Eastern gurus, enlightenment, hypnosis, mantras and mandalas, martial arts, meditation, visualization, yoga
Theravada, Mahavanist and Hinayanist
monism, irrationalism, nihilism, pantheism, antiauthority, exclusivism
occult religion of Taoism and Mahayana Buddhism
Satori (physiological phenomena, trembling, tears, sweating, energy phenomena, possession)
Christian mystics
sorcery and idolatry, mystic gibberish, witch doctor, magic passes, Tanka idols and images, incense, Kakuin
occult idolatry, demons, chanting, physical postures
magical and psychic powers, Buddhas and Bodhisattyas, Singon Buddhism
apparitions, illusory sensations
Makyo (phenomena, visions, hallucinations, fantasies, revelations, illusory sensations)
psychic centers and energies
irrationalism, denial of morality, mental collapse or other pathology
NICHIREN SHOSHU BUDDHISM
chanting
worshipping the Gohonzon
Japanese Buddhism
Tendai, Zen and Shingon sects
magical power
Buddhist gods and demons
ritual worship (gongyo)
hypnotic or trance-like effect
Mystic Law (Myoho)
atheistic system
mysticism
sun and wind gods
demons and trances
magical and polytheistic
Nitten and Gatten (the sun and moon gods)
occult, shamanistic powers, ritual prayers to the dead, magical powers occult meditation
TIBETAN / TANTRIC BUDDHISM
Tibetan Buddhism (Lamaism)
occult aspects of Tibetan Buddhism
Vajrayana (Tibetan)
Tantrism
Theravadin
Mahayana
spiritistic and magical traditions
occult meditation and contact with Hindu deities
nontheistic and polythestic
occult practice
Vajrayana Buddhism (Tibetan Buddhism, Tantric Buddhism and Lamaism)
I CHING
divination
fortune telling
Yin and Yang
TAOISM
scarified to Lao-tzu
magic
fairies
yin and yang
occult
gods and spirits
polytheism, demonolatry and practice of magic
CONFUCIANISM
ancestor worship of the spirits of the dead relatives
augury
deceased ancestors exercise power over the living
sacrifice to Confucius
temples erected as shrines
Feng Shue (geomancy, divination)
SHINTOISM
Japanese religion
Amaterasu (sun-goddess)
Shinto (the way of the gods)
Kami (superior beings) sacred power
celestial gods
gods of nature
Ko-ji-ki and Nihon-gi (myth and legend)
Shrine Shinto
pride and superiority
polytheistic, superstition, immorality
Jigai (suicide)
Kami Dama (the god shelf)
Shintai (object of worship)
Shinto Myth (divine origin)
GENERAL LIST OF DEMONS
false religion, idolatry, death, necromancy, ancestor worship, witchcraft, shamism, animism, shrine to ancestors, tribal worship, rituals, sickness, pride, ethnos worship, anti Christ
REFERENCES
The Spirit Of Truth And The Spirit Of Error - World Religions - The Truths Of Christianity Compared To: Buddhism, Hinduism, Islam, Judaism And Primitive Religion by Steven Cory, The Moody Bible Institute
Hinduism, TM " Hare Krishna by J. Isamu Yamamoto, Zondervan Publishing House
Bddhism, Taoism " Other Far Eastern Religions by J. Isamu Yamamoto, Zondervan Publishing House
Every Wind Of Doctrine by Hobart Freeman, Faith Ministries " Publications, Warsaw, IN
Texe Marrs Book Of New Age Cults " Religions - The Newest Information Revealed And Explained, Living Truth Publishers
Occult Invasion - The Subtle Seduction Of The World And Church by Dave Hunt, Harvest House Publishers
Encyclopedia Of Cults And New Religions - Jehovah's Witnesses - Mormonism - Mind Sciences - Baha'i - Zen - Unitarianism by John Ankerberg " John Weldon, Harvest House Publishers
Handbook Of Today's Religions by Josh McDowell " Don Stewart, Thomas Nelson Publishers
The Kingdom Of The Cults by Walter Martin " Hank Hanegraaff, Bethany House Publishers
The Death Of A Guru by Rabi R. Maharaz with Dave Hunt, Harvest House Publishers
GENERAL LIST OF DEMONS
false religion, idolatry, death, necromancy, ancestor worship, witchcraft, shamism, animism, shrine to ancestors, tribal worship, rituals, sickness, pride, ethnos worship, anti Christ
REFERENCES
The Spirit Of Truth And The Spirit Of Error - World Religions - The Truths Of Christianity Compared To: Buddhism, Hinduism, Islam, Judaism And Primitive Religion by Steven Cory, The Moody Bible Institute
Hinduism, TM " Hare Krishna by J. Isamu Yamamoto, Zondervan Publishing House
Bddhism, Taoism " Other Far Eastern Religions by J. Isamu Yamamoto, Zondervan Publishing House
Every Wind Of Doctrine by Hobart Freeman, Faith Ministries " Publications, Warsaw, IN
Texe Marrs Book Of New Age Cults " Religions - The Newest Information Revealed And Explained, Living Truth Publishers
Occult Invasion - The Subtle Seduction Of The World And Church by Dave Hunt, Harvest House Publishers
Encyclopedia Of Cults And New Religions - Jehovah's Witnesses - Mormonism - Mind Sciences - Baha'i - Zen - Unitarianism by John Ankerberg " John Weldon, Harvest House Publishers
Handbook Of Today's Religions by Josh McDowell " Don Stewart, Thomas Nelson Publishers
The Kingdom Of The Cults by Walter Martin " Hank Hanegraaff, Bethany House Publishers
The Death Of A Guru by Rabi R. Maharaz with Dave Hunt, Harvest House Publishers

JESUS IS THE DELIVERER