-- This is NOT the website of Gene Moody. It is the website of DEMONBUSTER.COM.

THE BLOOD OF JESUS CLEANSES YOU FROM ALL SIN AND GUILT (1 JOHN 1:7).
JESUS IS THE DELIVERER!!

DEMONBUSTER.COM
GENE AND EARLINE MOODY
DELIVERANCE MANUAL

MAIN PAGE IS AT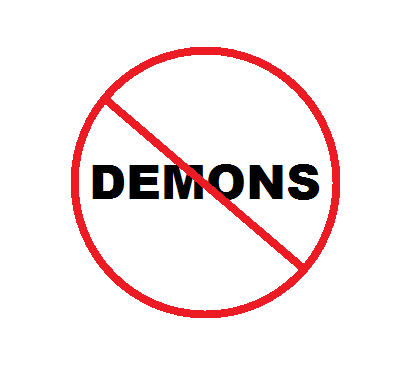 NO DEMONS ALLOWED

ASSOCIATED DELIVERANCE LESSONS

PREFACE
The following three lessons are found in the DELIVERANCE MANUAL, BASIC DELIVERANCE MANUAL, Chapter 1. BATTLE. Please refer to those lessons for additions to this lesson, DELIVERANCE MINISTRIES COMBINATION III.
ON WITH THE BATTLE
TABLE OF CONTENTS
1. General
2. Command And Take Charge Daily
3. Causing The War In Heaven
4. The Battle Today
5. References
PREFACE
This lesson discusses how we are to be GOD's BATTLE AXE AND WEAPONS OF WAR, command the forces of evil to obey THE WORD OF GOD, cause war in the three heavenlies, and enter into the spiritual battle.
WARRIORS FOR CHRIST
TABLE OF CONTENTS
1. Scripture
2. Preface
3. Keys To Success
4. Why Did Jesus Come To Earth?
5. Did God Give Us Complete Authority Over The Enemy?
6. Does God Work Through Us?
7. What Are We Supposed To Do?
8. What About Those Who Will Not Fight The Lord's Battles?
9. Do We Fight Against People?
10.How Do We Love Our Human Enemies?
11.Who Are Our Human And Spiritual Enemies?
12. How Did David Pray In The Book Of Psalms?
13. What Is Spiritual Warfare?
14.What About Curses?
15. List Of Demons
PREFACE
This lesson is to demonstrate that we are to be warriors for Christ in the spiritual battle for the earth. What we do will have consequences for eternity. You can make a difference in the world!
A philosopher once said, "For every man attacking the roots of evil, there are a thousand flailing away at the leaves." This is a picture of Christianity today; few people are willing to get their hands dirty and dig up the roots of evil. Deliverance is dealing with sin in people's lives; it is housecleaning according to Earline.
GOD IS A MAN OF WAR
TABLE OF CONTENTS
1. Scriptures
2. Preface
3. Young's Analytical Concordance To The Bible
4. Descriptions Of God
5. Does God Curse People?
6. The Nation Of Israel
7. Law Of Blessing And Cursing
8. Warriors For Christ
9. Why Did Jesus Come To Earth?
10. Does God Work Through Us?
11. The War Of The Ages
12. Passive Judgement
13. What Is Witchcraft Practiced By Christians?
14. Playing God In People's Lives
15. Examples Of Ministers Playing God
16. Sequence Of Demonization
17.Prayer
18. List Of Demons
19.References
PREFACE
Before we taught this lesson at Lake Hamilton Bible Camp, there was a prophecy about God being a Man of War with His related activities. Glen Miller then defined the phrase, God of Hosts, as God of Armies. We are soldiers in the Army of God.

JESUS IS THE DELIVERER