THE BLOOD OF JESUS CLEANSES YOU FROM ALL SIN AND GUILT (1 JOHN 1:7). JESUS IS THE DELIVERER!!

DEMONBUSTER.COM
DELIVERANCE MANUAL

OUR MAIN PAGE IS AT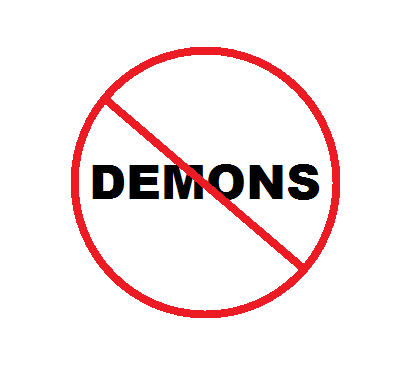 NO DEMONS ALLOWED

MP3
AUDIO FILES TO LISTEN TO
FROM
DEMONBUSTER.COM
for some Deliverance and knowledge

We received this email : "I was listening to one of your deliverance ceremonies and for a week I had been suffering from a sinus headache and could barely hear; a man during this deliverance recording stated anything blocking the hearing come out in the name of Jesus and immediately I felt relief. The pain was gone my hearing was restored. Thank you Jesus."

Jesus told YOU, Believer, to cast out demons according to Mark 16:17. That means ALL Believers, from the youngest to the newest to the oldest. Once you learn how to cast OUT demons, you need to do it DAILY until the day you die, in addition to Spiritual Warfare, breaking and returning all evil being sent your way.

All of these files can be placed on an MP3 player/CD/hard drive for many hours of Deliverance.

It may take a minute or two before our file starts playing after you click on the MP3 you want to listen to.
You must have a program on your computer that plays MP3 files. The last couple of versions of Windows Media Player works.
You may need to adjust the BUFFERING setting so that it starts playing faster.

Otherwise, you may not be able to hear anything until the entire file downloads, up to two hours.

WARNING: At this point, you should be Saved and have the basic knowledge of Deliverance so that you can cast out your own demons. Our very extensive and free website shows you how.
Anyone listening to these Deliverance tapes runs the risk of having the demons come back with at least seven other demons more wicked, according to the words of Jesus IF you do not start and continue doing Deliverance. Our web site tells you how to keep the demons out.

CAUTION: Although you do not have to feel anything to know that demons have left you, some come out in a yawn, coughing, tears, gas, mucus, screaming, and vomiting. I recommend you don't listen to these tapes while sitting at your keyboard at work, just in case, or have a bucket ready. If you are playing these at work, your boss may not understand if your demons start screaming or you puke on your keyboard. Your boss may have you locked up if your demons start talking or screaming out loud. Talking demons are quite common.

SAVE EACH MP3 FILE ON YOUR HARD DRIVE OR PUT THEM ON A DISC BECAUSE THE CONTENT NEVER GETS OLD. YOU CAN GET DELIVERANCE LISTENING TO THEM 50 YEARS FROM NOW.
You can listen to a file by just LEFT clicking. If you want to download and keep it on your hard drive, RIGHT click, then SAVE... to a folder or your desktop or some other location.
After downloading a file, do a search on your computer for the file (if you forget where you downloaded it to).
Then you can listen to it again and again, or burn it to a CD or other media.

Below are blog talk radio programs (three hours each) we did with host Pat Holliday of PATHOLLIDAY.COM

With Host "Val" from www.holylivingministry.com


This MP3 is from a live Internet radio program we did on September 6, 2005. There are two files that are one hour each.
CLICK HERE to listen to 1st hour. (Starts out with a song.)
CLICK HERE to listen to 2nd hour.

This one is from a live Internet interview by a radio station in New Orleans, Louisiana with Stan. It is 20 minutes long.

Here is a basic Deliverance teaching by Stan. Each part is 30 minutes long.
Click HERE to listen to part one. V
Click HERE to listen to part two. W

Here are some Spiritual Warfare Prayers that Stan is reading. Each part is 31 minutes long.

In all the below sessions, EVERY person having demons cast OUT are Born Again, Spirit Filled, Holy Ghost, Tongue Talking, True Worshiper, Believer, Christians -
AND YOU THOUGHT CHRISTIANS COULD NOT HAVE DEMONS!

This one was recorded at a live Deliverance session, with screaming demons. You can get some Deliverance just by listening, and you can also use all the recordings as a training tool. You will notice that much Spiritual Warfare was required for each demon. The demons don't always leave right away. One demon is screaming in "demonic tongues". It is 47 minutes long.
Click HERE to listen. O

The remaining list is Mass Deliverance or Personal Deliverance sessions recorded during the live session or church service (except the last one).
You can still get some demons cast out, in the name of Jesus, by listening or just playing them.

Inside the brackets is the time length of the recording.
Remember that it may take a couple of minutes before it starts playing. Adjust your MP3 player and your buffer. Below files are in addition to the ones listed above.
1 [45:56] A

2 [45:34] D

3 [45:48] E

4 [45:19] F

5 [45:24] G

6 [31:23] I

7 [30:47] J

8 [31:30] K

9 [31:21] L

10 [47:10] M

11 [28:31] N

12 [45:39] H

13 [45:49] T

14 [47:14] P

15 [30:56] R

16 [45:17] S

17 [45:21] ZA Gene Moody

18 [45:13] ZB Gene Moody

19 [26:01] ZK Service Songs

20 [33:59] Backslide Teaching
Here is a three hour radio program we did on August 13, 2010 on OmegaMan Radio.

Here is Evangelist Blanche Reynolds (now with the Lord) breaking many curses and doing Deliverance.
Click to listen and have the curses broken off of you, and get some Deliverance too.
TAPE 605 - 22 MINUTES - Henry Bruins and Blanche

Here is a two hour live internet radio program I did on April 24, 2008 with The Watchman.


JESUS IS THE DELIVERER
DON'T STOP HERE! SEE OUR INDEX FOR MORE ARTICLES.
THERE IS NO HATE, MALICE, RACISM, ETC. ON THIS SITE. THESE ARE SINS IN THE EYES OF GOD, AND ARE ALSO DEMONS. THE BIBLE MAKES IT CLEAR THAT SIN CANNOT GET INTO HEAVEN.