THE BLOOD OF JESUS CLEANSES YOU FROM ALL SIN AND GUILT (1 JOHN 1:7). JESUS IS THE DELIVERER!!

DEMONBUSTER.COM
DELIVERANCE MANUAL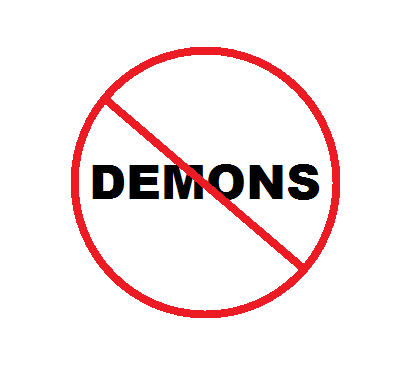 NO DEMONS ALLOWED

IS YOUR MINISTRY
OUT OF BALANCE?

This is a question that most DELIVERANCE Ministries been asked, or just been told, "You are out of balance." Let's just see WHO IS out of balance. As DELIVERANCE Ministers we will come under great persecution. JESUS said "If the world hates you, know that it hated Me before it hated you." John 15:18
Out of balance they say! JESUS' ministry was threefold while on earth. He taught, healed the sick and CAST OUT demons. Mark 16:17 He said to make disciples and teach them to observe EVERYTHING He commanded them. Matthew 28:20.
The word salvation is in the Bible 163 times. As you look up that word in the Strong's Concordance you will see words like health and prosperity, among others. However, each time you will see the word DELIVER or DELIVERANCE.
Out of balance they say! Some preach salvation only. THEY are out of balance! Some preach healing and salvation only. THEY are out of balance! Only those that preach and teach salvation, healing, Baptism in the Holy Spirit with the evidence of speaking in tongues AND DELIVERANCE are IN balance with the Word of God, according to the lifestyle of JESUS Christ.
JESUS was the only person that has walked this earth that did not have demons. JESUS said in John 14:30, "The prince of this world cometh, and hath nothing in me." That is the testimony we want to be able to speak. That is the place we want to be in the Lord.
Beloved, do not become discouraged. Who persecuted JESUS and had him crucified? The religious people. The "Pastors" of that day.
DELIVERANCE is what the Lord JESUS died to bring us. Move in the direction that the Lord has called EVERY Believer.
Teach, Heal the sick, CAST OUT Demons.
THAT is being IN balance with God.

JESUS IS THE DELIVERER
DON'T STOP HERE! SEE OUR INDEX FOR MORE ARTICLES.
THERE IS NO HATE, MALICE, RACISM, ETC. ON THIS SITE. THESE ARE SINS IN THE EYES OF GOD, AND ARE ALSO DEMONS. THE BIBLE MAKES IT CLEAR THAT SIN CANNOT GET INTO HEAVEN.