-- This is NOT the website of Gene Moody. It is the website of DEMONBUSTER.COM.

THE BLOOD OF JESUS CLEANSES YOU FROM ALL SIN AND GUILT (1 JOHN 1:7).
JESUS IS THE DELIVERER!!

DEMONBUSTER.COM
GENE AND EARLINE MOODY
DELIVERANCE MANUAL

MAIN PAGE IS AT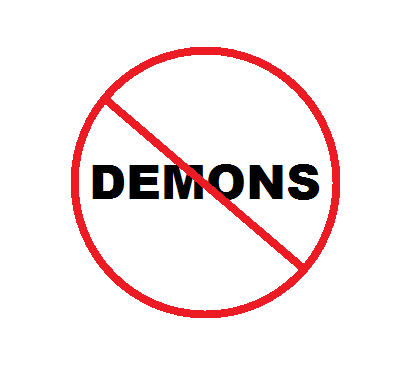 NO DEMONS ALLOWED

BATTLING AGAINST WITCHCRAFT

BATTLING AGAINST WITCHCRAFT
ATTACK - ATTACK - ATTACK
TABLE OF CONTENTS
1. OVERALL PRAYER
2. OVERALL COMMAND
3. OVERALL WARFARE
4. PRAYER
5. ASTRAL PROJECTION AND SOUL TRAVEL
1. Scripture
2. Prayer
3. Commands
6. NEW AGE - OCCULT - WITCHCRAFT - SATANISM
1. Prayer
2. Practices
3. Commands
7. WITCHCRAFT
1. Scripture
2. Proclamation
3. Christians
4. Commands
5. Comments
8. WAR CLUBS AND WEAPONS OF WAR PRAYER
9. COMMANDS
10. REVERSE SATANIC POWER
11. WITCHCRAFT DELIVERANCE PRAYERS
1. PRAYERS
2. BREAK CURSES
3. GIVE COMMANDS
OVERALL PRAYER
ALMIGHTY GOD, PLEASE FORGIVE US FOR OMISSION - COMMISSION, KNOWN - UNKNOWN, DELIBERATE - INADVERTENT SINS BY THE BLOOD OF JESUS CHRIST. WE FORGIVE OUR ENEMIES, PRAY FOR THEIR SALVATION, AND BREAK CURSES PLACED ON US. WE THANK GOD FOR POWER AND AUTHORITY OVER THE ENEMY: SATAN AND HIS KINGDOM. WE ARE STRONG IN THE LORD, AND THE POWER OF HIS MIGHT. WE COVER US WITH THE BLOOD OF JESUS CHRIST. WE MAKE A BLOOD COVENANT WITH THE FATHER, THE SON AND THE HOLY SPIRIT. WE ASK GOD TO SEND OUR GUARDIAN ANGELS, AND AN ARMY OF ANGELS FOR WARFARE. WHERE GOD USES ALL AND SHALL IN THE BIBLE, WE AGREE AND DECLARE IN OUR LIVES. WE USE OVERALL PRAYER AS A PREFACE FOR OTHER PRAYERS. WE PRAY THE HOLY BIBLE AND ASK IN THE NAME OF JESUS CHRIST: LORD, MASTER AND SAVIOR. AMEN! SO BE IT!
OVERALL COMMAND
WE WRESTLE-BIND-LOOSE-COMMAND THE KINGDOM OF EVIL, ALL THE POWER OF THE ENEMY, PRINCIPALITIES, POWERS, RULERS OF DARKNESS OF THIS WORLD, AND SPIRITUAL WICKEDNESS IN HIGH PLACES.
WE USE THE POWER OF GOD GIVEN TO BELIEVERS. WE TAKE AUTHORITY OVER THE KINGDOM OF EVIL. WE BIND AND SUBDUE SATAN'S EMPIRE. WE ENTER INTO SPIRITUAL WARFARE, AND ASSAULT THE KINGDOM OF DARKNESS. WE BIND THE FORCES OF EVIL, AND DESTROY THE KINGDOM OF EVIL. WE SEND ARMIES OF WARRING ANGELS TO ATTACK. WE USE EVERY VERSE IN THE HOLY BIBLE THAT WARS AGAINST THE DEMONIC FORCES. WE USE OVERALL COMMAND AS A PREFACE FOR OTHER COMMANDS.
OVERALL WARFARE
CONCERNING THE WORK OF MY HANDS COMMAND YE ME. WE EXERCISE AUTHORITY OVER THE WORK OF GOD'S HANDS. WE BIND AND LOOSE ON EARTH WHAT IS BOUND AND LOOSED IN HEAVEN.
WE COMMAND THE DEVIL'S FORCES TO DESTROY THEMSELVES. BY THE BLOOD OF JESUS CHRIST, WE TAKE DOMINION OVER SATAN. WE PUT ON THE WHOLE ARMOUR OF GOD. WE CLOSE DOORWAYS TO DEMONS. WE COME AGAINST THE KINGDOM OF EVIL. WE USE THE WORD OF GOD, WRITTEN AND SPOKEN, AGAINST THE FORCES OF EVIL. WE ARE THE ARMY OF THE LORD. WE EXERCISE DOMINION OVER NATIONS AND KINGDOMS. WE USE OUR TACTICS AND WEAPONS OF WAR AGAINST THE ENEMY. WE RETURN CURSES AND WEAPONS FORMED AGAINST US. WE USE OVERALL WARFARE AS A PREFACE FOR OTHER WARFARE.
PRAYER
Please forgive us for sinning against you; we are truly sorry and repent. Forgive us for idolatry and demon worship. We ask for forgiveness where we have cursed others. We forgive those who have cursed us and called us anath'e'ma (damned to Hell). We ask GOD to forgive them and save their souls.
We forgive those that have hurt us and our families (cults, sects, false religions, Illuminati, New Age, and anti-Christian persons and organizations); those who have cursed us (occultism, witchcraft and Satanism); Christians that have come against us due to ignorance of THE HOLY BIBLE and praying psychic prayers; and heathen that are jealous and want to take advantage of us.
John 20:23Whosoever sins ye remit, they are remitted unto them; (forgiven) and whosoever sins ye retain, they are retained (unforgiven). We remit their sins; we do not retain them. If the person is unsaved, we pray that they will get saved by THE BLOOD OF JESUS CHRIST.
NOW I WOULD NOT HAVE YOU IGNORANT, BRETHREN (Rom. 1:13 " 11:25, 1 Cor. 10:1 " 12:1, 2 Cor. 1:8, 1 Thes. 4:13). If the person is an ignorant Christian, we pray this prayer would wake them up so that they would get right with GOD.
ASTRAL PROJECTION AND SOUL TRAVEL
Scripture
Ecc. 12:5-7And when they (the old) shall be afraid of (danger) that which is high, and fears shall be in the way, and the almond tree (their white hair) shall flourish, and the grasshopper (a little thing) shall be a burden, and desire (and appetite) shall fail: because man goeth to his long (everlasting) home, and the mourners go about the streets (marketplaces): (Remember your Creator earnestly now) or ever the silver cord (of life) be loosed, or the golden bowl be broken, or the pitcher be broken at the fountain, or the wheel broken at the cistern (and the whole circulatory system of the blood ceases to function). Then shall the dust (out of which GOD made man's body) return to the earth as it was: and the spirit shall return unto GOD who gave it.
Prayer
We remember our Creator earnestly now. We ask GOD to shield us from attacks of human souls and spirits, and to destroy the forces of evil.
Commands
WE USE THE SWORD OF THE LORD TO SEVER DEMONIC TIES (BETWEEN SPIRITS AND SOULS, AND OTHERWISE) LEY LINES (LINES OF ENERGY / TELEPHATIC COMMUNICATION) AND SILVER CORDS (ASTRAL PROJECTION / SOUL TRAVEL / BILOCATION) OF ANYONE WHO WOULD TRAVEL INTO OUR PRESENCE THROUGH COMMUNICATIONS, CRYSTAL BALLS OR BY THEIR SOULS AND SPIRITS. WE CLOSE THE GATES, KEY DEMONIC DOORWAYS OF GREAT POWER, BETWEEN THE WORLDS. WE BREAK DEMONIC BALLS, CORDS, BOWLS, PITCHERS AND WHEELS USED AGAINST US.
NEW AGE - OCCULT - WITCHCRAFT - SATANISM
Prayer
We ask for wisdom and knowledge to be effective warriors against New Age, Occult, Witchcraft and Satanism. We ask GOD to confuse the workers of evil. We ask for armies of angels to attack ungodly angels and demons.
Practices
The ultimate goal is to destroy Christianity and introduce One World Religion.
Commands
WE BIND-RESTRAIN AND LOOSE-DESTROY: YOU ARE GOD AND I AM GOD, DENYING EXISTENCE OF A PERSONAL GOD, AND INSISTING UNIVERSE ITSELF IS GOD.
WITCHES' LIES, SPIRITUAL HEALING, PSYCHICS, CLAIRVOYANTS, MEDIUMS AND CHANNELERS; ONE WORLD GOVERNMENT / NEW AGE / OCCULT / WITCHCRAFT / SATANISM SECTS, CULTS, ORGANIZATIONS AND PROGRAMS; MELTING POT OF RELIGIOUS AND OCCULT PHILOSOPHIES; PANTHEISM, ABORIGINAL ANIMISM, OCCULTISM, FREEMASONRY, THEOSOPHY, ILLUMINATI, APOSTATE CHRISTIANITY, ISLAM, TAOISM, BUDDHISM, SUFISM, HINDUISM AND BABYLONIAN PAGAN RELIGIONS; PALM READING, TAROT CARD READING, PAST LIFE THERAPY AND SPIRITUAL COUNSELING; OBTAINING FAME, POWER AND MONEY; SPIRITUAL EVOLUTION AS GODS AND GODDESSES; AND SWAMIS, GURUS, YOGIS, LAMAS AND SPIRITUAL TEACHERS.
ASTROLOGERS, MYSTIC PATH, MYSTICISM, CONTEMPLATIVE ASCETIC LIFE-STYLE, YOGA AND MEDITATION; MOTHER EARTH GAIA, NATIVE TEACHINGS AND SHAMANISM; KUNDALINI ENERGY AND UNIVERSAL ONENESS; WORSHIP OF LUCIFER AND OCCULT INNER CIRCLE.
OCCULT KNOWLEDGE; ESOTERIC TRUTH; ANCIENT MYSTERIES; THE CHRIST; LUCIFERIAN AGE OF AQUARIUS; THE PLAN; THE GREAT WORK OF AGES; WORLD SERVERS; MASONIC RELIGION OF EVOLUTION; DIVINE ASPECTS OF MAN; AND DARK MAGIC ARTS. INCLUDED ARE DEMONIC PRACTICES OF NEW AGE - OCCULT - WITCHCRAFT - SATANISM LISTED OR UNLISTED.
WITCHCRAFT
Scripture
Ex. 22:18Thou shalt not suffer a witch to live.
Lev. 20:27A wizard shall surely be put to death.
Proclamation
(The mistress of deadly charms who betrays and) Selleth nations (America) through whoredoms (idolatry) and families (peoples) through her witchcraft (enchantments). I will even set my face against that soul, and will cut him off (spiritual death) from among his people. Because of these abominations (practices) THE LORD THY GOD doth drive them out before thee. He brought down their heart with labor; they fell down, and there was none to help. A cruel messenger shall be sent against him. He was turned to be their enemy and He fought against them. (Portions of Nah. 3:4, Lev. 20:6, Deut. 18:12, Psa. 107:12, Pr. 17:11 and Isa. 63:10.)
Christians
Oh, foolish Galatians (Christians), who hath bewitched you? Lest thou be a cursed thing like it. Therefore shall evil come upon thee. None shall save thee. (Portions of Gal. 3:1, Deut. 7:26 and Isa. 47:11 " 15.)
Commands
WE PROCLAIM, DECLARE AND AGREE WITH THE HOLY WORD OF GOD. GOD WILL CAUSE THE WICKED TO BE UNDER OUR FEET. WE CLAIM THE WORLD BACK FOR THE LORD.
Comments
The Christian must fully yield to GOD to have full protection. We are very careful in what we think, say and do. Prayer without ceasing, using THE BLOOD OF JESUS CHRIST, divinely protects true, sanctified, holy Christians submitted to GOD, and following The Bible. We believe in the gifts and manifestations of THE HOLY SPIRIT. We are in continuous warfare with the forces of evil.
WAR CLUBS AND WEAPONS OF WAR PRAYER
WE ASK GOD TO USE US AS WAR CLUBS AND WEAPONS OF WAR TO DESTROY DEMONIC ARTS:
ENCHANTER - AUGUR - CHARMER (divination, charms, incantations, magic, spells)
WITCH - WARLOCK - WIZARD - CLAIRVOYANT - PSYCHIC (witchcraft, sorcery, magic, spells)
DIVINER - FORTUNE TELLER (false means to discover divine will of GOD)
NECROMANCER - MEDIUM (communication with the dead)
ASTROLOGER - OBSERVER OF TIMES - STAR GAZER (pretending to tell future events)
SOOTHSAYER - PROGNOSTICATOR (pretending to foretell from signs or symptoms)
CONJURER - MAGICIAN - SORCERER (divining, witchcraft)
NEW AGE - OCCULTISM - SATANISM - WITCHCRAFT (demonic practices)
CULTS - FALSE RELIGIONS - SECTS - ANTI-CHRISTIAN (demonic organizations).
COMMANDS
WE BIND AND CAST DOWN THE STRONGMEN AND STRONGHOLDS (SATAN, ANGELS AND DEMONS) OVER NEW AGE, OCCULTISM, WITCHCRAFT, SATANISM AND DEMONIC ARTS: PRINCIPALITIES, POWERS, MIGHT, KINGDOMS, THRONES, DOMINIONS, NOBLES, PRINCES, KINGS, RULERS OF DARKNESS; ASCENDED MASTERS, SPIRIT GUIDES; MIND CONTROL, MIND OCCULT, MIND BINDING; WITCHCRAFT, SORCERY, DIVINATION, NECROMANCY; EASTERN MYSTICISM, REINCARNATION, TRANSCENDENTAL MEDITATION, SOUL TRAVEL; MARTIAL ARTS, YOGA; VISUALIZATION, INNER HEALING; FAMILIARS; CRYSTAL HELPERS; BODILESS SPHERES OF LIGHT; AND UNIVERSAL INTELLIGENCE.
REVERSE SATANIC POWER
WE REVERSE SATANIC SUPERNATURAL POWER AGAINST CHRISTIANS FROM PRAYERS, BLASPHEMEY (CONTEMPT), EXECRATION AND IMPRECATIONS (CURSING), INVOCATIONS (CONJURING), PROFANITY (LANGUAGE), AND RETRIBUTIONS (PUNISHMENT). WE REVERSE HARM, AFFLICTION, INJURY, EVIL AND MISFORTUNE.
WITCHCRAFT DELIVERANCE PRAYERS
PRAYERS
WE FORGIVE OUR ANCESTORS AND OTHERS THAT HAVE PRACTICED WITCHCRAFT THAT WOULD AFFECT US. PLEASE FORGIVE US FOR PRACTICING WITCHCRAFT. WE CLOSE DOORS OPENED TO SATAN THROUGH CONTACT WITH WITCHCRAFT, OCCULT AND SIMILAR ACTIVITIES. WE RENOUNCE SATAN AND HIS KINGDOM.
WE CONFESS AS SIN AND RENOUNCE CONTACT WITH OCCULT, WITCHCRAFT, SATAN WORSHIP AND FALSE RELIGION, AND SINS OF ANCESTORS. THROUGH IGNORANCE, STUPIDITY OR WILLFULNESS WE HAVE SOUGHT SUPERNATURAL EXPERIENCE APART FROM GOD. WE FORGIVE ENEMIES, FALSE PROPHETS, DIVINERS, LIARS, WITCHES, AND INDIVIDUALS WORKING IN CONCERT WITH EVIL SPIRITS AND FORMS OF SPIRITUAL ACTIVITY; SATANIC COVENS OF WITCHES AND WIZARDS; PERSONS IN WITCHCRAFT AND SORCERY; CASTING SPELLS, POTIONS, ENCHANTMENTS AND CURSES; PSYCHIC PRAYERS, WITCHCRAFT CONTROL, AND ANYONE WHO HAS CURSED US.
WE RENOUNCE SATAN AND HIS KINGDOM OF EVIL. WE HATE SATAN, DEMONS AND EVIL WORKS. WE COME AGAINST WATER SPIRITS AND WITCHCRAFT ATTACKS IN DREAMS. IN THE NAME OF JESUS CHRIST, LORD, MASTER AND SAVIOR, WE PRAY AND TAKE AUTHORITY OVER THE FORCES OF EVIL.
BREAK CURSES
JESUS CHRIST BECAME A CURSE ON THE CROSS AND BLOTTED OUT THE HANDWRITING OF ORDINANCES AGAINST US. WE BREAK LEGAL HOLDS AND REMOVE LEGAL GROUNDS. WE RENOUNCE OCCULT LITERATURE AND WILL DESTROY SUCH BOOKS, GOING TO FORTUNE TELLERS, READING HOROSCOPES, BELIEVING IN REINCARNATION, AND PSYCHIC AND OCCULT CONTACT.
WE BREAK CURSES, SPELLS, HEXES, ETC. SENT UPON US BY ENEMIES WHO SEEK TO HARM, KILL OR WRECK HAVOC PHYSICALLY, EMOTIONALLY, AND SPIRITUALLY. WE BREAK CURSES OF UTTERING A WISH OF EVIL AGAINST ONE; TO CALL FOR MISCHIEF OR INJURY TO FALL UPON; TO EXECRATE, TO BRING EVIL UPON OR TO; TO BLAST, VEX, HARASS OR TORMENT WITH GREAT CALAMITIES.
WE BREAK CURSES OF FOREFATHERS, ON PROSPERITY, FLAMING DARTS. WE BREAK LEGAL HOLDS AND GROUNDS BACK TO ADAM AND EVE. WE BREAK CONTROL, SOUL TIES AND CURSES. WE BREAK DEMONIC HOLDS OF PSYCHIC HEREDITY ON OUR FAMILY LINE.
WE BREAK CURSES OF WITCHCRAFT, MAGIC, OUIJA BOARDS AND OTHER OCCULT GAMES; FORTUNE TELLING, PALM READING, TEA LEAF READING, CRYSTAL BALLS, TAROT AND OTHER CARD LAYING; ASTROLOGY, BIRTH SIGNS AND HOROSCOPES; HERESY OF REINCARNATION AND HEALING GROUPS INVOLVED IN METAPHYSICS AND SPIRITUALISM; HYPNOSIS UNDER ANY EXCUSE OR AUTHORITY; ROCK MUSIC, INCLUDING ACID, HARD AND JESUS ROCK; TRANSCENDENTAL MEDITATION, YOGA, ZEN AND EASTERN CULTS AND RELIGIOUS IDOL WORSHIP; MARTIAL ARTS, INCLUDING JUDO, KUNG FU AND KARATE; WATER WITCHING OR DOWSING, LEVITATION, TABLE TIPPING, BODY LIFTING, PSYCHOMETRY (DIVINING THROUGH OBJECTS), AUTOMATIC WRITING AND HANDWRITING ANALYSIS; ASTRAL PROJECTION, SOUL AND OUT-OF-BODY TRAVEL, AND OTHER DEMONIC SKILLS; CULTS THAT DENY THE BLOOD OF JESUS CHRIST AND PHILOSOPHIES WHICH DENY THE DEITY OF THE LORD JESUS.
GIVE COMMANDS
WE BIND AND ORDER DEMONS TO RETURN TO SENDERS ESCORTED BY ANGELS TO DESTROY SEATS OF WITCHCRAFT. THE DEMONS ARE COMMANDED TO CONFUSE, AND SOW TERROR AND PANIC IN THE HEARTS OF WITCHES AND WIZARDS. WE HAVE POWER OVER THE DEMONS THROUGH JESUS' NAME. WE COMMAND THE DEMONS TO ATTACK THEIR WORKS, DESTROY EACH OTHER AND TO SHAKE THE KINGDOM OF EVIL. WE COMMAND THE DEMONS, THEIR FAMILIES AND WORKS TO COME OUT AS YOUR NAME IS CALLED.

JESUS IS THE DELIVERER