THE BLOOD OF JESUS CLEANSES YOU FROM ALL SIN AND GUILT (1 JOHN 1:7). JESUS IS THE DELIVERER!!

DEMONBUSTER.COM
DELIVERANCE MANUAL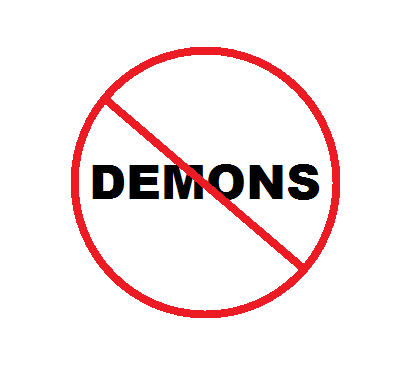 NO DEMONS ALLOWED

BIRTH STONES
AND THE HOROSCOPE

Wearing birth stones? The following was in an old Encyclopedia. "A birth stone is a gem which is a symbol of the month in which a person was born. Many ancient people believed that a birth stone brought good luck to the wearer and also influenced his personality. The wise men of the middle ages selected a gem for each month and encouraged people to believe that wearing these stones would keep them from harm."
FROM ENCYCLOPEDIA BRITANNICA
From ancient times supernatural powers have been attributed by astrologers to inanimate objects; among these gemstones were early assigned certain occult powers. In Greek and Roman times, the force was thought to be inherent in the stones. Medieval astrology related the effectiveness to the birth date of the individual and different stones were considered propitious depending upon the planetary configuration of the individual's horoscope. The stones now associated with each month have only slight relationship to the ancient beliefs for the list is tempered by availability and cost. Before mineralogy had progressed to the point of chemical analysis, color was of greater importance than some of the other physical properties, and little distinction was made between emerald and chrysoprase, or topaz and citrine quartz. When it came to healing the eyesight or warding off evil spirits, both were equally effective. Even the names used in ancient times do not necessarily refer to the stones that go by those names in the 20th century; the sapphire of the Bible is much more likely to have been lapis lazuli than what is now known as sapphire, and "adamas" (diamond) was probably white sapphire or white topaz.
With the uncertainty of name and limited appeal of some of the stones of the older selections that were popularly and commercially associated with the different months, it is natural that, from time to time, changes have been made in the accepted list. Originally the stones were considered to be those of the breastplate of the Jewish high priest, but in actual usage the parallelism is not close. In the 20th century the list was supplemented with a series of synthetic stones which were recommended as the equivalents of the rarer, less attractive or less durable of the natural stones. The natural stone list was also expanded to make it more acceptable to both sexes.
SOME DELIVERANCE WOULD BE IN ORDER HERE, along with destroying your birth stones.

JESUS IS THE DELIVERER
DON'T STOP HERE! SEE OUR INDEX FOR MORE ARTICLES.
THERE IS NO HATE, MALICE, RACISM, ETC. ON THIS SITE. THESE ARE SINS IN THE EYES OF GOD, AND ARE ALSO DEMONS. THE BIBLE MAKES IT CLEAR THAT SIN CANNOT GET INTO HEAVEN.