THE BLOOD OF JESUS CLEANSES YOU FROM ALL SIN AND GUILT (1 JOHN 1:7). JESUS IS THE DELIVERER!!

DEMONBUSTER.COM
DELIVERANCE MANUAL

OUR MAIN PAGE IS AT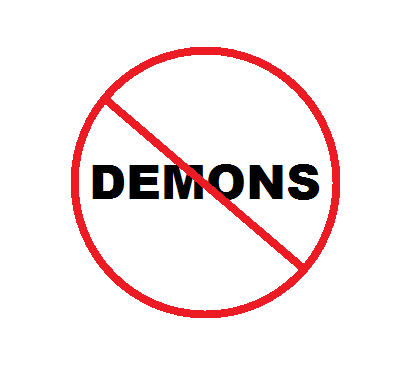 NO DEMONS ALLOWED

HIDDEN ANGER
HIGH BLOOD PRESSURE

Ecclesiastes 7:9 "Do not be quick in spirit to be angry or vexed, for anger and vexation lodge in the bosom of fools."
We learned from another deliverance minister that a demon called "hidden anger" was cast out of people when they needed deliverance from high blood pressure. Their blood pressure lowered!
Anyone that has seen anger in others or has experienced a bad temper themselves know what a vicious demon anger can be. There are lots of scriptures that talk about anger and how fierce it can be. The doctors call high blood pressure "hypertension" and says that it can be inherited. Thus, we know that it can be a bloodline curse and must be broken.
Ephesians 4:31 "Let all bitterness and indignation and wrath (passion, rage, bad temper) and resentment (anger, animosity) and quarreling (brawling, clamor, contention) and slander (evil-speaking, abusive or blasphemous language) be banished from you, with all malice (spite, ill will, or baseness of any kind)."
James 1:19 -21 "Understand [this], my beloved brethren. Let every man be quick to hear [a ready listener], slow to speak, slow to take offense and to get angry. For man's anger does not promote the righteousness God [wishes and requires]. So get rid of all uncleanness and the rampant outgrowth of wickedness, and in a humble (gentle, modest) spirit receive and welcome the Word which implanted and rooted [in your hearts] contains the power to save your souls."
Sometimes a person can seem to be so sweet and nice, but when someone crosses them you can see the demon of anger and rage manifest through them. This can also be part of a schizophrenic demon. James 1:8 "[For being as he is] a man of two minds (hesitating, dubious, irresolute), [he is] unstable and unreliable and uncertain about everything [he thinks, feels, decides]."
Now is the time to be set free of this tormenting demon and its family. Colossians 3:8 "But now put away and rid yourselves [completely] of all these things: anger, rage, bad feeling toward others, curses and slander, and foulmouthed abuse and shameful utterances from your lips!"
SAMPLE PRAYER: "Father, In Jesus name I ask that you forgive me of all my sins - known and unknown. I confess and repent of all sins and iniquities of my fathers and my own sins and iniquities. I break the bloodline curse of anger and rage going back 10 generations through my bloodline. I forgive anyone who has ever caused me to get angry, in the name of Jesus.
SOME DEMONS TO CAST OUT:
Hidden anger, anger, rage, poison, indignation, pride, rejection, hurt feelings, burning with anger, bitterness, wrath, resentment, bad temper, unrighteousness, evil speaking, slander, contention, heaviness, fury, fire kindled in anger, quarreling, brawling, clamor, animosity, abusive, blasphemous language, ill will, malice, spite, and all hidden anger and rage, hypertension, high cholesterol, obesity, stress, addiction to caffeine, arteriosclerosis, hate, unforgiveness, violence.
Use a Thesaurus to find other names of demons. Cast out all symptoms.

JESUS IS THE DELIVERER
THERE IS NO HATE, MALICE, RACISM, ETC. ON THIS SITE. THESE ARE SINS IN THE EYES OF GOD, AND ARE ALSO DEMONS. THE BIBLE MAKES IT CLEAR THAT SIN CANNOT GET INTO HEAVEN.