THE BLOOD OF JESUS CLEANSES YOU FROM ALL SIN AND GUILT (1 JOHN 1:7). JESUS IS THE DELIVERER!!

DEMONBUSTER.COM
DELIVERANCE MANUAL

OUR MAIN PAGE IS AT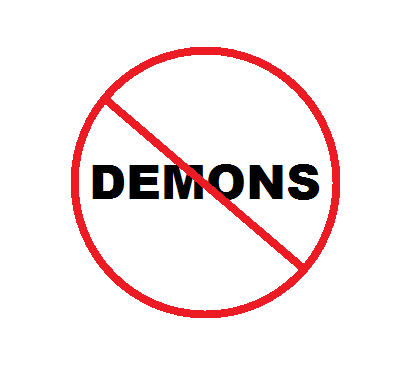 NO DEMONS ALLOWED

BOYCE and BOICE
ELECTRONIC MALFUNCTION DEMONS

A demon named TEMPER causes you to have a temper.
A demon named depression causes you to be depressed.
BOYCE and BOICE are two demons that interfere with any electronic equipment, i.e., phone, computer, printer, automobile.
If something malfunctions, BIND UP these two demons, and command them to leave your equipment, in the name of Jesus.
Here is an incoming email received: "Hi, Just thought I'd let you know it took me all these hours to run off your complete deliverance manual. My computer kept shutting down, the connection to the internet kept shutting off, I got signs coming up this is an illegal action, you probably have heard all this before, but the devil sure didn't want me to get hold of your material....I thought there has to be some good stuff in here if the devil is this mad.....as soon as I finished running if off, my computer is working perfect...not shutting down,....not getting unconnected. Praise Jesus, He's stronger than any devil. I had to keep taking authority over devils to get the manual printed, even the printer tried to jam up. What a praise report....really. Devil you loose!!!Praise the Lord. Thank you for your web site. Blessings"

JESUS IS THE DELIVERER
DON'T STOP HERE! SEE OUR INDEX FOR MORE ARTICLES.
THERE IS NO HATE, MALICE, RACISM, ETC. ON THIS SITE. THESE ARE SINS IN THE EYES OF GOD, AND ARE ALSO DEMONS. THE BIBLE MAKES IT CLEAR THAT SIN CANNOT GET INTO HEAVEN.