THE BLOOD OF JESUS CLEANSES YOU FROM ALL SIN AND GUILT (1 JOHN 1:7). JESUS IS THE DELIVERER!!

DEMONBUSTER.COM
DELIVERANCE MANUAL

OUR MAIN PAGE IS AT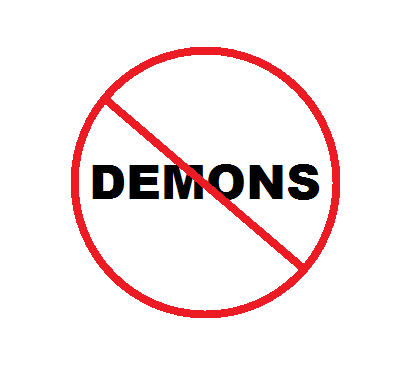 NO DEMONS ALLOWED

CAR SHOPPING AND DELIVERANCE

Have you ever gone new car shopping? If you ask the sales person how their model compares to the competition, they will say their model is best, then usually has some not so nice things to say about the competition. If you ask about comparing other dealerships with the same model, they will probably tell you they have a better service department or something.
Well, we work for the JESUS dealership, and FREE DELIVERANCE is our model. We know it really is the best model. It runs circles around the competition, BUT, you must turn the key on. Just sitting there does absolutely nothing. Anyhow, the competition is always badmouthing us because they have never tried our model.
Once you try it, you are sold on it. We don't have to badmouth the competition because their model speaks for itself. It is not working. All those great sermons about their model sure sounds nice, but the customers are most unhappy. They have been convinced in believing they already have the best their salesman has to offer, so there is no need to search for a newer model. You don't have to trade in your old model, just get it overhauled with a brand new DELIVERANCE engine.

Jeremiah 6:10 - "To whom can I speak and give warning? Their ears are closed and they cannot hear. The Word of the Lord is offensive to them; they find no pleasure in it."

Acts 5:38 "Now in the present case let me say to you, stand off (withdraw) from these men and let them alone. For if this doctrine or purpose or undertaking or movement is of human origin, it will fail (be overthrown and come to nothing);"
Acts 5:39 "But if it is of God, you will not be able to stop or overthrow or destroy them; you might even be found fighting against God!"

JESUS IS THE DELIVERER
DON'T STOP HERE! SEE OUR INDEX FOR MORE ARTICLES.
THERE IS NO HATE, MALICE, RACISM, ETC. ON THIS SITE. THESE ARE SINS IN THE EYES OF GOD, AND ARE ALSO DEMONS. THE BIBLE MAKES IT CLEAR THAT SIN CANNOT GET INTO HEAVEN.