THE BLOOD OF JESUS CLEANSES YOU FROM ALL SIN AND GUILT (1 JOHN 1:7). JESUS IS THE DELIVERER!!

DEMONBUSTER.COM
DELIVERANCE MANUAL

OUR MAIN PAGE IS AT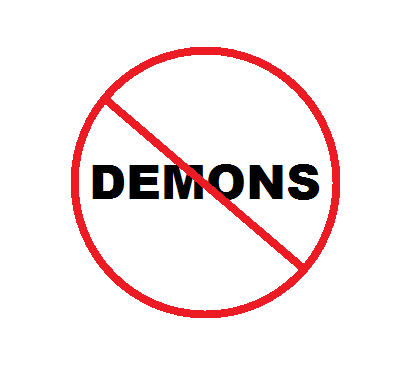 NO DEMONS ALLOWED

CHILDREN CAN AND SHOULD DO DELIVERANCE

What do you do if you are a Saved child of any age who is reading our web site, but your parent(s) are not Saved or wanting to do Deliverance? Well, YOU can and should do Deliverance on yourself, and you should do Spiritual Warfare aimed at your parent(s)/brothers/sisters/friends demons. Bind up all their demons, in the name of Jesus. Does your mom or dad scream or curse a lot? Just say,
IN THE NAME OF JESUS I BIND UP ALL THE SCREAMING AND CURSING DEMONS IN MY DAD/MOM.
Similar Warfare Prayers can be said for any problem. Remember that you must really be Saved, and your lifestyle should show it.
Are you abused? Look them right in the eye, and out loud say,
IN THE NAME OF JESUS, I BIND UP ALL YOUR DEMONS, AND PUT THEM IN THE BOX.
You can and should use Spiritual Warfare while at school or other places. Demons are everywhere! There is nothing to be afraid of since fear is a demon. Cast out fear, in the name of Jesus.
Note to any parents reading this - If your child is Saved, and you are not, you are in for a real lifestyle change, for better or worse. You should get Saved, and start Deliverance on yourself and your entire family living at home.

JESUS IS THE DELIVERER
DON'T STOP HERE! SEE OUR INDEX FOR MORE ARTICLES.
THERE IS NO HATE, MALICE, RACISM, ETC. ON THIS SITE. THESE ARE SINS IN THE EYES OF GOD, AND ARE ALSO DEMONS. THE BIBLE MAKES IT CLEAR THAT SIN CANNOT GET INTO HEAVEN.