DEMONBUSTER.COM
DELIVERANCE MANUAL

THE BLOOD OF JESUS CLEANSES YOU FROM ALL SIN AND GUILT
(1 JOHN 1:7).
IF you ask Jesus into your life.
JESUS IS THE DELIVERER!!

OUR MAIN PAGE IS AT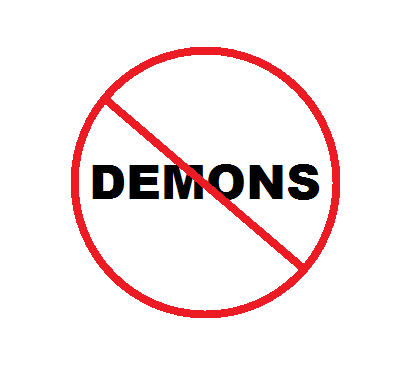 NO DEMONS ALLOWED

EMAIL CONTACT

Before you email us, please read more than just the page you found. There are over 400 articles, with over 4000 pages of free material on demonbuster.com, and many hours of audio files, all free of charge so you can learn how to defeat the works of the devil through Deliverance and Spiritual Warfare.
There is no need to go into detail about anything in your email since Jesus already knows your problem. Now He expects YOU to deal with these problems through Deliverance and Spiritual Warfare. Our website gives you the knowledge you may not already have.
There is no need for me to repeat things in email that are already on our website, so you will be referred back to the site to do your homework and take action on what you learn. Action is required, not just reading.

Type JESUS IS LORD in the subject line or your email may get deleted
and bounced back to you. Once bounced, no future email will get through.
All nastygrams, negative, or argumentative mail is
bounced back to you, deleted, and unread. No future mail from you will get through.
We won't debate, argue, or try to convince you or prove anything.
Why? MILLIONS have received help from this site.
That is our fruit, and you will know them by their fruit!
We don't open any email with attachments or blank subject lines.
Certain words in your email may automatically place you on the reject and bounce list.
Make sure your Subject line says
JESUS IS LORD
In your email, I would like to hear that you are doing
DAILY SELF DELIVERANCE, SPIRITUAL WARFARE, BREAKING AND RETURNING ALL EVIL.
Our physical address and phone number are not on our website.
This is not the website or email for Gene Moody.
You can contact us at

Stan @ demonbuster.com
We only speak English.
This address is for demonbuster.com only. I, Stan, make any reply.
I never intentionally say anything to offend you.
The tone of my voice is not harsh or critical.
BUT, your demons may make you "hear" it the wrong way.
Most responses will send you back to demonbuster.com to do your own homework to take action.
My email is personally sent, and not an automatic response.
If you want a reply, make sure our email address can get through your email program.


JESUS IS THE DELIVERER
DON'T STOP HERE! SEE OUR INDEX FOR MORE ARTICLES.
THERE IS NO HATE, MALICE, RACISM, ETC. ON THIS SITE. THESE ARE SINS IN THE EYES OF GOD,
AND ARE ALSO DEMONS. THE BIBLE MAKES IT CLEAR THAT SIN CANNOT GET INTO HEAVEN.