THE BLOOD OF JESUS CLEANSES YOU FROM ALL SIN AND GUILT (1 JOHN 1:7). JESUS IS THE DELIVERER!!

DEMONBUSTER.COM
DELIVERANCE MANUAL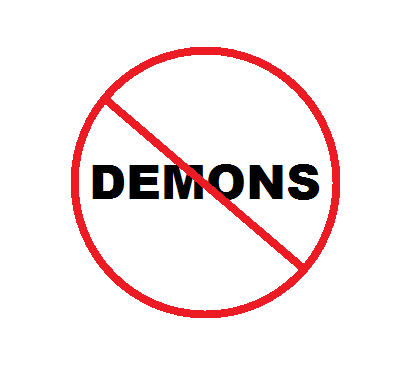 NO DEMONS ALLOWED

DO YOU COPYRIGHT GOD?

Have you or someone in your fellowship given or received a Word of Prophecy from the Lord that you published somehow? Have you placed these words from the Lord in a copyright protection so no one else could publish it without special recognition or approval from the originating ministry?
Were you the originator, or was God the originator? Many Prophesies can apply to many people. Look at the Bible, for instance. Salvation and DELIVERANCE applies to all.
I believe the Lord would want everyone to read the Special Words that originate from the Most High that someone put into print without having to pay for them or be concerned about "copyright protection" if you want to copy it for others to read.

DO YOU HAVE A MINISTRY OR A BUSINESS?

Do you have a called of God ministry where your whole purpose is to "feed the sheep", and God supplies your needs, or do you have books, tapes, videos, etc. that you SELL for a "donation", or just outright SELL, and your buyers supply your needs?
There is nothing wrong with being in business and selling things. However, if you are a church or any kind of "ministry", you may want to check your motive for how you are conducting the work of the Lord. Remember the money changers in the temple where JESUS turned over the tables and threw them out. They were selling things in the "church".
When God had us start the in 1987, He made it quite clear to us that we were not to charge for anything, that HE was our source. The first two years in Ministry we had regular services three times a week, and we never took up an offering. We have given hundreds of tapes and booklets away free of charge, most of them mailed. Our "JESUS is the Deliverer" Newsletter was given free of charge as well, mailing over 300 copies a month. (We stopped the Newsletter when we went on the Internet in 1996.) Guess what? We always had enough money to destroy the works of the devil. People do send us donations when God tells them to. That is how it is supposed to be. We have had many bad things said about us to discredit us, but because we are in the Will of God, we are still around, and never had to worry about "getting behind because donations are down". Trust in the Lord, and not in your "buyers".

JESUS IS THE DELIVERER
DON'T STOP HERE! SEE OUR INDEX FOR MORE ARTICLES.
THERE IS NO HATE, MALICE, RACISM, ETC. ON THIS SITE. THESE ARE SINS IN THE EYES OF GOD, AND ARE ALSO DEMONS. THE BIBLE MAKES IT CLEAR THAT SIN CANNOT GET INTO HEAVEN.