THE BLOOD OF JESUS CLEANSES YOU FROM ALL SIN AND GUILT (1 JOHN 1:7). JESUS IS THE DELIVERER!!

DEMONBUSTER.COM
DELIVERANCE MANUAL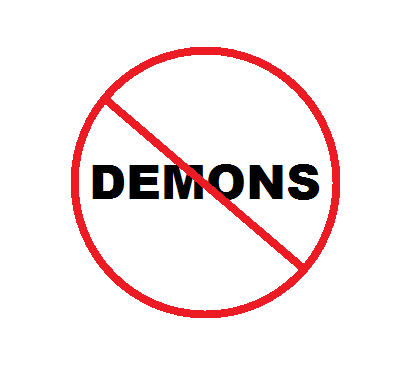 NO DEMONS ALLOWED

$$ HOW MUCH DOES DELIVERANCE COST? $$

IF THEY CHARGE, FIND SOMEONE WHO DOES IT FREE!
A man called us from Arkansas seeking some DELIVERANCE. He was surprised that we did not charge for this help. Then he told me that Norval Hayes charges $300 a session, only does groups of 20-25, and you must stay at the accommodations belonging to his ministry. In the past I have received literature from a DELIVERANCE ministry that recommended a $500 donation per visit.
Someone else called us from out of state and told us about another DELIVERANCE ministry in Virginia that charges, and that they tried unsuccessfully many times to make an appointment for DELIVERANCE.
Whether you charge or not, if you are hardly available to help people who need DELIVERANCE and are seeking it, where will they go?

FREELY YE HAVE RECEIVED, FREELY GIVE

JESUS IS THE DELIVERER
DON'T STOP HERE! SEE OUR INDEX FOR MORE ARTICLES.
THERE IS NO HATE, MALICE, RACISM, ETC. ON THIS SITE. THESE ARE SINS IN THE EYES OF GOD, AND ARE ALSO DEMONS. THE BIBLE MAKES IT CLEAR THAT SIN CANNOT GET INTO HEAVEN.