THE BLOOD OF JESUS CLEANSES YOU FROM ALL SIN AND GUILT (1 JOHN 1:7). JESUS IS THE DELIVERER!!

DEMONBUSTER.COM
DELIVERANCE MANUAL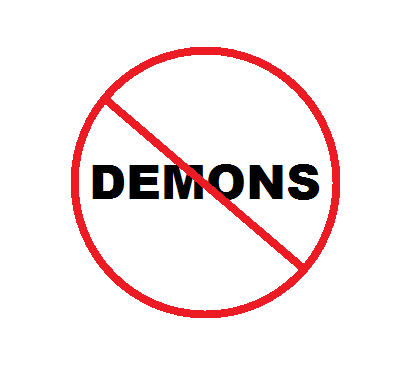 NO DEMONS ALLOWED

"COVERING" NOT REQUIRED

We have heard from three or four DELIVERANCE Ministers who told us they were under the "covering" of such and such Pastor. When asked if they wanted to be placed on our referral list, they said they would have to ask their "covering" Pastor first. That revealed to us the possibility of some fear (of the Pastor) in these DELIVERANCE Ministers, and maybe some control (Charismatic witchcraft, mind control, Jezebel) from the "covering" Pastor. You may be involved in the "shepherding movement" where the people in your congregation are expected to seek your opinion on everything from buying a home or a car, to going fishing. If you feel you just HAVE TO ask your Pastor about everything, try some DELIVERANCE from the above demons and more. When I first got into DELIVERANCE I went to a church that had this control. However, I did not know this PRIOR to DELIVERANCE from the controlling spirits. I was blinded to the facts. In a previous Newsletter we mentioned some statements that are rattled off to us, only to find out there are no scriptures to back it up. We have heard many times that "you must have a covering".
Well, guess what? Can't find any supporting scriptures. Some of you even told us who your covering was. Normally, this "covering" is supposed to be a "church" or someone in charge of a ministry. Some people experience Salvation, Healing, DELIVERANCE, and Baptism in the Holy Spirit, in cars, houses, motels, in the woods, etc. (Outside the "church"). If the subjection, submission, and "covering" of a "pastor", "leader", or "church" is required, then why would the above experiences occur without a "pastor", "leader", or "church" present, and not take place always in a "church"?
When JESUS was on the earth He was not in a "church". He went to different places. When the disciples were called, they were not in a "church" as we know of today. Paul was called and he was not in a "church". The "church" as we know today was not around then. Were they out of the will of God?
The Bible says in James 4:7, "submit yourselves therefore to GOD". Hebrews 13:17 says "obey your spiritual leaders and submit to them [continually recognizing their authority over you], for they are constantly keeping watch over your souls and guarding your spiritual welfare, as men who will have to render an account [of their trust]. [Do your part to] let them do this with gladness and not with sighing and groaning, for that would not be profitable to you [either]." This scripture does not say you MUST go out and get a spiritual leader. If you have your own ministry, then you are the spiritual leader, and you submit to GOD. However, if you are not a spiritual leader, and you have a pastor or spiritual leader, by all means submit to them, if YOU want (not if THEY SAY YOU HAVE TO). Note the above scripture says "leaders" and "them". Read this scripture again slowly.
If your "leader" is not walking in DELIVERANCE, do you think he\she can really guard "your spiritual welfare"? Don't put the "pastors", "leaders", or "churches" in a higher position than God."

JESUS IS THE DELIVERER
DON'T STOP HERE! SEE OUR INDEX FOR MORE ARTICLES.
THERE IS NO HATE, MALICE, RACISM, ETC. ON THIS SITE. THESE ARE SINS IN THE EYES OF GOD, AND ARE ALSO DEMONS. THE BIBLE MAKES IT CLEAR THAT SIN CANNOT GET INTO HEAVEN.