-- This is NOT the website of Gene Moody. It is the website of DEMONBUSTER.COM.

THE BLOOD OF JESUS CLEANSES YOU FROM ALL SIN AND GUILT (1 JOHN 1:7).
JESUS IS THE DELIVERER!!

DEMONBUSTER.COM
GENE AND EARLINE MOODY
DELIVERANCE MANUAL

MAIN PAGE IS AT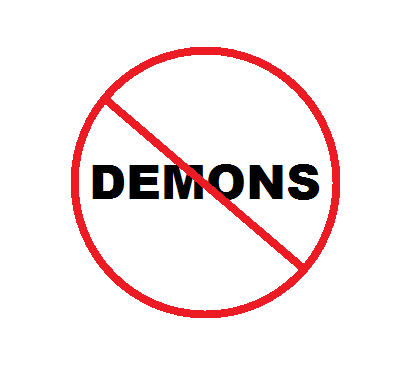 NO DEMONS ALLOWED

CURSES OF APOSTATE CHURCH

(A Compassionate Roar)
TABLE OF CONTENTS
1. WHAT IS THE APOSTATE CHURCH?
2. IT IS ABOUT SELF!
4. WHAT DOES THE FUTURE HOLD?
4. WHAT IS SEXUAL SIN?
5. WHAT IS SIN?
6. REFERENCE
WHAT IS THE APOSTATE CHURCH?
Characteristics of the apostate church are: success-promising, user-friendly, prosperity and money-focused; programs, church calendars, and contemporary music and worship; motivational speakers; those who honor, practice and remain silent; and soporific pep-talks. Men will not put up with sound doctrine, and teachers who say what their itching ears want to hear. Do not believe that God will judge America. Church problems: timorous accommodating attitude, morally ambivalent preachers, fashion, position,
superficial, mute prophets, professional preachers and Christians, whitewash, ego-driven ministry, superficiality, charade, spiritual treachery and treason, psychobabble, shallowness, idolatry, seduction, covetous, greedy, pious activity, worldly accommodation, religious pride, apathy, materialism, crowds, growth, neglect of prayer, moral evils, doctrinal corruptions, happiness, earthly benefits, fads, religious humanism, triumphantism, another gospel, falsity, fraudulent compassion, charlatans, new teachings, celebrity,
fill meetings and pocketbooks, convenience, power and pleasure, success slogans, so-called moves of God, power religion, prosperity, positive mental images, pop psychology, other winds of doctrine, moralism, pragmatism, entertainment, competition, materialism, love of money, intellectual depravity, muting scriptural truth, lavish style of Christianity, distort truth, amoral, false prophets, blindly alter perception of truth, cowardly clergy and liberal church.
Have God's justice, exposure of sin, warnings of judgment, compassionate calls to repentance, the Cross, sin, accountability and eternal damnation omitted? Are we holding back God's message? Are we casual Christians? Do we ignore repentance, redemption, justice, righteousness, cleansing, right living, defending the fatherless and widow, holiness, wrath, accountability, repentance, death, wrath and other parts of The Bible.?
A UNITED METHODIST CHURCH
(The Homosexual Agenda)
The minister refused to conduct legal marriages until the denomination's ban on same-sex marriages was overturned. The church was described as members from diverse backgrounds exploring the many ways of understanding God, celebrating the gifts of all persons regardless of sexual orientation or gender identity, honoring a diversity of theological expressions, using both feminine and masculine images of God. Creed is a diversity of theological expressions: traditional Christianity, an appreciation of other sacred texts, concern for ecological dimensions of the creation and planet, Liberation theology, Native American spirituality, and a critique of patriarchal religion and hierarchy.
IT IS ABOUT SELF!
It is about self: self-deceptions, self-image, self-esteem, self-love, self-help programs, self-deluded, self-made fantasy, self-righteousness, self-destruction, self-absorption, selfish, and many others.
WHAT DOES THE FUTURE HOLD?
Is God bringing remedial judgment on America for our national iniquities? Remedial judgments are to shake us up to get us to listen. What consequences do we face: the ultimate death of our society, another 9/11, national tragedy, war, economic disintegration, natural disasters or a combination of these? Do we rival Sodom with our terrible evil and judgment-deserving nation, low standard of morals and our grievous sins? Are we heading for virtually abandoning restraint in the sin of America, bloodshed of killing our unborn, sexual licentiousness, gross immorality, pride and other public sins? Is our house burning? Are we at the abyss of judgement? Are we barbarians?
God is exceedingly angry with America. America, as a nation, is ripe for destruction, and certain judgement. We have a window of mercy which the Church had better utilize.
WHAT IS SEXUAL SIN?
Sexual sin is one of the biggest problems in and out of the Church. Abortion is shedding of innocent blood, officially sanctioned public-approved ritualized human sacrifice against the helpless, defenseless and weak, the right of a woman to her own body, every child should be wanted, the viability of the fetus, the right to choose, abortion clinics; sexual license in movies, TV and music; fatherlessness; same-sex couples adopting children; immorality, child molestation, rape, homosexual perversion,
pornography, sexual libertines, gay rights activists, sex education debauchery, AIDS, pornography, heterosexual fornication and adultery, pornography, sensuality, killing our unborn, teaching our children to accept sin, pervasive immorality, fornication, adultery, sodomy, same-sex marriage, pro-choice, gross sexual perversion, licentiousness, sensual pleasure, sexual license, whoremongering, adoption of children by homosexuals and lust.
WHAT IS SIN?
According to The Bible, sin has many forms: pride, tolerance, non-judgmental, physician-assisted suicide, presumptuous sins, depravity of society, situational ethics, instant gratification, adoption of children by homosexuals, national hypocrisy, lying, worldliness, covetousness, bitterness and hostility, drug addictions and other evils, sewer of sin, violence; feticide, animals treated more humanely than humans, abusing children, violence in our streets and schools, wife-beating,
mugging, robbery, murder, parricide, feminists and New Agers in schools, drug epidemic, euthanasia, aggressive sinning, evil, decay, degeneracy, foolish, arrogance, contempt, corrupt, profane, reprobate, debased, compromise, rebellion, bondage, seared conscious, brainwash, suicide, homicidal atrocities, indifferent, hardened, bold sinning, lukewarm, brazen, detestable, spiritual drought, apathetic, degrading passions, moral impurity, Corinthian immorality and situational ethics.
REFERENCE
A Compassionate Roar - Raising An Urgent Voice In Our Window Of Mercy by John O. Anderson, Bridge Logos

JESUS IS THE DELIVERER