THE BLOOD OF JESUS CLEANSES YOU FROM ALL SIN AND GUILT (1 JOHN 1:7).
JESUS IS THE DELIVERER!!

DEMONBUSTER.COM
DELIVERANCE MANUAL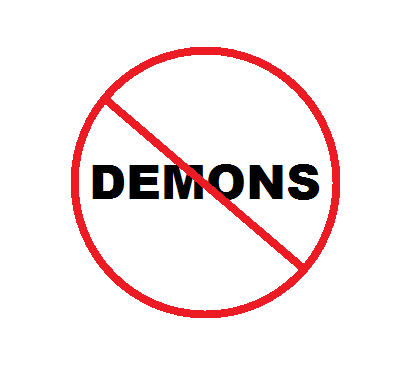 NO DEMONS ALLOWED

SPIRITUAL WARFARE PRAYERS TO PRAY DAILY (as needed)
These are just samples.
You do not have to pray ALL these prayers daily, just as needed.

Ps 79:12 And render unto our neighbors SEVENFOLD into their bosom their reproach, wherewith they have reproached thee, O Lord.
Gen 4:15 And the LORD said unto him, Therefore whosoever slayeth Cain, vengeance shall be taken on him SEVENFOLD.
Gen 4:24 If Cain shall be avenged sevenfold, truly Lamech SEVENTY and SEVENFOLD.

The following Spiritual Warfare Prayers are sample prayers. They are not to be ritual prayers or incantations. They are a guide to go by. Some or all of these prayers should be prayed DAILY, and sometimes often during the day.

ANY UNGODLY THOUGHTS, OR THOUGHTS YOU DON'T WANT, PRAY THIS IMMEDIATELY:
IN JESUS NAME, I CIRCUMCISE THESE THOUGHTS.
You may have to pray this several times before the bad thoughts leave. This really works too!

WHEN ENTERING YOUR OFFICE, GROCERY STORE, ANYONE ELSE'S HOME, ETC., PRAY THIS BEFORE ENTERING:
IN JESUS NAME, I COVER MYSELF AND THIS PLACE WITH THE BLOOD OF JESUS. I BIND UP EVERY DEMON IN HERE, AND I ASK FOR GIANT WARRIOR ANGELS TO PROTECT ME.

AFTER HANGING UP THE PHONE, LEAVING WORK, GROCERY STORE, NEIGHBORS, OR VISITORS LEAVE YOUR HOME, ETC., PRAY THIS IMMEDIATELY:
IN JESUS NAME, I COMMAND EVERY DEMON THAT HAS FOLLOWED ME, WAS SENT TO ME, OR TRANSFERRED TO ME, TO LEAVE ME NOW.

BEFORE DOWNLOADING EMAIL OR OPENING WEB PAGES ON THE COMPUTER, PRAY THIS:
IN JESUS NAME, I BIND UP EVERY DEMON COMING ACROSS THE COMPUTER LINES, AND I RETURN THEM AND ANY CURSES.

BEFORE OR AFTER GETTING INTO ANY VEHICLE, PRAY THIS:
IN JESUS NAME, I COVER MYSELF IN THE BLOOD OF JESUS. I COVER THIS VEHICLE AND THE ROAD I TRAVEL IN THE BLOOD OF JESUS. I TAKE AUTHORITY AND DOMINION OVER ALL ANIMALS AND DEMONS OF THE ROAD SO THEY DO NOT CROSS MY PATH. I DISPATCH ANGELS AHEAD OF ME TO PROTECT ME.

BEFORE GOING TO SLEEP, PRAY THIS:
IN JESUS NAME, I COVER MYSELF AND ALL MY PROPERTY WITH THE BLOOD OF JESUS. I TAKE AUTHORITY OVER ALL DEMONS OF THE NIGHT, BAD DREAMS, NIGHTMARES, AND SEX DREAMS, AND ANYONE OR ANYTHING TRYING TO GET INTO MY DREAMS, AND I COMMAND THEM TO STAY AWAY. I ASK FOR GIANT WARRIOR ANGELS TO PROTECT ME AND MY PROPERTY AS I SLEEP, THROUGH THE NIGHT AND THE DAY. I ASK FOR A FIERY WALL OF PROTECTION AROUND ME.

ANY SHARP PAIN THAT COMES ON YOU SUDDENLY IS ALMOST ALWAYS WITCHCRAFT. WHEN THIS HAPPENS, PRAY THIS IMMEDIATELY AS YOU USE YOUR INDEX FINGER AND THUMB ON THE SPOT OF THE PAIN, LIKE YOU WERE PULLING OUT A VOODOO PIN:
IN JESUS NAME, I PULL OUT ALL FIERY DARTS, PINS, NEEDLES, SPEARS, VOODOO, ALL WITCHCRAFT AND CURSES AND ANYTHING ELSE, AND I RETURN IT TO THE SENDER, ONE HUNDREDFOLD. (Then motion with your hand towards a window or door like you were throwing it out.) If it is witchcraft, the pain will go immediately. This is a highly effective Spiritual Weapon.

TO RETURN ALL EVIL BEING SENT, PRAY THIS SEVERAL TIMES DURING THE DAY, AND ANY TIME THE HOLY SPIRIT PROMPTS YOU:
IN JESUS NAME, I CUT AND BURN ALL UNGODLY SILVER CORDS AND LAY LINES.
AS YOUR WAR CLUB AND WEAPONS OF WAR, I BREAK DOWN, UNDAM, AND BLOW UP ALL WALLS OF PROTECTION AROUND ALL WITCHES, WARLOCKS, WIZARDS, SATANISTS, SORCERERS, AND THE LIKE, AND I BREAK THE POWER OF ALL CURSES, HEXES, VEXES, SPELLS, CHARMS, FETISHES, PSYCHIC PRAYERS, PSYCHIC THOUGHTS, ALL WITCHCRAFT, SORCERY, MAGIC, VOODOO, ALL MIND CONTROL, JINXES, POTIONS, BEWITCHMENTS, DEATH, DESTRUCTION, SICKNESS, PAIN, TORMENT, PSYCHIC POWER, PSYCHIC WARFARE, PRAYER CHAINS, INCENSE AND CANDLE BURNING, INCANTATIONS, CHANTING, UNGODLY BLESSINGS, HOODOO, CRYSTALS, ROOTWORKS, AND EVERYTHING ELSE BEING SENT MY WAY, OR MY FAMILY MEMBER'S WAY, OR ANY DELIVERANCE MINISTRIES WAY, AND I RETURN IT, AND THE DEMONS TO THE SENDER, ONE HUNDREDFOLD, AND I BIND IT TO THEM BY THE BLOOD OF JESUS.

If you brought a bottle of spoiled milk home from the grocery store, would you drink it or RETURN it? By RETURNING it, is your intention to have the clerk drink it? No. You RETURN it because you don't want it. Same for RETURNING all evil, because you don't want it.

Recently, a friend of ours was prayed for by another minister. Through Discernment, the minister praying for her saw pentagrams (5 pointed star) drawn on her liver. She had been diagnosed with Hepatitis C (a disease effecting the liver and other body parts). The minister did not know this.
While praying for her, the Lord showed us that we could take the Blood of Jesus and "erase" these evil lines drawn on her liver or any part of her body. So we prayed this way:
Father, In Jesus' Name, I take the Blood of Jesus and break the power of all witches, warlocks, wizards, satanists, sorcerers, wiccans, pagans, and any other source, and all of their rituals off of us. With the Blood of Jesus, I erase all evil lines drawn on our liver or any parts of our body, soul, will, and emotions.
Note that this is a "spiritual" act of erasure, just like when we do Spiritual Warfare and pull out all fiery darts, pins, needles, etc. where there is pain in our bodies.

PRAY THIS OTHER ANTI-WITCHCRAFT PRAYER DAILY:
SPIRITUAL WARFARE PRAYER AGAINST WITCHCRAFT
IN THE NAME OF JESUS CHRIST OF NAZARETH, I COME AGAINST THE PRINCE-RULING SPIRIT AND ALL SPIRIT GUIDES. I COME THROUGH THE BLOOD OF THE LORD JESUS CHRIST, IN THE NAME OF JESUS. I PARALYZE YOU AND SILENCE YOU, FORBIDDING YOU FROM INFLUENCING OR STRENGTHENING THEM (THE WITCH OR WITCHES) IN THE NAME OF JESUS, RIGHT NOW!
WE ARE DESTROYING YOUR VERY WORKS: THE SPIRITS OF HATE, BITTERNESS AND MURDER, SPIRITS OF ENVY AND JEALOUSY, SPIRITS OF WIZARDRY, SORCERY AND ALL YOUR CO-SPIRITS, YOUR WORKS, YOUR POWERS, YOUR INFLUENCES ARE DESTROYED IN THE NAME OF JESUS!
I PARALYZE YOU, ALL, RIGHT NOW. YOU WILL NOT BE ABLE TO USE THIS SOUL ANY LONGER AGAINST THE CHURCH (OR, A PARTICULAR PERSON), IN THE NAME OF JESUS.
I COME AGAINST THE SPIRIT OF BLINDNESS, BINDING THE SPIRITS OF BONDAGE AND HEAVINESS, FEAR AND HATE.
I PRAY, LORD, THAT YOU WILL OPEN THEIR EYES SO THEY CAN SEE THE GLORY OF JESUS. OPEN THEIR HEARTS SO THAT THEY CAN HEAR YOUR VOICE. BREAK THE YOKES IN THEIR LIVES AND GIVE THEM LIBERTY IN THEIR SOULS, THAT THEY MAY BE FREE TO REPENT. SHOW THEM EVERY EVIL WORK AND EVERY EVIL DEED THEY'RE GUILTY OF, AND LORD JESUS, CONVICT THEIR HEARTS UNTO REPENTANCE. BRING THESE SOULS OUT OF DARKNESS; SAVE THESE SOULS SO THAT YOU MAY HAVE THE GLORY.
SATAN, I SILENCE YOU IN THE NAME OF JESUS, BINDING ALL YOUR INTERFERENCE. YOU WILL NOT INTERFERE WITH THESE SOULS AND THEY WILL HAVE THEIR OWN FREE WILL CHOICE SO AS TO MAKE UP THEIR OWN MINDS IF THEY WANT TO REPENT. THEY WILL DO IT WITHOUT YOUR INTERFERENCE. ALSO, LORD JESUS, I PRAY THAT YOU WILL RELEASE WARRING ANGELS TO WAGE WAR AGAINST THESE DEMONIC ACTIVITIES, AND WILL SEND MINISTERING SPIRITS TO MINISTER TO THEIR SOULS.

SPIRITUAL WARFARE PRAYERS
TO DESTROY THE WORKS OF THE DEVIL

THIS IS AN ASSORTMENT OF METHODS AND PRAYERS TO HELP YOU LAUNCH AN ATTACK AGAINST THE DEVIL AND HIS HELPERS, THE DEMONS

If you are not right with the Lord, don't expect this to work for you.

Cut out this sign and hang or tape it OVER every door entering you home or office. You could also just write it out on paper and tape it to the doorway. It will keep many demons and people from coming in the doorway. We have personal testimonies that it works. If you have more than four doors, make some more copies.
WHOEVER OR WHATEVER ENTERS THIS HOME
IS COVERED WITH THE BLOOD OF JESUS
WHOEVER OR WHATEVER ENTERS THIS HOME
IS COVERED WITH THE BLOOD OF JESUS
WHOEVER OR WHATEVER ENTERS THIS HOME
IS COVERED WITH THE BLOOD OF JESUS
WHOEVER OR WHATEVER ENTERS THIS HOME
IS COVERED WITH THE BLOOD OF JESUS

MINISTRY CARDS
This is what was printed on one of our older ministry cards we passed out everywhere we went. There is also a quarter size NO DEMONS logo on it.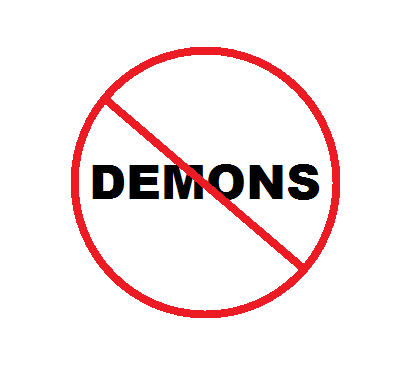 JESUS SAID IN LUKE 13:32 ...I DRIVE OUT DEMONS AND PERFORM HEALINGS TODAY AND TOMORROW...
MATTHEW 10:8 HEAL THE SICK, CLEANSE THE LEPERS, RAISE THE DEAD, CAST OUT DEMONS: FREELY YE HAVE RECEIVED, FREELY GIVE... JESUS CHRIST.
MARK 16:17 THESE SIGNS SHALL FOLLOW THEM THAT BELIEVE; IN MY NAME SHALL THEY CAST OUT DEMONS... JESUS CHRIST.
HAVE YOU PRAYED FOR THE SAME OLD PROBLEM TIME AND TIME AGAIN? HAVE YOU BEEN PRAYED FOR AT CHURCH TO NO AVAIL FOR FEAR - ALCOHOL - DEPRESSION, ETC.? IF IT HASN'T WORKED, YOU NEED DELIVERANCE (CASTING OUT DEMONS). IT WORKS!
THE CAPTIVES ARE SET FREE WITH DELIVERANCE!
DELIVERANCE CAN HELP ANY PROBLEM OR HABIT.
DEMONS COME OUT IN JESUS' NAME. IT'S FREE.

SAY THIS PRAYER BEFORE YOU KICK OUT ANY DEMONS.
BEFORE DELIVERANCE PRAYER
Father, I come before you in JESUS' name, and I thank you for giving me all power and all authority over all demons. I cover myself in the blood of JESUS. I cover all my family members in the blood of JESUS. I thank you for your giant warring angels that are surrounding us, protecting us from all harm of the enemy. I take my authority and I attack from the third Heaven, and I bind the strongman over my mind, will, emotions, and over my home, in JESUS' name. I command you to leave this area now in JESUS' name. I bind up every demon that was sent to me, transferred to me, or followed me, and I command you to come out of my conscious, subconscious, unconscious mind, all parts of my body, will, emotions, and personality, in JESUS' name.

ANOTHER SAMPLE PRAYER BEFORE DELIVERANCE
Dear God, in the name of Jesus:
According to Romans 10:9 I confess with my lips that JESUS is Lord and in my heart I believe that You raised him from the dead. According to Luke 13:3 I repent of my past sins and I admit and confess that I have sinned and I believe that You are faithful and just to cleanse me from all unrighteousness. I call upon You, Lord JESUS to cleanse me from all sin and unrighteousness by Your Blood (1 John 1:7). And as Your word says in Romans 10:13 Everyone who calls upon the name of the Lord will be saved.
I confess and repent of occult practices such as (witchcraft, fortune telling, horoscopes, astrology, water witching, etc.)
I renounce all occult practices and satan and break all curses associated with those occult practices. According to Galatians 3:13 Christ purchased our freedom [redeeming us] from the curse [doom] of the Law [and its condemnation] by [Himself] becoming a curse for us, for it is written [in the Scriptures], Cursed is everyone who hangs on a tree (is crucified); Deut. 21:23.
I confess and repent of all sins listed in Deuteronomy 27 and 28 and break the curses associated with these sins.
I confess and repent of my iniquities and my father's iniquities according to Leviticus 26:40 and I break the curses associated with these iniquities.
I break and loose myself from all evil soul ties with my mother, father, brother, sisters, spouses, former spouses, former sex partners, pastors, churches, friends, etc.
Lord JESUS: I forgive my mother, father, brothers, sisters and anyone else who has ever hurt me, including all whites, blacks, indians, etc. Matthew 6:15, 18:21, 22, 35; Luke 11:4 (Lord's prayer).
I break and loose myself and my family from all curses that have been and are being placed upon me and my family, including any demons being sent to us: curses of witchcraft, psychic thoughts or prayers, ungodly intercessory prayers; all words spoken in anger, hurt, sorrow, or bitterness; all incense being burned for or against us, in JESUS' name. AMEN!

Iniquities are like the sins of the fathers.
INIQUITIES
Leviticus 26:40 But if they confess their own and their fathers' iniquity in their treachery which they committed against Me - and also that because they walked contrary to Me
41 I also walked contrary to them and brought them into the land of their enemies - if then their uncircumcised hearts are humbled and they then accept the punishment for their iniquity,
42 Then will I [earnestly] remember My covenant with Jacob, My covenant with Isaac, and My covenant with Abraham, and [earnestly] remember the land.
A. Confess
B. Repent
C. Ask forgiveness OF:
1. Own iniquities
2. Ancestors' iniquities going back 4 generations (or further as the Lord gives discernment)
3. Spouses, former sex partners, and their ancestors' iniquities going back 4 generations
PRAYER:
CONFESSION
Heavenly Father, I confess my iniquity of __________________
I confess on behalf of my ancestors going back 4 generations their iniquity of _____________________________. I confess on behalf of my spouse and my previous spouses and former sex partners and their ancestors going back 4 generations, for their iniquity of ________ _________________________.

REPENTANCE
I repent of my iniquity of _________________. I repent on behalf of my ancestors, spouse, previous spouses and former sex partners and their ancestors going back 4 generations, for their iniquity of _________________________.

FORGIVENESS
Lord, I ask your forgiveness for my iniquity of ____________. I ask your forgiveness on behalf of my ancestors, spouse, former spouses and former sex partners and their ancestors going back 4 generations, for their iniquity of ____________.

SOUL TIES
I break all evil soul ties with these people in JESUS' name

CURSES
Exodus 20:5 and 34:7
Numbers 14:18
Deuteronomy 5:9; 11:26-28; 23; 27 and 28
Malachi 3:9
Confess, repent and ask for forgiveness of sins and iniquities.
Upon the authority of JESUS Christ, which I have as a Believer, and in the Name of JESUS and by the Power of His Blood I break the power of every curse due to sins and iniquities of
drunkenness, adultery, godlessness, faithlessness, idolatry, etc.
committed by:
ME
My Mother and Father (Name each)
My Aunts and Uncles (Name each)
(and all spouses and former sex partners)
All ancestors going back through the generations to Adam AND Eve.
I break the power of each one of these curses due to:
sins of drunkenness, etc.
as they fall upon:
ME
My wife or husband (Name)
Our children (Name each)
as they fall upon:
Former sex partners and their spouses and children and ancestors
as they fall upon:
My mother and father (Name each)
My brothers, sisters (Name each)
My Aunts and Uncles (Name each)
My Cousins, their spouses and children (Name each)
By the power of the Blood of JESUS, I declare each of these curses due to sins of drunkenness to be broken and now powerless and of no effect, according to Galatians 3:13
I command all demons associated with these curses to come out in the Name of JESUS.

WEATHER DEMONS
Believe it or not, but foul weather can be caused by demons, which means we have authority over them in that area too. Time and time again, we have prayed against the severe weather, and it either stops in its tracks or heads the other way. It must be noted, however, that if God wants to allow your neighbors property to be damaged, the storm will come through, but your property can be safeguarded, IF you are right with the Lord.
Job 1:19 tells us of a great whirlwind from the desert that killed Job's children.
Acts 27:14 tells us of a typhoon type wind that came upon Paul at sea.
In the Name of JESUS, I bind all demons that cause hail, excess heat and cold, lingering domes, fire, earthquakes, tornados, lightning, damaging winds, floods, hurricanes, bad weather of all kinds. I bind CHANGO, OXUN, EUROCLYDON, BAAL, SEIR, LEVIATHAN, HADADRIMMON, AMURR, BASILISK, and all others. Father, I ask you to send your warring angels (Matthew 26:53) into the heavenlies to do battle with these demons, to knock them off their thrones, take their crowns from their heads, and to write on their foreheads that they have been defeated by the Lord JESUS Christ. Father, I ask that you send the warring angels to block these demons from coming into our city, state, or county. I ask for warring angels to be placed around our property and home for protection from these demons. In JESUS Name, I cover my property, home, possessions and family in the Blood of JESUS. Amen.
SOME WEATHER DEMONS BY NAME
CHANGO - (prince) controls thunder, lightning, fire.
OXUN - god of thunder and lightning.
EUROCLYDON -east wind (Acts 27:14) Levant - a surge of the sea, raging, wave
BAAL - god of thunder
SEIR - prince
LEVIATHAN - Job 41:1; Psalm 74:14; Psalm 104:26; Isaiah 27:1
HADADRIMMON - west semitic storm-god, thunder
AMURR - amorite storm god
HURRICANE - means god of evil
TORNADO
HAIL
LIGHTNING
FLOODING
WIND
FIRE
EARTHQUAKE
BASILISK

SENDING THE JUDGMENT OF GOD
These Scriptures, Deuteronomy 30:7, Psalm 109, 140, and Isaiah 54:17 are just four of many Scriptures that offer us some protection against people coming against us.
I personally know of a number of people who came against me, and met with terrible judgment from the Lord. One man use to make fun by saying frequently, seen any demons lately?, with a laugh. He unexpectedly was fired from his job, his wife divorced him, he was in an auto wreck that almost killed him, he turned into an alcoholic, and had a massive heart attack. A previous employer who tried to wrongly fire me lost a multi-million dollar contract for interfering with God's work. I've heard or read testimonies from some of you where God has intervened or judged on your behalf.
These kinds of things happen to people all the time. Sometimes it happens real quick, and sometimes it takes days, weeks, months, or even years before the judgment of God falls on them. If you are under a lot of attack, you may want to specifically pray these scriptures against someone. It is God's business when and how he deals with that person. If the person is innocent, nothing will happen to them. I make it a point to warn people, especially about Psalm 109, so they don't make fun or mock God's ministry of DELIVERANCE.
This is not practicing witchcraft. We do not pray for bad things to happen to people. We rightfully pray to God. Once we have done this, it is God's business how He handles it.
I believe a person can avoid the judgment of God in these matters by repenting. The scriptures say, My people are destroyed for lack of knowledge.
Unfortunately, in my experiences, not having the knowledge of DELIVERANCE, did not keep the bad things from happening to people who came against me.
Pray - Father, in the name of JESUS I send the judgment of God to (name names). I pray Deuteronomy 30:7, Psalm 109 and 140, Isaiah 54:17, and any like Scriptures on them, and anyone else coming against us, in the name of JESUS.

ANOTHER ANTI-WITCHCRAFT PRAYER
Father, In JESUS Name, I break and loose myself from all witchcraft curses and evil and demons being sent to me and my family. As your war club (Jeremiah 51:20-23) and weapons of war, I break in pieces the walls of protection that the satanists and witches have put up and I return the evil and demons back to them. Exodus 22:18 I send the judgment of God to the satanists and witches sending anything our way, in JESUS Name. I heap coals from the altar of God upon their foreheads in JESUS Name. I cover me and my family with the Blood of JESUS and ask for warring angels to be placed around us for protection. I break and loose us from psychic power, thoughts and prayers. I break and loose us from words spoken in hurt, anger, sorrow or bitterness. I break and loose us from the power of incense and candles being burned on our behalf. I break and loose us from ungodly intercessory prayers in JESUS Name. Amen.

FINANCES
Father, In JESUS Name, I bind all demons that would cause me to have job failure or money failure. I bind all demons that would keep me from receiving all money, possessions, inheritance, jobs, promotions, bonuses or raises that are rightfully mine. In JESUS Name, I command the demons to return these to me sevenfold. Father, I ask that you send your angels out to gather these and bring them to me in JESUS Name. I loose the blessings of Deuteronomy 28 upon me in JESUS Name. Amen. (Note: having unicorns in your home or an Italian Horn can cause finance problems. This can be statues or anything else.)

HEALTH
Father, In JESUS Name, I bind all demons of infirmity, sickness, disease, illnesses of all kinds. I loose myself from these demons and I loose the healing virtue of JESUS Christ into my body. (Be sure and cast out all of these demons).

SLEEP
Father, In JESUS Name, I bind all demons of the night, nightmares, bad dreams, torment, sleeplessness, torture. I command these demons to loose me and come out of me, and I ask that you protect my mind while I sleep, in JESUS Name.

SPIRITUAL WALK WITH THE LORD AND ANOINTING
Father, In JESUS Name, I ask for wisdom, knowledge, and understanding of Your Word. I loose the sevenfold Spirits of God in me in JESUS Name.

Be sure to anoint your home. Include all doors and windows, and bind the demons and command them to leave. You can do this in your office also.

From another ministry (Elise):
My experience with strongholds is that they are usually connected to a demonic assignment. I have to break the assignment in order to tear down the stronghold in Jesus Name by the power and Authority of Jesus Christ.
Bind and cast out the demon of "I am not good enough".  This demon speaks in the mind in first person to undermine the confidence in that person.  The reason is to create a legal ground for attacks to remain and multiply.  When this demon is bound and cast out then you can pray: thank You, Holy Spirit for Your infilling of anointing and increase of the Lord's confidence of Philippians 4:13 I can do all things through Christ Who strengthens me.  In this way you will be able to obtain the Lord's Confidence to take down strongholds.
Foreboding Fear:  It is a stronghold and I prayed:
In Jesus Name, I cut, burn, break all ungodly silver cords and laylines, I break the legal ground, blind the third eye, deafen the third ear.  As God's warclub and weapon of war, I tear down the stronghold of foreboding fear.  I bind the demon of foreboding fear and cast it out to the obedience of Jesus Christ.  God has not given us a spirit of fear but of power, love and a sound mind as it is written in 2 Timothy 1:7. Thank You Holy Spirit for Your infilling of Your anointing Power, of Agape Love, and the Fruit of the Spirit: Love, Joy, Peace, Patience, Forbearance, Kindness, Goodness, Benevolence, Faithfulness, Humility, Self-Control.  AMEN
Break the assignment of self-accusation.  It is a stronghold that is hindering answered prayer.  Using this Scripture to solidify the taking down of the stronghold after breaking the assignment. Romans 8:1 - There is therefore now no condemnation to them which are in Christ Jesus, who walk not after the flesh, but after the Spirit.
I had a revelation today about deliverance.  I went outdoors to paint after we spoke.  And an hour later our neighbor came out to watch and "talk".  When I came back indoors I smelled like the demons that were plaguing him.  I cast out all the demons but I still smelled the odors.  Then I cast out the demons of ancestral iniquity and the odors went away. 
Praise and Worship Prayer:  I had a revelation from prayer last night as I was doing Praise and Worship.  Usually the Lord receives my Praise and Worship and the anointing comes down.  This time the Lord would not receive it.  I prayed to find out why.  The answer I received was that I didn't repent for my unforgiving heart and attitude and I needed to forgive the people who had hurt me that day.   I prayed, within my prayer I forgave those people.  That is when the Lord received my prayer.  Here are the principles of this revelation: First, we need to tell the Lord that we are sorry for resenting or hating someone's fallen nature.  Second, we need to repent to the Lord, giving all the details concerning the problem. Third, we need to forgive the person in front of God, within our prayer.  Fourth, after we forgive that person or people for their fallen nature, in our prayer, that is when that person is able to change.  Then we will change.  John 14:12 "I assure you, most solemnly I tell you, if anyone steadfastly believes in me, he will himself be able to do the things that I do; and he will do even greater things than these, because I go to the Father."
Prayer and Word:  I prayed and did deliverance about an hour for a lady and she seemed more peaceful afterwards.  The word I received was:  Habakkuk 2:14 "But the time is coming when the earth shall be filled with the knowledge of the glory of the Lord as the waters cover the sea."  The Lord was covering her emotions to make them smooth and even when she gives them all to Him.  The revelation I had for her in prayer was that her emotionalism over her family's situation was blocking the Lord from answering her prayers.  So every time she feels overwhelming emotions, she needs to say to the Lord: The Glory of the Lord is covering me like the waters cover the sea.

SPIRITUAL WARFARE PRAYERS from the Moody Deliverance Manual

WARFARE AGAINST TERRITORIAL SPIRITS
SCRIPTURE FOR PREPARING OURSELVES FOR WARFARE
Josh. 1:7-9 Only be thou strong and very courageous.
Neh. 1:4-7 Confess the sins of the children of Israel which we have sinned.
Prov. 28:13 Whoso confesseth and forsaketh them shall have mercy.
Dan. 9:3-6 We have sinned, and have committed iniquity, and have done wickedly.
Matt. 16:23 Get thee behind me, Satan: thou art an offence unto me.
Matt. 17:18-21 Howbeit this kind goeth not out but by prayer and fasting.
Matt. 18:32-35 If ye from your hearts forgive not every one his brother.
Luke 13:11-17 Whom Satan hath bound, lo, these eighteen years, be loosed.
I Cor. 3:16-17 If any man defile the temple of God, him shall God destroy.
I Cor. 12:8-10 To another discerning of spirits.
I Pet. 5:8-9 Walketh about, seeking whom he may devour.
I John 2:13-16 Lust of the flesh, lust of the eyes, and pride of life.
Rev. 20-:1-3 That he should deceive the nations no more.
OVERALL FOR PREPARING OURSELVES FOR WARFARE
1. Be led by the Holy Spirit after you have prepared yourself.
2. Summary: Leader: Teach - Minister - Counsel the Congregation: Self Discipline - Continue in Deliverance
3. Six Basic Steps To Your Deliverance
3.1 Identify your problems.
3.2 Forgive, pray and get yourself right with God.
3.3 Break the curses and soul ties on you and your descendants.
3.4 Cast out your demons.
3.5 Pray for healing of your soul and body.
3.6 Discipline your life by changing your way of thinking and acting.
4. Basis for Deliverance
4.1 Pray deliverance prayers.
4.2 Break away from ungodly people, religions, and organizations.
4.3 Break curses, soul ties, and demonic ties.
5. Ministry
5.1 Cast out demons.
5.2 Loose Godly spirits.
5.3 Read deliverance scripture.
6. Make positive confessions to God with His help.
7. Pray for healing of soul and body.
8. Five Steps To Cleaning Your House
8.1 Seven-way prayer of forgiveness - you forgive your ancestors, descendants and others; ask God to forgive and bless them. Ask God to forgive you; you forgive yourself for sins against your body. Ask forgiveness for spiritual adultery.
8.2 Break curses and soul ties from others (ancestors) and to others (descendants); break curses of psychic or catholic prayers.
8.3 Clean out house of those objects (you do this).
8.4 Anoint house with oil and cast evil spirits out of house (you do this).
8.5 Cast demons out of people that came in thru curses (optional); for mass deliverance, see Cursed Objects and Demon Infestation.
9. Clean your house and possessions of cursed objects.
10. Discipline your soul and body.
11. Continue study and practice of deliverance.
12. Continue to gain freedom and strength.
SCRIPTURE FOR WARFARE IN THE HEAVENLIES
Matt. 10:1 Power against unclean spirits, to cast them out.
Matt. 16:18-19 And I will give unto thee the keys of the kingdom of heaven.
Matt. 28:18-20 All power is given unto me in heaven and in earth.
Mark. 11:22-23 He shall have whatsoever he saith.
Mark. 16:15-20 In my name shall they cast out demons.
Luke 9:1-2 Power and authority over all demons.
Luke 10:17-20 Even the demons are subject unto us through thy name.
Luke 11:21-22 He taketh from him all his armor wherein he trusted.
II Cor. 2:10-11 We are not ignorant of his devices.
II Cor. 4:3-4 God of this world hath blinded the minds of them which believe not.
II Cor. 10:3-6 Mighty through God to the pulling down of strong holds.
Eph. 1:19-23 Far above all principality, power, might, dominion and every name.
Eph. 2:6 Made us sit together in heavenly places in Christ Jesus.
Eph. 6:10-18 Against principalities, powers, rulers of the darkness of this world, spiritual wickedness in high places.
Col. 2:15 Having spoiled principalities and powers.
Heb. 1:13-14 Sent forth to minister for them who shall be heirs of salvation.
I John. 3:8 That he might destroy the works of the devil.
I John. 5:18-19 The whole world lieth in wickedness.
OVERALL FOR WARFARE IN THE HEAVENLIES
1. We wrestle against spiritual forces not against flesh and blood.
2. This is an organized kingdom with delegated authorities, world rulers and wicked spirits.
3. We must sound the trumpet, clothe ourselves for battle, take up our spiritual weapons, know our enemy, and attack.
4. Satan has limitations, methods of attack, and schemes. He temps us, accuses us, and deceives us.
5. Methods for disarming demons include researching the past, repenting of all sins, forgiving all others, recognizing God's purpose, ministering with compassion, praying with all prayer, and speaking to the mountain.
6. The boot camp of spiritual warfare should be in our local churches, working with the sheep, and ministering deliverance to them one by one.
7. Ground level warfare is casting demons out of people. Strategic level warfare is coming against territorial spirits.
8. God sets the battle plan.
9. We have the authority to pull down strongholds. It was given to The Twelve, The Seventy, and to The Church.
10. The warfare should be led by those who have spiritual jurisdiction over their territory.
11. We should pull down strongholds. We should bind and loose.
12. Christ's Church, through the exercise of her authority, can change the course of history.
13. You should continue in spiritual warfare until victory comes. Be prepared to wrestle with the enemy. Keep your faith. Remain steadfast in prayer and spiritual warfare.
14. Our strength in the Lord is derived through spiritual exercises: daily prayer and Bible Study, fasting, fellowship with other believers, praise, worship, our testimony, and walking in holiness.
15. We are dealing with principalities, powers, rulers of the darkness of this age, and spiritual host of wickedness in the heavenlies.
16. Wickedness includes perverseness, greed, witchcraft, occult, cults, false religions, New Age Religion, etc.
17. We must forgive everyone no matter what they did to us.
18. We must sanctify ourselves as individuals, and cleanse the Church corporately.
19. After we have cleansed ourselves, we simply speak to the principalities and powers in the authority of Jesus' Name.
20. Put aside jealousy, doctrinal questions, and other factors that separate Christians and churches from each other. Pull down ignorance, fear, and prejudice.
21. Help those who are bound by blindness, disease, poverty, and fear in the mental, physical, spiritual, and material areas.
DECLARATION AGAINST EVIL - Lead the congregation through this declaration.
SPIRITUAL WARFARE IN THE HEAVENLIES - Lead the congregation through these commands.
TACTICS TO WIN THE WAR AGAINST SATAN Lead the congregation through these prayers and commands.
APPLICATION OF SPIRITUAL WARFARE
1. Personalize commands for families, churches, ministries, counties, cities, nation, and world.
2. Cast out demons of infirmity spirits, and drug and medicine spirits.
REFERENCES
1. Our Warfare Against Demons and Territorial Spirits by Frank D. Hammond
2. The Saints At War - Spiritual Warfare Series Volume I by Frank D. Hammond

SPIRITUAL WARFARE IN THE HEAVENLIES
Far above all principality, and power, and might, and dominion, and every name that is named, not only in this world, but also in that which is to come (Eph. 1:21).
And hath raised us up together, and made us sit together in heavenly places in Christ Jesus (Eph. 2:6).
For we wrestle not against flesh and blood, but against principalities, against powers, against the rulers of the darkness of this world, against spiritual wickedness in high places. (Eph. 6:12)
Behold, I give unto you power to tread on serpents and scorpions, and over all the power of the enemy: and nothing shall by any means hurt you (Luke 10:19).
Seated in heavenly places, far above evil, having power over the enemy, we bind and cast down the demonic chain of command: Might, Thrones, Nobles, Kings and Princes over Kingdoms, Principalities, Dominions and Powers, Generals, Rulers, Captains, Centurions and Strongmen, Rulers of Darkness of this World and Spiritual Wickedness in High Places.
We send legions of warring angels to attack. We lose the powers of God to do a mighty battle. We bind every force of evil and loose every force of good that we have the power and authority to do so. We break curses, vexes, hexes, spells and demonic ties.
We use every verse in the Holy Bible that wars against the demonic forces. We bind and loose spirits. We command civil war in Satan's Kingdom. We loose the Love of God, Price that Jesus Paid, Holy Spirit, Word of God, Blood of Jesus and Cross of Jesus against the forces of evil. All these things we do in the name of Jesus Christ, our Lord, Master and Savior, and for the Holy Trinity.

DECLARATION AGAINST EVIL
Ye that love the Lord, hate evil: he preserveth the souls of his saints; he delivereth them out of the hand of the wicked.
Ps. 97:10
Through thy precepts I get understanding; therefore I hate every false way. Ps. 119:104
Hate the evil, and love the good, and establish judgment in the gate: it may be that the Lord God of hosts will be gracious unto the remnant of Joseph. Amos 5:15
I hate everything that God hates.
I hate sin and iniquity.
I hate Satan, demons and evil forces.
(The opposite of this declaration is that you love the above.)

TACTICS TO WIN THE WAR AGAINST SATAN
Scripture
Verily, verily, I say unto you, He that believeth on me, the works that I do shall he do also; and greater works than these shall he do; because I go unto my Father. (John 14:12)
Opening Prayers
Forgive us for failure to align ourselves perfectly with God's will, known sin and rebellion, emotional stress and trauma, submissions to an ungodly cover, inherited curses, worldly art and music, ownership of unclean objects, failure to cleanse property and places; unforgiveness, idolatry or a lack of separation from the things of the world. We ask for forgiveness, confess contact with the occult, close doors to Satan, break curses, renounce psychic bondage, cut evil soul ties, loose the mind, restore the fragmented soul, confess sins of the fathers, surrender to Jesus, and renounce all evil.
Commands
We return curses and demons back to the senders. We use our weapons against the kingdom of darkness. Satan we are closing every door that you may have opened in us from evil contacts. Jesus Christ became a curse on the cross for us and blotted out the handwriting of ordinances against us. We break the curses back to Adam and Eve, and destroy legal holds and grounds that the demons have to work in our lives.
We bind the spirits power and loose ourselves from their holds. We break demonic soul ties. We ask for the necessary spiritual gifts and especially the gift of discernment to minister to the people. We ask for the anointing of the Holy spirit and the authority of Jesus Christ. We have been given power and authority over Satan and his army.
We send angels with boxes to separately seal each demon in, chain and gag the demons, read scripture to the demons day and night, and fill the boxes with the Glory of God. We loose the angels to spin the demons minds round and round, to chase and harass, to bruise, crush and flatten the heads of the serpentine spirits, and to snip off the tails of the scorpion spirits.
We order the princes and rulers to be bound with chains and thrown down before the other spirits, and their foreheads to be written in red letters that Jesus Christ is my Lord. We command the lesser spirits to attack the traitors in the camp and throw them out. We release the spirit which attacked the Midianites in Gideon's day.
We command the demon's answers to stand up in the Judgment We send the warrior angels with swords to chain the rulers and throw the fire of God on them. We ask that the demons be cut into pieces and scattered over the dry places.
You are defeated by Jesus and must obey His commands. We adopt each other as spiritual sons and daughters, and cover them with the Compassion and Love of God. We use love as a weapon. We command the demons to manifest only as God permits. We use tongues of men and angels to expel demons.
We bind powers over our area, break assignments from powers in the heavenlies to demons in the people, and ask for legions of covering angels for protection. We bind the strong man and his spirits in everyone.
The Lord Jesus rebuke you. We command that you confess that Jesus Christ is your Lord. We ask for the leadership of the Holy Spirit. We anoint with oil symbolic of the Holy Spirit. We intercede for our loved ones.
We command the ruling spirits to cast out their underlings. We command the angels to assist in the work of deliverance as directed by God.
We break evil curses, vexes, hexes, jinxes, psychic powers, bewitchments, potions, charms, incantations, spells, witchcraft and sorcery. We break all cords, snares, controls and bondages. We ask that the Power of God be manifested. We command the demons to go to Tartarus, or wherever Jesus sends them.
We use the Name of our Lord Jesus Christ and cover us with the Blood of the Lamb. We agree with The Covenant of the Blood. We use the Psalms as imprecations and pronouncements against the enemies of God, and call down the wrath of God upon spiritual foes. We will sing songs about the Blood of Jesus. We command that every knee to bow and tongue to confess that Jesus Christ is Lord.
We come against unholy spirits, fallen angels, demons, devils, empire of evil, and the entire Kingdom of Satan in humans and animals. We come against Councils, Principalities, Powers, World rulers, and Wicked spirits in Heavenly Places. We come against Chiefs and Kings, Princes, Kingdoms, Dominions, Generals, Rulers, Captains, Centurions, Strongmen, and Imps.
Closing Prayers
We pray for healing from the works of the demons. We bind all remaining demons until they can be cast out or leave of their own accord. We ask angels to be stationed on our properties to guard us. We loose Godly spirits from the Lord to operate in our lives. We agree to cleanse our beings, possessions and homes of unclean objects.

HOW TO PRAY AND WHAT TO PRAY FOR
I pray for my own particular needs: salvation of family members, finances, healing, etc.
I pray for the needs of others and any special requests that have come in.
I pray for the work of local churches.
I pray for prayer groups.
I pray for world revival.
I pray for Israel. Pray for the peace of Jerusalem: May they prosper who love you (Psa. 122:6).
I pray that God's people will be ready for Christ's Second Coming (II Cor. 11:2).
I pray for ministries training laborers for the harvest. Jesus said, Therefore pray the Lord of the harvest to send out laborers into His harvest (Matt. 9:38).
I pray for kings and all who are in authority (I Tim. 2:2) and for the leaders of my country, that they will be providentially guided in their decisions.

BY THIS I OVERCOME THE DEVIL
1. Through the Blood of Jesus, I am redeemed out of the hand of the Devil (Eph. 1:7).
2. Through the Blood of Jesus, all my sins are forgiven (Psa. 107:2).
3. The Blood of Jesus, God's Son, continually cleanses me from all sin (1 John. 1:7).
4. Through the Blood of Jesus, I am justified, made righteous, just as if I'd never sinned (Rom. 5:9).
5. Through the Blood of Jesus, I am sanctified, made holy, set apart to God (Heb. 13:12).
6. My body is a Temple of the Holy Spirit, redeemed, cleansed, by the Blood of Jesus (1 Cor. 6:19-20).
7. Satan has no place in, no power over me, through the Blood of Jesus and The Word of God (Rev. 12:11).
1. In Him (Jesus) we have redemption (deliverance and salvation) through His blood, the remission (forgiveness) of our offenses (shortcomings and trespasses), in accordance with the riches and the generosity of His gracious favor. Which He lavished upon us in every kind of wisdom and understanding (practical insight and prudence) (Eph. 1:7-8).
2. Let the redeemed of the Lord say so, whom He has delivered from the hand of the adversary (Psa. 107:2).
3. But if we (really) are living and walking in the Light, as He (Himself) is in the Light, we have (true, unbroken fellowship with one another), and the blood of Jesus Christ His Son cleanses (removes) us from all sin and guilt (keeps us cleansed from sin in all its forms and manifestations) (1 John. 1:7).
4. Therefore, since we are now justified (acquitted, made righteous, and brought into right relationship with God) by Christ's blood, how much more (certain is it that) we shall be saved by Him from the indignation and wrath of God (Rom. 5:9).
5. Therefore, Jesus also suffered and died outside the (city's) gate in order that He might purify and consecrate (sanctify) the people through (the shedding of) His own blood and set them apart as holy (for God) (Heb. 13:12).
6. Do you not know that your body is the temple (the very sanctuary) of the Holy spirit Who lives within you, Whom you have received (as a Gift) from God? You are not your own.
You were bought with a price (purchased with a preciousness and paid for, made His own). So then, honor (your) God and bring glory to Him in your body (1 Cor. 6:19-20).
7. And they have overcome (conquered) him by means of the blood of the Lamb and by the utterance of their testimony, for they did not love and cling to life even when faced with death (holding their lives cheap till they had to die for their witnessing).

GENE'S DAILY PRAYERS
PRAYER OF THANKSGIVING
Our Dear Heavenly and Gracious Father, thank you for divine health: mental, physical, spiritual and material for us.
Thank you for all blessings known and unknown, and for showering down blessings on us so great that we can not receive them. Thank you for the complete restoration of our bodies. For its in Jesus Name we pray. Amen.
PRAYER AT THE BREAKFAST TABLE
Our Dear Heavenly and Gracious Father, thank you Lord for a good day, for protecting us against powers, principalities, evil forces in this world and spiritual wickedness in high places. Now Lord, we apply the blood over and bind Satan away from us, our jobs and our clients, our possessions and everything that we have any part in. Lord send your angels to minister unto us, build a ring of Holy Ghost Fire around us and cover us with Your Blood. We pray for the United States of America and Israel, the Christians and the Jews, the churches that worship Jesus in spirit and truth.
We ask for courage, understanding, wisdom and strength. We pray especially for the leaders and ask a double portion for our families. We ask divine favor with You in accordance with the Holy Word of God, with each other and those we come into contact with today. We confess that this is the day that the Lord has made. We will rejoice and be glad in it for God has not given us a spirit of fear but of power, love and a sound mind. He that is in us is greater than he that is in the world. If God be for us, who can be against us? You have given us power over all the power of the enemy and we intend to exercise it by the leadership of the Holy Spirit. Now Lord, we ask that you lead, guide, direct and protect us. Let us walk in your perfect will; we yield ourselves to you today. We thank you for our food, clothing and shelter, for everything that you have done for us known and unknown. We ask you to bless this food to our bodies, purify and cleanse it so that our temples will be fit for the Holy Spirit to reside in. All these things we ask in the Blessed Name of Jesus Christ, our Lord, Master and Savior.
Amen.
PRAYER FOR THE DAY
Dear Lord, we ask you to forgive us of our sins, teach us and show us so that we will be pleasing in your sight. We pray for ourselves, this day and the leadership of the Holy Spirit. We thank you for each other, this day and most of all for You. We pray for our relatives and friends, our Christian brothers and sisters.
We pray for those who labor in the field of deliverance, for their families, churches and ministries that You would give them a triple-fold portion of courage, understanding, wisdom and strength. We pray for the Army of the Lord that it would grow strong and mighty and be valiant and do exploits in the Name of Jesus Christ. We pray that deliverance would come to the forefront of Christianity. We pray for those that we have ministered to, for their families, churches and ministries that they would go on with the Lord. We pray for all men everywhere that they would come into the saving knowledge of Jesus Christ. We pray for the five-fold ministry, for their families, churches and ministries. We pray for our business. We pray Your Blessings on these. We bind up all powers, principalities, evil forces in this world and spiritual wickedness in high places. We lose the powers of God: warring angels, ministering angels, Holy Spirit and the Seven-Fold Spirit of God to come down and do a mighty battle on earth today. We bind up every force of evil and loose every force of good that we have the power and authority to do so in Jesus' Name. We thank you Lord for power and authority over the enemy, and the use of the Name of Jesus Christ for its in His Name we pray. Amen.
PRAYER IN A RESTAURANT
Our Dear Heavenly and Gracious Father, thank You Lord for this food. Bless, purify and cleanse it so that we can be fit temples for the Holy Spirit to reside in. We break and return any curses on it and eat it with thanksgiving. For it's in Jesus' Name we pray. Amen.
THE LORD'S PRAYER
Our Father which art in heaven, Hallowed be thy name.
Thy kingdom come, Thy will be done in earth, as it is in Heaven.
Give us this day our daily bread.
And forgive us our debts, as we forgive our debtors.
And lead us not into temptation, but deliver us from evil:
For thine is the kingdom and the power, and the glory, for ever. Amen.

The Great Commandments
Jesus said unto him, Thou shalt love the Lord thy God with all thy heart, and with all thy soul, and with all thy mind.
This is the first and great commandment. And the second is like unto it, Thou shalt love thy neighbor as thyself. Matthew 22:37-39

The below Warfare prayer was put together by a woman who was fighting against eating disorder demons:
DECLARATIONS OF FAITH
I COMMAND MY BODY TO WEIGH _____LBS. I COMMAND EVERY CELL TO FUNCTION IN WHOLENESS. EVERY BIOGENETIC CURSE OF ADDICTION IS BROKEN. MY DNA IS CORRECT AND FUNCTIONS IN LINE WITH GOD'S WORD. EVERY GENERATIONAL CURSE OF OBESITY AND ALL OTHER CURSES AFFECTING MY WEIGHT ARE BROKEN.
I COMMAND EVERY SPIRIT OF GLUTTONY, BULEMIA, ANEXORIA, SUGAR ADDICTION, OVER-INDULGENCE, COMPULSION, ADDICTION, CRAVING, LACK OF SELF CONTROL, ANXIETY, DEPRESSION, ANGER, UNWORTHINESS, DEFORMITY, UNBELIEF, DEPRESSION, OPPRESSION, SELF-HATRED, HATRED OF MY BODY, UGLINESS, REJECTION, REBELLION, INCONSISTENCY, DECEPTION, FAILURE, FEAR, INTIMIDATION AND ALL OTHER CONNECTED AND RELATED SPIRITS NOT OF THE LORD JESUS CHRIST TO COME OUT NOW IN THE NAME AND BY THE BLOOD OF JESUS CHRIST. YOU ARE NOT ALLOWED TO DWELL IN, AROUND OR ATTACH TO ME IN ANY WAY. IT IS FINISHED. BE GONE, NOW.
MY BODY IS WHOLE AND HEALTHY. I EAT HEALTHY FOOD. I EXERCISE PHYSICALLY, MENTALLY, SPIRITUALLY AND EMOTIONALLY ON A LEVEL OF MAXIMUM EFFICIENCY. I AM NOT MOVED BY WHAT I SEE FOR FAITH IS THE SUBSTANCE OF THINGS HOPED FOR BUT NOT YET SEEN. I CAN DO ALL THINGS THROUGH CHRIST WHO STRENGTHENS ME. I LOVE AND RESPECT MY BODY AND CALL IT HOLY AS THE LORD MY GOD IS HOLY.
METABOLISM, GLANDULAR, BLOOD SUGAR LEVELS, RESPIRIATORY, CARDIOVASCULAR, DIGESTIVE, NEURO-MUSCULAR, ALL SYSTEMS OF MY BODY, EVERY CELL, EVERY ORGAN FUNCTIONS AS THEY WHERE CREATED TO IN PERFECT HARMONY AND BALANCE.
I WALK IN THE WHOLENESS OF JESUS CHRIST. I HAVE OUTWARD AND INWARD BEAUTY. THE BEAUTY OF CHRIST RADIATES FROM MY VERY PRESENCE. THE JESUS THAT IS IN ME IS BEAUTIFUL AND THE FRAGRANCE OF THE LORD FOLLOWS ME WHEREVER I GO. I AM THE BRIDE OF CHRIST, PURE. SPOTLESS AND BLAMELESS BEFORE HIM.
THE FAVOR OF THE LORD RESTS UPON ME AND IS UNCONDITIONALLY ABOUNDING TOWARD ME IN EVERY SITUATION AND CIRCUMSTANCE. GOD AND MAN LOVE AND ACCEPT ME. I AM ACCEPTED IN THE BELOVED.
JESUS HAS PLANS AND A HOPE FOR MY FUTURE, AND I WILL FULLFILL EVERY INCH EVERY CENTIMETER OF WHAT HE HAS FOR ME. SATAN IS BOUND FROM INTERFERING WITH THE DIVINE PATH OF DESTINY THE LORD JESUS CHRIST HAS CALLED ME TO. I WILL NO LONGER LET FEAR, INTIMIDATION, REJECTION OR ANY OTHER THING STAND IN MY WAY.
I RUN THE RACE WITH A VICTORS CROWN ON MY HEAD AND FEET THAT ARE SWIFT TO REACH THE HIGH CALLING GOD HAS PLACED UPON MY LIFE. I WALK ON HIGH PLACES IN THE POWER OF THE HOLY SPIRIT WHO RESIDES BIG IN ME.
I AM VIOLENTLY AND FORCEFULLY TAKING BACK EVERYTHING THE ENEMY HAS STOLEN FROM ME. ALL OF SATAN'S PLANS AND ASSIGNMENTS ARE CANCELLED. I AM FULLY EQUIPPED AND EQUIPPING OTHERS IN THE ART OF WARFARE. THE HIGH PRAISES OF GOD ARE UPON MY LIPS. I STAND WITH A TWO EDGED SWORD IN MY HAND SLICING INTO AND PUSHING BACK THE FORCES OF DARKNESS. THE WEAPONS OF MY WARFARE ARE NOT CARNAL BUT MIGHTY THROUGH GOD TO THE PULLING DOWN OF SRONGHOLDS. I AM SHARPENED AS IRON SHARPENS IRON.
I HAVE THE MIND OF CHRIST AND HOLD THE THOUGHTS FEELINGS AND INTENTIONS OF HIS HEART. I TAKE EVERY THOUGHT CAPTIVE TO THE OBEDIENCE OF CHRIST JESUS MY LORD. EVERY FIREY DART DIRECTED AT MY MIND IS QUENCHED BY THE SHIELD OF FAITH. I DO NOT ENTERTAIN VAIN IMAGINATIONS. I THINK ONLY ON THE GLORIUS AND LOVELY THINGS.
THE WORDS OF MY MOUTH ARE WORDS THAT ARE CREATIVE AND BRING LIFE TO ALL WHO HEAR THEM. HE HAS ANNOINTED ME TO HEAL THE BROKEN HEARTED AND SET THE CAPTIVES FREE. I AM MORE THAN A CONQUERER BY THE WORD OF MY TESTIMONY AND THE BLOOD OF THE LAMB.
I AM FULLY ANNOINTED. I AM A CHOSEN ONE. I AM A GENERAL WITH THE HIGHEST RANKING IN THE LORD'S ARMY. WHEN I PRAY, DEMONS TREMBLE AND CANNOT REMAIN IN MY PRESENCE FOR I AM PURE TERROR AND DREAD TO THE ENEMIES CAMP. DEMONIC SPIRITS RUN AND FLEE AS I APPROACH AND DO NOT MANIFEST IN MY PRESENCE. I AM THE WALKING TALKING WORD OF GOD IN HUMAN FORM. THE RESSURECTION POWER OF CHRIST RESIDES IN ME. SIGNS AND WONDERS FOLLOW ME AND I WILL DO GREATER WORKS THAN THESE BECAUSE JESUS SAID I COULD AND I WILL.
THE LOVE OF GOD IS SHED ABROAD IN MY HEART FOR ALL MEN. GOD'S LOVE FOR ME IS UNCONDITIONAL. GOD IS CONTINUALLY POURING OUT FAVOR AND BLESSING UPON MY LIFE AND THE LIVES OF MY FAMILY MEMBERS. WE LIVE IN THE PROSPERITY AND WISDOM OF SOLOMON, THE FREEDOM AND FAVOR OF DAVID AND THE FAITH OF ABRAHAM OUR FOREFATHER.
GOODNESS AND MERCY FOLLOW US AS THE ANGELS OF THE LORD GOD PROTECT AND ENCOURAGE US AT EVERY TURN. WE HEAR THE VOICE OF THE LORD. DIVINE APPOINTMENTS, FRIENDSHIPS, BUSINESS OPPORTUNITIES, MINISTRY CONNECTIONS, MENTORS AND HIGHER LEVELS OF WISDOM, REVELATION AND UNDERSTANDING COME TO US. FINANCES AND RESOURCES FLOW TO US EASILY AND WITHOUT INTERRUPTION. THEY FLOW LIKE THE RIVER OF GOD
WE UNDAMN ANY UNGODLY BLOCKAGES FROM RECEIVING WHAT THE LORD IS TRYING TO GET TO US. MY FAMILY AND I ARE POSITIONED FOR THE PURPOSES OF THE LORD JESUS CHRIST. WE ARE IN THE RIGHT PLACES AT THE RIGHT TIMES. NO WEAPON FORMED AGAINST US PROSPERS AND EVERY TONGUE THAT RISES AGAINST US THOU SHALL CONDEMN. WORD CURSES OF OTHERS SHALL BEAR NO FRUIT IN OUR LIVES. THEY ARE RETURNED IMMEDIATELY TO THE DEMONIC SOURCE FROM WHERE THEY CAME.
THEREFORE, WE ARE ABUNDANTLY SUPPLIED, DIVINELY HEALTHY, COMPLETELY BEAUTIFUL, AND FULLY RESTORED. WE ARE WHOLE AND THRIVING AS A TREE PLANTED BY THE DIVINE WATERS OF LIFE. JESUS IS THE WAY THE TRUTH AND THE LIFE. WE ABIDE IN THE LORD JESUS CHRIST AND ARE FRUITFULL.
WE HAVE A JOSHUA CALEB SPIRIT AND SEE THAT ALL THINGS ARE POSSIBLE FOR US BECAUSE WE BELIEVE. WE GO FORWARD AND POSSESS THE PROMISED LAND BY THE POWER OF YOUR MIGHT. IT IS NOT BY OUR MIGHT OR BY OUR POWER BUT IT IS BY YOUR SPIRIT. WE SEE THE HEAVENLY GATES OPENING TO US AS WE USE THE KEYS TO THE HOUSE OF DAVID AND ENTER INTO THE MANSION OF YOUR HOLY PRESENCE AND THE THRONE ROOM OF YOUR GLORY. HOLY HOLY HOLY IS THE LORD GOD ALMIGHTY. ALL GODS PROMISES ARE YES AND AMEN.

Put on the Armor of God (Ephesians 6:10-18)
1) I place around my waist the belt of truth. I will know the truth and the truth will make me free. I am free because whoever the Son sets free is free indeed. I am free from (say whatever you have been set free from). I am a Son/Daughter of God. The Holy Spirit guides me into all truth. He will guide me with His eye. I have the wisdom and knowledge of God. The Holy Spirit will instruct me in the way I should go. 2) I put on the breastplate of righteousness. Because of the cross Jesus has placed on me a robe of righteousness, I am the righteousness of God. I pour the blood of Jesus over myself today. Forgive me of my sins this day. Convict me Holy Spirit of any wrong and search my heart of any secret sin. The righteous are as bold as a lion. I thank you for boldness to do your will today. Help me to speak your word with great boldness. I am established today in your righteousness. 3) My feet are shod with the preparation of the gospel of peace. Help me to be prepared to give my testimony today. I thank you that you have made a covenant with me that your laws and your words are written on my heart and in my mind. You said that you put your words in my mouth. Let my life reflect the gospel of peace. Send someone across my path to share the gospel with today. Use me Lord to bless someone today. 4) I take up the shield of faith which quenches every fiery dart of the enemy. Faith is the victory that overcomes the world. I am an over comer in you. I can do all things through Christ who strengthens me. I thank you for my angels. I have an angel of the Lord that encamps around about me. I am protected from the evil one and delivered from the evils of this present world. 5) I place on my head the helmet of salvation, the hope of glory. I have the mind of Christ and no weapon formed against my mind will prosper. I think on things which are good, pure, perfect, lovely, and of good report. I will take authority over my mind today. I have authority over all the power of the enemy. I choose to cast down every vain imagination that exalts itself against the knowledge of God and I will bring them into captivity to the obedience of Christ. I belong to Jesus and I give the Holy Spirit control of my thoughts. I submit my mind to God, resist the devil, and he must flee. 6) I take the sword of the spirit and I use it on the offense. I will not shrink back. I am a soldier for Christ. We wrestle against principalities. I thank you for the power of your word. It is sharper than any two-edged sword. It will not return void but it accomplishes the task it was sent for. Your word is true. You are not a man that you would lie.I am a doer of your word. Your word is a lamp unto my feet and a light unto my path. I will hide your word in my heart so that I will not sin against you. 7) I will pray in the Spirit on all occasions because the Spirit will pray through me the will of God. This builds up my inner man and gives me strength for the day. I will pray for the saints according to your word. [I add this to my prayer in addition to the armor of God] 8) I thank you that the glory of the Lord is my rear guard. 9) I will praise you today. Let the high praises of God be in my mouth and a two-edged sword in my hand. I will praise you because you are worthy of my praise. I place on myself a garment of praise for a spirit of heaviness. Put a new song in my heart Lord. Let your praise be continually on my lips. 10) I thank you Lord that you are a God of healing, provision, and restoration. You are my healer. It is the will of God for me to be healed. You took our infirmities and bore our sicknesses. You said you heal all thy diseases. You are my provider. Those who seek you will not lack any good thing. You will prosper me as my soul prospers. As I seek you first, you will add all things to me. All my needs are met in Jesus. You have made a covenant with me that as I tithe and give an offering that you will supply all my needs and I will reap abundantly. You are the God of restoration. As I plead with you and walk pure and upright, you will rouse yourself on my behalf and restore me to my rightful place. You will restore what the cankerworm has eaten up. You restore my soul. 11) I thank you Lord that I walk in the fruit of your Spirit.It is not by might, not by power, but by your Spirit says the Lord. I have love, joy, peace, patience, kindness, goodness, faithfulness, gentleness, and self-control. This is my personality in you. 12) I ask you for the gifts of the Spirit. Your word says to seek the gifts. I want to edify others through these gifts. I ask you for the message of wisdom, the message of knowledge, the gift of faith, the gift of healing, miraculous powers, the gift of prophecy, discerning of spirits, speaking in different kinds of tongues, and the interpretation of tongues. Help me to encourage someone today through the power of your Holy Spirit 13) I pray all these in your Holy name, Jesus. Your name is above every name. All things are placed under your feet. All authority has been given unto you in Heaven and in earth. In Him we live, in Him we move and in Him we have our being. You are Lord. Amen.
- written Inner Man Ministries
Warfare Prayer 1) I put on tender mercies, kindness, humility, meekness, longsuffering; and I put on love, the bond of perfection. 2) I welcome the peace of God to rule my heart. 3) I allow the Word of God to dwell in my heart richly in all wisdom, teaching and admonishing one another in psalms and hymns and spiritual songs singing with grace in my heart to the Lord. 4) Whatever I do, I do in word and in deed in the name of Jesus, giving thanks to God the Father through Him. 5) I put on Christ because I have been baptized in Him.I put on the Lord Jesus as a garment. 6) I put on the breastplate of faith and love. 7) I put on zeal. 8) I put on mercy and truth around my neck. 9) I put on the armor of light. 10) I place on myself the mind of Christ.I let this mind (the mind of Christ) be in me. 11) I meditate on your word day and night.You are faithful to perform your word.You will bring it to completion.You are faithful to complete the work you have begun in me and my life. 12) Let the meditation of my heart and the words of my mouth be pleasing unto you O Lord.I will open my mouth and you will fill it. 13) I place a guard on my mouth.I commit my mouth to you Lord that I may not sin against you. 14) You Lord are seated high above all authority, power, dominion and might.Nothing is too difficult for you. 15) I place the armor of righteousness on my right and left hands. 16) I put on strength.I clothe myself with strength for the battle.You are looking for a pure heart whose heart you can strengthen. 17) I thank you for a shield of favor about me. 18) I pour the blood over my body, mind, will, soul, and emotions. I repent of all sins.I will not fear the arrow by day or the terror by night. 19) I put on the garment of salvation.We are clothed with salvation. 20) I put on the helmet of hope. 21) I put on the robe of righteousness. 22) I put on the blue ephod. 23) I ask for the fear of the Lord which is the beginning of wisdom. 24) I ask for the spirit of wisdom, knowledge, understanding, and revelation. 25) I am anointed, appointed, called, marked, chosen, beloved, accepted, and not rejected in Jesus' name. 26) I put on as a helmet the hope of salvation. 27) Help me Lord to be sober and vigilant; watchful in the spirit; and aware of the enemy, the devil.Wake me up spiritually. 28) I rule and reign with Christ Jesus. 29) Lord, you cover my head; you have covered my head in the day of battle. 30) The word is our shield and buckler. 31) I loose myself from the bonds of my neck.I tie down my enemies in the spirit realm.I reverse the words of those who curse me, send evil against me, and send evil against the work of the Lord.I send all evil back to them 7 times in the name of Jesus.May they be brought to their knees by the Lord Jesus to repentance that they may be saved, healed, filled, and delivered in Jesus' mighty name.I reverse every assignment, trap, snare, wile, and evil plan or attack against me from Satan and his angels, demons, imps, principalities, rulers of the darkness, powers, spiritual hosts of wickedness in the heavenly places, or spirits of any kind.I silence them and their words or curses.I clothe them with confusion as with a mantle.I cancel all assignments against me.I make all word curses null and void. 32) I ask the Lord to send legions of angels to minister to me, protect me, battle for me, minister healing and restoration, and to surround me in the name of Jesus. 33) I love, bless, and forgive those who persecute me and say all manner of evil against me for the sake of your righteousness. 34) Help me Lord to be strong in the Lord and in His power, exercise the authority over the devil which you have given me, stand against the devil, wrestle and warfare, put on my armor daily, pray without ceasing, intercede, and fight the good fight of faith.Amen. -written by Inner Man Ministries

JESUS IS THE DELIVERER
DON'T STOP HERE! SEE OUR INDEX FOR MORE ARTICLES.
THERE IS NO HATE, MALICE, RACISM, ETC. ON THIS SITE. THESE ARE SINS IN THE EYES OF GOD, AND ARE ALSO DEMONS. THE BIBLE MAKES IT CLEAR THAT SIN CANNOT GET INTO HEAVEN.