THE BLOOD OF JESUS CLEANSES YOU FROM ALL SIN AND GUILT (1 JOHN 1:7). JESUS IS THE DELIVERER!!

DEMONBUSTER.COM
DELIVERANCE MANUAL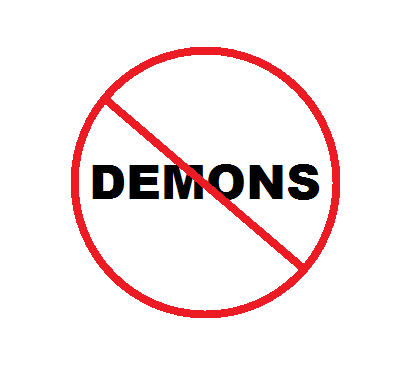 NO DEMONS ALLOWED

DEMONS ARE FOR REAL

You know, some of you read these newsletters month after month, (or look at our home page), and you have yet to deal with the problems in your life that can be caused by demons. We don't believe that EVERYTHING is caused by demons, just MOST THINGS. We are always reading about the miracles that go on in DELIVERANCE ministries. I mean, legs growing out and the whole ten yards, of the mighty power of God, in the name of our Lord and Savior, JESUS Christ
Some of you still aren't even saved, which means when you die, you go to a place that your hamburger will get overcooked. You are a good candidate to go to hell if you do things you ought not to do. Here is a good test question. Would JESUS do this? What you DO is not really the issue. It is what you DON'T do that matters.
If you DON'T ask JESUS to come into your life, and forgive you of all your sins, HE said you CAN'T go to Heaven. It doesn't matter what you think. It doesn't matter what your Pastor thinks. It doesn't matter what your Rabbi thinks. It doesn't matter what your Priest thinks. It doesn't matter what I think. It only matters what JESUS thinks.
Some of you have many problems. Some of you are sick all the time. Some of you barely make it from payday to payday. God punishes sin. Some people get punished quicker than others, but it is only a matter of time until your sin catches up with you. Look at the AIDS cases. Except for the few innocent people, everyone involved are having illicit sex, doing drugs, or doing things that violate the common sense rules of God. Get serious with JESUS. GET SAVED! Make a commitment.
If you don't get your miracle after that, you need DELIVERANCE. If you have cancer, you may need to forgive some people before those demons come out. If you have certain other diseases, you may need to change your eating habits before the demons come out.
DELIVERANCE is not a one time shot. It is a daily walk. You can't walk in DELIVERANCE daily until you are first walking with JESUS daily.
Get some help from others or do SELF DELIVERANCE. By the way, the demons are on the INSIDE of you in your mind, will, emotions, body, personality, and all the nooks and crannies.
Your Spirit (where the Holy Spirit resides) cannot be inhabited by demons. However, they indeed do surround your Spirit so you can not be the total instrument God wants you to be.

JESUS IS THE DELIVERER
DON'T STOP HERE! SEE OUR INDEX FOR MORE ARTICLES.
THERE IS NO HATE, MALICE, RACISM, ETC. ON THIS SITE. THESE ARE SINS IN THE EYES OF GOD, AND ARE ALSO DEMONS. THE BIBLE MAKES IT CLEAR THAT SIN CANNOT GET INTO HEAVEN.