THE BLOOD OF JESUS CLEANSES YOU FROM ALL SIN AND GUILT (1 JOHN 1:7). JESUS IS THE DELIVERER!!

DEMONBUSTER.COM
DELIVERANCE MANUAL

OUR MAIN PAGE IS AT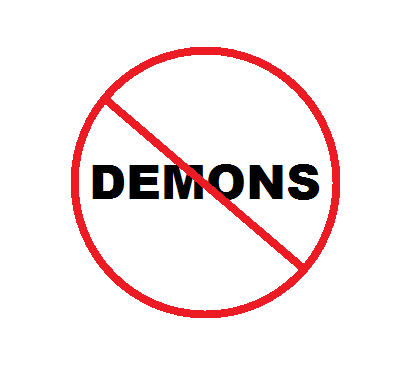 NO DEMONS ALLOWED

DISH WASHING AND DEMONS

When you wash dishes and have some "dried on" food on them, just wiping your dish rag over the dish does not remove it all. You must use some elbow grease, and may even require a "scrub pad" of some kind to remove it all.
Well, some demons are the same way. Just saying "come out in the name of JESUS" does not always insure a "clean plate". The demon may be "dried on" for some reason like being involved in witchcraft, holding unforgiveness, etc. This requires the "scrub pad" of the Holy Spirit, and maybe prayer and fasting, and a lot of time. We spent four hours of constant Spiritual Warfare on ONE demon before it left!
JESUS said in Matthew 12:43, "When the unclean spirit (demon) is gone OUT of a man, he walketh through dry places, seeking rest, and findeth none."
12:44 JESUS still talking - "Then he saith, I will return INTO my HOUSE from whence I came OUT; and when he is come, he findeth it empty, swept, and garnished." For a demon to come OUT, it had to be IN. JESUS also said that the demons consider YOU their HOUSE. They may have lived there for many years, and do not like to get evicted. This story is repeated in Luke 11:24-26. This is even King James Version! Don't give up the fight. Press on!

JESUS IS THE DELIVERER
DON'T STOP HERE! SEE OUR INDEX FOR MORE ARTICLES.
THERE IS NO HATE, MALICE, RACISM, ETC. ON THIS SITE. THESE ARE SINS IN THE EYES OF GOD, AND ARE ALSO DEMONS. THE BIBLE MAKES IT CLEAR THAT SIN CANNOT GET INTO HEAVEN.