THE BLOOD OF JESUS CLEANSES YOU FROM ALL SIN AND GUILT (1 JOHN 1:7). JESUS IS THE DELIVERER!!

DEMONBUSTER.COM
DELIVERANCE MANUAL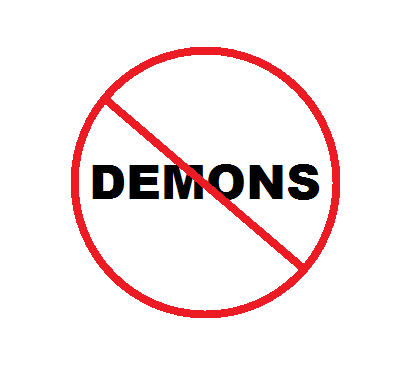 NO DEMONS ALLOWED

DELIVERANCE MINISTER

THINKING ABOUT QUITTING?

An incoming letter said,
"...thank you for your prayers concerning our recent workshop. God did indeed answer them and move with power for His people. Registration was high and our meeting room was maxd to the limit. DELIVERANCE was very heavy and the testimonies that some of you have shared with me in the following weeks have been incredible. Marriage relationships were restored, walls were broken down between people, and the love was so overwhelming at times people would just sit and cry.
About midnight someone complained about back pain and after checking their legs, we discovered one was shorter than the other. For the next hour or so, God demonstrated His power by growing out arms and legs and various other healings. Some cases were rather dramatic with growth of over an inch. One lady had a depression (a hole) in her leg from an accident filled in. Others testified later that all of their back pain ended that night. My son's shoes no longer fit after prayer over his arches for flat feet, and the back pain that I had experienced since last May completely left. God still heals.

I have felt lately that some of you have had an incredible amount of pressure causing you to want to quit DELIVERANCE. Reasons of discouragement, hopelessness, hardness of the way, fear, and isolation, being but a few of the causes that come along. This is nothing new to anyone in DELIVERANCE, and I don't believe anyone said it would be easy to walk this path. Indeed, it will be the hardest thing you've done in your life. How many times did our Lord tell us we would die if we followed Him. You say, "that's me, I'm dying." Well, check again, you probably only fainted and mistook it for death.
I would encourage you to hold out a little longer. Don't you believe his word that says we shall reap in due season if we don't give up? I could tell you many horror stories of what the enemy has done to those, who after tasting of DELIVERANCE and helping to set others free, turned their back and quit. In every case of those I've personally known and watched walk away, I've seen the enemy tear their lives to shreds, causing divorces, bankruptcies, illegitimate children, drug and alcoholic problems, ill health, over and over again. Friend, you can't afford to walk away from DELIVERANCE. The demons will never forgive and forget what you have done to them. And you always hold the potential of getting back on track again so they'll stop at nothing, working for years to see you destroyed.
There is no spiritual armor for the back, and if you quit, you're wide open for attack. It's more valiant to go down fighting than to quit and let him destroy you. If you turn and run, waving the white flag on JESUS, the demons will intensify their pursuit against you.
I have watched with sadness, people leaving DELIVERANCE only to have a breakthrough in DELIVERANCE come to the Church that would have been the answer to their marital problems, etc. If they would have only stayed faithful one more year, victory would have been theirs. God is impressed with your faith, and your faithfulness. The rewards will come along, if you'll stay on the pathway of obedience. And even if you feel your situation is hopeless, can't you stay faithful and pray for another's victory? There is no situation too hard for God to handle.
Usually it's the novice that is attacked this strenuously. After you've walked a season with God you can look back, and see the many times He's pulled you through the fire. If you're not a novice, and still feel like quitting, look back at your past victories and fear not. He who has begun a good work in you will be faithful to complete. If you are a novice or newcomer to DELIVERANCE, look at the lives of people who have walked in DELIVERANCE, talk with them, and listen to their testimonies of how they overcame. Then remind yourself that God is no respector of persons and that what he's done for others, he'll do for you. How can you ever "unlearn" truth anyway? Once the truth of DELIVERANCE is known, how can anyone say in their heart DELIVERANCE is not true? If some of you were to quit, I'd bet that within 24 hours you'd find yourself saying "I bind you in JESUS Name!" The first time the enemy stuck his head around the corner you'd forget your contention with God and do what He's trained you for. (Ask me how I know this, later.) I quit at least 100 times when I started. But when I turned around and saw what was following me, I decided to follow JESUS, whatever the cost. I've meditated much on the verse (Luke 9:62) No man having put his hand to the plough, and looking back, is fit for the Kingdom of Heaven. Until next month, I pray that God keeps and blesses you."

JESUS IS THE DELIVERER
DON'T STOP HERE! SEE OUR INDEX FOR MORE ARTICLES.
THERE IS NO HATE, MALICE, RACISM, ETC. ON THIS SITE. THESE ARE SINS IN THE EYES OF GOD, AND ARE ALSO DEMONS. THE BIBLE MAKES IT CLEAR THAT SIN CANNOT GET INTO HEAVEN.