THE BLOOD OF JESUS CLEANSES YOU FROM ALL SIN AND GUILT (1 JOHN 1:7). JESUS IS THE DELIVERER!!

DEMONBUSTER.COM
DELIVERANCE MANUAL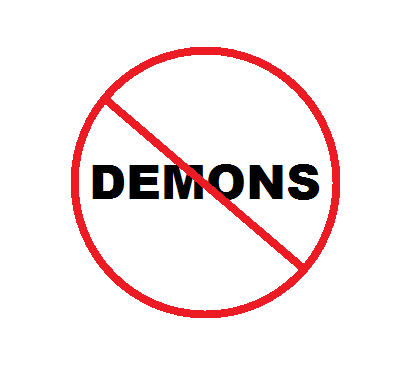 NO DEMONS ALLOWED

EIGHT BASIC DEMONIC FORCES

FROM CROWN OF LIFE MINISTRIES
"Here are the eight basic demonic forces. Luke 11:15. "But some of them said, He casts out demons by Beelzebub, the ruler of the demons." Break this curse.
Job 41:34. "He beholds every high thing; He is king over all the children of Pride." Break this curse.
Revelation 18 talks about the world and looking to the world for the answers - Queen of Babylon. Break this curse.
Molech is a high-ranking spirit over abortion, ceremonial sacrifice and devil worship. Break this curse.
Bashan is a high-ranking spirit that oppresses the poor and crushes the needy in finances, prosperity, drugs, alcoholism, homosexuality, abuse and physical emotions. Break this curse.
Jezebel is a high-ranking spirit. She is female dominance even over the male, over the spirit of emancipation and over business, witchcraft and sorcery. Break this curse.
Ahab spirit brings destruction of family and priesthood, laziness, sluggishness in males who allow females to rule and reign. Break this curse.
Chaldeans were noted for astrology and were magicians as well as sorcerers. Break this curse.
A. Rex Shanks and his team will be going to Africa from October 5-17 to share JESUS and do DELIVERANCE on thousands of willing people. It is a real shame that people overseas are screaming for DELIVERANCE, but here in the States, the people scream for you to get lost because they don't think they have any demons. Please pray for this team that God will protect them.

JESUS IS THE DELIVERER
DON'T STOP HERE! SEE OUR INDEX FOR MORE ARTICLES.
THERE IS NO HATE, MALICE, RACISM, ETC. ON THIS SITE. THESE ARE SINS IN THE EYES OF GOD, AND ARE ALSO DEMONS. THE BIBLE MAKES IT CLEAR THAT SIN CANNOT GET INTO HEAVEN.