THE BLOOD OF JESUS CLEANSES YOU FROM ALL SIN AND GUILT (1 JOHN 1:7).
JESUS IS THE DELIVERER!!

DEMONBUSTER.COM
DELIVERANCE MANUAL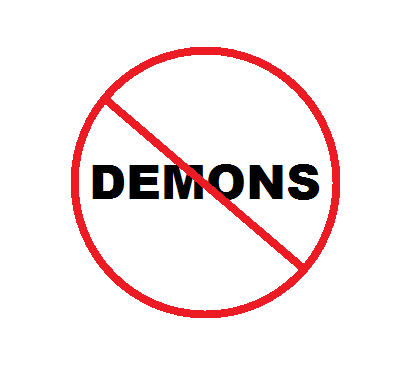 NO DEMONS ALLOWED

EXORCISM IS NOT DELIVERANCE

AN INCOMING LETTER SAID,
"...in answer to the person asking for the different books on exorcism, and DELIVERANCE, in your Oct. 92 newsletter. The dictionary defines exorcist as follows; 1.... A person who cast out evil spirits by adjurations and conjurations; exorcist. 2....A person who calls up spirits; a conjurer. 3....A private priest who specializes in exorcism and healing by magical rites.
I would pray to GOD that you would not be interested in working in this type of DELIVERANCE. We often use this word when in fact the demons laugh at our stupidity. In the more remote parts of the world exorcism is used to transfer demons from one person to another. After being involved with several hundred people in ministering DELIVERANCE in just the last year alone, I was witness to many manifestations that were from this type of ministry. One thing for sure is that it is devastating to those this has happened to.
Example, one person was in such torment that I spent eighty-two straight hours in freeing the person from just one demon, from this persons great grandmother's involvement in witchcraft and voodoo. She had dedicated this person to the devil through the act of exorcism. It took a long time to find all the legal grounds that gave this demon it's right to be there. We must remember that the demons are very legalistic. Most times it is easy to find and break the grounds, but once in a while it will not be so easy. It makes you feel like you've run into a brick wall. But we must never quit or give up.

We were sent this by another ministry: To exorcise is to evict from within. That's Webster. But though it sounds familiar (And in the first century the term "exorcism" was used to describe demon eviction simply because "deliverance" meant more like salvation...to be saved from a crisis or calamity...a carrying through)...Like everything else Satan perverts the adopted and masked mysteries of Babylon carried inside the Catholic church (and all those who befriend her)...exorcism IS IN FACT a driving out of one demon to be replaced by seven worse, one greater, etc. There is nothing to stop them and In the ancient religions Hierarchy of spirits controlled hierarchy of humans. Which is why kings made no moves outside this.

Please be very careful about what you read even in the DELIVERANCE field. So in closing, may I suggest we use the term DELIVERANCE and not use the word exorcism, or exorcist, because of it's origins in the occult."

JESUS IS THE DELIVERER
DON'T STOP HERE! SEE OUR INDEX FOR MORE ARTICLES.
THERE IS NO HATE, MALICE, RACISM, ETC. ON THIS SITE. THESE ARE SINS IN THE EYES OF GOD, AND ARE ALSO DEMONS. THE BIBLE MAKES IT CLEAR THAT SIN CANNOT GET INTO HEAVEN.