THE BLOOD OF JESUS CLEANSES YOU FROM ALL SIN AND GUILT (1 JOHN 1:7). JESUS IS THE DELIVERER!!

DEMONBUSTER.COM
DELIVERANCE MANUAL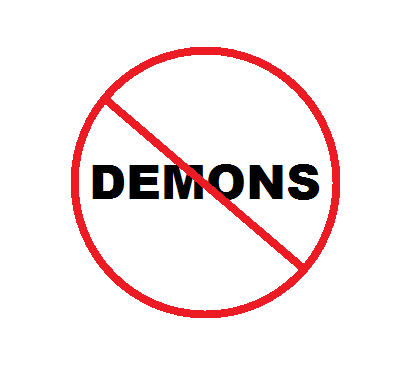 NO DEMONS ALLOWED

WARNING FROM EZEKIEL 3

16) "And at the end of seven days, the word of the Lord came to me:
17) son of man, I have made you a watchman to the house of Israel; therefore hear the word at My mouth and give them warning from Me.
18) If I say to the wicked, You shall surely die, and you do not give him warning or speak to warn the wicked to turn from his wicked way, to save his life, the same wicked man shall die in his iniquity, but his blood will I require at your hand.
19) Yet if you warn the wicked and he turn not from his wickedness or from his wicked way, he shall die in his iniquity, but you have DELIVERED yourself.
20) Again, if a righteous man turns from his righteousness (right doing and right standing with God) and some gift or providence which I lay before him he perverts into an occasion to sin and he commits iniquity, he shall die; because you have not given him warning, he shall die in his sin and his righteous deeds which he has done shall not be remembered, but his blood will I require at your hand.
21) Nevertheless if you warn the righteous man not to sin and he does not sin, he shall surely live because he is warned; also you have DELIVERED yourself from guilt."

AFTER ALL THE INFORMATION ON OUR HOME PAGE, CONSIDER YOURSELF WARNED.

HERE'S ANOTHER

Have you ever had anyone correct you for something? Hurts, huh? Did you ever have an unsaved person give you a message from the Lord? God used a donkey in Numbers 22 to see an angel and to talk to Balaam.
We only personally know a handful of you, but I've noticed that some of our articles in the Newsletters which were inspired by the Holy Spirit (like this one) have been to bring to the attention of some of you that are obviously off tract in some area. If the shoe fits, wear it. The Lord is trying to get your attention in certain areas. Will you have an ear to hear and eyes to see? If you are doing things like the worldly people, or even Godly people who aren't doing DELIVERANCE, you may fall into the category of
Matthew 7:22 and 23 - JESUS speaking, "Many will say to Me on that day, Lord, Lord, have we not prophesied in Your name and driven out demons in Your name and done many mighty works in Your name? 23) And then I will say to them openly (publicly), I never knew you; depart from Me, you who act wickedly [disregarding My commands]. [Psalm 6:8.]

JESUS IS THE DELIVERER
DON'T STOP HERE! SEE OUR INDEX FOR MORE ARTICLES.
THERE IS NO HATE, MALICE, RACISM, ETC. ON THIS SITE. THESE ARE SINS IN THE EYES OF GOD, AND ARE ALSO DEMONS. THE BIBLE MAKES IT CLEAR THAT SIN CANNOT GET INTO HEAVEN.