THE BLOOD OF JESUS CLEANSES YOU FROM ALL SIN AND GUILT (1 JOHN 1:7). JESUS IS THE DELIVERER!!

DEMONBUSTER.COM
DELIVERANCE MANUAL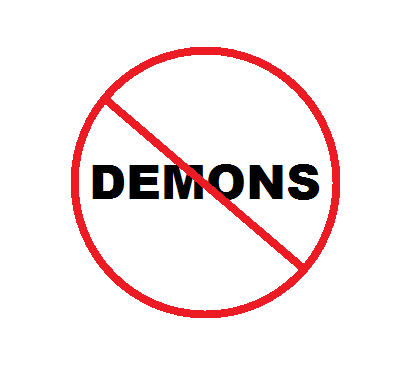 NO DEMONS ALLOWED

TESTIMONY ABOUT VARIOUS DEMONS

FROM ANOTHER DELIVERANCE MINISTRY
THREE CURSES RELATED TO OVERWEIGHT
A Spirit-filled Christian who is also a skillful DELIVERANCE worker was constantly concerned about being overweight (from 20-40 pounds) for a number of years. No visible physical harm was produced by the condition but the nagging thoughts about it were always present and at times very annoying and depressing. She was usually in a state of much concern about her diet including daily intake of calories and yet desirous of eating well balanced meals. She experienced great difficulty in losing weight without taking extreme and possible harmful measures. She never fell prey to appetite suppressant medications. If she ate an ice cream cone or a piece of dessert, there was always an under current of guilt and condemnation.Many years earlier when this lady was 18 years of age, she entered into a short crash diet to loose 10 pounds in order that she could participate in a beauty contest. At that time she was not overweight but wanted to be more slender, thinking it would make her more attractive.Almost 30 years later while meditating one day, the thought occurred to her that there were three curses over her: 1) a curse of mental suggestion for overweight, 2) one of crash diets, and 3) one to lose weight to be beautiful. The curses were broken individually and demons behind each one were commanded to leave. There were manifestations of evil spirits being expelled.The CURSE OF MENTAL SUGGESTION involved constant thoughts about being overweight especially just prior to or at mealtimes. This curse was associated with anxiety, over-concern and worry about everything she ate and the possibility that food she consumed would cause her to gain more weight. As a result of this abnormal sensitivity, guilt and condemnation overeating were always present. Spirits of guilt and condemnation associated with overweight were commanded to leave. Again, there were manifestations.The CURSE OF CRASH DIETS may have come upon her when she participated in that ungodly diet at the age of 18. This curse was broken and spirits commanded to leave.The CURSE TO LOSE WEIGHT TO BECOME BEAUTIFUL apparently was associated with the crash diet. The curse was broken and evil spirits behind it were cast out.A strong, primary desire to become more pleasing and acceptable to others may be demonic and cause a curse to come upon a person. There are many more valid reasons why an overweight individual should gradually lose excess pounds and maintain a desirable weight. The motives must be Godly and the mechanism to achieve the proper weight should be acceptable to the Lord.One should seek God about the most desirable weight and ask His help in achieving it. Don't become persuaded by the current fads, which open doors for curses and demons to constantly torment and make life miserable, possibly for a lifetime.

"FATIGUED OFTEN? MAY BE DEMONS
Spirits of fatigue, fatigue unto death, tired, overtired, overtired unto death, weakness, and weakness unto death are very common demons. Physicians most often cannot identify the real source of the problem, consequently they experiment with different medications in an effort to relieve the patient of the embarrassing distress of constant drowsiness, tiredness, fatigue and sleepiness. Medications often further complicate things by producing adverse reactions that cause additional discomfort.
One lady, out of whom was cast a demon named fatigue unto death, called a couple weeks later and said she had not felt so energetic in many years. She was excited about being able to be active every day without the tired feeling. About two months after the demon was cast out she was still in a stage of exuberance, enjoying life in a dynamic, exciting manner. Praise the Lord. What a tremendous difference three minutes of DELIVERANCE can make for an individual! Within a short period of time, bondages can be broken, evil spirits cast out and valuable qualities of a person's life restored for many future years of pleasure and serving God.
Another lovely lady who worked a regular 40-hour week exclaimed she was "always tired" and had a strong drive to sleep excessively. A powerful demon named "over-tired unto death" was cast out.
The Lord wants his people to lead a God-ordained normal life with no demonic interference. If saints permit demons to usurp privileges Christ has given to His bride, then they may suffer and suffer exceedingly. "Beloved, I wish above all things that thou mayest prosper and be in health even as thy soul prospereth" (3 John 2). "And these signs shall follow them that believe; In My Name shall they cast out demons,..." (Mark 16:17). Let us perform all the commission Christ gave us...and cast out demons. Much misery and suffering will be eliminated.

Nausea and vomiting
can be extremely distressful. Excessive vomiting can injure the body. Related problems such as sleep disorders, nervous conditions, strained and sore muscles may place undue stress upon an individual weakening that person emotionally and physically. There are times when vomiting may be very beneficial especially when harmful or poisonous substances have been ingested. However, inhabiting demons take full advantage of every opportunity to create a hazardous condition out of what would ordinarily be a useful body function. One person called for DELIVERANCE prayer for prolonged and intensive vomiting that necessitated hospitalization. Another individual vomited for seven weeks. One would obviously suspect demonic activity in cases like these. Nausea and vomiting during early phases of pregnancy may be due to evil spirits.
When DELIVERING an individual from these problems, have them repent of anything they may have done to precipitate a condition leading to upset stomach, vomiting, etc. Follow the typical procedures of removing protective mechanisms. Cast out the evil spirits and speak healing.
List of demons -- nausea, upset stomach, vomiting, vomiting without ceasing, vomiting until there is nothing left, vomiting unto death, vomiting weakness, drained by vomiting, dehydration, distorted sleep by vomiting, nervousness due to vomiting.

DEMONS AND CANCER OF THE BREAST
We ministered to a lovely Christian lady who, several years earlier, had surgery on one breast because of cancer. The spirit that was associated with the cancer was still present. We cast him out. Then, we challenged the demon of breast cancer in the other breast. He was there and we forced him out also. She was having no problems with the remaining breast, however, the infirmity spirit was there, apparently waiting to afflict it with cancer also.
Very happily, her husband assisted in the DELIVERANCE session. Praise the Lord for husbands who will minister DELIVERANCE to their wives and family.
When performing DELIVERANCE from breast cancer demons, be certain to cast spirits out of both breasts and speak healing to each of them."

SPEEDING AND TRAFFIC VIOLATION DEMONS
A young Christian man had been having a problem with speeding and with minor traffic violations. For example, he would periodically make a wrong turn because he did not notice a traffic sign. He had been cited for some of these violations. We broke curses over him in these areas and cast out spirits of speeding, careless driver and traffic violations.
Additional spirits that are active in this category of daily living are: blocked concentration (of driver), roving mind, heavy foot, fear of making mistakes in driving, fear of getting caught by police, and others.

ANTI-PERSPIRANT DEMON
A lady had been using an underarm anti-perspirant and deodorant scented spray for about two weeks. A painful rash developed in her armpits. We cast out a spirit of anti-perspirant, pain, and probed for others without success. We spoke healing and within two days the problem had disappeared.
One may ask the question, "what gives the demons legal grounds to enter a person who uses an anti-perspirant?" (And by the way, not all people would be sensitive enough to receive anti-perspirant demons). The answer to the question is in the biology of the body and the interference with its proper functioning. Generally speaking, anything that adversely affects the Godly operation of any body part provides the necessary grounds for spirits to take up occupancy inside the individual or oppress from the outside.
Chemicals that inhibit or prevent the proper release of sweat through the sweat pores are harmful to the body. Anti-perspirants are included in this category of duct obstruction. Sweat glands associated with the coarse hair of the armpits (and pubic region) are larger and secrete fluid which is much thicker than that secreted by glands in other places of the body. Sweat contains many waste products that are eliminated from the body through perspiration, consequently SWEATING IS A NECESSARY BODILY FUNCTION FOR GOOD HEALTH. Blocking of the ducts causes the sweat and waste products to become trapped in the epidermis or dermis producing irritation, prickly heat, itching, severe itching, inflammation and other possible problems. Additionally, perspiring has a cooling effect upon the body. Sweat also acts as a lubricant.
Spirits that could easily be present under these circumstances are: anti-perspirant, pain, itching, severe itching, prickly heat, rash, irritated skin, inflamed skin, inflammation, blocked sweat pores, blocked release of sweat, spirits by the commercial brand of the anti-perspirant, and names of harmful chemicals in the anti-perspirant, and other demons. (Note - I was standing in line in a convenience store one day. There were two doctors in front of me talking about anti-perspirant, and how bad it was for you because of the mercury in the product that blocks the sweat, but also enters your body. If you have not tried using apple cider under your arms, you are missing a really cheap but effective deodorant )

During a DELIVERANCE session, a demon in one young man threw a small trash can across the room and then attempted to leave the sanctuary. The foul spirit dropped the person to his knees in obedience to the command, "I am not fighting you physically. I am fighting you spiritually and I bind you and command you to stop in the Name of JESUS." The demon immediately obeyed and exited when commanded to leave.
A middle-aged Christian lady and DELIVERANCE workers fought bravely against a well-entrenched demon named "fatigue unto death" who responded to the mention of his name from the pulpit. The angry spirit reluctantly left and she was freed from his torment. She recently called us and excitedly announced that she hardly knew what to do with all the energy she now had. What great joy!

A Spirit-filled individual who had used street drugs was freed of spirits named snorting coke, mainlining coke, shooting coke, lust for coke, free base coke and related demons. He was also DELIVERED from a very aggressive spirit of manic-depressive.

ARTHRITIS
A daughter of Abraham experiencing body pain due to a medically diagnosed condition of degenerative arthritis requested prayer for this troublesome and weighty problem. Under pressure, a demon responded, "You can't cast me out. I'm behind an Indian curse." We broke the covering, forced out the arthritic spirits and spoke healing. She was surprised to learn about the inherited Indian curse, realizing that there was only a very small amount of Indian ancestry in her background. She had at many different times confessed any possible sins of resentment, bitterness, unforgiveness, anger and hatred as a possible means of exposing the spirits of arthritis to attack. It was never effective. Praise the Lord for Biblical DELIVERANCE that significantly reduces medical bills and relieves emotional and physical pain.
Stubborn demons responded to names of medications such as aspirin, plain anacin, anacin-3, tylenol 1,2,3, midol, haldol, demerol, and many other common, easily obtained drugs.
A number of adverse side effects of medications were called out. Angry demons by these names manifested and left.

DELIVERANCE IS OPTIONAL. YOU MAY KEEP ALL YOUR DEMONS IF YOU WANT.

JESUS IS THE DELIVERER
DON'T STOP HERE! SEE OUR INDEX FOR MORE ARTICLES.
THERE IS NO HATE, MALICE, RACISM, ETC. ON THIS SITE. THESE ARE SINS IN THE EYES OF GOD, AND ARE ALSO DEMONS. THE BIBLE MAKES IT CLEAR THAT SIN CANNOT GET INTO HEAVEN.