THE BLOOD OF JESUS CLEANSES YOU FROM ALL SIN AND GUILT (1 JOHN 1:7). JESUS IS THE DELIVERER!!

DEMONBUSTER.COM
DELIVERANCE MANUAL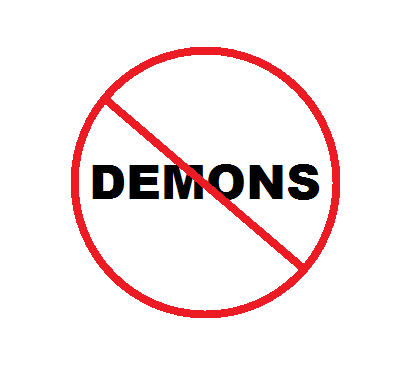 NO DEMONS ALLOWED

FOOD AND HEALTH

Eating the right food may not be enough. Most vegetables and fruits are lacking in the vitamins our body needs. To be sure that you are getting all of the vitamins and minerals you need to be and stay healthy you will need to take vitamins and supplements. Not all vitamins and supplements are alike. For more information on a good source of vitamins and supplements, email us.

An excellent website for current health information is at
Do a search on his site for MILK. I think you will stop drinking it.
Also check out FLUORIDE and stop using it.

Another excellent source is a book by DOUG KAUFMANN called THE FUNGUS LINK. (The Kaufmann Building, 301 W. Washington Street, Rockwall, TX 75087 Phone 972-772-0990) He says that most, if not all, diseases are caused by fungus growing IN and ON our bodies. Doug is on Christian TV Family Network M-F live. The program is called YOUR HEALTH. He says OLIVE LEAF EXTRACT (at your local vitamin store) kills fungus growing in your body. He reports that there are many cures for cancer, but government agencies and drug companies are keeping Americans from learning about them and getting them. His website is at

YOU BETTER CHECK THE SCRIPTURES AGAIN
BEFORE YOU EAT IT

In Matthew 5:17, Jesus says, "DO NOT THINK THAT I HAVE COME TO DO AWAY WITH OR UNDO THE LAW OR THE PROPHETS; I HAVE COME NOT TO DO AWAY WITH OR UNDO BUT TO COMPLETE AND FULFILL THEM.
18 - For truly I tell you, until the sky and earth pass away and perish, not one smallest letter nor one little hook [identifying certain Hebrew letters] will pass from the Law until all things [it foreshadows] are accomplished.
19 - Whoever then breaks or does away with or relaxs one of the least [important] of these commandments and teaches men so shall be called least [important] in the kingdom of heaven, but he who practices them and teaches others to do so shall be called great in the kingdom of heaven.
I am not UNDER the Law by obeying the dietary laws. It could have nothing to do with Jesus, God, or going to Heaven. It could have to do with just common sense. I prefer to think that God knew what he was talking about.
I have heard two testimonies of people who were to die of CANCER. They followed the dietary laws in the Bible, and the CANCER went away. One of the two was a man who was not a Christian, but he said he had nothing to lose.
1. Doctors and scientists say a pork chop (or any pork product) does NOT digest. It stays in your system for months until it is rotted sooooo small, then it just goes through.
2. Bacon grease sitting around (like on the stove) turns to poison after not too long (old Southern tradition too).
3. The lobster is called the "cockroach of the ocean" because it eats all the trash.
4. A scallop eats poison from the ocean floor, but the poison does NOT pass through the little critter.
Now, if the doctors know this happens today with modern technology, refrigerators, hog farms, cat fish ponds, etc., I wonder why God told us not to eat all that stuff.
So, common sense would not want you to smoke or eat what God said not to eat.
The three sheets coming down is the biggest "argument" people bring up. God was talking about GENTILES NOT BEING UNCLEAN, not all the animals that were in the sheet. Even Peter realized this when he got to the Roman (GENTILE) centurion's home. You must read the WHOLE story, and not stop at the part most people stop at.


Acts Chapter 10 goes like this - Cornelius is a Roman Centurion who is a God-fearing man. An Angel appears to him and tells him to send for Simon Peter (verses 1-8). This happened FIRST, setting the stage for Peter's vision.
Peter has a vision, and "a great sheet" is lowered three times filled with animals (verses 9-14.)
Verse 15 - The voice said, "What God has cleansed and pronounced clean, do not you defile and profane by regarding and calling common and unhallowed or unclean."
Verse 17 - Peter did not know what the vision meant. So how can you, if you stop at this verse?
Verse 28 - And he [Peter] said to them, You yourselves are aware how it is not lawful or permissible for a Jew to keep company with or to visit of [even] to come near or to speak first to anyone of another nationality, BUT GOD HAS SHOWN AND TAUGHT ME by words that I should not call any HUMAN being common or unhallowed or [ceremonially] unclean.
Peter said the vision was about human beings - NOT FOOD!
Eerdmans Bible Dictionary says that Gentiles are NON Jews and NON Christians. Ephesians 2:11-12 and Matthew 6:7 and 32 bear this out. You may think you are a Gentile, but you are not, if you are Saved.
DO YOU SPEAK IN TONGUES? If not, Verse 44 says ALL were filled with the Holy Spirit and Spoke in Tongues. Can't leave this part out of the Bible.
Everyone loves the Blessings of Deuteronomy 28, but you cannot leave out the Curses of Chapter 27. You also cannot leave out the dietary laws found in Leviticus 11 and Deuteronomy 14.

Eating Meat
Eerdman's Bible Dictionary

The definition of meat is the flesh (basar) of animals. In biblical times meat was used primarily in sacrifices. Because it was expensive, meat was eaten primarily by the wealthy, including the king (1 Kings 4:23); the common people had meat only on feast days or in times of great prosperity (Amos 6:4). Meat was most often roasted on a spit, but it might also be boiled (1 Samuel 2:13; Judges 6:19).
The question at issue in 1 Corinthians 8:1 - 11:1 is "food offered to idols" (8:1, 4, 10; 10:19). Since almost all meat sold in the meat market (v. 25; Gk. makellon, from Lat. macellum "butcher shop, meat market") had been slaughtered with a modicum of pagan ritual and could therefore be considered "food offered to idols," some Christians could not in good conscience eat any meat. Paul here sets consideration for the conscience of others above other factors in the issue (8:7-13; 10:23-24, 28-11:1), but encourages his readers not to raise for themselves any question of conscience (10:25-27).
So the issue of eating meat was not that they could or could not eat meat, but the fact that the food was offered up to idols was the issue.

FOR GOD'S LAW ON "CLEAN AND UNCLEAN" FOODS SEE:
LEVITICUS 11 AND DEUTERONOMY 14
BIBLE FOOD LAWS - CLEAN MEATS
1. Animals that part the hoof and chew the cud:
CATTLE: BEEF, HAMBURGER, VEAL
SHEEP: LAMB, MUTTON
ANTELOPE, BUFFALO, BISON, CARIBOU, DEER, ELK, GAZELLE, GIRAFFE, GOAT, HART, IBEX, VENISON, MOOSE, REINDEER
AND THEIR PRODUCTS: MILK, BUTTER, CHEESE
2. Fish that have fins AND scales:
ANCHOVY, BASS, BLUEFISH, CARP, COD, CROPPIE, FLOUNDER, GROUPER, GRUNT, HADDOCK, HALIBUT, HERRING, MACKEREL, MINNOW, PERCH, PICKEREL, PIKE, ROCKFISH, SALMON, SHAD, SMELT, SNAPPER, SOLE, STEELHEAD, SUNFISH, TARPON, TROUT, TUNA-ALBACORE, BONITA, YELLOWTAIL
3. Birds that have clean characteristics:
CHICKEN, DOVE, SONGBIRDS, SPARROW, TURKEY, PEACOCK, PIGEON, GUINEA, FOWL, PHEASANT, GROUSE, QUAIL, PARTRIDGE, AND THEIR EGGS
4. Clean creeping things:
DIFFERENT TYPES OF LOCUSTS WHICH MAY INCLUDE CRICKETS AND GRASSHOPPERS

BIBLE FOOD LAWS - UNCLEAN MEATS
1. SWINE: BOAR, PECCARY, PIG (HOG) - BACON - HAM - LARD - PORK (ANYTHING FROM THE PIG)
CANINE: COYOTE, DOG, HYENA, FOX, JACKEL, WOLF
FELINE: CAT, CHEETAH, LEOPARD, LION, PANTHER, TIGER
EQUINE: DONKEY, HORSE, MULE, ONAGER, QUAGGA, ZEBRA
MISCINE MUNIMUS: BADGER, CONEY, HARE, RACCOON, SQUIRREL, MONKEY, OPOSSUM, PORCUPINE, SKUNK
MISCINE MAXIMUS: BEAR, CAMEL, ELEPHANT, LLAMA, WALLABY, GORILLA, HIPPO, KANGAROO, RHINO
2. Water creatures lacking fins AND scales:
FISH: CATFISH, EEL, MARLIN, SHARK, STURGEON
HARD BODY: ABALONE, CLAM, CRAB, CRAYFISH, LOBSTER, MUSSEL, PRAWN, OYSTER, SCALLOP, SHRIMP
SOFT BODY: CUTTLEFISH, JELLYFISH, LIMPET, OCTOPUS, SQUID
SEA MAMMALS: DOLPHIN, OTTER, SEAL, WALRUS, WHALE
3. Birds of prey, scavengers, and others:
BAT, ALBATROSS, BITTERN, BUZZARD, CONDOR, CORMORANT, CRANE, CROW, CUCKOO, EAGLE, FLAMINGO, GROSBEAK, GULL, HAWK, HERON, KITE, LAPWING, LOON, OSPREY, OSTRICH, OWL, PELICAN, PENGUIN, PLOVER, SWIFT, RAVEN, STORK, SWALLOW, SWAN, GOOSE, DUCK, WATER HEN, VULTURE, WOODPECKER
4. Unacceptable creeping kinds:
REPTILES: CROCODILE, LIZARD, SNAKE, TURTLE
AMPHIBIANS: FROG, NEWT, SALAMANDER, TOAD
OTHER: MOLE, MOUSE, RAT, SNAIL, SLUG, WEASEL, ALL INSECTS EXCEPT THE LOCUST FAMILY

Want to get rid of some of your physical ailments? Follow the dietary laws. What do you have to loose?
MUCH DELIVERANCE WILL ALSO BE REQUIRED.

HEALTH NEWS--EATING RIGHT CAN CHANGE YOUR LIFE

THE FOLLOWING INFOMATION CAME FROM THE JOURNAL OF HEALTH AND HEALING, PO BOX 109, WILDWOOD, GA 30757. A COPY OF THE JOURNAL IS $2.97.
A pig is a pig is a pig - Do you not eat any pig products because of what the Bible says? Do you not eat any pig because of what the doctors and scientists say about pig? I finally got to read a report about products that may have pig in them. Would you believe gelatin desserts? A form letter from a manufacturer states, "The production of the gelatin starts with the refinement of collagen-bearing tissues of any animal that has been raised and slaughtered for food purposes. The principal collagen-bearing tissue used is hide trimmings." Food gelatin comes almost exclusively from pigs and cows. Gelatin is not required to be on the list of ingredients, but can be found in beef--jellied beef, corned beef loaves, jellied tongue, cake icing (bakery), candy--bonbon coatings, candy cigarettes, lozenges, wafers, cheese foods, cheese spreads, chewing gum, chicken rolls, chiffon pies, chocolate flavored beverages, chocolate milk, confectionery ingredient, cottage cheese, cream, cream cheese, frozen cheesecake, frozen cream pies, frozen custard, frozen deserts, frozen gravies and sauces, fruit gelatins and puddings, gelatin deserts, ice cream, marshmallows, neufchatel cheese, popsicles, ricotta cheese, sherbets--fruit, turkey rolls, water ices, yogurt, and the list keeps growing.
Lard is fat from hog carcasses. Lard is a commonly chosen ingredient in general purposes commercial shortening, bread and pastry, pie crusts, crackers, cookies, cookie fillers, icing shortening, household shortening, margarine. Anything listing "shortening" is suspect, including baked goods, breads, cake mixes, cakes, canned beans, crackers, packaged mixes of all kinds, pie crusts, pies, snack foods, tortillas. Consumers need to be aware that the ingredients declared on food labels as "mono- and diglycerides" or "emulsifiers" may be derived from lard and thus ultimately from hog carcasses. These compounds are so widely used that we cannot give you a list of foods commonly containing them, but they may be found in beverages, lard, ice cream, iced milk, baked products other than bread and rolls, shortening, confections, chewing gum base component, sweet chocolate, milk chocolate, etc., oleomargarine rendered animal fat or a combination of such fat and vegetable fat, whipped toppings, prepared baking mixes, peanut butter. This information came from the "JOURNAL OF HEALTH " HEALING", VOL. 12 No. 1.

The first step in getting your body healed is to pray for Healing or a Miracle. If you don't get that Miracle right away, the next step is to CAST THE DEMONS OUT. Once you have done these two steps, you MUST change your eating habits, exercise, and take some form of vitamin and mineral supplements. Any brand at all are better than none at all.
You can't cast a demon OUT if your problem is you are eating the wrong food. If you get a lot of tooth cavities, it could be a demon causing it, BUT, it is probably because YOU are not taking care of your teeth. Understand what I am saying? Be careful not to miss the demon, but also use some common sense.
When you first get Saved, you want to TELL EVERYBODY about your new experience in JESUS CHRIST. When you find out that Speaking in TONGUES, Healings, and Miracles are for you and me today, you want to TELL EVERYBODY about it. When you find out about the Miracle of DELIVERANCE, you want to TELL EVERYBODY about it. All of the above should be done free of charge because "freely you have received, freely give".
The following is from "AN OPEN LETTER TO FELLOW CHRISTIANS" by Doctor R.A. Alexander.

[ NOTE] Sometimes a person's ill health may be caused by poor eating habits instead of caused by demons. If you change your eating habits, you could be on your road to better health. This information is some years old, and I have no address for Dr. Alexander.

"I write to you to the glory of our God and to the good health of our people. My humble effort will be to help you remove the mystery that surrounds health and the prevention of disease. Toward this goal, we will search the scripture together to find a way of life that will assure us of good health. Those things which I have been allowed to see and understand these past 40 years plus, as a physician and surgeon, have taught me to trust Almighty God, our Creator, for those things I have not been allowed to see or understand. They have caused me to realize that Christianity is a relevant faith, a realty, and an ethic for every aspect of our daily lives. My final years in medicine were devoted to an attempt to understand the prevention of disease as I served as the medical director of the wellness program at our local hospital.
THE CHRISTIAN GUIDE TO BETTER HEALTH -
This world is drowning in information but starved for knowledge, wisdom and understanding; "Truth has fallen in the street" Isaiah 59:14. Too many have abandoned their search for truth and are looking for a comfortable fantasy. The time is now to make the ideal a reality. We must accept the facts, as discovered by science, in the light of God's word, properly understood. Truth is completely explained throughout God's word. In John 14:6 Christ tells us, "I am the way, the truth, the life", and in John 17:17 "Thy Word is truth" and in Psalms 119:142,151 and 160, David the prophet tells us that Thy Law is truth, all Thy commandments are truth and Thy word is true, but the biblical truth has fallen in the streets. Isaiah 59:14 Physicians will readily admit that with all our wonderful technological advances, we are not yet able to cope with the world's health problems. However, real meaningful prevention is being ignored, when we now have discovered that nutrition is the major factor in good health and disease. We are truly what we eat and our immune system really works. Our body is self-healing when furnished with the basic needs of life, oxygen, water, proper food (fuel), exercise and love. Love is the soil in which we grow.
All the major illnesses are 80% preventable now by a very low-Fat diet, exercise (about 3 mile walk per day) and no SMOKING. Good health does not come in capsules. The responsibility for your health is yours...now. A healthy heart is just a walk away. You can eliminate the major killer diseases now, with no new knowledge, no new drugs, no money, no doctors office visits, and the results will be very rapid regardless of your health now (Daniel 1:12). You don't need to be sick to get better and you are not at the mercy of your genes. This is not written to replace your doctor, he is important to monitor your progress. Our purpose is to cause you to take the responsibility for your own health and the Lord shall be your confidence. God, our Creator, is still in control. He understands what fuel will keep this flesh body in good health and what fuel will cause us disease. Will you accept the truth or must you suffer the consequences in disease? Our Bible, His Word, is a book of instruction and prevention from Genesis to Revelation, and in Malachi 3:6 our Father explains to us, "I am the Lord (eternal), I change not". He will not have a separate set of rules for each generation. Research has recently come together too compelling to cause the medical profession to discover (that is to say, uncover facts which previously existed but were unknown to doctors generally) that all ingested Fat is your #1 health enemy. Some Fats cause coronary heart disease, some cause CANCER, all Fats cause arteriosclerosis (the so-called hardening of the arteries) which is the cause of all degenerative disease. 80% (over 3/4) of the major killer diseases are now easily preventable with no new knowledge, no new drugs, no expenditure of money, not even a visit to the doctor's office. It is so simple that many of you will refuse to believe it. This Christian guide to better health requires belief. In order for it to work you must be a doer; knowledge is only of value if it is applied. Ben Franklin once reminded us that it will amaze you how long a truth is known before it is acted upon. Our Father and Creator, brought this prevention of disease to our personal attention in The Letter written to each and every one of us some 4,000 years ago. It is called His Word, the Holy Bible, our handbook for daily living. Christ is that Living Word. Early He pointed out to us, His children, in Leviticus 3:16,17 and again in Leviticus 7:23 that all the Fat belongs to the Lord and that we are not to eat any manner of Fat, even of clean things created for food. These things have led me to the Christian's Guide To Better Health which will follow in the simplicity in which Christ taught (2 Corinthians 11:3). So very simple you won't believe it even though God has allowed man to prove such things to himself.

First, let us look at a few of the health promises our Father gave us in return for obedience. These promises are as real today as when they were given to the children of Israel. God promises us none of the evil diseases of the Egyptians in Exodus 15:26, Deuteronomy 7:15, and Exodus 23:25. Egypt had all the diseases we have today except we are able to afford them for everyone today...not just for the royalty as in the days past. Lest someone misunderstand these and other health food laws summarized in Leviticus 11 and Deuteronomy 14, these health rules have nothing to do at all with our salvation and eternal life. Christ redeemed us once for all on the cross. Sin against these rules for good health are sins to the flesh and against God's laws of nature, and you are sure to develop disease against the flesh body as you break them.
This is not a Pharisee doctrine (God forbid), just good advise our Father gives to his children that they may remain in good health. Follow these rules as to the fuel you place in His creation, this flesh body."
Realistically, all fat is your #1 health enemy. Saturated fats cause coronary artery disease, killing 52% of our people. Unsaturated fats cause CANCER, killing 21% of our people. Together they cause high blood pressure, diabetes, and other degenerative diseases, especially atherosclerosis.
Saturated fats: All animal products have the fats that contains cholesterol. No other fats contain cholesterol. Cholesterol is present in all meat, eggs, cheese, butter, and milk. However, other saturated fats which contain no cholesterol themselves, but they furnish the raw materials for your body to manufacture cholesterol. Such oils as coconut oil, palm oil, and avocado. These products are as bad for you as products that contain cholesterol for they stimulate its production by your liver and other cells. Your body produces far more cholesterol than you eat.
Un-Saturated fats: The so-called poly-unsaturates, in all vegetables, as Oleo, Margarine, Corn Oil, Crisco, Puritan oil, Safflour oil, Peanut oil, etc. They all cause CANCER, which in turn kills 21% of our people. It is okay to eat all vegetables but when we concentrate the oil they cause us trouble. For example, it takes 14 ears of corn to make one tablespoon of corn oil. Eat all vegetables as grown.
CANCER of the colon, breast, ovaries, uterus, prostate and pancreas are the direct result of ingested fat. These represent 50% of all CANCER deaths. All you need to remember is that fat is bad. Think fat, not cholesterol. In moderation, cholesterol is good in that it is essential to the brain, nerve cell coverings and all cell membranes.
Olive oil, a mono-unsaturated oil, compared to other fats is a good oil to use in moderation. Olive oil is the oil of our people, the oil of anointing, oil of light, oil of health to this flesh and eternal life. Is it any wonder that olive oil 1/lowers the blood total cholesterol, 2/raises the HDL (good cholesterol), 3/lowers the LDL (bad cholesterol), 4/lowers the blood pressure, 5/lowers the blood sugar, 6/lowers the risk of coronary artery disease and CANCER. Use cold pressed olive oil in moderation in baking, as a salad dressing and on pasta. Other oils do just the opposite but are you surprised that cold pressed olive oil should have such marvelous benefits to our bodies? James 5:14, the anointing oil.
Fish with their oils, the Omega III factor which is very beneficial in preventing coronary artery disease, the #1 killer disease in the USA today.
God admonishes us to exercise in this flesh body. Exercise profiteth us throughout this flesh age, but spiritual exercise profits us into eternal life. 1 Tim 4:8. In the sweat of thy face shall you eat bread till you die in the flesh. Gen 3:19. Six days shalt thou labor and do all thy work. Exo 20:9. Recent research has shown us in the medical profession that lack of exercise is our #2 health enemy. Exercise reduces the death from all diseases but will not burn up cholesterol once it is ingested. Exercise to energize; it tones the muscles, tunes the heart rhythm and increases lung capacity and increases endurance. The HDL (good cholesterol) rises. Beta endorpines flow and general health improves.
SMOKING causes 30% of CANCER deaths. CANCER of the lungs, throat, mouth, lips, larynx, esophagus and urinary bladder, are all caused by SMOKING.
In summary: The most powerful, most exciting discovery of my medical career is that we truly are what we eat. Disease is preventable now by proper food (very low fat dietary program), exercise and NO SMOKING. Our Father God knows the best fuel for the health of our flesh bodies. Your proper food is first, carbohydrates (starches, complex sugars, food as grown). This includes all fruits, vegetables, grains (pasta, whole grain breads, oatmeal, rice, cream of wheat etc.). Carbohydrates are our energy foods and should make up 80% of the calories we eat. They digest without waste products that stress our vital organs; only carbon dioxide (CO2 and water H20) which are easily disposed of by kidneys, skin and lungs and cause no disease.
You don't need to be sick to get better, Daniel 1:12 tells us how soon to expect improvement. Eat all the carbohydrates you want. Protein in excess is harmful to your health. Ideally only 10% of your calories need to be protein. It is more difficult to digest, requiring 8 times as much water to dilute the waste products, urea, ammonia, etc., which stresses the vital organs and cause disease when eaten in excess.
Whole grain breads have more protein per calorie than most meats. Beans have more protein per dollar expanded than meats. Fish is your best meat source of protein, containing very little fat. We need only as much meat (protein) daily as is used to replace the muscle we wear out daily. This amounts to only 4 ounces of meat per day.
Fat is harmful to your health when you eat more than 10% of your calories as fat. I am aware that the American Heart Association says 30% of your calories as fat is ok, as does the American Diabetic Association, and of course the average American eats 40 to 50% of ingested calories as fat. That is why we have the diseases I have written you about. God is still in control, obey His Word. Eat no foods that are filled with fat, such as donuts, Danish pastries, cookies, french fries, milk shakes, ice cream, etc. Make your own list of NO-NO'S.
Substitute olive oil whenever possible in baking, on green salads and pasta, in moderation of course, for other oils.
Remember, no frying. Broil meats to burn away excess fats and cholesterol after you have trimmed away all visible fat.
The simple road to good health then is a very low fat dietary program, exercise, and NO SMOKING. It is so simple there is danger you might not believe it. Our Father God gave us these simple rules for health of the flesh body just as he had written in Ecclesiastes to help us be happy in this flesh body and the Proverbs to rule our lives in wisdom and common sense, that we might live in peace of mind, governing our lives with the wisdom of God. In the flesh our job is obedience and He rewards us handsomely. Never be pre-occupied with your health, rather be pre-occupied with the Word of God. His Word is our soul food. He is our confidence, our strength, our guide, and our protector. Trust JESUS Christ. He is the Great Physician. He will heal us. Only He has all the answers. God bless you all (Hebrews 13:20,21) RAY ALEXANDER

THE ALEXANDER LIFE EXTENSION HEALTH DIET:
Designed after much research to: 1. Promote Health, a high energy level, vitality, endurance. 2. Help you look and feel younger and live longer. 3. Help prevent atherosclerosis (hardening of the arteries) and resultant degenerative diseases of old age, CANCER, gout, heart disease, high blood pressure, strokes, diabetes, osteoporosis.
Diet composition - Very low fat, low protein, high fiber, high carbohydrate (starch). 1. Dietary fat from all sources is your #1 health enemy. Fat clogs the arteries to your vital organs (heart, brain, kidneys, liver, pancreas) preventing their functioning properly. Eat no more than 10% of dietary calories as fat.
Dietary fat causes: (Both animal fats (cholesterol) and vegetable fats) - 1. - Coronary artery disease (heart attacks) 2. - Many CANCERs (colon, breast, ovary, uterus, prostate and others) 3. - Strokes, high blood pressure
2. Dietary protein is needed in small amounts to rebuild your body as you wear it out daily. Dietary protein is a poor energy source. Excess causes leaching of calcium and other minerals in the bones, causing osteoporosis (thinning of bones). Eat no more than 15% of dietary calories as protein.
3. Complex carbohydrate (starch). Complex sugars burn slow (best food). #1 energy source, pure energy, buns clean in body. Only CO2 and H2O as waste product of digestion. Does not stress vital organs during digestion. Provides vim, vigor, vitality and energy for daily living and working. Eat 75-80% of your dietary calories as complex carbohydrate (starches). Eat carbohydrates when you are hungry and don't worry about weight, it is used up for your energy needs.
Prime sources of complex carbohydrates are: fruit, vegetables, grains, pastas, breads, potatoes, beans, peas, cereal, oatmeal and rice.
Calories per gram: Fat --- 9; Protein ---4; Carbohydrates ---4
Exercise -- Walk three miles per day.
Eat optimal ideal diet for maintenance of good health:
EAT LIBERALLY
Fruits (except coconut), vegetables (except avocado), grains, rice, oatmeal, cream of wheat, shredded wheat, grape-nuts, nutri-grain, puffed rice, wheat millet, non-fat breads (tzizel, pita, pumpernickel, bagels), beans, peas, potatoes (Irish and sweet boiled or baked), salads (non-fat dressings), pastas, whole grains, spaghetti, macaroni.
EAT MODERATELY
Skim milk, meat (broiled, baked or boiled), fish (best), chicken (skinned white meat), 3 ounces a day.
EAT SPARINGLY OR NOT AT ALL
All fried foods, all fats, nuts, seeds, vegetable oils, sugar, honey, syrups, caffeine, salt, cheese, eggs, butter, oleo margarine, olives, coconut, red meat (beef once a week), no PORK.
In order to avoid weight loss, eat more potatoes, pasta, breads, rice, oatmeal and fruit.

IDEAL DIET TO LOSE WEIGHT
EAT LIBERALLY
Vegetables, (raw or cooked except avocados), beans, peas, salads (non-fat dressings), vegetable soup without fat.
EAT MODERATELY
Potatoes, grains, rice, oatmeal, cream of wheat, skim milk, shredded wheat, grape-nuts, nutri-grain flakes, non-fat breads (tzizel, pita, pumpernickel, bagels), pastas, whole grain spaghetti, macaroni, fruits (no coconut), fish (broiled or baked), chicken (skinned white meat).
EAT SPARINGLY OR NOT AT ALL (HIGH IN CALORIES)
All fried foods, all fats, nuts, seeds, vegetable oils, sugar, honey, syrups, caffeine, salt, cheese, eggs, butter, oleo, olives, avocado, coconut, red meats (beef one time per week), no PORK."

THE 12 BEST AND 12 WORST FOODS FOR YOUR HEALTH:
BEST
BROCCOLI AND CARROTS: Nutrient bargains. The whole family of dark green and deep red vegetables is low in calories and loaded with vitamin A (A single carrot provides 1/2 a week's requirements). These vegetables are high in fiber and contain a natural cancer preventative agent. (Cooked carrots are better absorbed by the body than raw ones.)
OATS: The value of a Cadillac for the price of a Ford. Oats are a rich source of protein, and fiber in oats--the stuff that makes oatmeal gummy--helps reduce cholesterol and normalize blood sugar. If you prepare your oatmeal with skim milk rather than water, you get a protein and calcium bonus. Instant oatmeal is not as good as cooked oatmeal because it's made with lots of salt and sometimes lots of sugar.
CABBAGE AND ITS FAMILY: (Cauliflower, brussel sprouts, kale, kohlrabi): Not just for cole slaw. A natural cancer preventive substance reduces the risk of colon cancer, a major cancer killer in the United States.
POTATOES: Another super nutrient bargain. For 100 calories in a 5 oz. Potato (fewer than in many "diet" foods) you get high percentages of vitamin C, protein, iron, riboflavin, thiamine, niacin, phosphorus and magnesium. Don't cook potatoes in fat or add sour cream or butter. Good addition: yogurt flavored with dill, pepper or horseradish. Sometimes I just put my cooked vegies on a potato--it's nutritious and attractive. Brown rice with vegies or beans cooked and placed on top of rice is great, pure energy. Baked sweet potatoes are great...with honey.
YOGURT AND SKIM MILK: Versatility galore. Milk contains protein, and the calcium helps to prevent weakening of the bones. Yogurt has some advantages over milk, although it's more expensive. Since it takes time to consume, you really feel that you've eaten something. You can eat it with fruit or vegies and use it as a thickening agent in soups and other recipes. In desserts that traditionally are loaded with whipped cream or cream cheese, yogurt is a good, and unnoticeable substitute. Yogurt is a perfect ingredient for dips and salad dressings. Preparation hint: adding fresh fruit to plain yogurt, you will probably use much less than is added to commercial brands. Frozen yogurt is better than ice cream from a fat standpoint--but it still has quite a bit of sugar.
PASTA: Good for you. But watch out for the sauce! Pasta is not a fattening food. It contains protein, vitamins and minerals. Even white pastas are a good source of essential nutrients. You can make pasta sauces that are very low fat and calories. A spaghetti dinner with a meal, sauce has fewer calories than just the steak part of a steak dinner, and offers 2 1/2 times the amount of food. For the pasta gourmet: try a foray into buck wheat pasta, a Japanese specialty.
FISH: All varieties of fish have an ingredient that protects against heart disease by helping to lower blood cholesterol levels and prevent blood clots. Sardines are among the easiest fish to buy and if eaten with the bones, are very high in calcium (as good as milk). Do not add saturated animal fat in preparation. In restaurants order fish broiled without butter. Poached fish is a good no-fat choice--order the fatty, high-calorie sauce on the side. Salmon is excellent as a really clean fish.
BREAD AND WHOLE GRAINS: The staff of life. I think the reason millions of Americans limp around all day is because they don't eat enough bread. Bread should be a part of every meal, and it's a good snack food. Of course, I prefer whole grain bread (it has 18 more nutrients than white bread). Beware: Bread that isn't white in color is not necessarily whole wheat. If the first ingredient on the label is ENRICHED WHITE FLOUR, it is not a whole-grain bread. The first ingredient should be a whole grain, such as oats or (usually) whole wheat. For dieters: The latest studies have shown that about 30% of the calories in bread are not absorbed by the body. If you eat a slice of bread with 100 calories, you absorb only 70 calories. You get something for nothing. Rice is nice. Pure energy. Brown rice is high in fiber and other nutrients.
LENTILS AND FAMILY (DRIED PEAS AND BEANS): Very nutritious and versatile. An excellent source of vegetable protein, the lentil family has a cholesterol-protective substance. Lentils are high in fiber (which is why dried beans leave a gassy legacy, a testimony to the fact that you are eating a healthful diet). Try them in soups, salads and casseroles. For the lentil novice, lentil soup is the best place to start. Beans over brown rice are a great meal.
FRESH FRUIT: A natural dessert. By calling fresh fruit natural means to say that refined sugar is not natural -- it is. What I mean is -- The sugar in fresh fruit comes in a package loaded with things that are really good for you: fiber, vitamins and minerals. Hint: A fruit is better than a juice because it is more slowly absorbed by the body and more substantive. Use fruits or fruit juices, concentrated-frozen, to sweeten other foods.
AND A BONUS:
POPCORN: Great for snackers and ex smokers who want to put something healthful into their mouths. Unbuttered, unsalted popcorn contains fiber and a lot of hot air (which is why it has only 23 calories per cup). You eat an immense amount of popcorn before you reach the calorie equivalent of a single cookie. For variety: try popcorn with herbs, parmesan cheese, apples, grapes or freshly ground pepper.
BANANAS: Great as sweeteners for oatmeal and rice. High in potassium, vitamins and other minerals. Great as a spread on a sandwich with whole-grain breads. Pure energy.

WORST FOODS TO EAT
SODA POP: The epitome of nutritional bankruptcy. This includes all the soft drinks, carbonated or not, sugar sweetened or artificially sweetened. If you are desperate for something sweet, you're better off having fruit juice.
FRENCH FRIES: A travesty on the name of potatoes. A wonderful nutritious food acquires 200 calories of fat when fried (and in a fast-food restaurant you're probably getting dangerous beef fat). Added salt...UGH.
POTATO CHIPS: You might as well eat butter. They contain a large amount of added fat, as well as lots of salt.
BACON: It's not really meat. As many as 95% of the calories in bacon come from fat. It's high in salt and full of nitrates, which may cause cancer. (Micro-waved bacon, which seems drier, is just as high in fat.)
FETTUCCINE ALFREDO AND SOME PASTA SALADS: Drowning in a sea of fat. People order pasta thinking it is healthful, then destroy its benefit by ordering it in fatty sauces, and pasta does require a great deal of dressing. Try the no-oil Italian dressing.
FAST-FOOD SUPER BURGERS: 600 calories -- and half of those calories are fat. Interestingly, the plain burgers are not particularly high in fat. But when you throw in the dressing, the cheese, and the extra beef, it adds up.
GRANOLA BARS: Whoever said they are healthful? Granola is high-fat, high sugar cereal. I use it only as a garnish, sprinkling a little bit of it on an unsweetened cereal. Granola bars are simply high-calorie cookies. The latest version -- the granola candy bars -- are no better for you than a Milky Way or Snickers, and they cost more. Bottom line: There is no advantage to eating a granola bar.
S'MORES CEREAL AND GRANOLA CEREALS: Probably the worst cereal ever produced. If you went to camp, you know that s'mores are a campfire confection of graham crackers, toasted marshmallows and chocolate bars. And that's exactly what is in s'mores cereal. More than half the calories come from sugar. You're really eating candy with milk on it.
DOUGHNUTS: Worse than no breakfast at all. Not only do doughnuts have the sugar and white flour that we should be cutting back on, but they're fried. They give me heartburn. Doughnuts put your blood sugar out of whack, and they don't stay with you. By the end of the morning you'll be in bad shape.
CHEESE: Not at all a wonder food. Cheese has some redeeming features, and I do use it in my recipes, but in small amounts. Many people who have stopped eating meat (because of their concern with fat and cholesterol) are substituting a huge amount of cheese. They would be better off with the red meat. Reason: Cheese has the same amount of fat and cholesterol as red meat -- and far more salt.
Worst cheeses: Cottage cheese, part-skim mozzarella, skim milk ricotta and feta. Grated parmesan goes a long way. Best hard cheese is swiss.
CANDY BARS: All sugar and fat.
HOT DOGS: 85% calories are fat.

The following message was sent to us on July 23, 2001:
"A Deadly POISON FDA IS SUING FOR COLLUSION WITH MONSANTO Article written
by Nancy Markle. I have spent several days lecturing at the WORLD
ENVIRONMENTAL CONFERENCE on "ASPARTAME" marketed as 'NutraSweet,'
'Equal,' and 'Spoonful.' In the keynote address by the EPA, they announced that
there was an epidemic of multiple sclerosis and systemic lupus, and they
did not understand what toxin was causing this to be rampant across the
United States. I explained that I was there to lecture on exactly that
subject.

When the temperature of Aspartame exceeds 86 degrees F, the wood alcohol
in ASPARTAME converts to formaldehyde and then to formic acid, which in
turn causes metabolic acidosis. (Formic acid is the poison found in the
sting of fire ants.) The methanol toxicity mimics multiple sclerosis;
thus, people were being diagnosed with having multiple sclerosis in
error.
The multiple sclerosis is not a death sentence, where methanol toxicity
is. In the case of systemic lupus, we are finding it has become almost
as rampant as multiple sclerosis, especially with Diet Coke and Diet Pepsi
drinkers. Also, with methanol toxicity, the victims usually drink three
to four 12oz. cans of them per day, some even more.

In the cases of systemic lupus, which is triggered by ASPARTAME, the
victim usually does not know that the aspartame is the culprit. The
victim continues its use aggravating the lupus to such a degree, that sometimes
it becomes life-threatening. When we get people off the aspartame, those
with systemic lupus usually become asymptomatic. Unfortunately, we
cannot reverse this disease. On the other hand, in the case of those diagnosed
with multiple Sclerosis, (when in reality, the disease is methanol
toxicity), most of the symptoms disappear. We have seen cases where
their vision has returned and even their hearing has returned. This also
applies to cases of tinnitus.

During a lecture, I said "If you are using ASPARTAME (NutraSweet, Equal,
Spoonful, etc.) and you suffer from fibromyalgia symptoms, spasms,
shooting pains, numbness in your legs, cramps, vertigo, dizziness,
headaches, tinnitus, joint pain, depression, anxiety attacks, slurred
speech, blurred vision, or memory loss-you probably have ASPARTAME
DISEASE!"

People were jumping up during the lecture saying, "I've got this, is it
reversible It is rampant. Some of the speakers at my lecture even were
suffering from these symptoms. In one lecture attended by the Ambassador
of Uganda, he told us that their sugar industry is adding aspartame! He
continued by saying that one of the industry leader's son could no
longer walk -- due in part by product usage! We have a very serious problem.
Even a stranger came up to Dr. Espisto (one of my speakers) and me and said,
'Could you tell me why so many people seem to be coming down with MS?
During a visit to a hospice, a nurse said that six of her friends, who
were heavy Diet Coke addicts, had all been diagnosed with MS. This is
beyond coincidence.

Here is the problem. There were Congressional Hearings when aspartame
was included in 100 different products. Since this initial hearing, there
have been two subsequent hearings, but to no avail. Nothing has been done.
The drug and chemical lobbies have very deep pockets.

Now there are over 5,000 products containing this chemical, and the
PATENT HAS EXPIRED!!!!!

At the time of this first hearing, people were going blind. The methanol
in the aspartame converts to formaldehyde in the retina of the eye.
Formaldehyde is grouped in the same class of drugs as cyanide and
arsenic - DEADLY POISONS!!! Unfortunately, it just takes longer to quietly kill,
but it is killing people and causing all kinds of neurological problems.

Aspartame changes the brain's chemistry. It is the reason for severe
seizures. This drug changes the dopamine level in the brain. Imagine
what this drug does to patients suffering from Parkinson's Disease. This drug
also causes Birth Defects. There is absolutely no reason to take this
product. It is NOT A DIET PRODUCT!!! The Congressional record said, "It
makes you crave carbohydrates and will make you FAT." Dr. Roberts stated
that when he got patients off aspartame, their average weight loss was
19 pounds per person. The formaldehyde stores in the fat cells,
particularly in the hips and thighs.

Aspartame is especially deadly for diabetics. All physicians know what
wood alcohol will do to a diabetic. We find that physicians believe that
they have patients with retinopathy, when in fact, it is caused by the
aspartame. The aspartame keeps the blood sugar level out of control,
causing many patients to go into a coma. Unfortunately, many have died.
People were telling us at the Conference of the American College of
Physicians, that they had relatives that switched from saccharin to an
aspartame product and how that relative had eventually gone into a coma.
Their physicians could not get the blood sugar levels under control.
Thus, the patients suffered acute memory loss and eventually coma and
death. Memory loss is due to the fact that aspartic acid and phenylalanine
are neurotoxic without the other amino acids found in protein. Thus it
goes past the blood brain barrier and deteriorates the neurons of the
brain.

Dr. Russell Blaylock, neurosurgeon, said, "The Ingredients stimulate the
neurons of the brain to death, causing brain damage of varying degrees.
Dr. Blaylock has written a book entitled EXCITOTOXINS: THE TASTE THAT
KILLS (Health Press 1-800-643-2665). Dr. H. J. Roberts, diabetic
specialist and world expert on aspartame poisoning, has also written a
book entitled DEFENSE AGAINST ALZHEIMER'S DISEASE (1-800-814-9800). Dr.
Roberts tells how aspartame poisoning is escalating Alzheimer's Disease,
and indeed it is. As the hospice nurse told me, women are being admitted
at 30 years of age with Alzheimer's Disease. Dr. Blaylock and Dr.
Roberts will be writing a position paper with some case histories and will post
it on the Internet. According to the Conference of the American College of
Physicians, 'We are talking about a plague of neurological diseases
caused by this deadly poison." Dr. Roberts realized what was happening when
aspartame was first marketed. He said, "His diabetic patients presented
memory loss, confusion, and severe vision loss."

At the Conference of the American College of Physicians, doctors
admitted that they did not know. They had wondered why seizures were rampant (the
phenylalanine in aspartame breaks down the seizure threshold and
depletes serotonin, which causes manic depression, panic attacks, rage and
violence). Just before the Conference, I received a FAX from Norway,
asking for a possible antidote for this poison because they are
experiencing so many problems in their country. This "poison" is now

available in 90 PLUS countries worldwide. Fortunately, we had speakers
and ambassadors at the Conference from different nations who have pledged
their help. We ask that you help too. Print this article out and warn
everyone you know. Take anything that contains aspartame back to the
store. Take the "NO ASPARTAME TEST" and send us your case history. I
assure you that MONSANTO, the creator of aspartame, knows how deadly it
is. They fund the American Diabetes Association, American Dietetic
Association, Congress, and the Conference of the American College of
Physicians. The New York Times, on November 15, 1996, ran an article on
how the American Dietetic Association takes money from the food industry
to endorse their products. Therefore, they cannot criticize any
additives or tell about their link to MONSANTO. How bad is this?

We told a mother who had a child on NutraSweet to get off the product.
The child was having grand mal seizures every day. The mother called her
physician, who called the ADA, who told the doctor not to take the child
off the NutraSweet. We are still trying to convince the mother that the
aspartame is causing the seizures. Every time we get someone off of
aspartame, the seizures stop. If the baby dies, you know whose fault it
is, and what we are up against.

There are 92 documented symptoms of aspartame, from coma to death. The
majority of them are all neurological because the aspartame destroys the
nervous system. Aspartame Disease is partially the cause to what is
behind some of the mystery of the Desert Storm health problems (Gulf War
Syndrome). The burning tongue and other problems discussed in over 60
cases can be directly related to the consumption of an aspartame
product.
Several thousand pallets of diet drinks were shipped to the Desert Storm
troops. (Remember heat can liberate the methanol from the aspartame at
86 degrees F.) Diet drinks sat in the 120 degree F. Arabian sun for weeks
at a time on pallets. The service men and women drank them all day long.
All of their symptoms are identical to aspartame poisoning.

Dr. Roberts says, "Consuming aspartame at the time of conception can
cause birth defects." The phenylalanine concentrates in the placenta, causing
mental retardation, according to Dr. Louis Elsas, Pediatrician Professor
- Genetics, at Emory University in his testimony before Congress. In the
original lab tests, animals developed brain tumors (phenylalanine breaks
down into DXP, a brain tumor agent). When Dr. Espisto was lecturing on
aspartame, one physician in the audience, a neurosurgeon, said, "When
they remove brain tumors, they have found high levels of Aspartame in them."
Stevia, a sweet herb, NOT AN ADDITIVE, which helps in the metabolism of
sugar, which would be ideal for diabetics, has now been approved as a
dietary supplement by the FDA. For years, the FDA has outlawed this
sweet food because of their loyalty to MONSANTO.

If it says "SUGAR FREE" on the label-DO NOT EVEN THINK ABOUT IT!!!!!!
Senator Howard Hetzenbaum wrote a bill that would have warned all
infants, pregnant mothers and children of the dangers of aspartame. The bill
would have also; instituted independent studies on the problems existing in
the population (seizures, changes in brain chemistry, changes in
neurological and behavioral; symptoms). It was killed by the powerful drug and
chemical lobbies, letting loose the hounds of disease and death on an
unsuspecting public. Since the Conference of the American College of Physicians, we;
hope to have the help of some world leaders."

JESUS IS THE DELIVERER
DON'T STOP HERE! SEE OUR INDEX FOR MORE ARTICLES.
THERE IS NO HATE, MALICE, RACISM, ETC. ON THIS SITE. THESE ARE SINS IN THE EYES OF GOD, AND ARE ALSO DEMONS. THE BIBLE MAKES IT CLEAR THAT SIN CANNOT GET INTO HEAVEN.