This is NOT the website of Gene Moody. It is the website of DEMONBUSTER.COM.

THE BLOOD OF JESUS CLEANSES YOU FROM ALL SIN AND GUILT (1 JOHN 1:7).
JESUS IS THE DELIVERER!!

DEMONBUSTER.COM
GENE AND EARLINE MOODY
DELIVERANCE MANUAL

MAIN PAGE IS AT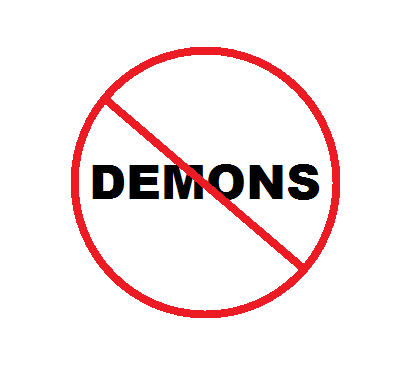 NO DEMONS ALLOWED

GENERAL COMMENTS

GENERAL COMMENTS
             TABLE OF CONTENTS
1.          WHAT IS DELIVERANCE?
2.          WHAT ARE THE KEYS TO DELIVERANCE?
3.          SPIRIT OF REJECTION
4.          OVERVIEW OF SEXUAL SINS
5.          UNFORGIVENESS
6.          HOW TO PERFORM A PRIVATE SESSION STEP BY STEP
7.          SINS OF THE FATHERS
8.          SPIRITUAL IMPARTATION
             WHAT IS DELIVERANCE?
JESUS came to preach The Gospel, heal the sick and cast out demons. Every believer, Mark 16:17, should be preaching The Gospel, healing the sick and casting out demons.
Deliverance is casting out demons. Every demon within a person has a legal right before GOD to be within that person. You have to take away that legal right that came in by sin and then cast out the demon.
Demons do not come out by reading Scripture, praying prayers, teaching about deliverance, singing about deliverance or anything else when they have a right to stay in the person.
If you try to cast out a demon that has a right to the person, the demon may get violent, talk back to you, or refuse to come out.
             WHAT ARE THE KEYS TO DELIVERANCE?
There are three main keys to deliverance of an individual:
Is the person really saved? You are not supposed to cast out demons from the unsaved because they can be worse off than before. Because more demons can come back into the body that does not have THE HOLY SPIRIT.
Does the person really want spiritual help? You are wasting your time to try to help a person that does not want help. THE HOLY SPIRIT will not force anything on a person. You have the right to go to Hell or to go to Heaven. You have a right to keep your demons. It is your choice.
Will the person submit to you as you try to help them by the leadership of THE HOLY SPIRIT? You can't help them if they will not follow your instructions. They may try to tell you how to do it. If they know more than you, why come to you for help?
Deliverance Ministries books are available for teaching you:
DELIVERANCE MANUAL, SPIRITUAL WARFARE MANUAL, HOW TO DO DELIVERANCE MANUAL, SEXUAL DELIVERANCE MANUAL, WITCHCRAFT DELIVERANCE MANUAL, CURSES DELIVERANCE MANUAL, HEALING DELIVERANCE MANUAL, MINI DELIVERANCE MANUAL, SPIRITUAL WARFARE PRAYER BOOK, END TIMES MANUAL, PRAYER MANUAL.
             SPIRIT OF REJECTION
The Spirit Of Rejection is one of Satan's best weapons to destroy the human race. He tried it on Jesus Christ but it did not work.
Probably every human being has been rejected. You will face it all of your life. GOD and Christians are being rejected in America. You are rejected because of your gender: male or female; race: black, white or other; religion; politics; and other human characteristics: mental, physical, spiritual, financial.
Basic deliverance is getting rejected, becoming bitter and then rebelling. After that many people will go on to other things such as sexual sins.
             OVERVIEW OF SEXUAL SINS
Sex is the second strongest drive for the human being after the drive to live. Satan uses it to destroy many Christians and their organizations.
GOD put that in humans so that children will be born. There have been about 54,000,000 babies killed due to abortion in America. World wide the number is about one billion babies killed.
Would you say that abortion is an abomination to GOD? I believe that GOD told me that America is under the severe judgement of GOD. We are being destroyed by GOD, and those who are anti-Christian, anti-America and for one-world government. GOD is also destroying the world through their love of money with the money becoming of low value. When I was a child, the dollar was worth 100 cents, now it is worth 5 cents due to inflation caused by making the money worth less.
Ten generation curses: bastard and incest. Three or four generation curses: other curses. Curses: bastard, incest; premarital sex; strife  - separation - divorce - adultery; other sexual sins.
             UNFORGIVENESS
Jesus Christ died on the cross so that we can be forgiven for our sins. If you don't forgive others, GOD will not forgive you. If you are unwilling to forgive others, you are giving the demons a right to remain in you.
Forgiveness is very important. It is a very powerful weapon of our warfare to take away the legal rights and grounds that demons have to remain in a person. My ministry revolves around using forgiveness to help set a person free of demons.
Unforgiveness is part of the demonic family of Bitterness. If you have Bitterness or Unforgiveness, you may have Cancer or Arthritis.
             HOW TO PERFORM A PRIVATE SESSION STEP BY STEP
This lesson was taught to Train The Trainer and those who want to become deliverance workers. Everyone should be involved in deliverance and healing. Healing goes along with deliverance. GOD told me to take people through deliverance and then pray for their healing.
I presented the lesson step by step. I use this method over the telephone, in my home and when I travel to minister. I use it when I have a few minutes to working with people for a day. You do what you can to help a person based on the time you have.
I never try to cast out every demon a person has. Your spiritual life goes back to ten generations of your ancestors. That is 2044 ancestors that can affect you spiritually with curses.
Then comes conception, time in womb, birth, before the age of accountability and after the age of accountability. It is your whole lifetime plus ten generations of ancestor sin that affect you.
             SINS OF THE FATHERS
Sins Of The Fathers is the sins of your ancestors. The curse of the bastard and the curse of incest are ten generation curses. The remainder of the curses are three or four generation curses. You will see this happening generation after generation such as bastard after bastard being conceived.
You can be cursed and get demons when you are conceived, in the womb, being birthed, before GOD holds you accountable for sin, and after GOD holds you accountable for sin.
One of the ways to see this happening in your life is to see the patterns set by your ancestors. What did they do that would have cursed you? What characteristics do you have that are like your ancestors that are demonic? This is also true in diseases. What are the spiritual roots to your diseases?
             SPIRITUAL IMPARTATION
I have spiritual sons and daughters. There is no obligation or money involved. I license and ordain. I do a spiritual impartion over the telephone or by laying on of hands. I impart to them of what GOD has given me to do the ministry: deliverance and healing; signs, wonders and miracles; power and anointing; gifts and callings; functions; and everythng that GOD has given me to do the ministry. They choose what they want of licensing and ordaination, and spiritual imparation.
Basically it is to help them do what GOD has called them to do. GOD showed me that every Christian is a minister, has a ministry, and has one or more gifts of THE HOLY SPIRIT. GOD showed me that if every Christian woman considered herself a minister, it would be very powerful.

JESUS IS THE DELIVERER
DON'T STOP HERE! SEE DEMONBUSTER.COM INDEX FOR MORE ARTICLES.
THERE IS NO HATE, MALICE, RACISM, ETC. ON THIS SITE. THESE ARE SINS IN THE EYES OF GOD, AND ARE ALSO DEMONS. THE BIBLE MAKES IT CLEAR THAT SIN CANNOT GET INTO HEAVEN.