THE BLOOD OF JESUS CLEANSES YOU FROM ALL SIN AND GUILT (1 JOHN 1:7).
JESUS IS THE DELIVERER!!

DEMONBUSTER.COM
DELIVERANCE MANUAL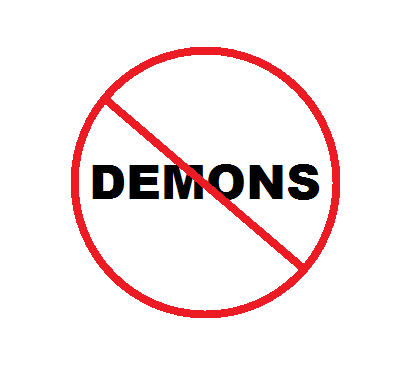 NO DEMONS ALLOWED

GHOST

?
NA, JUST A DEMON!

THERE ARE NO SUCH THINGS AS "GHOSTS"!
A "GHOST" IS SIMPLY A DEMON THAT USUALLY LOOKS LIKE A HUMAN, OR MAY BE INVISIBLE, BUT ABLE TO MOVE THINGS AROUND OR MAKE NOISES.
IF YOU WOULD LIKE TO GET RID OF THESE "GHOSTS", JUST COMMAND THEM TO LEAVE YOUR DWELLING IN THE NAME OF JESUS.

Some demons are pretty stubborn, so it may take a while.
A "NICE GHOST" WILL NOT BE NICE FOR LONG.
ANOINT ALL YOUR DOORS AND WINDOWS WITH OIL (OLIVE OIL OR ANY KIND OF OIL). NOW GET SOME SLEEP!
Don't forget to be doing some daily self Deliverance, Spiritual Warfare, break and return all evil.


JESUS IS THE DELIVERER
DON'T STOP HERE! SEE OUR INDEX FOR MORE ARTICLES.
THERE IS NO HATE, MALICE, RACISM, ETC. ON THIS SITE. THESE ARE SINS IN THE EYES OF GOD, AND ARE ALSO DEMONS. THE BIBLE MAKES IT CLEAR THAT SIN CANNOT GET INTO HEAVEN.