DEMONBUSTER.COM
DELIVERANCE MANUAL

THE BLOOD OF JESUS CLEANSES YOU FROM ALL SIN AND GUILT
(1 JOHN 1:7).
IF you ask Jesus into your life.
JESUS IS THE DELIVERER!!

OUR MAIN PAGE IS AT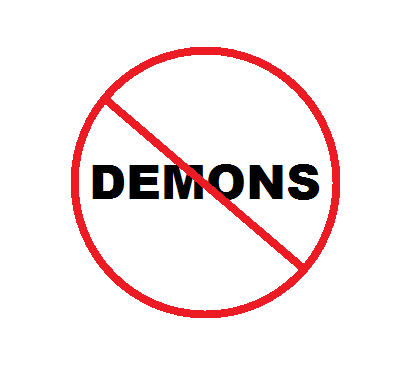 NO DEMONS ALLOWED

TO SEE THE GLORY OF GOD

John 11:40 Jesus saith unto her, Said I not unto thee, that, if thou wouldest believe, thou shouldest see the glory of God?
As I (Elizabeth) was spending time in prayer and seeking the Lord this message came to me to write down and share with the true worshipers of the Lord Jesus. Now is the time for us to seek the Lord with all of our hearts and believe, trust in and rely upon the Lord so that we will see the glory of God. We must spend time, perhaps lots of time, in prayer seeking the Lord Jesus. His word declares that if we seek Him we shall see wonderful things and receive power to become Children of God and do the works that Jesus did when he walked on the earth.
Mathew 6:33 says, But seek ye first the kingdom of God, and his righteousness; and all these things shall be added unto you.
And Luke 12:31 says, But rather seek ye the kingdom of God; and all these things shall be added unto you.
Do you have problems and needs that have not yet been met? Healing – you are still sick in your body. Finances – you have lost your home, job, income. Deliverance – you keep committing the same sin over and over, or you have an addiction to drugs, alcohol, or perhaps you are depressed and on medication to just get up out of bed and attempt to perform your daily duties?
The Lord said to us in 2 Chronicles 7:14 If my people, which are called by my name, shall humble themselves, and pray, and seek my face, and turn from their wicked ways; then will I hear from heaven, and will forgive their sin, and will heal their land.
What I believe the Lord wants us to do is "seek Him", seek His face with all of our hearts. Each time in the Old and New Testament that the people sought the Lord – they received power from God. Battles were won, enemies defeated and the meek disciples that were afraid became the great Apostles of the Lord with signs and wonders following them because the Lord was present to heal, deliver, and save as they proclaimed the Gospel of Jesus and His resurrection.
Luk 24:49 And, behold, I send the promise of my Father upon you: but tarry ye in the city of Jerusalem, until ye be endued with power from on high.
Act 1:8 But ye shall receive power, after that the Holy Ghost is come upon you: and ye shall be witnesses unto me both in Jerusalem, and in all Judaea, and in Samaria, and unto the uttermost part of the earth.
Act 1:13 And when they were come in, they went up into an upper room, where abode both Peter, and James, and John, and Andrew, Philip, and Thomas, Bartholomew, and Matthew, James [the son] of Alphaeus, and Simon Zelotes, and Judas [the brother] of James.
Act 1:14 These all continued with one accord in prayer and supplication, with the women, and Mary the mother of Jesus, and with his brethren.
Mat 7:7 Ask, and it shall be given you; seek, and ye shall find; knock, and it shall be opened unto you:
Luk 11:9 And I say unto you, Ask, and it shall be given you; seek, and ye shall find; knock, and it shall be opened unto you.
As stated above, in the Old and New Testaments the people of God sought the Lord and when they stopped to seek God and hear from Him – they always did.
2Ch 20:3 And Jehoshaphat feared, and set himself to seek the LORD, and proclaimed a fast throughout all Judah.
2Ch 20:4 And Judah gathered themselves together, to ask [help] of the LORD: even out of all the cities of Judah they came to seek the LORD.
Ezr 8:21 ¶ Then I proclaimed a fast there, at the river of Ahava, that we might afflict ourselves before our God, to seek of him a right way for us, and for our little ones, and for all our substance.
Ezr 8:22 For I was ashamed to require of the king a band of soldiers and horsemen to help us against the enemy in the way: because we had spoken unto the king, saying, The hand of our God [is] upon all them for good that seek him; but his power and his wrath [is] against all them that forsake him.
Ezr 8:23 So we fasted and besought our God for this: and he was intreated of us.
FASTING: As we fast we must seek the Lord first. The word says this is the acceptable fast – that we seek the Lord.
Isa 58:4 Behold, ye fast for strife and debate, and to smite with the fist of wickedness: ye shall not fast as [ye do this] day, to make your voice to be heard on high.
Isa 58:5 Is it such a fast that I have chosen? a day for a man to afflict his soul? [is it] to bow down his head as a bulrush, and to spread sackcloth and ashes [under him]? wilt thou call this a fast, and an acceptable day to the LORD?
Isa 58:6 ¶ [Is] not this the fast that I have chosen? to loose the bands of wickedness, to undo the heavy burdens, and to let the oppressed go free, and that ye break every yoke?
DELIVERANCE: Deliverance (casting out demons, warfare prayers) is a vital part of seeking the Lord. Most Christians are taught that they cannot have demons and therefore believe everything done in the name of Jesus spoken by others is from the Lord. You deal with those things in your soul and cast them out so that the Holy Ghost has more room in you to manifest the works of Jesus in and through you. Depression is a demon that is rampant and the medical field gives drugs to keep you in bondage to this demon. Cast out the demons of depression and you will not be in bondage to it or the medications. Cast out anxiety and fear and you will not be in bondage to it or the medication that the medical field gives you. Cast out unforgiveness and bitterness and you will not be in bondage to them and the illnesses they cause such as cancer, high blood pressure and arthritis.
Jesus even started the Lord's prayer with seeking the Lord by acknowledging His name:
Mat 6:9 After this manner therefore pray ye: Our Father which art in heaven, Hallowed be thy name.
If we, as the people of God, do not believe His word, then God himself will cause us to believe a lie. Therefore, we need to seek God and love the truth of his word and desire the truth and deal with the demons in us and stand as a church without spot or blemish, having our garments cleansed and pure as the blood of Jesus washes us clean.
Love Truth or believe a lie: 2Th 2:10 And with all deceivableness of unrighteousness in them that perish; because they received not the love of the truth, that they might be saved. 2Th 2:11 And for this cause God shall send them strong delusion, that they should believe a lie:
Jesus even rose up early to pray and spend time seeking God. If Jesus had to do this, how much more must we?
Mark 1:35 And in the morning, rising up a great while before day, he went out, and departed into a solitary place, and there prayed.
It is time for the people of God to become serious about their relationship with Jesus -study the word of God, pray, fast, cast out demons, seek the Lord with our whole hearts.
Neh 9:2 And the seed of Israel separated themselves from all strangers, and stood and confessed their sins, and the iniquities of their fathers .
The Children of Israel were known for being the people of God. They stayed away from the idolatries of the day and separated themselves from the sinners. They were feared by the enemy. Today, are you feared by the enemy of our God? Would someone say that you are a true worshipper of God? Do you walk out of your home every morning in the power of the Holy Ghost and walk in the place where flesh and blood cannot go, but a path that Jesus walked when He was on earth and He will lead you and go before, behind and beside you? Seek the Lord, cast out the demons, be cleansed and made whole and go forth in the power of the Holy Ghost.
Rev 7:3 Saying, Hurt not the earth, neither the sea, nor the trees, till we have sealed the servants of our God in their foreheads.
Joel 2:32 And it shall come to pass, [that] whosoever shall call on the name of the LORD shall be delivered (saved): for in mount Zion and in Jerusalem shall be deliverance, as the LORD hath said, and in the remnant whom the LORD shall call.

JESUS IS THE DELIVERER
DON'T STOP HERE! SEE OUR INDEX FOR MORE ARTICLES.
THERE IS NO HATE, MALICE, RACISM, ETC. ON THIS SITE. THESE ARE SINS IN THE EYES OF GOD, AND ARE ALSO DEMONS. THE BIBLE MAKES IT CLEAR THAT SIN CANNOT GET INTO HEAVEN.