THE BLOOD OF JESUS CLEANSES YOU FROM ALL SIN AND GUILT (1 JOHN 1:7). JESUS IS THE DELIVERER!!

DEMONBUSTER.COM
DELIVERANCE MANUAL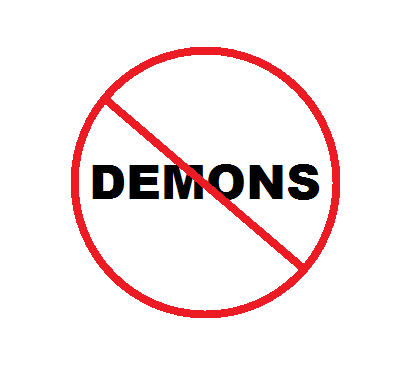 NO DEMONS ALLOWED

DELIVERANCE MINISTER
HANG IN THERE!

Here we are again, one day closer to Glory. Be encouraged, dear friends. DELIVERANCE IS THE ANSWER. Hang in there. The devil is a liar, no matter what the circumstances. The rebound is just around the corner. If you quit DELIVERANCE, not counting yourself, just look at all the people that you could have helped. If you haven't helped anyone in a long time, ask the Lord to send you someone to minister to. We are in business to help others, but if you are content just doing self-DELIVERANCE, you are missing the best blessing.
Sure we have bad times. Sure we get sick. Sure we feel our families don't love us. Sure JESUS is the answer. Sometimes the answer just takes a little while. That's why it's important that you call another DELIVERANCE minister for help, or just to talk to. Share some experiences that may help that brother or sister to fight the good fight and defeat the enemy.
If you are only doing DELIVERANCE once in a while, you need to get back to your first love. If you aren't receiving any attacks from the enemy, I would do some serious praying and find out why. It would be nice if everything was perfect every time.
As Gomer Pyle would say, SHAME, SHAME, SHAME. We have been contacted by someone outside of Mississippi who is in desperate need of DELIVERANCE. They managed to get to several ministries. Some would give them about five minutes of their "precious" time. Some would turn them over to a helper. One did take them through some DELIVERANCE, then they all went to the kitchen and snapped open a beer. Would JESUS drink a beer? Would He smoke? Would He curse? Would He flirt with the opposite sex? Would he not avoid the appearance of evil? They got some DELIVERANCE from another ministry, and shortly thereafter, they received a BILL for the ministers "services". "...Freely (without pay) you have received, freely (without charge) give.", Matthew 10:8.
Matthew 7:22 - Many will say to Me on that day, Lord, Lord, have we not prophesied in Your name and DRIVEN OUT DEMONS in Your name and done many mighty works in Your name?
Matthew :23 - And then I will say to them openly (publicly), I never knew you; depart from Me, you who act wickedly [disregarding My commands].

Many people get out of the DELIVERANCE Ministry because they get scared off by the enemy. We are suppose to scare the enemy! During World War II, many of our Navy's finest and most powerful ships (the battleships) were sunk or destroyed. We still won. Some of our aircraft carriers lost many, many men and planes. We still won. Some of us have been hit by the enemy over and over again. We still win, if you hang in there.

Remember that God is in control. Even when you are attacked from every side, God is taking care of our attacker in His way and His time frame. Be encouraged to stick it out in DELIVERANCE for the battle DOES end. We usually get a Godly rest between battles. As long as we are serving God the way JESUS wants and expects us to, we will overcome. Just read Psalm 109 to see some of the things that can happen to people who hate us, verbally abuse us, or intentionally try to harm us or cheat us, or pray against us. I don't think Cyrus (see "WARFARE" article) woke up in the morning and said, "Oh boy! I get to destroy Babylon today." Hezekiah received a letter "to mock, reproach, insult, and defy the Living God". He went to the Lord about the matter, and God destroyed the King of Asyria. Jezebel said she would destroy Elijah, but God anointed Jehu to destroy Jezebel and all of Ahab's house.

Remember to go through DELIVERANCE on a daily basis yourself, and while waiting for your next DELIVERANCE appointment to show up, study, do warfare, and pray for all DELIVERANCE workers.

Please remember to keep all DELIVERANCE Ministries in your prayers. Some have been sick for a long time. Some have had the devil split up marriages, and some have died early. We all are aware that we are to do all that we can with DELIVERANCE, Spiritual Warfare, taking care of our temples, etc., and then just STAND. Be encouraged in your ministry even though you may be going through some tough times. JESUS is still King of Kings and Lord of Lords! We win in THE END.

JESUS IS THE DELIVERER
DON'T STOP HERE! SEE OUR INDEX FOR MORE ARTICLES.
THERE IS NO HATE, MALICE, RACISM, ETC. ON THIS SITE. THESE ARE SINS IN THE EYES OF GOD, AND ARE ALSO DEMONS. THE BIBLE MAKES IT CLEAR THAT SIN CANNOT GET INTO HEAVEN.