THE BLOOD OF JESUS CLEANSES YOU FROM ALL SIN AND GUILT (1 JOHN 1:7). JESUS IS THE DELIVERER!!

DEMONBUSTER.COM
DELIVERANCE MANUAL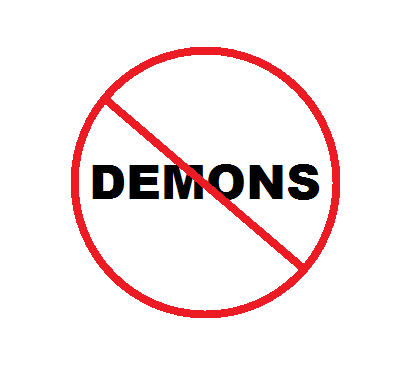 NO DEMONS ALLOWED

"HOLIDAYS" AND "HOLY DAYS"

ST. PATRICK'S DAY
St. Patrick is the patron saint of Ireland. Patron saint: a saint that is supposed to protect and promote the welfare of a particular person, community, state or institution. Jehovah-Jarieh, the Lord will provide (Gen. 22:14). Casting the whole of your care upon Him (I Peter 5:7). Don't worry, God knows what you need even before you ask (Luke 12:22-31. So, St. Patrick is an idol you are depending on. We are told not to try to communicate with the dead - necromancy (Deut. 18:11).

ORTHODOX LENT
The forty days abstinence of Lent was directly borrowed from worshipers of the Babylonian goddess, Ishtar or Eastre. Such a fast is still observed in the spring of the year by pagan Devil worshipers of Koordistan. Pagan Mexicans, three days after the vernal equinox, begin a solemn fast of forty days in honor of the sun. In 519 A.D. the council held at Aurelia in the time of Hormisdas, Bishop of Rome, decreed that Lent should be kept before Easter. Three days after the vernal equinox began, a solemn fast of forty days was held in honor of the sun. The sun god has many names: Adonis, Asiris, Bacchus, Liber and Tammuz. Lent was brought into the church to keep the pagans from leaving it. The church said the fast was for Christ's crucifixion. In reality it has been in effect before Christ was born in the heathen spring festivals. Ash Wednesday is celebrated on the first day of Lent.

PALM SUNDAY
It was originally to commemorate Christ's triumphal entry into Jerusalem. Later on it was combined with pagan activities; today the palm and willow are blessed and carried in the procession. It is ascribed to a pagan holiday where olive and willow are blessed. Powers attributed to the palm are exorcising evil spirits, healing diseases, warding off devils, protecting homes from lightning and fire, and protecting fields against hail and storms. The olive has had healing powers attributed to it since antiquity.

EASTER SUNDAY
I always thought it was strange that Easter came on a different day each year. If Christ arose on March 10, that would be the anniversary every year. But I found that Easter's date is established by astrology according to the vernal equinox. The spring festival of pagan worship of the sun and the renewed season was also set on the same date. The Druids had a sacred symbol - an egg. The word Easter comes from the name of a pagan goddess - goddess of rising light of day and spring. Easter is the modern form of Eastre, Ostera, Astarte or Ishtar. Another name for Astarte is Diana of Euphrates. Easter in the King James Bible means pascha or Passover. Astarte was hatched from a big egg which fell from heaven. Druids (satan worshipers) in Europe used eggs as symbols of goddess of spring. The rabbit is associated with the moon in ancient Egypt. It is a fertility symbol of sexual significance. Hot cross buns are raisin cakes with a "T" on them baked for the queen of heaven, Tammuz, (Jer. 7:18). God talks about sun worship in Ezekiel Chapter 8. The SUNrise service was a part of ancient sun worship. Baal was the sun god and still is today. Shinto pilgrims pray to the sun as they climb the mountain sides. Mithrists meet together at dawn and honor the sun god. At the time of the Old Testament, the Jews got into practices of picking up sticks and feathers to build fires, making raisin cakes, and crying for Tammuz (Josh. 23:7 and Eze. 8:14). Don't mix with these heathen practices; don't even mention the names of their gods!"

MORE ON EASTER
Easter is celebrated by most Christians. Yes, JESUS did in fact rise from the dead, but not on this pagan celebration. The early Christian church never celebrated Easter, but celebrated "Passover". The term "Easter" comes from the festival of Oestre (or Estre), the Anglo-Saxon Goddess of Spring, Fertility and New Life. An egg laying rabbit? Pagans have worshiped rabbits as sex and fertility gods, and have looked upon them as symbols of lust, sexual vigor and reproduction. Eggs also have been symbols of fertility, sex and new life, also with celebrations in the Springtime. The egg was a sacred symbol among the Babylonians. The ancient Druids (noted more for Halloween) bore an egg as the sacred emblem of their idolatrous order. The pagan tradition said Estre, the goddess of spring turned a bird into a rabbit. In gratitude, the rabbit came each Spring, during the Festival of Estre and laid beautiful eggs for the goddess (remember it use to be a bird). Are you coloring your eggs in different colors for Easter? The origin of the Easter celebration is what makes it so bad. It doesn't matter if you think you are just doing it for your kids. What you are doing is lying to your kids about a supernatural Easter bunny who lays eggs. Churches hide Easter eggs for the kids, and many hold Easter SUNrise services. This pagan celebration was to worship the SUN, not THE SON. It too crept into the Christian celebration known as Easter. The sun rises in the EAST -- EASTER -- not a coincidence! Tammuz (a pagan god) was slain, legend has it, and because of the weeping of his mother Ishtar (Easter), Tammuz was mystically revived in Springtime, and was celebrated every year. As it is written in the Catholic Encyclopedia, the Catholic church is the one who brought about all these changes to be celebrated in a "Christian" fashion. You need to ask the Lord to forgive you for this ungodly practice, break some curses placed on you, and get or do some DELIVERANCE.

Easter update
"Easter candy sales continue to soar" with expected sales to top $837 MILLION this year (1997) - 13.5 BILLION jellybeans. "If the jellybeans were lined up end-to-end, they would circle the earth nearly three times. 55 MILLION chocolate bunnies will be produced this Easter." Did you ever notice that jellybeans are shaped like EGGS? "US farmers sell about 50 million dozen more eggs than average during the two weeks before Easter." More people thought of candy than of the resurrection of our Lord and Savior, JESUS Christ.

HALLOWEEN
October 31 is the highest satanic holy day referred to as the devil's birthday. Did you have a party for the devil at your home by giving out candy or tracts? Did you observe his birthday by having a party at your church? Some churches even sponsored haunted houses, had beer, and had fortune tellers available.

THANKSGIVING DAY
Did you think Thanksgiving day was started by the Pilgrims in 1621? Nope! According to a Public Broadcast program I saw, the Indians taught the Pilgrims that this special Indian day was to give thanks to their "god". You may need some DELIVERANCE in this area. .

CHRISTMAS
THE BIG ONE-- Many of you will be paying for it in cash most of the year. The stores complained that business was down, but still in the Billions. Did you know that Christmas wasn't practiced as we know it until about the year 300. "My people are destroyed for lack of knowledge." Check out the "CHRISTMAS" Article on the INDEX page, and get some DELIVERANCE.

NEW YEARS DAY
At least Catholics have a ROMAN connection to celebrate this one.

The next biggie will cause most of the people to jump up and down, scream and yell, swaying their bodies with arms raised in the air, working themselves into a frenzy. Sounds like a church service, but I'm referring to the SUPER BOWL. Nothing wrong with sports, I don't believe, unless you make it a god. Do you just HAVE TO see every game? Do you tape it if you can't see it live? You might qualify as an idolater. See the "Idols" Article.

May as well mention next month when the Valentine day lures all the sexual and lustful demons on the world. See the "Valentine" Article.

DELIVERANCE is the only thing that can break you loose from these and all holidays that are ungodly. When people find out you don't observe "normal" holidays, they can be very nasty to you. If you don't eat certain kinds of food made from a pig or seafood, people can be very nasty to you also. Oh well, JESUS said, "well done thou good and faithful servant".

Revelations 22:21 - "The grace (blessing and favor) of the Lord JESUS Christ (The Messiah) be with all the saints (God's Holy people, those set apart for God, to be, as it were, exclusively His). AMEN (so let it be)!

JESUS IS THE DELIVERER
DON'T STOP HERE! SEE OUR INDEX FOR MORE ARTICLES.
THERE IS NO HATE, MALICE, RACISM, ETC. ON THIS SITE. THESE ARE SINS IN THE EYES OF GOD, AND ARE ALSO DEMONS. THE BIBLE MAKES IT CLEAR THAT SIN CANNOT GET INTO HEAVEN.