THE BLOOD OF JESUS CLEANSES YOU FROM ALL SIN AND GUILT (1 JOHN 1:7). JESUS IS THE DELIVERER!!

DEMONBUSTER.COM
DELIVERANCE MANUAL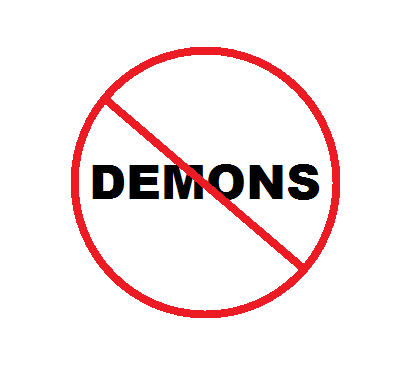 NO DEMONS ALLOWED

HOROSCOPE

If you read the horoscopes, you are practicing witchcraft, according to the Bible. There is a 160 year curse placed on you and your family by God. Ask the Lord to forgive you; stop reading them; break the curse and cast out any demons, in the name of Jesus.

THE FOLLOWING EMAIL WAS SENT TO A TV STATION IN SOUTH AFRICA BY A DELIVERANCE MINISTRY THERE AFTER THEY STARTED HAVING THE HOROSCOPE AS PART OF THEIR PROGRAMMING. THE TYPICAL RESPONSE FROM THE STATION IS AT THE END.

From: Leon Eloff <leon_eloff@ccnmail.com>
To: mailbag@breakfastclub.co.za
Subject: Horoscopes on your program
Date: 22 June 1998 12:32
TO: THE BREAKFAST CLUB SABC2
THE EDITOR AND PRESENTERS
THIS IS A SERIOUS WARNING TO THE SABC2 AND THE BREAKFAST CLUB.
HOROSCOPES ON YOUR PROGRAM
As a Christian viewer I was shocked to find out that Horoscopes are presented on your program. I am asking you to immediately take this program off before the curses of Deuteronomy 28 comes upon the SABC2. If you ignore this E-mail you will surely be punished by God.
Fortune Telling, Palm Reading, Crystal Ball, Cards, Tea Leaves, Handwriting Analysis, Ouija Boards, Telepathy, Kabala, Horoscopes, Voodoo, Pendulums, Astrology, Star Gazing, Clairvoyance, Clairaudience, are all forbidden practices of the Word of God.
Witchcraft is another 160 year curse. Telling TV viewers there horoscope or reading them in the paper or magazines is placing (innocently) a curse on them, there children, grandchildren, and great grandchildren. Again, these must be broken in THE NAME OF JESUS after repentance and renouncing.
We as the Christian community refuse any part of this plan and send all the curses the SABC2 are placing on South Africa back to the sender now in the name of the Lord JESUS CHRIST.
The SABC2 is willingly allowing doorways for demons to be opened and enslaving the ensnared people, which is through demonic control spirits. In the name of liberty, the SABC2 has opened the door for terrible bondage, (II Peter 2:19-20). Horoscopes is a plan of Satan to bind and trap people.
The editors, management, and presenters of the SABC2 are allowing this abominations to take place and should repent immediately.
Deuteronomy. 18: 9-12, There shall not be found among you any who makes his son or daughter pass through the fire. (No child sacrifice, no abortion.) Nor one who uses divination. (Seeking hidden knowledge by occult means, trying to foretell future events, false prophecy, prediction, augury (foretelling future events by signs or omens, to prognosticate), clever conjuncture. Soothsayer: predicting, foretelling, prophecy. Auger, Sorcerer: one who uses evil supernatural power over people and their affairs; witchcraft; black magic.) Or a charmer. (One who has the power of enchantment; a magician.) Or a medium. (A person through whom communications are supposedly sent to the living from the spirits of the dead.) Or a wizard. (A magician, conjurer, a sorcerer, magic.) Or a necromancer. (One who claims to foretell the future through alleged communications with the dead, a conjurer, sorcerer, a wizard, black magic).
As you can see, these practices overlap each other. The bottom line is that all the above are witchcraft practices and are for the purpose of controlling other people. There is no such thing as good witchcraft. White witchcraft claims they do not do the person they work for any harm, but they certainly will try to do harm to the other person.
Since God gave everyone a free will to follow or not to follow Him and His Precepts, then we have no right to try to impose our will on others even if it seems to be for their best spiritual interests. God did not create us as robots with controlled minds and actions.
Study your Bible to find out how God thinks and acts so that you can live in accordance with His Will.
The first step is to confess with a loud voice.
"Lord Jesus we at the Breakfast Club confess that Horoscopes is a abomination in Your eyes and confess this to be a sin according your Word."
The second step is to repent.
"Lord Jesus we repent of this sin and ask You to help us not to put programs on the air that is against your Word".
The third step is to ask forgiveness.
"Lord Jesus we ask You to forgive us and to release those people we unknowingly bound by putting these programs on the air. Amen."
I pray that you will make the right decision.
Leon Eloff

HERE IS THE RESPONSE OF THE TV STATION
Dear Leon
Thanks for the email. Don't watch that part of the program. It's at the same time every morning, so you ought to find it easy to avoid.
Regards,
Norman Smit
Program Producer

JESUS IS THE DELIVERER
DON'T STOP HERE! SEE OUR INDEX FOR MORE ARTICLES.
THERE IS NO HATE, MALICE, RACISM, ETC. ON THIS SITE. THESE ARE SINS IN THE EYES OF GOD, AND ARE ALSO DEMONS. THE BIBLE MAKES IT CLEAR THAT SIN CANNOT GET INTO HEAVEN.