THE BLOOD OF JESUS CLEANSES YOU FROM ALL SIN AND GUILT (1 JOHN 1:7). JESUS IS THE DELIVERER!!

DEMONBUSTER.COM
DELIVERANCE MANUAL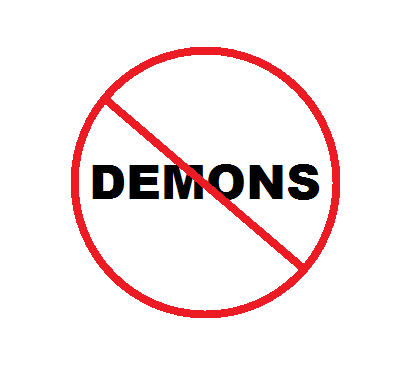 NO DEMONS ALLOWED

JESUS, COMPUTERS, AND DEMONS

We are a triune being - BODY, SOUL, and SPIRIT. Speaking computerese, we have Body - computer casing; Soul - Hard Drive/Hard Copy; Spirit - Software.
Demons get into our body and soul, but can not get into our Spirit. THAT is how Christians can and do have demons.
Some demons are like computers. If you have a computer that is turned off, do you still have a computer? Of course! Your computer could sit there with the power off for days, weeks, months, or years -- very much a computer -- but with no power. Some computers can be "on", but goes into a hibernation" stage. It is still on, but in a state that uses less power. It only takes a little budge on your "mouse" to activate it fully. You can trigger your hiding demon by something you do or say. Like a hibernating bear, when it is time for him to get up and eat, nothing will stop him. Some demons are just like the bear. The demon is in his den (you), and one day he gets "hungry". This would clearly explain mass murderers by "such a nice man next door". However, most demons are "plugged in" ALL the time, just waiting to manipulate you, without YOU needing to do anything to stir him up.
How many times have you clicked on your "print" button, then decided to cancel it. Except for unplugging the printer, I have found no way to stop it dead in its tracks. I recently printed a document, not knowing how many pages there would be. It kept on going and going. I wanted to unplug it, but kept thinking, "maybe it is almost done printing". It finally stopped on its own -- after IT finished ITS job, without me intervening (about 300 pages). To stop a demon dead in its tracks, you need to "unplug" it. You do this through DELIVERANCE (casting it out in the name of JESUS). Don't sit there day after day watching your "printer", hoping it will stop soon (pain, torment, sickness, fear, depression, sadness, etc.)
JESUS is your only answer through DELIVERANCE. Turn on your spiritual computer by first plugging in JESUS and accepting him as your personal Savior. Then install your "hard drive" and do or get some DELIVERANCE (having your demons cast OUT). The Bible, this website, and others like it are your "hard copy", telling you how to operate and use the POWER of DELIVERANCE. All computers come with built in "software" so it can operate properly. We are all born with "Godly software". Once we become of age to know right from wrong, we must "upgrade" our "Godly software" with the best program and version that is guaranteed to work -- JESUS Christ through DELIVERANCE. Best of all, this "upgrade" is FREE. It was paid for at Calvary when JESUS died on the tree for you and me. One program on our computer works just fine, but I just found out I could "download" a "patch" that would improve some of the features, and thereby giving me more power. Well, most "Christians" who have downloaded JESUS, don't know about or don't want the "patch". This "patch" is DELIVERANCE. Some have it downloaded, but it is not being used. Another "patch" missing from most "Christians" is the "Speaking in TONGUES patch". It just gives you a closer walk with JESUS. Talk about Pentium power! There is no match for the Power that is available to every "true Believer". You can read this "hard copy", but if you don't load it into your "computer", it will just sit there on your table until you just forget about it. Continue to "download software" by reading your Bible daily. Don't download the devil's software. Tell others about the new beefed up "spiritual computer" you have. Just plug it in!
Remember to do Deliverance, Spiritual Warfare, break and return curses DAILY.

JESUS IS THE DELIVERER
DON'T STOP HERE! SEE OUR INDEX FOR MORE ARTICLES.
THERE IS NO HATE, MALICE, RACISM, ETC. ON THIS SITE. THESE ARE SINS IN THE EYES OF GOD, AND ARE ALSO DEMONS. THE BIBLE MAKES IT CLEAR THAT SIN CANNOT GET INTO HEAVEN.