THE BLOOD OF JESUS CLEANSES YOU FROM ALL SIN AND GUILT (1 JOHN 1:7). JESUS IS THE DELIVERER!!

DEMONBUSTER.COM
DELIVERANCE MANUAL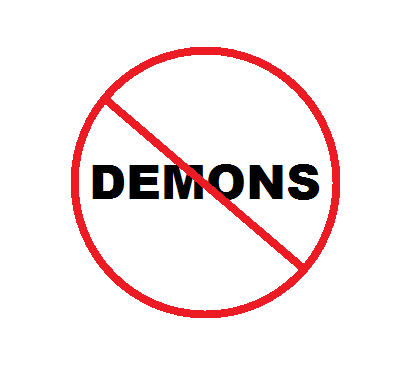 NO DEMONS ALLOWED

KEYS TO THE KINGDOM

As a believer we must do the works of (John 14:12). Only those that are doing , miracles, healings, and teaching are doing the "works of ", for ' ministry was three-fold - He taught, healed the sick (miracles) and cast OUT demons. Seventy percent of His ministry was casting OUT demons. If seventy percent of your ministry is not casting OUT demons, then you need to start today!
"And I tell you, you are Peter [Greek, Petros - a large PIECE of rock], and on THIS ROCK (JESUS)[Greek, petra - a HUGE rock like Gibraltar] I will build My church, and the gates of Hades (the powers of the infernal region) SHALL NOT OVERPOWER IT [or be strong to its detriment or hold out against it]. I will give you the "KEYS" of the kingdom of Heaven; and whatever you bind (declare to be improper and unlawful) on earth must be what is already bound in Heaven; and whatever you loose (declare lawful) on earth must be what is already loosed in Heaven." Matthew 16:18-19.
"And the "key" of the house of David I will lay upon his shoulder; He shall open and no one shall shut, He shall shut and no one shall open." Isaiah 22:22.
"And to the angel (messenger) of the assembly (church in Philadelphia write: These are the words of the Holy One, the True One, He Who has the "key" of David, Who opens and no one shall shut, Who shuts and no one shall open: I know your [record of] works and what you are doing. See! I have set before you a door wide open which no one is able to shut; I know that you have but little power, and yet you have kept My Word and guarded My Message and have not renounced or denied My Name. Take note! I will make those of the synagogue of satan who say they are Jews and are not, but lie - behold, I will make them come and bow down before your feet and learn and acknowledge that I have loved you. Because you have guarded and kept My word of patient endurance [have held fast the lesson of My patience with the expectant endurance that I give you], I also will keep you [safe] from the hour of trial (testing) which is coming on the whole world to try those who dwell upon the earth. I am coming quickly; hold fast what you have, so that no one may rob you and deprive you of your crown. He who overcomes (is victorious), I will make him a pillar in the sanctuary of My God and the name of the city of My God, the new Jerusalem, which descends from My God out of Heaven, and My own new name. He who can hear, let him listen to and heed what the Spirit says to the assemblies (churches)." Revelation 3:7-13.
Strong's Concordance - Key
Isaiah 22:22 (4668) an opener - key (6605) to open wide, to loosen, plough, carve - appear, break forth, draw (out), let go free, ungird, unstop, have vent, loose, be set open, put off.
Matthew 16:19 (2807) Key (as shutting a lock) (2808) to close - shut (up).
The Eerdmans Bible Dictionary - Keys, Power of - The symbol of apostolic authority granted by . A common view in the ancient world was that the earth was separated from the upper and lower worlds by locked doors, access to which was only through the angelic being or deity who held the keys (GK. Kleis). Figuratively, then, keys represent the power and authority to control access to whatever is behind the locked door (e.g., Rev. 9:1; 20:1).
In the New Testament, is the one par excellence who holds the keys. He is the scion of the royal house of David (Rev. 3:7; cf. Isa. 22:22) and has overcome Death and Hades (Rev. 1:18), thus stripping them of their authority and terror (cf. 1 Cor. 15:54-57). Moreover, he has the power to delegate authority (Matthew 16:19). accuses the scribes of withholding the key to understanding God's purpose (Luke 11:52).
At Matthew 16:19 grants to Peter "the keys of the kingdom of Heaven, as well as the power to "bind" and to "loose." In accordance with Matthew's understanding of the kingdom of Heaven (i.e., of God) as anywhere God reigns, the keys here represent authority in the Church.

JESUS IS THE DELIVERER
DON'T STOP HERE! SEE OUR INDEX FOR MORE ARTICLES.
THERE IS NO HATE, MALICE, RACISM, ETC. ON THIS SITE. THESE ARE SINS IN THE EYES OF GOD, AND ARE ALSO DEMONS. THE BIBLE MAKES IT CLEAR THAT SIN CANNOT GET INTO HEAVEN.