-- This is NOT the website of Gene Moody. It is the website of DEMONBUSTER.COM.

THE BLOOD OF JESUS CLEANSES YOU FROM ALL SIN AND GUILT (1 JOHN 1:7).
JESUS IS THE DELIVERER!!

DEMONBUSTER.COM
GENE AND EARLINE MOODY
DELIVERANCE MANUAL

MAIN PAGE IS AT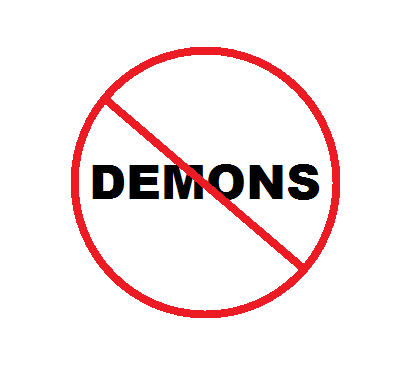 NO DEMONS ALLOWED

MARTIAL ARTS, YOGA AND EASTERN RELIGIONS

TABLE OF CONTENTS

1. GENERAL

2. EFFECTS

3. CONSEQUENCES FOR CHRISTIANS

4. CONSEQUENCES FOR CHURCHES

5. PRAYERS

6. LIST OF SPIRITS

7. REFERENCE

GENERAL

Yoga, religious meditation and martial arts have evil origins in eastern practices of Hinduism, Buddhism, Taoism and Zen which are based on occultism. Transcendental meditation (blanking out and emptying the mind) is the spiritual root system and foundation of martial arts, yoga and related arts. People worship many deities, Pantheism is the toleration of worship of all gods, the view that everything is GOD and the belief that man is GOD.

Evil spirits of martial arts are warrior spirits, dragon spirits, snake spirits, animal spirits, spirit of Kundaline, spirit guides, etc. exhibiting power, rage and violence. There is idol worship of the gurus and senseis (teachers). Inner consciousness movement is mind control from cosmic demonic power. These are philosophies, practices and spiritual experiences.

EFFECTS

They are influenced by spiritism, divination, mysticism and superstition. It can lead to sexual perversion, suicide, bizarre behavior, spiritual blindness, spiritual adultery, immorality, fear, pride, ego, anger, violence, rebellion, deception, aggressiveness, intimidation, drugs, and inability to have understanding to make sound choices. People commit adultery, fornication and fantasizing about another student or the teacher. They want to gain self: awareness, confidence, reliance, sufficiency, defense and knowledge (so called enlightenment).

CONSEQUENCES FOR CHRISTIANS

1. Divination (psychic ability, able to read thoughts and/or project thoughts)

2. Violence / murder / warrior spirit

3. Inner energy, strength, or power called ch'i (Chinese) or ki (Japanese) - which comes from an evil spirit (a demon).

4. Hate / cruelty

5. Aggressiveness / tendency to provoke fights

6. Invincible feeling

7. Intimidation over others (wants others to fear them)

8. Mind control (being controlled and controlling others)

9. Competitiveness and superior attitudes

10. Can become suicidal (fear of being a failure, losing honor, or because of false belief in karma and reincarnation)

11.Pride - arrogance, haughtiness (found in nearly all instructors and students)

12.Idolatry of students toward instructor

13. Control (lording it over others)

14.Conscience is dulled to sin and the need for repentance

15.Self sufficiency; self-will; self-confidence; self-trust

16. Gives a counterfeit identity (which is not Christlike in any way)

17. Self-defense (what about our guardian angels and our authority in THE NAME OF JESUS?)

18. Deception (some actually begin to follow after false religions)

19. Sexual temptation because of touch etc. (or transference of evil spirits by what amounts to inappropriate intimate touch)

20. Result of yielding to sexual temptation - adultery, fornication and/or breakup of marriages)

21.Stunted in one's growth as a Christian - not able to move forward

22.The spirits behind martial arts are opposite of THE FRUIT OF THE SPIRIT and block its development and maturity

23. Physical consequences take their toll on one's body

CONSEQUENCES FOR CHURCHES

1. Potential of lawsuits if someone is injured on the church grounds

2. Seducing spirits of error and deception

3. Spiritual dullness and blindness over the entire church, including leaders

4. Pride and egotism

5. Sorcery (control)

6. Doubt and unbelief

7. Sexual immorality and perverseness

8. Removes the fear of THE LORD - no talk about sin or repentance

9. Fosters a lack of discernment

PRAYERS

See the book for prayers that can be used before deliverance.

LIST OF SPIRITS

A list of evil spirits can be compiled from what is listed above: names and characteristics.

REFERENCE

I recommend that you purchase this book, study and use it: SHOCKING SECRETS BEHIND MARTIAL ARTS " YOGA - FINALLY THE TRUTH REVEALED by Dr. Vito Rallo.

JESUS IS THE DELIVERER