-- This is NOT the website of Gene Moody. It is the website of DEMONBUSTER.COM.

THE BLOOD OF JESUS CLEANSES YOU FROM ALL SIN AND GUILT (1 JOHN 1:7).
JESUS IS THE DELIVERER!!

DEMONBUSTER.COM
GENE AND EARLINE MOODY
DELIVERANCE MANUAL

MAIN PAGE IS AT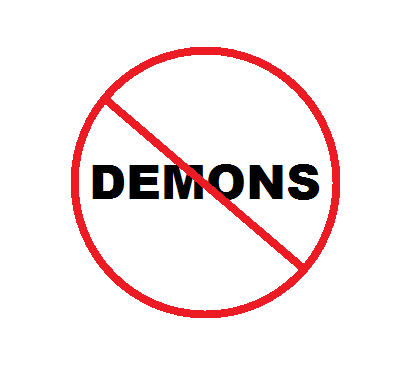 NO DEMONS ALLOWED

MEETINGS

TABLE OF CONTENTS
1. PURPOSE
2. MOODYS' PRAYERS
1. Sins Of Ancestors, Curses, Soul Ties, Fragmented Soul
And Subconscious Mind
2. Taking Spiritual Authority Over The Meeting
3. BINDING AND LOOSING
1. Authority
2. Binding And Loosing
3. Declaration
4. TACTICS TO WIN THE WAR AGAINST SATAN
1. Commands
5. WITCHCRAFT
1. Scripture
2. Proclamation
6. NEW AGE
7. COMMANDS
8. DECLARATION
9. COMMANDMENTS FOR FAMILIES
10.COMMANDMENTS AGAINST ENEMIES
11. DROUGHTS
12.GATES AND GATEKEEPERS
13.FAMILIES OF SPIRITS
PURPOSE
This is to be a Healing, Miracle and Spiritual Warfare Service with Mass Deliverance. In Witchcraft, we will deal with Voodoo, Santeria and Obeah. In personal lives, we will deal with Nightmares, Cycles of Failure, Marital Failure, Financial Reversals, Being Caged, Enemies, Barreness, Generational Curses and False Religions.
MOODYS' PRAYERS
Sins Of Ancestors, Curses, Soul Ties, Fragmented Soul
And Subconscious Mind
We forgive our ancestors (upwards), descendants (downwards), and others (outwards) that have sinned against GOD and hurt us (those outside of us). We ask you to forgive them for their sins and mistakes. We remit their sins, sever demonic ties, and set ourselves free. We ask GOD to bless them with spiritual blessings, bring them into truth and meet their needs out of His Riches in Glory through CHRIST JESUS. We ask that GOD forgive us (Godwards) for our sins, and We forgive ourselves (inwards) for sins against our body.
We ask You to send the gifts of THE HOLY SPIRIT to minister to the needs of the people and accomplish what you want done. We are careful to give you the glory, honor, praise and credit for what is said and done. These things we ask in the blessed NAME OF JESUS CHRIST: LORD, MASTER AND SAVIOR.
We command the forces of evil to obey in THE NAME OF JESUS CHRIST. We take authority over Satan and the forces of evil according to the THE HOLY BIBLE, the complete WORD OF GOD and command that you obey it. We break curses, charms, spells, jinxes, psychic powers, hexes, vexes and demonic ties that bind. We break soul ties caused by witchcraft, sorcery, bewitchment and sexual sins. Restore our fragmented souls: minds, wills and emotions; send your angels out to recover what Satan has stolen from us. Stir up the demons in our subconscious minds so that they can be identified and cast out.
Taking Spiritual Authority Over The Meeting
Behold, I give unto you power to tread on serpents and scorpions (fallen angels and demons), and over all the power of the enemy: and nothing shall by any means hurt you (Luke 10:19). We come against powers, principalities, evil forces in this world and spiritual wickedness in high places. We come against demons inside or outside of anyone present, over this city, state, nation and world, in Hell or out of Hell. We come against you by THE POWER AND BLOOD OF JESUS CHRIST, by THE WORD OF GOD, by THE NAME OF JESUS, by the authority of the believer, in the unity of our spirits, to set ourselves free. We sit in heavenly places over Satan, fallen angels, demons and forces of evil. We command you to line up in rank, file and order, and come out quickly. We bind the power that you have and loose ourselves from you in THE NAME OF JESUS CHRIST of Nazareth. We take authority over Satan and the kingdom of evil according to THE WHOLE WORD OF GOD.
BINDING AND LOOSING
Authority
WHATSOEVER YE BIND SHALL BE BOUND. WHATSOEVER YE LOOSE SHALL BE LOOSED. WE BIND AND LOOSE ON EARTH WHAT IS BOUND AND LOOSED IN HEAVEN.
Binding And Loosing
We bind forces of Satan and loose forces of GOD where we have the power and authority. We bind The Kingdom of Evil. We bind demonic efforts to kill, steal and destroy through terrorism, lust for money and liberal theology. We bind evil powers, strongmen and families over our area.
We loose THE HOLY SPIRIT, THE SEVEN-FOLD SPIRIT OF GOD, THE LOVE OF GOD, PRICE THAT JESUS CHRIST PAID, HOLY SPIRIT, WORD OF GOD, BLOOD OF JESUS CHRIST, CROSS OF JESUS CHRIST and POWERS OF GOD to loose people and do a mighty battle on earth against The Kingdom of Evil.
We ask godly waring angels to bind evil spirits with chains and take them to Dry Places, Abyss or Tartarus. We bind and order demons to return to the senders escorted by angels to destroy the seats of witchcraft. We loose ministering and waring angels of GOD to operate in our lives. We loose the angels to spin the demons minds round and round, to chase and harass, to bruise, crush and flatten the heads of the serpentine spirits, and to snip off the tails of the scorpion spirits.
Declaration
We bind up the brokenhearted, proclaim liberty to the captives and open the prison of those who are bound (bind, loose and cast out). We bind the strongman and he will spoil his house. We bind the forces of evil and loose whatever was bound. We bind the evil spirits in our loved ones that have blinded them to GOD.
TACTICS TO WIN THE WAR AGAINST SATAN
Commands
We close doorways to Satan, break curses, renounce psychic bondage, cut evil soul ties, loose the mind and restore the fragmented soul. We command that knees bow and tongues confess that JESUS CHRIST IS LORD. We break the curses back to Adam and Eve, and destroy legal holds and grounds that the demons have in our lives. We order the princes and rulers to be bound with chains, thrown down before the other spirits and their foreheads to be written in red letters that JESUS CHRIST IS MY LORD. You were defeated by JESUS CHRIST on The Cross, and must obey His Commands and our commands. We break the power of evil. We break curses, soul ties and demonic holds which are on us, our family, and those that we are associated with.
WITCHCRAFT
Scripture
Thou shalt not suffer a witch to live (Ex. 22:18). A wizard shall surely be put to death (Lev. 20:27).
Proclamation
(The mistress of deadly charms who betrays and) Selleth nations (America) through whoredoms (idolatry) and families (peoples) through her witchcraft (enchantments). I will even set my face against that soul, and will cut him off (spiritual death) from among his people. Because of these abominations (practices) THE LORD THY GOD doth drive them out before thee. He brought down their heart with labor; they fell down, and there was none to help. A cruel messenger shall be sent against him. He was turned to be their enemy and He fought against them. (Portions of Nah. 3:4, Lev. 20:6, Deut. 18:12, Psa. 107:12, Pr. 17:11 and Isa. 63:10.)
NEW AGE
Commands: We bind and cast down the strongmen and strongholds (humans, angels and demons) of Satan over New Age Movement: principalities, powers, might, kingdoms, thrones, dominions, nobles, princes, kings, rulers of darkness, ascended masters, spirit guides, mind control, mind occult, mind binding, witchcraft, sorcery, divination, necromancy, eastern mysticism, reincarnation, transcendental meditation, soul travel, martial arts, yoga, familiar, visualization, inner healing, crystal helpers, bodiless spheres of light, universal intelligence, new age gods, and other New Age and witchcraft practices.
WE ASK THAT GOD MAKE US INTO WAR CLUBS AND WEAPONS OF WAR TO DESTROY DEMONIC ARTS PRACTICED BY SATANISTS, WITCHES, WARLOCKS, WIZARDS, SORCERERS, CONJURERS, ENCHANTERS, AUGURS (DIVINATION FROM OMENS), DIVINERS, CLAIRVOYANTS, PSYCHICS, NECROMANCERS, SOOTHSAYERS, CHARMERS, MEDIUMS AND MAGICIANS.
DECLARATION
We exercise dominion over the works of GOD's hands: natural and supernatural. The elements of nature: sun, moon and stars shall not smite us. We command the morning for THE KINGDOM OF GOD. The wicked will be shaken out of the earth.
COMMANDMENTS FOR FAMILIES
We bind principalities, powers, rulers of darkness of this world, spiritual wickedness in high places and The Kingdom of Satan. We bind the demonic spirits of the air, earth and seas that are binding the life our loved ones and their families.
We command evil spirits that have their wills bound to loose their wills. You can not bind their minds. We loose their minds to the Gospel of Grace. We bind powers over their spirits, souls and bodies. We command the demons that are driving the sins of lust, drugs, alcohol, spiritual blindness and Antichrist to cease their activities.
COMMANDMENTS AGAINST ENEMIES
We cover GOD's enemies, natural and supernatural, with THE BLOOD OF JESUS CHRIST. We place the demonic rulers in The Bubble Of The Blood. We ask THE HOLY SPIRIT to apply THE BLOOD, WATER, WIND AND FIRE OF GOD against the enemies of Christians.
We break the curses from satanic rituals placed on Christians. We command the fallen angels to go back to THE FATHER escorted by godly angels never to return. We command the spirits that came from Hell to permanently return there. We place the Mark Of Cain on your foreheads and THE CROSS OF JESUS CHRIST between your eyes.
We curse implants, triggers and anything that was placed in or on our bodies to control our minds by witchcraft. We command evil spirits to leave our bodies and take their works with them.
We bind satanic power of evil weather. We loose THE POWER OF GOD to bring restoration from violent weather.
DROUGHTS
1. We dry up your waters, seas, rivers and springs. We stand on THE WORD OF GOD, and cause a drought over your land. Pass over to Chittim; you shall find no rest. There is no water; there's only THE BLOOD OF JESUS CHRIST. We make your habitation a desolate wilderness.
2. THE LORD will cause a drought to be upon your waters (Jer. 50:38; 51:36). We will dry up your sea and make your springs dry.
3. We dry up your river, even as Jordan was dried up and the people of GOD went into the promised land on dry ground (Josh. 3:16).
4. We dry up your roots even as THE LORD JESUS dried up the fig tree (Matt. 21:19).
5. We ask GOD to send angels and fires from Heaven to dry up the waters of Death.
6. We dry up and turn back the worms of death with fire from Heaven.
GATES AND GATEKEEPERS
1. We bind the gatekeeper. He who has the Key of David: what gate or door he opens, none shall close; what gate He closes, none shall open. By the authority given us, we tear down your two-leaved gates. We knock down and smash your pillars and walls. No stone shall stand upon another (Rev. 3:7; Isa. 22:22; Eze. 21:15-22).
2. We knock down your two-leaved gates and the gates of Death. The gates shall not be shut. We break in pieces your gates of brass and cut in sunder the bars of iron (Isa. 45:1-2).
FAMILIES OF SPIRITS
Satanism; Masonic; Psychic Praying; Ancestral Worship; Animalism; Programing, Implants and Triggers; Generational Curses.
New Age Religion; False Religions, Cults and Sects.
Occultism; Macumba, Abakua, Cabildo, Candomble, Convince and Myal Cults.
Superstitution; Enchantment, Song Spell and Augur; Divination and Fortune Telling; Charming; Mediumism; Sorcery; Seance; Soothsaying; Seeking Forbidden Knowledge; Magic.
Witchcraft; Charismatic and Jezebelic Witchcraft; Black, White and Blind Witchcraft; Voodoo; Santeria.

JESUS IS THE DELIVERER