THE BLOOD OF JESUS CLEANSES YOU FROM ALL SIN AND GUILT (1 JOHN 1:7). JESUS IS THE DELIVERER!!

DEMONBUSTER.COM
DELIVERANCE MANUAL

OUR MAIN PAGE IS AT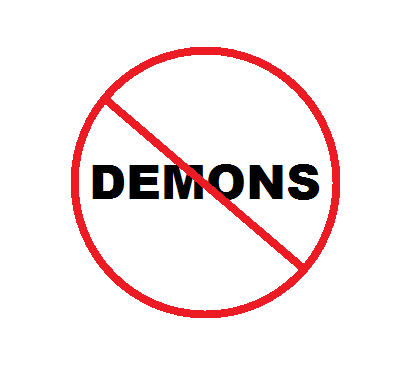 NO DEMONS ALLOWED

IT'S A MIRACLE

This is a phrase that you hear a lot, mostly on TV news when something unusual happens. "Only a miracle can prevent this", you may hear. It is quoted by people of all faiths and no faiths. You hear it so frequent, that it seems to have the same meaning of "have a nice day". It is something that people just say. Lets see what Webster has to say about Miracles: "In theology, an event or effect that apparently contradicts known scientific laws and is hence thought to be due to supernatural causes, especially to an act of God." When I think "miracle", I always think of Divine Intervention. I believe most people do not think this way. Maybe it should be illegal to say "Miracle" unless you mention God. We should expect miracles at all times, whether it is for a sickness or otherwise. I have had dozens of miracles in my walk with the Lord, mostly involved in an instantaneous healing of my body. I also have had many sicknesses that were not removed from me immediately. JESUS said that DELIVERANCE is a miracle. I suppose the moral of the story is to give God the glory when a miracle is involved.

JESUS IS THE DELIVERER
DON'T STOP HERE! SEE OUR INDEX FOR MORE ARTICLES.
THERE IS NO HATE, MALICE, RACISM, ETC. ON THIS SITE. THESE ARE SINS IN THE EYES OF GOD, AND ARE ALSO DEMONS. THE BIBLE MAKES IT CLEAR THAT SIN CANNOT GET INTO HEAVEN.