THE BLOOD OF JESUS CLEANSES YOU FROM ALL SIN AND GUILT (1 JOHN 1:7). JESUS IS THE DELIVERER!!

DEMONBUSTER.COM
DELIVERANCE MANUAL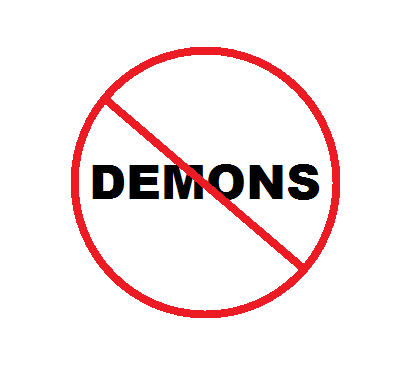 NO DEMONS ALLOWED

MISCELLANEOUS ARTICLES

Agreements - On CNN news on January 13 1996, they had a news item about a man who won a lot of money in a sweepstakes. Well, he had an "agreement" with a bunch of friends that if anyone won a sweepstakes, they would split it with each other. This guy changed his mind, and they apparently sued him. It went all the way to the supreme court, and "the supreme court ruled that an "agreement" can NOT be enforced". A legal document would have been necessary.
Many demons are in people because the demon has a legal document to be IN you. That could be things like having played with a ouija board, delving into witchcraft, reading HOROscopes, hating someone, holding grudges, and on and on. The demonic supreme court would surely rule in favor of the demon. You can get saved, tear up the demonic legal document and cast out the demons IN THE NAME OF JESUS.

Africa - There are some Christian Ministries over there doing DELIVERANCE and getting people Saved, Healed and doing Miracles in the name of JESUS. Did you ever give it a thought why some countries like Africa, Mexico, India, and others are in such a bad state? This article came from The Clarion-Ledger dated January 11, 1996 - "Benin (Africa) Holiday celebrates rebirth of VOODOO - Cotonou - With pounding drums [like many churches] and pulsating rhythms, Benin on Wednesday celebrated the rebirth of voodoo as an officially recognized religion. About 60 percent of this West African nation's people follow voodoo, which originated in the region, but was discouraged when the Marxist regime came to power in 1972. President Nicephoro Soglo's government said Tuesday that, in an effort to "correct an injustice," it was formally recognizing voodoo as a religion. It declared January 10 a national, paid holiday to celebrate voodoo and the country's other traditional faith, saying they deserved the same recognition as Christian events.

Sign language - This information came from an Amoco motor club magazine. Roadside signs by color mean:
BLUE signs direct drivers to various service facilities.
RED signs signify restraint, meaning some driving action is regulated or prohibited. Yellow signs signify drivers to use caution.
GREEN or BROWN signs signify National Park services, bike paths and trails.
A RED CIRCLE WITH A DIAGONAL SLASH PROHIBITS A SPECIFIC OR DESIGNATED ACTION. [--NO DEMONS!]

Long distance DELIVERANCE - Someone asked me, "Can you do long distance DELIVERANCE?" My answer was YES because JESUS did it as recorded in Mark 7:25-30 and Matthew 15:21-28.

Luke 5:17 "...And the POWER OF THE LORD was [present] with Him to heal them." Ask the Lord daily for this POWER OF THE LORD to be with you.

Anyone had any success or run-ins with any demons who make you itch all over your body with no visible signs on the skin?

Many Christians spend hours, days, weeks, months, and even years studying the Bible from A to C and from E to Z. They get caught up in studying things that are open to your personal interpretation. They would best be used of the Lord if they would study the "D" for DELIVERANCE section of the Bible and start casting demons out. If every Christian from the Pastor, to the Policeman, to the Teacher would bind up demons in their daily realm and city, there would be a big change in this nation and world.

This was on a greeting card by Roy Lessin: "Because God orders our steps, we can always be assured that there is enough time in each day to do His will. He sets the pace. He is never anxious. His purpose is for us to move in rest, live in peace, abound in joy, and depend totally on Him to accomplish through us all He desires."

If I was invited to teach at the "FIRST CHURCH OF...", my first comment would be "I love you, but you all have demons. Now if you think you don't, the first one identified in you is a lying demon."

Demons really hate being "bound to the Third Heaven". Try it.

Wearing birth stones? The following was in an old Encyclopedia. "A birth stone is a gem which is a symbol of the month in which a person was born. Many ancient people believed that a birth stone brought good luck to the wearer and also influenced his personality. The wise men of the middle ages selected a gem for each month and encouraged people to believe that wearing these stones would keep them from harm."

Do you ever question why people do not accept DELIVERANCE when you tell them about it. Well, DELIVERANCE can be accepted only in faith through the testimony of the Holy Spirit in the Believer's heart. Mark 16:17 and 18 testifies of this "And these attesting signs will accompany those who believe: in My name they will drive OUT demons..." JESUS did DELIVERANCE daily. "...Behold, I drive out demons and perform healings today and tomorrow..." Luke 13:32 The Lord also said in Hebrews 8:10 "...I will Imprint My laws upon their minds, even upon their innermost thoughts and understanding, and engrave them upon their hearts..." When you pray for people to receive DELIVERANCE teaching, bind the spirit of unbelief and doubt, as well as, the spirit of mind control and witchcraft. The spirit of Jezebel, the Queen of Heaven, rules over the unbelief of DELIVERANCE. The battle for souls is great. You must spend time in prayer and spiritual warfare to win this battle. Remember, though, the battle is the Lord's and with the weapons that He has given us --- we are on the winning side!

How many Bible on cassette tapes have you wore out over the years? We purchased the King James Bible narrated by Alexander Scourby on CD disks. It is available from CLIFTON BOOK COMPANY, 1-800-228-0939. It cost $47.99 including $3.00 handling. The order number is WBCD-3, and is the New Testament only on 15 CD disks. If you can find it in a book store, it is $59.99 plus tax. The entire Bible is available for about $150.

FALLEN ANGELS
If you think that demons are fallen angels, check out these two Scriptures - 2 Peter 2:4 "For God did not [even] spare angels that sinned, but cast them into hell, delivering them to be kept there in pits of gloom TILL THE Judgment and their doom." Jude 1:6 - "And angels who did not keep (care for, guard, and hold to) their own first place of power but abandoned their proper dwelling place - these He has reserved in custody in eternal chains (bonds) under thick gloom of utter darkness UNTIL THE Judgment and doom of the great day." I have heard it said that these two Scriptures was only for "some" of the angels. This Scripture is very clear to me.

Please remember to keep all DELIVERANCE Ministries in your prayers. Some have been sick for a long time, some have had the devil split up marriages, and some have died. We all are aware that we are to do all that we can with DELIVERANCE, Spiritual Warfare, taking care of our temples, etc., and then just STAND. Be encouraged in your ministry even though you may be going through some tough times. JESUS is still King of Kings and Lord of Lords! We win in THE END.

JESUS IS THE DELIVERER
DON'T STOP HERE! SEE OUR INDEX FOR MORE ARTICLES.
THERE IS NO HATE, MALICE, RACISM, ETC. ON THIS SITE. THESE ARE SINS IN THE EYES OF GOD, AND ARE ALSO DEMONS. THE BIBLE MAKES IT CLEAR THAT SIN CANNOT GET INTO HEAVEN.