THE BLOOD OF JESUS CLEANSES YOU FROM ALL SIN AND GUILT (1 JOHN 1:7). JESUS IS THE DELIVERER!!

DEMONBUSTER.COM
DELIVERANCE MANUAL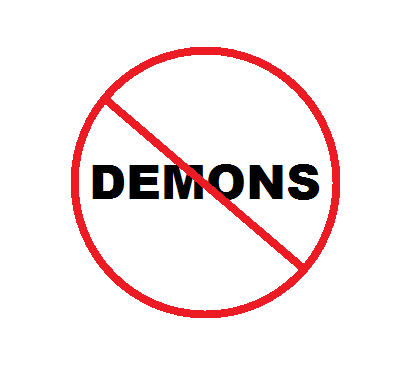 NO DEMONS ALLOWED

MOCKERS -
THE JUDGMENT OF GOD DOES FALL

Are you aware that part of the reason for you being under such attack is from people praying against you, putting curses on you, etc. In addition to talking about satan worshipers, witches, etc., I am talking about your family members, friends, and other fellow Christians who are not in DELIVERANCE.
Well, the below listed scriptures, Deuteronomy 30:7, Psalm 109, 140, and Isaiah 54:17 are just three passages that offer us some protection against people coming against us. I personally know of a number of people who came against me, and met with terrible judgment from the Lord. One man use to make fun by saying frequently, "seen any demons lately?", with a laugh. He unexpectedly was fired from his job, his wife divorced him, he was in an auto wreck that almost killed him, he turned into an alcoholic, and had a massive heart attack. A previous employer who tried to fire me lost a multi-million dollar contract for interfering with God's work. I've heard or read testimonies from some of you where God has intervened or judged on your behalf.
These kinds of things happen to people all the time. Sometimes it happens real quick, and sometimes it takes days, weeks, months, or even years before the judgment of God falls on them. If you are under a lot of attack, you may want to specifically pray these scriptures against someone. It is God's business when and how he deals with that person. If the person is innocent, nothing will happen to them. I make it a point to warn people, especially about Psalm 109, so they don't make fun or mock God's ministry of DELIVERANCE.
In the December issue of "The Christian World Report", Larry Thomas had an article entitled, "Spiritual warfare: separating fact from fiction". In this mockery of the power of God and DELIVERANCE, here is just some of the things he said: "Recently I have counseled with people who were involved in rather bizarre spiritual experiences. One involved what the parents believed was a demon-possessed daughter and frightening apparitions and manifestations in their home. As it turned out, the girl was not possessed, nor were any of the family truly serving God. The moving objects, strange sounds and other "evil occurrences" were merely the results of vivid imaginations and a steady diet of "spooky" videos and Stephen King books. In another episode, a woman called our home looking for "DELIVERANCE." She claimed she was visited nightly by satan himself and was having conjugal relations with him. Yet, this woman claimed to be a born again, Spirit-filled Believer. I didn't listen long to her vivid descriptions of the "demonic encounters."
I would not want to be in this guy's shoes with comments like he made. The author of "The Christian World Report" gets a copy of our newsletter, and normally with no disclaimer, he has the same beliefs as the people writing in his paper.
I believe a person can avoid the judgment of God in these matters by repenting. The scriptures say, "My people are destroyed for lack of knowledge."
Unfortunately, in my experiences, not having the knowledge of DELIVERANCE, did not keep the bad things from happening to people who came against me.

DEUTERONOMY 30:7
And the Lord your God will put all these curses upon your enemies and on those who hate you, who persecute you.

PSALM 109
1) O God of my praise! Keep not silence, 2) For the mouths of the wicked and the mouth of deceit are opened against me; they have spoken to me and against me with lying TONGUES. 3) They have compassed me about also with words of hatred and have fought against me without a cause. 4) In return for my love they are my adversaries, but I resort to prayer. 5) And they have rewarded and laid upon me evil for good, and hatred for my love. 6) Set a wicked man over his [as a judge], and let [a malicious] accuser stand at his right hand. 7) When [the wicked] is judged, let him be condemned, and let his prayer [for leniency] be turned into a sin. 8) Let his days be few; and let another take his office and charge. 9) Let his children be fatherless and his wife a widow. 10) Let his children be continual vagabonds [as was Cain] and beg; let them seek their bread and be driven far from their ruined homes. 11) Let the creditor and extortioner seize all that he has; and let strangers [barbarians and foreigners] plunder the fruits of his labor. 12) Let there be none to extend or continue mercy and kindness to him, neither let there be any to have pity on his fatherless children. 13) Let his posterity be cut off, and in the generation following let their names be blotted out. 14) Let the iniquity of his fathers be remembered by the Lord; and let not the sin of his mother be blotted out. 15) Let them be before the Lord continually, that He may cut off the memory of them from the earth!-- 16) Because the man did not [earnestly] remember to show mercy, but pursued and persecuted the poor and needy man, and the broken in heart [he was ready] to slay. 17) Yes, he loved cursing, and it came [back] upon him; he delighted not in blessing, and it was far from him. 18) He clothed himself also with cursing as with his garment, and it seeped into his inward [life] like water, and like oil into his bones. 19) Let it be to him as the raiment with which he covers himself and as the girdle with which he is girded continually. 20) Let this be the reward of my adversaries from the Lord, and of those who speak evil against my life.

ISAIAH 54:17
But no weapon that is formed against you shall prosper, and every tongue that shall rise against you in judgment you shall show to be in the wrong. This [peace, righteousness, security, triumph over opposition] is the heritage of the servants of the Lord [those in whom the ideal Servant of the Lord is reproduced]; this is the righteousness or the vindication which they obtain from Me [this is that which I impart to them as their justification], says the Lord.

PSALM 140
1) Deliver me, O Lord, from evil men; preserve me from violent men; 2) They devise mischiefs in their heart; continually they gather together and stir up wars. 3) They sharpen their TONGUES like a serpent's; adders' poison is under their lips. Selah [pause, and calmly think of that]! 4) Keep me, O Lord, from the hands of the wicked; preserve me from the violent men who have purposed to thrust aside my steps. 5) The proud have hidden a snare for me; they have spread cords as a net by the wayside, they have set traps for me. Selah [pause, and calmly think of that]! 6) I said to the Lord, You are my God; give ear to the voice of my supplications, O Lord. 7) O God the Lord, the Strength of my salvation, You have covered my head in the day of battle. 8) Grant not, O Lord, the desires of the wicked; further not their wicked plot and device, lest they exalt themselves. Selah [pause, and calmly think of that]! 9) Those who are fencing me in raise their heads; may the mischief of their own lips and the very things they desire for me come upon them. 10) Let burning coals fall upon them; let them be cast into the fire, into floods of water or deep water pits, from which they shall not rise. 11) Let not a man of slanderous tongue be established in the earth; let evil hunt the violent man to overthrow him [let calamity follow his evildoings]. 12) I know and rest in confidence upon it that the Lord will maintain the cause of the afflicted, and will secure justice for the poor and needy [of His believing children]. 13) Surely the [uncompromisingly] righteous shall give thanks to Your name; the upright shall dwell in Your presence (before Your very face).

Then, there is always II Kings 2:23 - He (Elisha) went up from Jerico to Bethel. On the way, young [maturing and accountable] boys came out of the city and MOCKED him and said to him, Go up [in a whirlwind], you baldhead! Go up, you baldhead! Verse 24 - And he turned around and looked at them and CALLED A CURSE DOWN on them in the name of the Lord. And two she-bears came out of the woods and ripped up forty-two of the boys.

JESUS IS THE DELIVERER
DON'T STOP HERE! SEE OUR INDEX FOR MORE ARTICLES.
THERE IS NO HATE, MALICE, RACISM, ETC. ON THIS SITE. THESE ARE SINS IN THE EYES OF GOD, AND ARE ALSO DEMONS. THE BIBLE MAKES IT CLEAR THAT SIN CANNOT GET INTO HEAVEN.