-- This is NOT the website of Gene Moody. It is the website of DEMONBUSTER.COM.

THE BLOOD OF JESUS CLEANSES YOU FROM ALL SIN AND GUILT (1 JOHN 1:7).
JESUS IS THE DELIVERER!!

DEMONBUSTER.COM
GENE AND EARLINE MOODY
DELIVERANCE MANUAL

MAIN PAGE IS AT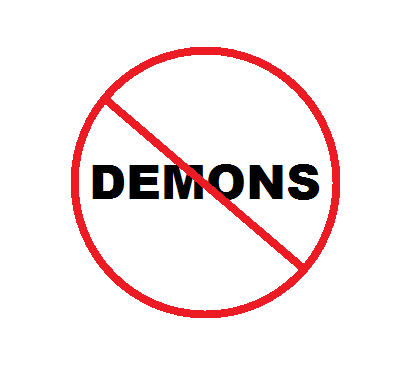 NO DEMONS ALLOWED

MOUTH AND TONGUE

TABLE OF CONTENTS
1. SCRIPTURE
2. AN ATTITUDE OF GRATITUDE
3. CHRISTIAN FANTASY - LIES NOT TRUTH
1. Truth
2. Lies
3. Christian Fables And Cliches
4. Deliverance Myths
5. Prophecy Myths
6. Responsibility
4. CURSING OTHERS AND BEING CURSED
1. Psychic Prayers
2. Spoken Curses
3. Parental Curses
4. Summary
5. HOW TO BE MISERABLE
6. LIES, DECEIT AND FLATTERY
1. Comments
2. Definitions
3. Righteousness And Holiness
4. Evangelistically Speaking
5. Responsibility Of A Minister
6. Flattery
7. REFERENCES
SCRIPTURE
Joshua 1:8The book of law shall not depart out of thy mouth.
Psalm 5:9 Their throat is an open sepulchre.
10:7 His mouth is full of cursing and deceit and fraud.
36:3 The words of his mouth are iniquity and deceit.
50:23 Earline says order your conversation rightly. If you say with your
lips yea, but in your heart nay, you just cancelled!)
Prov. 4:24 Put away from thee a froward (contrary) mouth.
5:3 For the lips of a strange woman drop as a honeycomb.
6:17 A proud look, a lying tongue.
6:24 From the flattery of the tongue of a strange woman.
17:20He that hath a perverse tongue failleth into mischief.
18:21 Earline says death and life are in your tongue - watch it, man!
21:23 Whoso keepeth his mouth and his tongue.
22:14 The mouth of strange women is a deep pit.
Jer. 14:14 Do you prophesy lies in the Name of God?
Eze. 21:29 False prophesy is divination.
Mark 11:23 Have what you believe and say.
II Cor. 10:4Bringing every thought into captivity to obedience of CHRIST.
II Tim. 3:2 God told me: Earline, have an attitude of of gratitude.
Ungratefuness is high on the list of signs of the end times.
Romans 3:14Whose mouth is full of cursing and bitterness.
James 3:5 Behold how great a matter a little fire kindleth!
3:6 It defileth the whole body and is set on fire in Hell.
3:14 Envying will cause a person to lie.
Rev. 21:8 Liars shall be placed in the Lake of Fire and Brimstone.
AN ATTITUDE OF GRATITUDE
My first encounter with God's attitude about gratitude came one day when I was doing a duty reading of the Bible. These verses, Deut. 28:47-48, seemed to jump out at me almost as though it were being thrown at me. I read it over and over. The Holy Spirit began to deal with me immediately. You see, I had just been complaining about my house (it was not big enough), my daughter (she was fighting and beating up the boys in the neighborhood), and my husband (he wasn't giving me enough - you name it, I didn't think he was doing enough). After all, it's a little embarrassing to have your friends see that you only have two bedrooms, your daughter whips the boys her age, and your husband suddenly has changed.
In II Cor. 10:5, we are told to bring our thoughts into subjection to Jesus Christ. This means we have to control our thoughts. Isa. 55:8 tells us that God's thoughts are not ours. As I saw my thoughts as God looks at them, I didn't feel so holy anymore. The truth was getting through. I was the one failing, more so than them. But most of all, I failed to be thankful to God for His blessings and provisions. As I was so thinking, I remembered that the Bible says I am the best reward Gene will have on earth (Ecc. 9:9, Living Bible). Question: What kind of reward are you, Earline? I was very grieved at my answer for I had made his life a grief to him in the past one and a half years.
Then, God reminded me that He supplieth my needs. Since I was not thankful for them, He could remove them instantly. In my mind, I saw Gene and Marie as gone. That was enough, I didn't even get to possessions; I was much grieved. I repented as fast as I saw my mistakes and was cleansed. Then I began a study about gratitude to God. This is what I found:
I Chron. 16:4, 7-11The first account of God's people (Levities)
appointed to give praise and thanks to God continually.
II Chron. 20:21 " 22Shows praises go before the people for victory
against overwhelming odds.
Acts 16:25Says Paul and Silas were delivered out of prison after they
continually sang praises to God.
CHRISTIAN FANTASY - LIES NOT TRUTH
We frequently encounter Christian fantasy especially in the Full-Gospel Movement.
Truth - Deut. 32:4, A God of truth. He is the God of Truth. If you are of God, then truth will flow thru your mouth. Some are not true worshipers but are hypocrites that are putting on a religious show that stinks in God's nostrils.
Lies - Num. 23:19, God is not a man that He should lie. God doesn't lie but man does. There are a lot of pat phrases in the Christian world that are not true when put to the test. As Earline says, you burn while you learn. It is a soulish prophesy that frequently ends with thus saith the Lord. If you say your soulish prophesy is from God, then you are lying about God.
Christian Fables And Cliches - There are many fables and cliches (tradition) that are passed off as the Gospel. Generally, these are sayings that make you fell good.
Deliverance Myths - There is much ignorance and many myths about deliverance. Deliverance is the most misunderstood part of the Christian life. Deliverance is the most controversial and unpopular part of the Christian life.
Prophecy Myths - Prophecies can be a blessing or a curse. The most danger for abuse lies in personal prophecy. Charismatic witches use personal prophecy to control others.
The true prophet does not make any mistakes. All of his prophecies come true. In the Old Testament, if the prophet missed God, he was stoned (Deut. 13:1-5, 18:20). I wonder what would happen if we killed the false prophets today.
Responsibility - You have a responsibility to check out everything you see, hear or read by the Word of God, by the Holy Spirit within you, and by your intelligence.
CURSING OTHERS AND BEING CURSED
Psychic Prayers
A psychic prayer is any prayer that does not line up with the Word of God. If you pray contrary to the Bible, then you are praying not to God but to Satan.
Spoken Curses
There are two ways that we can curse another person: thought or speaking. We can pray a psychic prayer or we can speak against another person either in our thoughts or out loud. We need to be careful what we think and speak, as well as what we do. The words we think or speak go out into the air and they have power to do good or evil.
Parental Curses
The parents can curse the child in the womb, after the child is born and until it dies. This is frightening when you think about the consequences of your actions on your children.
Summary
Therefore, be very careful how you think, pray, speak and act. We are told to keep all the words of the Holy Bible.
HOW TO BE MISERABLE
1. Think only about yourself.
2. Talk only about yourself.
3. Use I as often as possible.
4. Mirror yourself continually in the opinion of others.
5. Listen greedily to what others say about you.
6. You be suspicious of others.
7. You expect to always be appreciated by others.
8. You be jealous and sensitive of others.
9. You never forgive others.
10. Trust nobody but yourself.
11. You insist on consideration and respect by others.
12. You demand agreement with your own views.
13. Sulk if people are not grateful to you.
14. Never forget a service you have rendered.
15. Be on the lookout always for a good time for yourself.
16. Shirk your duties when you can.
17. You do as little for others as possible.
18. Love yourself supremely.
19. You always be selfish towards others.
LIES, DECEIT AND FLATTERY
Comments - Another title for this lesson could be Are You A Liar?
Definitions: lying, prevaricate, equivocate, palter, fib, deceit, deception, trick, mislead, delude, beguile, dishonest, unfair, mendacious, untruthful, flattery, feign, vanity, false, imprudent, unwise, faithless.
Righteousness And Holiness - If you want to live in righteousness and holiness, then you will not lie or think lies.
Evangelistically Speaking - This is a term used by ministers to talk about their meetings, church or congregation. They exaggerate the numbers to make them look good to other ministers and Christians.
Responsibility Of A Minister - The minister has a frightening responsibility before God to tell the truth. God holds the minister to a higher burden of responsibility than He does the layman that does not teach.
Flattery - You are trying to deceive the person by being insincere and praising the person without justification. You see a lot of flattery in the Christian and carnal worlds.
REFERENCES
Deliverance Manual by Gene and Earline Moody, Deliverance Ministries

JESUS IS THE DELIVERER