THE BLOOD OF JESUS CLEANSES YOU FROM ALL SIN AND GUILT (1 JOHN 1:7). JESUS IS THE DELIVERER!!

DEMONBUSTER.COM
DELIVERANCE MANUAL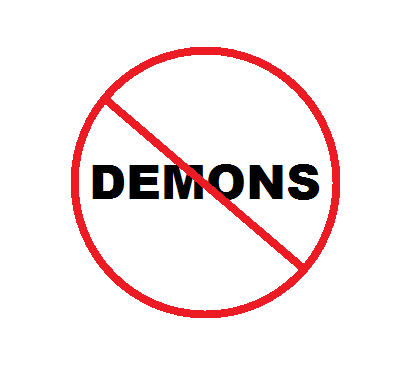 NO DEMONS ALLOWED

MUSIC AND WORSHIP

FROM ANOTHER DELIVERANCE MINISTRY

Amen to the letter on "rock n' roll" so-called worship music which plagues our fellowships like frogs and lice. The highest worship, I sincerely believe, is to sing to the Most High in TONGUES, to sing His names and titles back to Him, and to sing some of the songs in Revelation back to Him with our own melody."

( Note - The day we received this letter, I had been singing and praising the Lord in TONGUES and the Lord gave me a song to sing. Isn't this just the way our loving Father, Lord and Savior is. Confirming His Word with signs following!)

FROM ANOTHER DELIVERANCE MINISTRY
An area that has become a growing concern of mine lately, in which I've seen many hooked and unable to get free from, has to deal with the issue of intense worship during Church services. Over and over I've seen people turn away from DELIVERANCE to go back to a religious system in which they FEEL the WORSHIP is so great they can't live without it. And indeed they can't, without DELIVERANCE in that area.
It is hard for so many to see the demonic deception in something so acceptable and thought of as so scriptural. But worship is much more than just music or singing. Worship also includes serving, bowing prostrate, and the giving of offerings. A close study of the Old Testament prophets reveal their stand against worship of formality and not of a true sincere heart.
In Romans 1:25 we see that indeed worship can be misguided. And Our Lord JESUS rebuked the Scribes and Pharisees for worshiping in vain. Drawing nigh to God with their mouth but their heart far from serving the Lord. (Matthew 15:8-10) And again those who Worship must Worship Me in spirit and in truth, JESUS said. Many attend services and mouth the words of the songs while thinking about what they will do when they get home. Or even worse, they let someone else do the worship for them. Such as a choir. Happy in Church as long as it doesn't take any personal sacrifice. Worship for many and many churches has been lowered to mere Christian entertainment, to the place where we now have Drive In Churches. Just chose your favorite channel.
Unbeknown to many in the congregation, the worship part of the service for many Churches is their insurance policy for adequate tithes and offerings. (See our TITHES, NO - DONATIONS, YES article.)
More care and time is put into the song selection than the message. The tighter the budget, the more Churches use music to control the congregation.
This was one of the reasons why I quit playing music when I was saved. The Lord convicted me of what I was doing. It doesn't take much to control another by music. The type of songs played, the instruments used, are arranged to produce an atmosphere of giving, etc. One need only visit the supermarket to check this out. Music carries a powerful influence and it accomplishes, for the most part, just what the one who controls it wants it to. Many become ensnared by this type of music only to find themselves returning again and again. Much like a Drug addict who returns to receive the high desired. Only to the disappointment that it doesn't last, and then returning home in the same state as when they came. Broken, hurting, and needing change in their lives.
Many of our Churches have left the fundamentals of Salvation, healing and DELIVERANCE. We now have what is called "music ministries". I've searched in vain for a scriptural reference, and even in searching the lives of JESUS and the disciples we find this type of "ministry" non-existent. Instead of learning how to do what JESUS commanded us to. Like letting the oppressed go free, the concentration is on applying spiritual bandages. Denying the power but have a form of Godliness.
Another factor to consider, that tips us off to the error, is that the usage of intense worship has always been a part of witchcraft or satanic rituals to conjure up the demonic power desired. Witches throughout the ages have dedicated long durations of time to music for the purpose of pleasing their "God" and to receive of themselves power. Many times singing something over and over multiple times. This constitutes a mantra. In contrast, we see the children of God singing after receiving victory in battle. There was a purpose in their praise and worship. Out of a heart of thanksgiving and gratefulness for what God did, the people sang. What sweet worship it is to see someone sing after being set free from demonic bondages. You don't have to guess why they are singing.
I fear that many upon arrival in Heaven will be sadly disappointed to find their "talent" only amounted to wood, hay, and stubble. Having devoted much of their lives to a music ministry, and leaving the other undone.
Watch out for the powerful pull music has upon man. The devil being created with music inside, fully knows how to use it against you. Ask yourself a few simple questions.
Would I return here if the intense worship was discontinued? Is there any real fruit from participating in intense worship? That is, do you leave afterwards with a heart still full of hatred, anger, frustrations and hurts? Would you be just as comfortable if the song leader said today for worship we are going to bow prostrate and fall on our faces for 15 minutes? Do you feel controlled, or compelled to give more, and later have feelings of resentment that you can't put your finger on?
In closing, I'm not against singing. We do sing at our Church. It's just that I see so many people bound to empty churches and they can't leave it because of the control placed upon them through music. Being controlled to help build someone else's kingdom. Brethren this ought not to be so.
If this is you, cut the ungodly soul ties, and seek out a Church [or ministry] that will minister as JESUS did. With Salvation, Healing AND DELIVERANCE as its foundation, not tacked on as "other" ministries of the Church, which never work.
If you're in leadership, emphasize the works of JESUS over entertainment and you'll see much more accomplished for the kingdom of Heaven."

MUSIC

Have you ever been in a restaurant that had loud music, and after a short while, you started to get nervous, and wished they would change the dial, or you just had to get out of there?
God made our bodies with a natural rhythm (tempo) - the heartbeat.
Music that you listen to that does NOT make you nervous is in this order -
FIRST, the RHYTHM; SECOND, the MELODY; THIRD, the BEAT. (Some people use different words for these three.)
Much music has these three items out of sequence by putting the beat first. This upsets the natural rhythm in our being, as God created it.
Rock and roll does this, and most all music, including some so-called "Christian" music. One sure sign is the BEAT of the drum (usually starting out the song) is just out there in front most of the time. The drum sound (beat) is very obvious. Ever wonder why drums are such a part of satan worship services? They "drum up" the demons. The witchdoctors in Africa and other places "drum up" the demons. (When was the last time you said you were going to "drum up" business or something else?)
Next time you are listening to "Christian" music, listen for the BEAT. The words might be about Jesus, but if the BEAT is in the wrong place, the enemy may be involved. Find this hard to believe? Do some DELIVERANCE on it.

"CHRISTIAN ROCK"

A poem
BY: JACQUIE M. JONES

"CHRISTIAN ROCK IS OF GOD"
WE HEAR CHRISTIANS SAY
"TOUCH NOT GOD'S ANOINTED
DON'T STAND IN THEIR WAY".

"JUDGE NOT THAT YE BE JUDGED"
THEY ONCE AGAIN PROCLAIM
"THEY'RE CALLED TO THIS MINISTRY
THEY'RE GETTING SOULS SAVED!"

EVERY TIME I HEAR THIS
OH, HOW MY HEART GRIEVES
TO SEE CHRISTIANS SO SEDUCED
SO SWAYED - SO DECEIVED

LET'S OPEN THE BIBLE
LET'S SEE WHAT GOD HAS TO SAY
ABOUT THE ABOMINATION OF 'ROCK'
THAT'S LABELED 'CHRISTIAN' TODAY

WE ARE INDEED TO JUDGE

LET'S LEVEE THE SCORE

JUST OPEN YOUR WORD

TO JOHN 7:24

LEVITICUS 19:15,
MATTHEW 7:1 TO 5
INSTRUCTS US TO JUDGE
ANOTHER'S MINISTRY OR LIFE

IT IS PREACHING NOT MUSIC
TO CHRIST SOULS ARE WON
LET'S FLIP OVER SOME PAGES
TO 1 CORINTHIANS 1:21

WHEN EXPOSING THIS JUNK
ROCK SUPPORTERS GET ANGRY
WELL THAT'S NOT OF GOD
SEE JAMES 1 and VERSE 20

THEY LOOK and SOUND LIKE THE WORLD
CHRISTIANS ARE SUPPOSED TO TRANSFORM
THEY'RE THE ENEMIES OF GOD
JAMES 4 and VERSE 4

THE MENS HAIR IS LIKE WOMENS
WEAR MAKE UP AND THINK IT'S FINE
WHAT ABOUT 1 CORINTHIANS 11:14
AND 1 CORINTHIANS 6 and VERSE 9

"WE MUST LOOK THIS WAY
FOR THE UNSAVED TO RELATE"
WELL, 1 THESSALONIANS 5:22
IS NOT OPEN TO DEBATE

THEIR STAGE LIVES ARE A SHAM
THEIR PRIVATE LIVES ARE NO BETTER
2 TIMOTHY 3:1 TO 6
DESCRIBES THEM TO THE LETTER

"WE DON'T REALLY WORSHIP THEM"
ALL THE SUPPORTERS WILL AGREE
BUT, THEY BUY ALL THE RECORDS and POSTERS
CONTRARY TO EXODUS 20 and VERSE 3

"WELL WE'VE PRAYED ABOUT THE MUSIC
AND NOT CONVICTED AT ANY TIME"
GOD WILL TELL YOU JUST WHAT YOU WANT TO HEAR
ACCORDING TO EZEKIEL 14:1 TO 5

BE NOT CONFORMED TO THIS WORLD
SAYS ROMANS 12:2
IF YOU SAY YOU'RE A CHRISTIAN
GOD IS TALKING TO YOU

THEY SAY THEIR WORKS ARE GOOD
THEY'RE HELPING THE WORLD AND THE KIDS
GOD DOESN'T NEED CHRISTIAN RESUMES
SEE ISAIAH 64 and VERSE 6

THE BASIS OF CHRISTIAN ROCK
IS AS WICKED AS CAN BE
IT IS REBELLION AND WITCHCRAFT
SEE 1 SAMUEL 15:23

THEIR LYRICS AREN'T EVEN GODLY
THEY'VE BEEN SEDUCED BY THE DEVIL
"FOR GOD IS NOT MOCKED"
GALATIANS 6 and VERSE 7

SOME HAVE EVEN ADMITTED
"WE'RE TRYING SECULAR THIS TIME"
THEY'VE LEFT OUT JESUS COMPLETELY
SEE ISAIAH 3 and VERSE 9

CHRISTIANS ARE NEW CREATURES
CLEANSED, FORGIVEN AND CLEAN
GET OUT OF THAT JUNK
2 CORINTHIANS 5:17

THE WAGES OF SIN
READ ROMANS 6:23
REPENT FOR THIS TRASH
AND LET JESUS SET YOU FREE

MILLIONS OF CHRISTIANS FOLLOW 'ROCK'
BUT THE NARROW GATE LEADS TO HEAVEN
MILLIONS TRAMPLE THE BROAD ROAD
VERSES 13 and 14 OF MATTHEW 7

The following is excerpted from the important book, Occult Invasion: The Subtle Seduction of the World and Church by Dave Hunt, Harvest House Publishers, Eugene, Oregon 97402;
In Greek mythology the arts were under the direction of the nine daughters of Zeus by Mnemosyne. These nymphs, or lower deities, also known as muses, inspired writers and artists. The Muse Euterpe was the inspirer of lyric poetry; the Muse Terpsichore inspired music and dancing. Johannes Brahms felt that at times when composing he was "in tune with the Infinite."
Although he believed that his inspiration came from God, the fact that he admitted having to be "in a semitrance condition... [with] the conscious mind... in temporary abeyance,"'[Willis Harman and Howard Rheingold, Higher Creativity (Jeremy P. Tarcher, 1984), pp. 46-47; cited in Knlimo, Channeling, p. 314.] as with a spirit medium, betrays another source. God does not inspire trance mediums. Tchaikovsky confessed that under similar inspiration he "behaved like a madman." [P.E. Vernon, ed., Creativity Selected Readings (Penguin Books, 1970), p. 57.]
Richard Strauss was sure that at least some of the music he wrote was "dictated" to him by "Omnipotent Entities" not of this earth. [Harman and Rheingold, Higher Creativity, p. 46.] The great opera Madame Butterfly, Giacomo Puccini was convinced, was dictated to him "by God." [Ibid.] Gustav Mahler claimed that he was compelled by other powers to compose what he hadn't chosen to write. George Gershwin testified that Rhapsody in Blue came to him suddenly, that he heard and saw as though on paper "the complete construction of the Rhapsody, from beginning to end." Of his hit song "The Blizzard," country-western composer Harlan Howard said his pencil just kept on writing, surprising him as it went, and he wondered, "Did some great songwriter in the sky use me as a medium?" [Klimo, Channeling, pp. 314-15.] Operetta composer Rudolf Friml said:
"I sit down at the piano, and I put my hands on the piano. And I let the spirit guide me! No, I never do the music. I never compose it; oh no, no!
"I am a tool. I am nothing. I am being used. It comes from someone, a spirit perhaps, using me." [Ibid.]
We can only conclude that, just as they all believed, some entity or entities not of this world have guided these composers. But who are these entities? And what about Benny Hinn, Kenneth Copeland and other charismatic leaders who claim that the Holy Spirit inspires them to speak forth some prophecy that proves to be false? And what of the claims that Christ has even appeared to some of them?
Would Jesus really appear to Yonggi Cho in a red fireman's uniform, or to Oral Roberts in a form 900 feet tall, as these men claim? And could the countless apparitions around the world really be the Mary who gave birth to Jesus, when they speak forth so many lies and continually contradict Scripture? Who or what are these beings? What is their purpose? The question of the identity and purpose of these entities requires a careful answer.
Identifying the Modern "Muse"
Music has had a key role in the occult as far back as history records. The pulse-beat of drums and rattles is vital in voodoo and most shamanism, to which rock music is closely related. "Christian rock groups" mimic the beat that shamans have long used to call up demons. Ray Manzarek, keyboard player for the rock group The Doors, explains the relationship between shamanism and modern rock:
"When the Siberian shaman gets ready to go into his trance, all the villagers get together... and play whatever instruments they have to send him off [into trance and possession]....
"It was the same way with The Doors when we played in concert... I think that our drug experience let us get into it... [the trance state] quicker....
"It was like Jim [Morrison] was an electric shaman and we were the electric shaman's band, pounding away behind him... pounding and pounding, and little by little it would take him over....
"Sometimes he was just incredible. Just amazing. And the audience felt it, too!" [Jerry Hopkins and Daniel Sugerman, No One Here Gets Out Alive (Warner Books, 1980), pp. 158-60.]
Many rock stars have been involved in the occult and admit to a mysterious source of inspiration. John Lennon told of mystical experiences as a young teenager: "I used to literally trance out into alpha... seeing these hallucinatory images of my face changing, becoming cosmic and complete."
[The Playboy Interviews with John Lennon and Yoko Ono (Berkeley, 1982), p. 169.] Of his songwriting Lennon said, "It's like being possessed: like a psychic or a medium." [Ibid., p. 203] Much credit for fomenting rebellion and turning millions of youth against God and the Bible belongs to the many rock stars beginning with Elvis Presley. The Beatles' own press agent, Derek Taylor, confessed:
"They're completely anti-Christ. I mean, I am anti-Christ as well, but they're so anti-Christ they shock me..." [Saturday Evening Post, August 6, 1964.]
According to Keith Richards of the Rolling Stones, "The Stones' songs came spontaneously like an inspiration at a seance. The tunes arrived 'en masse' as if the Stones as songwriters were only a willing and open medium."
[Rolling Stone, May 5, 1977, p. 55.] Of the Beatles Yoko Ono has said, "They were like mediums. They weren't conscious of all they were saying, but it was coming through them." [Playboy Interviews, p. 106.] Of the inspiration process Marc Storace, vocalist with the heavy-metal band Krokus, told Circus magazine:
"You can't describe it except to say it's like a mysterious energy that comes from the metaphysical plane and into my body. It's almost like being a medium...." [Circus, January 31, 1984, p. 70.]
"Little Richard" said, "I was directed and commanded by another power. The power of darkness... that a lot of people don't believe exists. The power of the Devil. Satan." [Charles White, The Life and Times of Little Richard (Harmony Books, 1984), p. 206.] Jim Morrison called the spirits that at times possessed him "The Lords," and wrote a book of poetry about them.
[James Douglas Morrison, the Lords and New Creatures (Simon "Schuster, 1970).] Folk rock artist Joni Mitchell's creativity came from her spirit guide, "Art." Nothing could detain her when he "called." [Time, December 16, 1974, p. 39.]
Contemporary musicians offer the same consistent testimony regarding inspiration by otherworldly entities that we find among the most famous composers from the past. Today's musicians, however, admit that much of their inspiration comes from an evil source. Why should we doubt their testimony? David Lee Roth, who wrote "Running with the Devil" and called himself "toastmaster for the immoral majority," admitted that the goal in the world of rock was to conjure up evil spirits and surrender to them:
"I'm gonna abandon my spirit to them, which is actually what I attempt to do. You work yourself into that state and you fall in supplication of the demon gods..." [Rock, April 1984, p. 30.]
Superstar Jimi Hendrix was not so eager to be possessed but seemed rather to have been a victim. Called "rock's greatest guitarist' and known as the Voodoo Chile of the Aquarian Age, Hendrix "believed he was possessed by some spirit," according to Alan Douglas. His former girlfriend, Fayne Pridgon, has said:
"He used to always talk about some devil or something was in him, you know, and he didn't have any control over it, he didn't know what made him act the way he acted... and songs.. just came out ......... He was so tormented and just torn apart . . and he used to talk about ...having...somebody... drive this demon out of him." [Sound track from film Jimi Hendrix, interview with Fayne Pridgon (side 4).]
Steven Halpern, one of the best-known New Age composers, testifies, "I started recording what I received in trance or altered states.... I ended up being guided." [Ibid.]
This type of spirit guidance is widespread. In Chapter 1 we referred to the nuclear scientist who was taught advanced concepts by spirit beings. We noted that Chester Carlson, inventor of the Xerox photocopying process, received guidance for his invention from the spirit world. [Chester Carlson, New Frontiers Center Newsleter, Fall/Winter 1986, p. 9.] Medical scientist Andrija Puharich, holder of more than 50 patents, gave his opinion about these strange inspirations:
"I am personally convinced that superior beings from other spaces and other times have initiated a renewed dialogue with humanity. While I do not doubt [their existence] ... I do not know what their goals are with respect to humankind." [Andrija Puharich, Uri: A Journal of the Mystery of Uri Geller (New York, 1975), p. 213.]

DRUMS - These are a big no-no because of the ORIGIN of the drum. Look it up in a good Encyclopedia for the roots. Drums are used to DRUM UP DEMONS.

The following came from http://radicalpilgrim.da.ru/
Innocence and simplicity!?
Hey, do you remember the Christian (contemporary) music scene back there in the 70's? The dynamic testimony of Barry Maguire. Jamie Owens "Growing Pains", written through brokeness and experience. Sonlight singing, "Jesus is the answer for the world today, above Him there's no other, Jesus is the way!" Phil Keaggy's surrendering and waiting for the Lord to raise him up if it was His will. Not to forget the rich, colourful, expressive sound of Koinonia. And may we never forget the late Keith Green's uncompromising stand for the Gospel (message, not music) and his vision of not selling the gospel. Remember his articles .... "The selling of Jesus", "What's wrong with the Gospel", "Unity at what price", and so on?
We followed Keith's convictions and his abandonment (in spirit that is) of the trappings of LA to his moving to the sticks of Texas, where he set up Last Days Ministry to escape the rubbish of Westernized, commercialized, "Christian" culture, and minister truth.
Music and literature; meaty, challenging, and cutting ... free of charge (would you believe!?) or whatever you could afford. When just as he made a public whole hearted stand against apostasy, ecumenicalism, and the Church of Rome, did Keith die an unduly death in a plane crash under unresolved circumstances. It was not long after his departing did we receive a letter from Last Days how they had decided to chuck out Keith's controversial exposé's on the Church of Rome (along with his vision may I add) reassuring us that Keith would have done the same had he lived. Would this redefined image of respectability been the will of Keith who previously said in regards to his Catholic Chronicles:
LDs Newsletter Jan-Mar 1981 we want to repeat again what is on all of our hearts here at Last Days. We really, really love Catholics! It is our only motive for publishing this series of articles. We realize that many cannot help but see this as other than an "attack" on their church. Many have said, "Why are you picking on my religion?"
But God knows our hearts, we will only do what he commands. People have written saying, "We know the Holy Spirit has told you to write these articles!" While others have said just as assuredly, "We know God has definitely not told you to do this!" So who are we to believe? We are held accountable to do that which we believe in our hearts God has told us to do.
Page 26. An introduction to the Catholic Chronicles ....family: It is truly from a heart of love that we publish these articles - a love for Catholics ... a love for their souls!
And who are we to believe? Keith before he died, or someone else apparently speaking on his behalf after he died?
Let you decide!

Steve Camp "Nails" CCM
http://www.av1611.org/crock/scamp.html (used by permission)
CCM artist, Steve Camp, "nailed" the Contemporary Christian Music (CCM) with his "A Call for "Reformation in the Contemporary Christian Music Industry" and his "107 Theses". Following the pattern of Martin Luther as Luther nailed his 95 these onto the door at Wittenberg in 1517, Camp "nailed" his "107 Theses" to CCM. Steve Camp mailed out 1,500 copies of his "Call for Reformation - 107 Theses" on October 31, 1997 - Reformation Day to 1,500 people involved in CCM.
Camp readily admits in his early CCM career of compromise and fleshly lusts:
"Early in my own musical journey I wrote songs that neither represented good music or precise theology. My motives were vitiated; my actions were not godly; and my lips were unclean. The thirst for prominence and position made my heart prideful, judgmental and callused."
Steve Camp says of Satan's infiltration of CCM:
"But beloved, THE SERPENTINE FOE of compromise has invaded the camp through years of specious living, skewed doctrine and most recently secular ownership of Christian music ministries. . . The Apostle Paul warns "it takes only a little leaven to leaven the whole lump." (1 Corinthians 5:6) When sin is tolerated ultimately permeates and corrupts the entire church. What is pure today will inevitably be polluted tomorrow if we do not "purge out the old leaven. . . "
(Ibid. 5:7) In the past several years, there has been a not-so-subtle drifting away from Christocentric music to an anthropocentric music. Sadly, this has resulted in various visible manifestations of spiritual sedition-where currently, the CCMI finds itself on a slippery slope sliding away at accelerated speeds from the Savior, the Scriptures and the church."
"Contemporary Christian Music originally began unashamedly declaring Jesus Christ as Lord. Within a few years His name was replaced by several generic titles filtering out the name of God ultimately to the non-specific cognomen, "Love." This led to a multitude of pseudonyms: "The Man Upstairs"; "My Higher Power"; "Our Family Values Expert" ad nauseam...ad infinitum. This Biblical illiteracy I've coined as theological ebonics-Biblical language diminished to cultural unintelligible chatter affirmed as profound, acceptable spiritual truth. Os Guinness is "spot on" when saying, "[we have seen a change] from an emphasis on 'serving God', to an emphasis on 'serving the self' in serving God." The object of faith is no longer Christ, but our self-esteem; the goal of faith is no longer holiness, but our happiness; and the source of faith is no longer the Scriptures, but our experience. Christian music currently reflects this. We are producing a generation of people that "feel" their God, but do not know their God."
While we do not agree with Brother Camp's "hanging on" to the rock music roots of CCM, we certainly agree with many of his "107 Theses". Here's a few of Camp's "107 Theses":
6.We fail to glorify Him when we praise the servant through awards and accolades rather than exalt the master. "I was but a pen in god's hand and what praise is due a pen?" (Baxter) God will not share His glory with another. (Psalm 115:1; Isaiah 42:8)
7.We fail to glorify Him when we speak of God out of our own vain imaginings or recreate Him in our own image; instead of honoring Him by how He has revealed Himself through His holy Word. (Psalm 50:21; 1 Corinthians 2:13-16)
31.For if in our worship we pervert the truth about God. If in our music we distort His doctrine, we distort a right view of Him. If in our song we misrepresent the Scriptures, we misrepresent the Savior. And if in our ministries we twist His truth, we dishonor His character. (2 Timothy 2:15) (DTTM: ditto, Carman-Resurrection Rap, dcTalk - Jesus Freak, Bride-Scarecrow Messiah, et. Al.)
32.Failure here is costly-for it is tantamount to breaking the third commandment: "do not take the name of the Lord God in vain." (Exodus 20:7)
41.Christian music, originally called Jesus Music, once fearlessly sang clearly about the gospel. Now it yodels of a Christ-less, watered-down, pabulum-based, positive alternative, aura-fluff, cream of wheat, mush-kind-of-syrupy, God-as-my-girlfriend kind of thing.
45.Christian music stands separate from the world's music for by definition it is Christ-centered music. Even the style is not neutral and music in and of itself is not amoral, but it is "the incarnation of the message." (Horton) Both must honor and bring glory to the Lord Jesus Christ. (1 Chronicles 15:16)
46.Therefore, when Christian artists today take the old song of the world, dress it up, modify it and say that it now represents the person of Jesus Christ, a Christian message or describes the character of God, they fortuitously assault the gospel and diminish the gift that has been entrusted to them. This is inappropriate at best and sacrilegious at worst. We cannot pour new wine into old wineskins. (Psalm 137; Mark 2:22) (DTTM: ditto: dcTalk, Amy Grant, Point of Grace, Rez Band, Johnny Cash, Pat Boone, Holy Soldier, Jars of Clay, Mark Farner, MxPx, Petra, etc.)
74.The CCMI has committed spiritual adultery in joining itself with the wayward world in trying to forward the message of the gospel. This has and will prove to be fatal for Gospel music as we know it today. (Deuteronomy 32:22-24; Psalm 1; Jeremiah 7:5-8)
81.Satan's number one assault on the church is to infiltrate with error. He doesn't want to fight the church-he wants to join it. (John 8:44; 2 Corinthians 11:12-15; 1 Timothy 4:1)
82.Undicerning believers think it a profound ministry strategy to join forces with unregenerate people in forwarding the gospel. Unwittingly, they harness Jesus Christ, the Worthy One, with Belial or Satan, the worthless one, in an unholy alliance-the very essence of being unequally yoked. (2 Corinthians 6:15)
83."Ephraim is joined to idols. Let him alone." (Hosea 4:17)
It's a BIG blessing to see somebody in CCM with any spiritual discernment and any spiritual "convictions"! The vast majority of CCM supporters have no spiritual discernment, and even less convictions.
We heartily "commend" Brother Camp and say, "Amen, amen and amen, Brother Camp — Cry aloud, spare not, lift up thy voice like a trumpet... Isaiah 58:1"!
Although I don't want to be drawn into a political debate, here's more food for thought confirming the mitigating effect in this industry, and the cost of putting Jesus first:
Email received - Date: Fri, 18 Aug 2000
Christian Artist Allies With Gore Campaign
August 18, 2000
Carr News Service
Los Angeles, CA - Minutes after watching Al Gore finish his presidential nomination speech in front of a star-studded audience, Christian singing artist Phil Driscoll stepped on stage to hug the Democratic Presidential candidate. A few moments later, Driscoll began to lead the audience, with his signature trumpet in hand, in a rendition of "God Bless America" much to the joy and admiration of on looking Al Gore and his family.
This appearance would come as a shock to most Bible-believers. Why would a Christian artist sing at a Liberal Democrat function? Why would a Christian be associated with a party that vows to "make America a better place to live for those who have been persecuted like the gay/lesbians and to make it easier for a woman to get an abortion". Could this be a case of public payback support for future considerations once Gore is elected? The answer goes all the way to the top of the "Christian" music industry.
In the early 1980's, Christian music was a small, unprofitable business that catered to only a very few of the millions of music listeners. Most of the new recordings were largely ignored by the mass media and music buyers.
Late in the decade, that began to change. With new artists coming out with a sound that compared to the secular side and Christian music pillars Amy Grant and Michael W. Smith trying to forge secular careers, the music genre began to flourish.
By the early 1990's, Christian CD sales were becoming comparable to those of secular music. This is where the "roots of evil" began to grow.
Not wanting to be left out of any profitable ventures, the major record companies began to buy out every Christian-owned label. Time-Warner bought out Sparrow while Virgin Records purchased Forefront Records. Soon, there was not a Christian record label that was still owned by Christians.
The way business was done began to change. Christian singing artist Steve Camp, in a speech given in 1997 said that he had "been effectively black-balled from having any music published." "When they took over, all projects were cancelled until they reviewed them and made the changes that they wanted. The new owners wanted total control of the image, lyrics, sound, and everything else that had to do with the music. They wanted restrictions on how many times the name of 'Jesus' was to be used in a song if at all. The artist lost all control over the music. They wanted us to conform to be like the secular musicians in appearance and style because that sells more records."
Camp, and others like David Meece, fought against the changes and their projects were never completed. "Mine was almost finished," sighed Meece. "I only had one or two more songs to add and it was ready."
David continued to tell how the changes had not only affected that project but his past work as well. "I wouldn't produce the music they wanted and I wouldn't change what God had laid on my heart to sing about. I decided to wait out my contract and schedule free-will offering concerts wherever I could. After doing these concerts for awhile, I began to run low on my stock of CDs so I went back to the label to buy more. I was told that I would not be able to buy any more and no more would be made. I was shocked. I fought with them for over a year and finally they told me to come in and pick up what inventory was left."
"Once I got there, they led me to a barrel in a warehouse. It was just about full of ashes. I asked what these were. The label representative said that this was my old recordings as well as my masters.
They decided to burn the whole lot," as Meece looks to the floor in sadness. "Once the stores sell out, that's all that there will be of my music. When it's gone, it's gone."
There is an ugly trend in today's Christian music that has been slow but deliberate. There are now as many types of Christian music as there is secular. Sadly, you most often can't tell the difference between the secular and the "Christian". Beautiful praises to God and songs about the power of Jesus have been replaced with driving beats and screaming Godless (as in NO reference to God or Jesus) lyrics. Peter Furler, leader of the Newsboys, a popular band with the Christian youth, has been quoted as saying, "we don't need to sing about Jesus all of the time. We are a music group and there are other messages we want to sing about."
The Christian music labels are based in Nashville, Tennessee. Al Gore was a Senator from that same state and still has a residence there.
Seem too much like a conspiracy theory to be real? Maybe, but more is done to control the population from the highest levels than is led to be believed. Why not control what the Christians listen to and slowly wean them from the truth found in the scriptures?
Contact your local Christian radio station(s) and ask them to not play any more of Phil Driscoll's music to let it be known that he was not speaking for those who truly call upon the name of Jesus and believe that homosexuality and abortion are against God's commandments.

The following was received from Cutting Edge Ministries:
1. "They Sold Their Souls For Rock-n-Roll Video". Absolutely the hardest-hitting expose' on the true nature of Rock-n-Roll, Pop Music, and Country Music we have ever seen! Pastor Schimmel was a minor Rock-n-Roll star who had visions of future riches and glory before Jesus Christ got hold of his heart! This video takes you backstage, showing the true nature and face of Rock stars from the 1950's through today. Even Brittney Spears, 'N SYNC, Ricky Martin, Garth Brooks, and Eminem are included, just to mention a few. If you are fighting with your children or your grandchildren about Rock, this video will give you the ammunition you need to convince your loved ones of the Satanic nature of Rock-n-Roll.
We at Cutting Edge were completely limp as we reviewed this video. Our Webmaster was thoroughly into Rock-n-Roll, even after he had been saved, talking himself into the lie that he could listen to this "music" and not be affected; going to a Liberal church contributed to this delusion. As Jim said:
"Here are some of my impressions of this video and what brought me to tears. This video ties many things together and shows how Aleister Crowley, black magik witchcraft and the new age movement are a calculated plan to steal our children from us and to turn us away from Christianity or as in my case make us useless to the cause of Christ. A member of the group Jefferson Aiplane whose albums I once owned said "Our music is intended to broaden the generation gap and alienate children from their parents". And "We get them while they are young and bend their minds".
"Two things shocked me about this video. First is that how the musician's admit boldly to being Satanists, to being demon possessed and to being part of this Satanic plan. Secondly, you will see parents look with approval as their young children wriggle their little bodies and sing lyrics about sex as they heard it from the Spice Girls and Britney Spears. I am talking about 6 and 7 year old little girls. Then I saw Ozzy Osborne painted like a demon and heard his bold Satanic lyrics on the video; the images of "George Bush and Ozzy" at the White House came back to me and I cringed."
Since we have just come through Christmas, Jim was burdened by the fact that many parents, even Christian, have probably given their loved ones some of this Rock music as Christmas gifts. Jim said:
"After seeing this video you may discover that you have given the gift of Black Magik Satanist music to a young child or grandchild this Christmas and didn't even know it. You may have made a terrible mistake in the past with your music purchases and gifts but you don't ever need to again. My heart breaks for our children and for the parents who unknowingly provide the very instrument of their destruction. I taught a class on Rock music to senior citizens at a church once. You would think that this group would not need to hear this message would you? Two of the grandmothers had just given the gift of rock music that glorified sex to their granddaughters and one was getting ready to make a purchase that she now knew was wrong."
This video excellently demonstrates not only what Rock-n-Roll is and how it is so Satanic, but it also links the effects this music has on the children and the society of which we are all a part. You will also see how Rock-n-Roll is preparing the masses of youngsters to be the future army of Antichrist, just as Cutting Edge has been saying for 10 years! You will see how the tremendous rise in sexual promiscuity taught by Rock has resulted in the hardening of our children and adults, and in a dramatic increase in abortion. I have never seen such convincing graphics on abortion in my life, and it brought the tears cascading down; if you or a loved one is undecided on abortion, this video will change their minds forever.
Finally, the last 30 minutes of this video pictorially show the Biblical view of Hell far better than anything I have ever seen. We Christians love to say we are "saved" but we really have forgotten what it is we are saved from! After hearing numerous Rock stars sing to Lord Satan and sing to the glories of Hell, to the obvious delight of tens of thousands of fans, this video graphically and powerfully shows what the Bible describes as Hell. This videos proves the old adage, "A picture is worth 1,000 words" to be absolutely correct. After viewing this video, you may conclude that these pictures are worth 10,000 words!
This video is as powerful as it is, because it was written by an insider who is now Born Again. If you like the hard-hitting style of Cutting Edge, you will absolutely love this beautifully produced, 2-Tape, 4 hour video. We consider this video to be the most informative, most powerful, and most potentially soul-saving of any we have ever seen or carried. VHS Format, not PAL. [http://cuttingedge.org/detail.cfm?ID=424]

JESUS IS THE DELIVERER
DON'T STOP HERE! SEE OUR INDEX FOR MORE ARTICLES.
THERE IS NO HATE, MALICE, RACISM, ETC. ON THIS SITE. THESE ARE SINS IN THE EYES OF GOD, AND ARE ALSO DEMONS. THE BIBLE MAKES IT CLEAR THAT SIN CANNOT GET INTO HEAVEN.