THE BLOOD OF JESUS CLEANSES YOU FROM ALL SIN AND GUILT (1 JOHN 1:7). JESUS IS THE DELIVERER!!

DEMONBUSTER.COM
DELIVERANCE MANUAL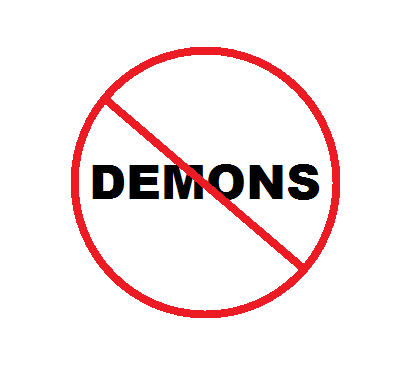 NO DEMONS ALLOWED

FORMER OCCULT MEMBER TESTIMONY

The following information comes from a former occult member. It is not meant to scare you (fear is a demon). It is to make the Christian aware of the power of the devil that goes on all around you. We are EXPOSING the devil, and not giving glory to him.
I agree this is vital for the Church. Most Christians, sad to say, are intimidated by the Devil's display of power because they do not operate in the power over him that Jesus purchased with His blood. Satan's kids know which Christians not to mess with, as the glory of the Lord can be visibly seen on them. I think the worse thing I see with what the Devil does to
people, is when he has his demons operate through children, and the children get punished instead of prayed for. Children are highly emotional creatures and act purely out of impulse. This is the areas that demons operate out of - emotions and impulse. This is one of the reasons the Word says to "train up a child" When the head of the home is allowing demonic
activity - fear, anger, violence (whether literal or on TV), etc., the weakest members of the household get the residue. Then, some begin to act out in the power that has entered them. Soon they find out they can "think" situations to happen in their favor. Thus starts the kingdom of darkness to gain another territory. Until one experiences the power of God through His Holy Spirit, they think the Devil's power is strong.
As a little girl and young teen, I was the smallest in our family. It seemed no one saw or heard me at times. But all listened when
I could tell events that would take place and they did. Also, no cousin, sister, etc. would pick on me because they knew I could cause things to happen if I got angry. A lot of power for one little person! There are many "little people" who feel this way and did not have Christian parents that would hinder their growth in the demonic realm.
Some sure signs of demonic activity in kids: 1. Tapping, drumming, rocking to a beat where there is no music. 2. Cruelty to animals. 3. Picking on others, taunting, pranks. 4. Cold, deep staring at someone when angry. 5. Private conversations or whispering to unseen "friends". 6. Nightmares and sleepwalking. 7. Once talkative and happy, then quiet and serious. These are just some.
If not stopped when very young, the power grows along with the child. Parents should stay with their kids, instead of
leaving them in the care of baby-sitters. Witches and warlocks have the cover of being teachers, doctors, police, baby-sitter, military officials - almost any professional. I was born Cherokee Indian and was born into pagan powers. Without the intervention of Christ, I would be serving Satan to this day.
-----
Here are other things I could do with the power of the devil.
1. Just to scare normal people, make the ouiji board pointer fly in the air and land on someone.
2. Tell people what they were thinking and say their words in unison with them while they speak.
3. Make candles light by thought while normal people were playing seance.
4. Floor turning ice cold in the middle of hot weather when calling spirits forth to attend seances. Also, cold wind blowing through a room - strong wind.
5. Pointing index finger at ones who scoff or defy power - terror would pierce them and they would flee screaming, sometimes never regaining sanity.
6. Causing accidents, rashes, confusion, coughing, etc. when sending curses on people.
7. Hearing male voices speaking out of women or vice-versa during seances or any other time of calling forth of demons.
8. Satan himself talking on the ouiji board to ones he wanted - telling all their life and terrifying them if they did not agree to be his.
9. White, filmy beings floating through the house, dancing in circles in the yard - many of them.
10. Flies covering windows in the coldest of winter - unnatural hum.
11. Walls sweating and hot in winter - like a fire in them.
12. Voices talking muffled conversations - coming from closets, drains, heat vents, stuffed animals, toys, dolls.
13. ALL PRANKS ARE DEMONIC - demons hide in joking and pulling pranks.
14. Unusual odors - gas, oil, sewer, smoke, electrical fire, etc.
15. Virtually anything is possible in the realm of the occult, if it is done for the purpose of fear, hatred, pranks, power and control. If done to be nice, demons will not obey.
16. Turning lights on and off without touching switches.
17. Causing people to feel as though bugs are crawling on them or snakes, mice, etc. are crawling on them.
-----
When I was into the occult, we had little beings in white dancing in our yard in a circle, "dead" telephones ringing with
voices on the other end of the line, apparitions standing at the foot of a bed in one bedroom (which was finally sealed), poltergeists slamming doors and creating havoc, ......just too much to mention. I had a doll that bled from the eyes instead of the tears it was supposed to do.
When my parents made Jesus Christ Lord of our home, all activity ceased, except in the one sealed room. Warfare and deliverance was not known, so I am sure the Lord just stepped in and took care of things.
-----

JESUS IS THE DELIVERER
DON'T STOP HERE! SEE OUR INDEX FOR MORE ARTICLES.
THERE IS NO HATE, MALICE, RACISM, ETC. ON THIS SITE. THESE ARE SINS IN THE EYES OF GOD, AND ARE ALSO DEMONS. THE BIBLE MAKES IT CLEAR THAT SIN CANNOT GET INTO HEAVEN.