-- This is NOT the website of Gene Moody. It is the website of DEMONBUSTER.COM.

THE BLOOD OF JESUS CLEANSES YOU FROM ALL SIN AND GUILT (1 JOHN 1:7).
JESUS IS THE DELIVERER!!

DEMONBUSTER.COM
GENE AND EARLINE MOODY
DELIVERANCE MANUAL

MAIN PAGE IS AT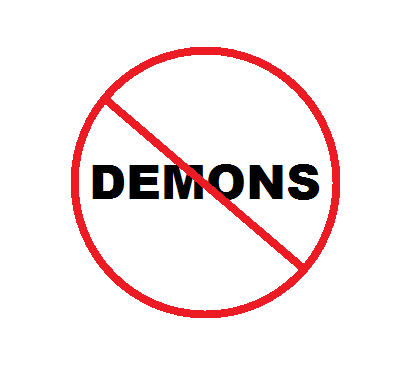 NO DEMONS ALLOWED

OVERALL LIST OF DEMONS

TABLE OF CONTENTS
GENERAL DELIVERANCE
1. GENERAL
1. Soul Ties
2. Occult And False Religion
3. Ungodly Spirits
2. SPECIAL
1. Common
2. Special
3. Satanism
3. BASIC DELIVERANCE
1. Rejection
2. Bitterness
3. Rebellion
4. Schizophrenia
4. COMMON DEMON GROUPINGS
5. MAIN LIST OF SEXUAL DEMONS
1. Soul Ties
2. Lust
3. Selfishness
4. Sex With Demons
5. Pornography
6. General
6. ABNORMAL SEXUAL BEHAVIOR
1. Abnormal
2. Homosexual
7. COMMON BONDAGE BETWEEN VARIOUS CULTS
8. VOODOO AND AFRICAN
1. Witchcraft And Occult
2. American Voodoo Spirits
1. Rituals
2. Witchcraft And Voodoo
3. African, Haitian And Black Voodoo
9. AFRICAN
10. NIGERIAN
11.SANTERIA AND OTHER
1. Types
2. Deities / Gods / Goddesses
3. Various
4. Practices
12.BIBLICAL CURSES
13.AFRICAN AMERICAN CURSES
1. General
2. Various
3. Sex
4. Death
5. Religion
6. Addictions
7. Slavery
8. Black
9. Occult
10.Tongues
11. Matriarchal
HEALING DELIVERANCE
1. BODY CURED AND HEALED
1. Deuteronomy 28 Diseases
2. Biblical Diseases
3. Princes, Kings " World Rulers
4. Paralysis
5. Roots of Infirmity
6. Ailments
2. ORGANS AND SYSTEMS
3. SPIRITUAL ROOTS OF DISEASE
1. General
2. Specific
3. Fear, Anxiety and Stress
4. Sexually Transmitted Diseases
5. Sexual Dysfunctions and Injuries
6. Black Infirmity
GENERAL
Soul Ties
Beasts; Those I Have Had Sex With Outside of Marriage; Divorced Mates; By Incest, Rape, Fornication, Adultery, Homosexuality, Bestiality and Lesbianism; Bloodless Religions and Religious Cults; Blood Brothers and Sisters By Rites; Witchcraft, Occult and Satan Worship; Fortune Tellers and Mediums; Psychiatrists, Social Workers, Psychologists and Mental Institutions.
Occult and False Religion
Enchantments, Wizardry, Necromancy, Witchcraft, Observer of Times, Fortune Telling, Consulting With Familiar Spirits, Occult Practices, Spiritism, Sorcery, Magic Practices, Son or Daughter Passing Through Fire, Divination, Charmers, False Religious Cults, Occult and False Religious Practices.
Ungodly Spirits
Spirit of Infirmity and Weakness, Spirit of Antichrist, Spirit of Fear, Deaf Spirit, Perverse Spirit, Dumb Spirit, Sorrowful Spirit, Blind Spirit, Spirit of Slumber, Foul Spirit, Spirit of Whoredoms, Unclean Spirit, Destroying Spirit, Evil Spirit, Spirit of Divination, Another Spirit, Spirit of Bondage, Hasty of Spirit, Spirit of Error, Haughty Spirit, Spirit of False Doctrines, Perverse Spirit, Spirit of Jealousy, Seducing Spirits, Sad Spirit, Jealous Spirit, Wounded Spirit, Lying Spirit, Proud in Spirit, Spirit of Burning, Familiar Spirit, Spirit of Egypt, Spirit of Heaviness, Spirit of Unclean Devil, Spirit of the World and other Ungodly Spirits.
SPECIAL
Common
Anti-Christ, Bondage, Divination, Death, Deaf, Error, Familiar, Fear, Haughtiness, Heaviness, Infirmity, Jealousy, Lying, Perverse, Seducing, Whoredoms, Commanders.
Special
Empire, Domination, Control, Blocking, Hate, Fear, Envy, Lust, Slander, Narcolepsy, Soporific, Megalomania, Self Exaltation, Black Wraith, Rancor, Suspicion, Criticism, Sexual Violence, Emotional Stifling, Defilement, Abaddon, Infirmity, Unworthiness, Devouring, Floating In Space, Failing Eyesight, Self Condemnation, Hostility, Deafness, Despair, Incubus, Succubus, Astral Lovers, Sexual Perversion, Rape, Molestation, Bitterness, Denial, Oppression, Uncleanness, Shirkism, Shrike.
Satanism
Spirit: Spirit Guide
Conscience - Intuition - Worship
Soul: Mind - Will - Emotions
Conscious - Subconscious - Unconscious
Body: Physical - Brain - Sexual Organs
Wer Beasts: Vampires - Werewolves - Zombies
Manifestations: Changelings - Incubi/Succubi - Dopple Gangers - Shape Changings
Objects: Familiar Objects - Fetishes - Talismans - Amulets - Marks - Hagstones -Biofeedback
Curses: Spells - Incantations - Hexes - Vexes
Demons: Son of Satan, Mind Control, Death, Occult, Magic, Witchcraft, Drugs, Child Abuse, Fornication, Demonic Healing, Eastern Religions, Demonic Inheritance, Demonic Games, Rock Music, Voodoo, Familiar and Guiding Spirits, Forces and Powers
BASIC DELIVERANCE
Rejection
Rejection, Fear of Rejection, Self Rejection, Poor in Spirit, Pride - Ego - Vanity, Double Mindedness, Roots of Rejection, Ahab Jezebel Complex, Destruction of Family Priesthood, Dominance, Homosexuality, Lesbianism, Rebellion, Withdrawal, Overpermissive, Too Harsh, Lying, Guilt, Distrust, Inability to Communicate, Witchcraft Control, Ugliness, Schizophrenia, Anger, Rejection from the Womb, Smoking, Drinking, Dementia Praecox, Instability, Agony, Inability to Give or Receive Love, Insecurity, Inferiority, Fantasy, Unreality, Sexual Perversion, Frustration
Passive-Aggressive Behavior, Lack of Confidence, Repression, Co-Dependency, Ignominy, Disappointment " Guilt, Anti-Social Disorder, Vexation, Introversion, Inhibition, Lashing Out, Abuse of Self " Others, Dysfunction, Projection, Addictions, Sex for Love, Depression, Emotional Instability, Anger, Bitterness, Intense Emotional Pain, Shame, Anxiety, Over-Compensation, Negativism, Dejection, Sadness / Crying, Work-A-Holism, Eating Disorder, Over-Sensitivity, Fear, Afraid to be Alone, Hysteria, Mistrust, Humiliation, Grief, Intensive Emotional Pain, Over-Protection, Overweight, Oppression, Eating disorders, Suicide, Isolation, Betrayal, Torment, Emotional Trauma, Feelings of Rejection, Phobia, Loneliness, Emptiness, Neurosis, Grandiosity, Abandonment, Social Isolation, Emotional Victimization, Deception, Psychological Victimization, Denial, Hopelessness, emotional Callousness, Murder, Bashfulness, Disrepute,
Disesteem, Discredit, Worthlessness, Insignificance, Disgrace, Emotional / Psychological Rape, Perversions, Need for Approval / Validation, Dishonor, Suspicions, Post-traumatic Stress Disorder, False / Non-Expectations, Discrimination, Segregation, Exile, Eviction, Scorn, Shun, Ignore / Neglect, Insecurities, Disapproval, Repudiation, Comparison, Favoritism, Dysfunctions, Feeling of Not Being Wanted, Justification of Inappropriate Word / Behavior, Nobody Loves Me Syndrome, Sabotage of Relationships / Organization / Self / Purpose / Destinies, Low Self-Worth, Self: Pity, Depreciation, Consciousness, Fulfilling Prophecy.
Bitterness
Bitterness, Resentment, Hatred, Unforgiveness, Violence, Temper, Anger, Retaliation, Murder, Root of Bitterness, Failure To Forgive, Arthritis, Cancer, Schizophrenia, Mind Binding, Memory Loss, Recall, Broken Relationships.
Rebellion
Rebellion, Disobedience, Self-will, Stubbornness, Anti-submissiveness, Greed, Lying, Hate, Evil Control of Others, Destruction, Unrighteous Judgement, Subversion, Rock Music, Resistance, Christian Rock, Interference, Deceit, Friction, Trickery, Repulse, Betrayal, Defiance, Pride, Aggressiveness, False Love, Scorn, Arrogance, Sorcery, Conniving, Seduction, Confusion, Sullen Masculine Women, Taking Tranquilizers, Effeminate Men, Taking Drugs, Insecurity, Restless, Frustration, Witchcraft, Depression, Unholy Sex, Doubt, Evil Plotting and Planning
Haughtiness, Independence, Segregation, Wrath, Separatism, Obstinacy, Insubordination, Defensiveness, Vanity, Strife, Conceit, Loftiness, Non-Compliance, Contempt, Recalcitrance, Unruliness, Waywardness, Rejection of Authority, Defiance, Sedition, Disdain, Selfishness, Self: Centeredness, Importance, Righteousness and Protection.
Schizophrenia
Schizo; Damnable Seed; Double Mindedness; Mental Illness
Rejection - Lust, Fantasy Lust, Perverseness, Jealousy, Paranoia, Depression, Suicide, Guilt, Pride, Vanity, Loneliness, Fears, Attention Seeking, Inferiority, Harlotry, Unfairness, Withdrawal, Fantasy, Daydreaming, Timidity, Shyness, Sensitivity, Chattering, Nervousness, Vivid Imaginations, Fear Of Germs, Frustration, Impatience, Inordinate Affection For Animals, Intolerance, Insanity, Tension, Fear Of People, Compulsive Confession, Envy, Fear Of Judgment, False Compassion, Fear Of Rejection, False Responsibility, Despondency, Despair, Discouragement, Hopelessness, Condemnation, Unworthiness, Shame, Perfection, Ego.
Rebellion - Fear, Accusation, Selfishness, Pride, Hatred, Resentment, Violence, Murder, Memory Recall Loss, Disobedience, Paranoia, Suspicion, Distrust, Persecution, Confrontation, Projection, Stubbornness, Anger, Root Of Bitterness, Judgmental, Unteachableness, Control, Possessiveness, Unforgiveness, Retaliation, False Beliefs, Anti-Submissiveness.
Self - Pity, Awareness, Rejection, Accusation, Will, Deception, Delusion, Destruction.
COMMON DEMON GROUPINGS
BITTERNESS Accusation Passivity
Resentment Judging Funk
Hatred Criticism Indifference
Unforgiveness Faultfinding Listlessness
Violence Lethargy
Temper REJECTION
Anger Fear of Rejection Depression
Retaliation Self-Rejection Despair
Murder Despondency
Insecurity Discouragement
REBELLION Inferiority Defeatism
Self-will Self-Pity Dejection
Stubbornness Loneliness Hopelessness
Disobedience Timidity Suicide
Anti-Submissiveness Shyness Death
Inadequacy Insomnia
Strife Ineptness Morbidity
Contention
Argument Jealousy Heaviness
Quarreling Envy Gloom
Fighting Suspicion Burden
Distrust Disgust
Control Selfishness
Possessiveness Worry
Dominance Withdrawal Anxiety
Witchcraft Pouting Fear
Daydreaming Dread
Retaliation Fantasy Apprehension
Destruction Pretension
Spite Unreality Nervousness
Hatred Tension
Sadism Escape Headache
Hurt Indifference Nervous Habits
Cruelty Stoicism Restlessness
Passivity Excitement
Sensitiveness Sleepiness Insomnia
Self-Awareness Alcohol Roving
Fear of Man Drugs
Fear of Disapproval Sexual Impurity
Perfection Lust
Persecution Pride Fantasy Lust
Unfairness Vanity Masturbation
Fear of Judgment Ego Homosexuality
Fear of Condemnation Frustration Lesbianism
Fear of Accusation Criticism Adultery
Fear of Reproof Irritability Fornication
Sensitiveness Intolerance Incest
Anger Harlotry
Mental Illness Rape
Insanity Competition Exposure
Madness Driving Frigidity
Mania Argument
Retardation Pride Cults
Senility Ego Jehovah's Witnesses
Schizophrenia Christian Science
Paranoia Impatience Rosicrucianism
Hallucinations Agitation Theosophy
Frustration Urantia
Paranoia Intolerance Subud
Jealousy Resentment Latihan
Envy Criticism Unity
Suspicion Mormonism
Distrust False Burden Bahaism
Persecution False Responsibility Unitarianism
Fears False Compassion Lodges, societies
Confrontation and social agencies
Grief using the Bible and
Confusion Sorrow God as a basis but
Frustration Heartache omitting the blood
Incoherence Heartbreak atonement of Jesus
Forgetfulness Crying Christ
Sadness
Doubt Cruelty Occult
Unbelief Ouija Board
Skepticism Fatigue Palmistry
Tiredness Handwriting Analysis
Death Weariness Automatic Handwriting
Laziness
Indecision ESP
Procrastination Infirmity Hypnotism
Compromise (May include Horoscope
Confusion any disease Astrology
Forgetfulness or sickness) Levitation
Indifference Fortune Telling
Inheritance Water Witching
Self Deception (Physical) Tarot Cards
Self-Delusion (Emotional) Pendulum
Self-Seduction (Mental) Witchcraft
Pride (Curses) Black Magic
White Magic
Mind Binding Hyperactivity Conjuration
Confusion Restlessness Incantation
Fear of Man Driving Fetishes
Fear of Failure Pressure Etc.
Occult Spirits
Spiritism Spirits Cursing Religious
Blasphemy Ritualism
Mind Idolatry Course Jesting Formalism
Intellectualism Gossip Legalism
Rationalization Criticism Doctrinal Obsession
Pride Backbiting Fear of God
Ego Mockery Fear of Hell
Belittling Fear of Lost Salvation
Fears (All Kinds) Railing Religiosity
Phobias (All Kinds) Etc.
Hysteria Addictive "
Compulsive Spiritism
Fear of Authority Nicotine Seance
Lying Alcohol Spirit Guide
Deceit Drugs Necromancy
Caffeine
Pride Medications False Religions
Ego Gluttony Buddhism
Vanity Taoism
Self-Righteousness Gluttony Hinduism
Haughtiness Nervousness Islam
Importance Compulsive Eating Shintoism
Arrogance Resentment Confucianism
Frustration Etc.
Affectation Idleness
Theatrics Self-Pity Covetousness
Playacting Self-Reward Stealing
Sophistication Kleptomania
Pretension Self Accusation Material Lust
Self-Hatred Greed
Self-Condemnation Discontent
MAIN LIST OF SEXUAL DEMONS
Soul Ties
Unnaturally Close Friendships, Blood Covenants, Covenants, Promises, Allegiances
Lust
Inordinate Affections: Excessive, Disorderly, Unregulated, Immoderate
Obscene: Carnal and Voluptuous Senses and Appetites
Rock, Country, Blue Grass, Melancholy Music
Poetry, Art, Literature and Media
Lust, Passions, Fantasy Lust
Worship of Sex
Divers Lusts, Lust of Eyes, Lust of Flesh
Lustfulness
Vain Imaginations
Unrestrained Passions and Lusts
Material Lust
Food Lust
Sex Dreams
Burning with Lust
Selfishness
Selfishness, Lovers of Pleasure, Loss of Self Confidence
Self: Conceit, Protection, Pity, Reward, Awareness, Condemnation, Hatred, Gratification, Other spirits in the Self Family
Sex With Demons
Succubus, Incubus, Fondling Hands, Caressing Hot Lips, Occult Sex, Sex Orgies
Satan Worship
Pornography
Pornography, Child Pornography, X-Rated Movies, Obscene Jokes, Pornographic Channels, Pictures and Books
General
Fornication
Adultery (Also Marriage To Divorced Person)
Masculine Women, Lesbianism
Effeminate Men, Homosexuality
Evil Concupiscence
Lasciviousness, Lewdness, Lewd Emotions
Filthy Language: Obscenity, Blasphemy, Profanity
Masturbation
Abortion, Murder, Killing, Death
Ahab, Jezebel
Exposure, Uncleanness, Perversion
Pride, Ego, Vanity
Sexual Fantasies and Activities, Flirting
Nymphomania, Masochism
Immorality, Prostitution, Harlotry, Whore, Whoredom
Incest, Bastard
Rape, Fondling, Voyeurism
Bad Dreams, Bestiality
Deviation, Depravity
Frigidity, Impotence
Rage, Fear, Anxiety, Debilitating Guilt, Menopause
Manic Depression, Schizophrenia, Exhibitionism, Dementia
Domination, Control, Promiscuity
Shame, Insecurity, Hurt, Victim, Suicide
Cruelty, Hardness, Hate, Harshness, Unscrupulousness
Insanity, Degenerate Mind, Carnal Mind
Idolatry
Distrust, Lost Respect for Mate, Deceit
Indisciplined
Enmity Towards God, Works of Darkness, Mockery
Spiritually Dwarfed Manhood and Womanhood
Defiled, Degraded, Violated
Sexual Bargaining, Married Prostitute and Pimp
Fear of Homosexuality and Lesbianism
Love of Sex, Power and Money
Child and Adult Sexual Molestation
Abnormal and Deviate Sex and Impurities
Depraved Manners, Morals and Character
Subliminal Messages, Sub-audio Suggestions
Alcohol and Drugs
Ignorance, Irresponsibility, Boredom
Doubt, Condemnation, Pressure
Lewdness, Uncleanness, Sexual Liberty
Whore, Prostitute, Harlot, Sex Slave
Enviousness, Jealousy, Cheating
Deficient Thinking
Evil Companionship and Conversation
Useless, Putrid
Lack of Concern, Indifference
Masturbation
Paraphiliac, Rape, Bestiality, Exhibitionism, Fetish Objects
Debilitating Guilt
Abusers of themselves with mankind: Catamites, Arsenokoites and Sodomites; Oral and Anal Sex, and other related demonic families of sexual sins and diseases
ABNORMAL SEXUAL BEHAVIOR
Abnormal
Homosexuality, Bisexual, Transsexual, Transvestite, Gay, Lesbian, Masturbation, Bisexuality, Prostitution, Voyeurism, Exhibitionism, Fetishism, Sexual Fetishism, Zoophilia, Sexual Sadism, Sexual Masochism, Necrophilia, Klismaphilia, Lewdness, Telephone Scatologia, Urophilia, Apotemnophilia, Coprophilia, Coprophagia, Pedophilia, Toucheurism, Frotteurism, Sexual Asphyxia, Rape, Gerontophilia, Pyromania, Bestiality, Air Embolism, Aspiration of Semen
Homosexual
Buggery / Anal Intercourse
Occasional / Exploratory Homosexual
Situational / Deprivation Homosexual
Facultative / Latent Homosexual
Peer / Compulsive Homosexual
Bondage, Flagellation, Weapon Worship, Going in Drag, Fairy Hawk, Fairy Flats, Dream Boat, Dirt, Gay Dirt, Dykes, Butch, Ma'chis'mo, and other related demons and their works.
COMMON BONDAGE BETWEEN VARIOUS CULTS
Denying THE DEITY OF JESUS CHRIST and THE HOLY SPIRIT, Perverse Spirit, Lying Spirit, Spirit of Error, Seducing Spirit, Spirit of Divination, Initiatic Ties, Pride, Hermes, Pythoness, Occult Power, Agreements
VOODOO AND AFRICAN
Witchcraft And Occult
Witchcraft, Voodoo, Occult, Curses, Superstitions, Hoodoo, Root Working, Love / Lust Magic, Black Magic, Conjuring, Spiritual Baths, Spiritual Anointing, Special Prayers, Seal of Moses, Burning Candles, Casting A Spell, Breaking A Curse, Attraction Oil, Mind Control, False Love, Lust, Binding Emotions, Lover's Oil, Tying Up Sex / Nature, Sorcery, Aphrodisiacs, Lover's Powder, Witch's Ball Charm, Bondage, Binding Curse, Curse To The Seventh Satanic Power, Incantations, Jinx Your Lover, Seven Knots Spells, Seven Day Candles, Master of Love, Chicken Charm, Magic, Control, Demonic Soap
American Voodoo
Rituals: Conjure Bag Spirits, Dr. Buzzard Spirits, Graveyard Dust Spirits, Voodoo Candle Burning, Conjure Doctor Spirits, Conjure Man Spirits
Witchcraft and Voodoo: Black Voodoo, Witchcraft, Crossroads, African Voodoo Spirits, Haitian Voodoo Spirits, Southern Voodoo Spirits, Python Serpent Spirits Of Voodoo, Voodoo Fire Walking Spirits, Hoodoo Spirits, Voodoo Spirits, Sickness By Voodoo, Death Spirits Of Voodoo, Fear Of Voodoo Spirits, Spirits Of Superstition, And Voodoo, Witchcraft And Voodoo Icing.
African, Haitian And Black Voodoo
zombie, magic, charge, crossed X, roots, tody or hand
graveyard dust spirit, familiar spirit, spirit of the tree, jerking, twitching, spasms, shaking, confusion, superstition, veil over eyes
psychic prayers, sorcery, divination, bibliomancy, idolatry, mind control, occult mind control, divination, evil soul ties, hoodoo
witchcraft and voodoo icing, voodoo dancing, sickness by voodoo, fear of voodoo, death ritual, fear, death spirits of voodoo, drums, serpents and pythons
false dreams and visions, false prophesy, false gifts, false inherited gifts of THE HOLY SPIRIT, false praise, false worship, false holy dance, false shouting, false dancing in THE HOLY SPIRIT, false voodoo tongues, false baptism of fire, false voices, false preaching spirits, false rocking backward and forward
dance, pain, Dr. Buzzard, burning in the stomach called THE HOLY GHOST
fire walking creole curses, curse of roots, family line curse of voodoo, curse of seeking help from voodoo or witchcraft workers
love potions, nine day tea, potions of any kind, roots in love or lust potions, fetishes, love spells, beauty rock conjurations, conjure balls, voodoo candle burning, charms, rosary, burning candles
AFRICAN
fluctuating between joy and sorrow, black witchcraft, white witchcraft, blind witchcraft, bewitchment, witchcraft, spirits that misinterpret THE WORD, serpentine, marine, sea horse, water, python, leviathan, mermaid, goat, voodoo, juju, obia, crab, viper, poverty, immorality, seduction, talisman, fortune telling, astral gemstone, crystal ball, shadow reading, tarot card, ouija board, always wanting to eat, sleep walking, talking to yourself on the street, immorality, drugs, alcohol, chronic depression, fatigue, confusion, emptiness, accidents, disorientation, affliction, cage of poverty, material adversity, DNA bondage, soul ties, jealousy, divination, Jezebel, whoredom, seduction, murder, idolatry, vices, manipulation, domination, idolatry, ancestral worship, sexual sin, spiritual fornication, palm reading, reincarnation, sorcery, divorce, quarrelling, immorality, fibrosis, barrenness, promiscuity, failure in GOD's work, spiritual harassment, hypocrisy, deceit, fear, double mindedness, worry, anger, hatred, bitterness, resentment, deception, lies, infertility, covetousness, occultism, sexual perversions, addictions, reading stars, palmists loss of self control, reputation and position and related spirits
NIGERIAN
casting spells and curses, shedding innocent blood, psychic, witchcraft, seeking forbidden knowledge, cults, demonic societies, drinking blood, consumption of witch doctor material, pride, murdering the innocent, false humility, abominable filth, bloody covens, lies, robberies, witchcraft lancing, prostitution, cannibals, ensnarement, allegiance to spirit masters, water spirit cults, cutting the body, palm reading, spiritual husband or wife (demon marriage), reincarnation, sorcery, dedications, covenants, marriages, vows, promises, blood guiltiness, satanic priesthood, tokens of covenants, lack of knowledge, weak spiritual foundation, spiritual blindness, lack of communication with GOD, traditions, false religions, heresies, evil thoughts, worry, fear, infirmities, sicknesses, deception, materialism, accursed things, dedication to marine spirits, sacrifices, ancestral covenants, libation, occultic practices, presented to the sun, dedicated to gods, occultism, sexual perversions, addictions, cosmic powers, palmists, native doctors, idols, altars rituals and manipulations and related practices
SANTERIA AND OTHER
Types
Santeria, Macumba, Voodoo, African Nature Spirits, Obeah (African Magic), Creole Voodoo, Witchcraft, Vodun Spirit, Caribbean Folk Religion, Loa, Zombie, Spiritism, Demon Cult, Zombis, Shamans, African/Catholic hybrid religion, Juju, Egyptian Magic Current.
Deities / Gods / Goddesses
Old spirits, Old Hawaiian, Peel (Volcano), Buddha, Mystic God Kings, Allah (Islam), Mayan Aztec, Toltec, Apollo, Zeus, Ashtar, Ashoreth, Ashtoreh, Istar, Astar.
Various
Black Mass, Mae de Santo (Cult Mother), Queen of Darkness, Queen of Black Witches, High Priestess, Black Witch, Satanists, Vampire, Spiritist.
Practices
child and adult sacrifice, sadistic and masochistic excesses, making objects appear and disappear, incubus and succubus (marriage to demons), drinking blood of children, cannibalism, black magic, criminal spiritism, devil worship, exhuming fresh graves, insanity, dancing in the nude, sex orgies, lesbianism, homosexuality, , levitation, killing birds in flight, apport or demonstration of powers, walking through a great bonfire, vampirism, demonic possession, drunkenness, necromancy and bestiality.
BIBLICAL CURSES
Pestilence, Idol Worship, Graven Images, Consumption, Bastard, Pride, Fever, Wicked Balances, Catholic Prayers, Inflammation, Dislike / Hatred / Murder, Prince of Southern Curses, Extreme Burning, Curse of the Law, Prince of Occult, Blasting, Bless You Spirits, Witchcraft Curses, Mildew, Incest, Voodoo Curses, Botch of Egypt, Lesbians, Occult Curses, Emroids, Necromancers, American Indian Curses, Scab, Blaspheming, Charismatic Witchcraft, Itch, Sodomy, Horoscopes, Madness, Oral and Anal Sex, Rebellion, Blindness, Slackness, False Prophets, Astonishment of Heart, Deeper Teachings, Seances, Plagues, Irish Shamrock Hex, Fortune Telling, Sore Sicknesses, Fertility, Nonproductivity, Diseases of Egypt, Deceiving, Personal Poverty, Trembling of Heart, Adultery, Misrepresentation, Failing Eyes, Disobedience, Perversion of Judgment, Sorrow of Mind, Cursed Objects, Doubt, Broken Vows, Thievery, Homosexual, Unicorn, False Swearing, Tulip, Twelve Petal Rosette, The Distelfink, Your Lucky Stars, Love and Romance, Eight Pointed Star, Friendship Hex, Pentacle / Pentagram, Eastern Star, Hexagram, Star of David, Mogen David, Cabalistic Magic Symbol, White Magic, Masonic Symbols, Freemasonry, Italian Horn, Leprechaun's Staff, Unicorn's Horn, Egyptian Ankh, Egyptian Sun God RA, Zodiac, Mexican Sun God, Buddhas, Crescent Moon and Star; Cursing, Vexation, Rebuke, Destroying, Perishing, Consuming, Groping; Not Prospering, Oppressed, Spoiled, Failure, Crushed, Smite, Pursuing; Sore Botch of Knees, Legs and Whole Body; Overtaking, Distress, Plucked, Chastisement, Removed, Not Healed; Astonishment, Proverb, Byword, Want, Besiege, Straitness, Evil.
AFRICAN AMERICAN CURSES
General
Drug addiction, fear, envy, murder, control, physical abuse, frozen psychic, demonic independence, mental weakness, lynching spirit, vigilante spirit and related spirits, distrust, meanness, spitefulness, physical abuse, unfaithfulness, control, disobedience, adultery, fornication, alcoholism, murder, hate, horoscopes, Eastern Star, Islam, hypocrisy, and Masonry.
Various
false self-respect, power, dignity and confidence; evil soul ties, sins of ancestors; word curses, desire for ungodly power and control, lack of family commitment or commitment to relationships, failure to thrive, forced submissiveness, loss of sons, blind justice, unworthiness, son of Belial, lack of peace, drive by killings, prison bars, slave labor, prejudice, racism,
divorce, misplaced and misguided desires, drug sales, poor responsibility and accountability, emotional hurricane, deep sorrow, souls for sale, false prosperity, lack of trust, betrayal, invisibility, pretty children, gold dust,
tradition, gambling spirit, divorce, broken marriages, families in rebellion, intimidation, unsaved children and teenagers, loneliness, rejection from the main steam culture, rejection from our spouses, wicked thoughts,
stealing others' reputations, coveting, slander, gossip, maliciousness, unholy affections. hurt, sorrow, racist, ungodliness, oppression, temper outburst, refusal behaviors, disgust, failure, beating, lynching, abandonment,
loneliness, self-destruction, multiple personalities, double mindedness, schizophrenia, disassociation, pride (Leviathan, strength in his neck), lack of ability to give or receive love, animal spirits, aggression, hollowness, hunger, abduction, kidnap, unbelief, unproductiveness, rage, self-serving spirits, deception, ugly spirit, arrogance, vain imaginations, fits of rage,
acrimony, unpleasantness, sullenness, animosity, hostility, provocation, vexation, grief, sorrow, upheaval, insurgence, mutiny, revolution, contentiousness, disputing, stubborn-headed, rebellious attitude against GOD, defiance, accepts no correction, provoking rejection, stiff-nakedness,
overthrowing, destructive, convulsive, resistive, interfering, friction withstanding, repulsiveness, aggression, daring, scornfulness, confusion, division, ridicule, tension, hurt, insults, frustration, disgust, insecurity, difficulty learning, discord, selfishness, doubt, inability to achieve, fake sickness, hypochondriacs, domination
Sex
rape, birthing illegitimate children, teen pregnancy, prostitution, men sharing, women sharing, low morals, lust not love, barrenness, bastard, flirting, sexual sin, abortions, sexual abuse of children, perversion, homosexuality, seduction, fornication, abuse and rape of women, power in the penis (Behemoth, strength in his loins), sexual promiscuity, adultery, fornication, incest, lust, sodomy, pornography, lesbianism, sex toys, oral sex, anal sex, bestiality
Death
death, destruction, Abaddon, Apollyon, suicide, abortion, murder and other crimes, death sentence, early death
Religion
false prophesy, wealth or prosperity; false doctrine, abuse of scripture; spiritual status, false prestige, preacher's whoop / squall, smooth talking, power of persuasion, domination, manipulation and control, straddling the fence, charmer, spiritual ambitious, lack of accountability, compromise, cover-up, attitude of superiority, verbal and physical abuse, spiritual weakness, vain arguments, profane fictions, abuse of titles, silly myths,
irreverent babble, godless chatter, demonic intercessory prayers, Rastafarianism, village shrine rituals, worship and open relationship with the dead, Orisa Worship (Yoruba), Voodoo (Vodun), ancestor reverence and worship, Religion (magic and healing), spiritualism, witchcraft, nature worship, incense burning, psychic prayers, spirit possession, abuse by men of the cloth, idolatry, Islam, church splits
Addictions
addictions (drugs, cigarettes, alcohol, prescription drugs, gambling, excessive spending), self-destruction through use of substances to hide pain, obesity (overweight, love for food, gluttony, overeating, I'm Fat spirit)
Slavery
slavery, spirits of fear, distrust, envy, murder, control, physical abuse, frozen psychic, demonic independence, mental weakness, lynching spirit, vigilante spirit and related spirits.
Black
down playing or hatred of African features (hair, nose, mouth, skin color), black hatred, hatred for Whites, darkie, blackie, Black pride, African pride, unlawful transfer of property belonging to Blacks, lack of inheritance, poverty, spirits of distrust, meanness, spitefulness, physical abuse, unfaithfulness, control, disobedience, adultery, fornication, drug addiction, alcoholism, murder, hate, horoscopes, Eastern Star, Islam, hypocrisy and Masonry.
Occult
black, white and candle magic, roots, Dr. Buzzard, oils (potions, powders, incense), dream books, numerology and other forms of divination, dreams, incantation, superstition, occult, Herbal Medicine, divination, sorcery, mediumship, necromancy, kinship and royal rituals, ancestral intervention, reincarnation
Tongues
full of trouble, sin, mischief and iniquity, tongue of strange woman and of the serpent, viper's, flattering, smooth, slandering, deceitful, sharp, proud, lying, false, backbiting, stammering, crafty, confused, striving, devises mischief, full of adder's poison, froward, naughty, perverse, evil fire, double
Matriarchal
matriarchal hierarchy due to absence of men in spirit and/or body, matriarchal headed homes, absent fathers, improper family structure, improper male / female relationships, improper alignment, Jezebel and Ahab spirits
BODY CURED AND HEALED
Deuteronomy 28 Diseases
ALL DISEASES OF EGYPT AND, EVERY SICKNESS AND EVERY PLAGUE IN BOOK OF LAW: confusion, destruction, perishing, plague, pestilence, sickness, death, consumption (wasting disease), fever, inflammation (blood poisoning), extreme burning (high fever), madness (encephalitis), pestilence,, eye trouble from dust, asthma, emphysema, heart trouble, botch (skin ulcers and boils), itch, scurvy, pellagra, beriberi, psoriasis, madness, blindness, astonishment of heart (terror, amazement), tumors, hemorrhoids, eye and heart fail waiting for their return, destruction (crushed), madness, boils, ulcers (from top of head to sole of feet), impetigo, eczema, astonishment, destruction, distress, wonderful plagues, plagues on children, long chronic illness, no rest, fearful, terror, blindness, depression, heaviness, fear of death, no assurance, fretting and worry always, constant danger
Biblical Diseases
Ague, Blains, Boils, Blemish, Blindness, Botch, Broken-Handed, Broken-Footed, Bruises, Canker, Crook-Backed, Dropsy, Dwarf, Emerods, Flat Nose, Flux, Gangrene, Halt, Impotent, Infirmity, Inflammation, Issue, Itch, Lameness, Leprosy, Lunacy, Madness, Maimed, Murrain, Palsy, Pestilence, Scab, Scale, Scurvy, Sores, Wen, Withered, Worms, Wounds
Princes, Kings " World Rulers
Accident, Accident Prone, Bone Breaker, Back Breaker, Traumatic Shock
Paralysis
Crippling, Deformity, Atrophy, Depression, Discouragement, Hopelessness, Despair, Suicide, Death, Affliction, Spinal Cord Scar Tissue
Roots of Infirmity
Shame and Embarrassment, Rebellion " Idolatry, Grief, Troubled Will in Conflict, Resentment " Envy, Disobedience, Curse of Jezebel, Vanity " Pride, Curse of the Law, Acupuncture " Acupressure, Witchcraft " Occult, Envy " Jealousness, Hypnotism " Demonism, Taoism " Pantheism, Reincarnation, Astrology, Psychic Healing, Spiritualistic Healing, Hate, Metaphysical Healing, Occult Healing
Ailments
Kidney Stones, Kidney Failure, Kidney Infection, Kidney Panic, Tooth Decay, Christian Science Healing, Traumatic Shock, Leukemia, Cancer of Bone, Traumatic Death, Tuberculous of Bone, Acne, Carbuncles, Skin Cancer, Menstrual Cramps, Diarrhea, Colitis, Cancer of Bowels, Eye Trouble, Bowel Upset, Cancer, Hernia, Heart Disturbances, Melancholy (sadness), Scalp Ailments, Falling Hair, Restlessness, Inability to Sleep, Aimlessness, Futility, Pestilence, Consumption (T.B.), Fever, Inflammation, Botch (boils), Madness, Emerods (Hemorrhoids), Blindness, Encephalitis, Schizophrenia, De la Touretts Syndrome, Polio, Huntington's Cholera, Muscular Sclerosis, Stroke, Scab (measles, small pox), Spinal Meningitis, St. Vita's Dance, Blasting (prevents growth), Scoliosis, Brutishness (unteachable ignorance), Female Cancer (uncontrollable body odor), Heart Attack (astonishment of heart), Venereal Disease (inflammation of a fungus infection in sex organs)
ORGANS AND SYSTEMS
We thank you for healing our bodies as the spirits are cast out. We command the spirits to come out of each organ and system of the body in THE NAME OF JESUS CHRIST:
BLOOD Blood Cells And Platelets, Plasma, Bone Marrow, Spleen, Thymus
CARDIOVASCULAR Heart, Blood Vessels (circulatory, conduction, impulse conducting, portal, vascular)
DIGESTIVE Mouth, Esophagus, Stomach, Small And Large Intestines, Rectum, Anus, Liver, Gallbadder, Pancreas, Appendix (gastrointestinal, alimentary)
ENDOCRINE Thyroid, Parathyroid, Adrenal, Pituitary, Pancreas, Stomach, Pineal, Ovaries, Testes
HEMATOLOGIC (hematopoietic)
IMMUNE
INTEGUMENTARY
ORGANS (chromaffin, cytochrome, hypophyseoportal, microsomal ethanol oxidizing, reticuloendothelial)
LYMPHATIC (lymphoreticular)
MUSCULSOKELETAL Muscles, Tendons, Ligaments, Bones, Joints (muscular, estrapyramical motor)
NEUROLOGIC (brain, spinal cord, nervous, autonomic, central, parasympathetic, peripheral, sympoathetic, vasomotor, vegetative, visceral efferent)
PULMONARY
RENAL
MALE REPRODUCTIVE Penis, Prostate, Seminal Vesicles, Vasa Deferentia, Testes (genital)
FEMALE REPRODUCTIVE Vagina, Cervix, Uterus, Fallopian Tubes, Ovaries (genital)
RESPIRATORY Nose, Mouth, Pharynx, Larynx, Trachea, Bronchi, Lungs (pulmonary)
SKELETAL (haversian, osseous)
SKIN Skin (integumentary)
SUBSYSTEMS
URINARY Kidneys, Ureters, Bladder, Urethra (urologic, urogenital)
Amen
SPIRITUAL ROOTS OF DISEASE
General
Various: genetically inherited disease, manic depression, paranoid schizophrenia, Jungian psychology
Depression: anxiety attacks, use of Prozac and other drugs
Bitterness: anger, hatred, unforgiveness, resentment, retaliation, violence, murder
Specific
Various: scoliosis, sciatica, epilepsy, attention deficit disorder, immune system, Chrons' Disease, ulcerative colitis, diabetes (autoimmune disease), lupus, multiple sclerosis, rheumatoid arthritis, autism, Parkinson's Disease, addictions, masturbation, Alzheimer's Disease, cholesterol, shingles and hives, rosacea, acne, ovarian cysts, breast cysts, systolic acne, endometriosis, herpes, viruses, osteoporisis, spondylolysis, degenerative disc disease, alcoholism, psoriasis, skin diseases, sinus infections, PMS, fibromyalgia, sleep disorders, multiple personality disorder, migraines, allergies, mitral valve prolapse, reflux, CFS (chronic fatigue syndrome), parasites, irritable bowel syndrome, colic, flu, Sjogren's Syndrome, panic attacks, phobias, hypoglycemia, hyperglycemia (diabetes), hypothyroidism (Hashimoto's Disease), hyperthyroidism (Graves' Disease)
Cancer: colon, skin, liver, breast, ovarian, uterine, Hodgkin's Disease, leukemia, prostate
Arthritis: involving inflammation of the joints, osteoarthritis
Nonbacterial Inflammation: interstitial cystitis, prostatitis
Cell Wall Rigidity: asthma, angina pectoris, hypertension (high-blood pressure), toxic retention
Addictive Personality: weight, anorexia and bulimia
Fear, Anxiety and Stress
MCS/EI: multiple chemical sensitivities / environmental illness, power of the tongue
Endocrine System
Limbic System: general adaptation syndrome (GAS), general adaptation syndrome of fear, anxiety and stress
Cardiovascular System: angina (pain), high-blood pressure (hypertension), heart arrhythmias, mitral valve prolapse (heart valve disease), coronary artery disease, strokes, diseases of heart muscle from inflammation, aneurysms, varicose veins, hemorrhoids, thrombophlebitis (vein inflammation)
Muscles: tension headaches, muscle contraction backache
Connective Tissue Disease: rheumatoid arthritis
Related Inflammatory Diseases of Connective Tissue: prostatitis, interstitial cystitis
Pulmonary System: asthma (called hypersensitivity reaction), hay fever
Immune System: immunosuppression or deficiency, autoimmune diseases
Gastrointestinal System: ulcers, irritable bowel syndrome (IBS), diarrhea, constipation, nausea and vomiting, ulcerative colitis, malabsorption (leaky gut)
Genitourinary System: diuresis, impotence, frigidity
Skin: eczema, neurodermatitis, acne
Endocrine System: diabetes mellitus, amenorrhea
Central Nervous System: fatigue and lethargy, Type A Behavior, overeating, depression, insomnia
Sexually Transmitted Diseases
Related Venereal Diseases: Insanity, Endocarditis, Staggering Gait, Weil's Disease, Soft Chancroid, Heart Disease, Granuloma Inguinal, Ulcerative Lesions, Yaws, Bejel, Mumps, Pinta, Venereal Lympogranuloma, Relapsing Fever, Tropical Ulcer, Rat-Bite Fever
Gonorrhea: Pelvic Inflammatory Disease, Blindness, Oral and Anal Sex, Anal Gonorrhea, Pelvic Inflammatory Disease (PID)
Chlamydia: Urethritis, Cervicitis, Epididymitis, Pelvic Inflammatory Disease, Conjunctivitis, Sterility, Nonspecific Urethritis, Rectal Infections, Infertility
Genital Warts: Human Papilloma Viruses (HPV), Cervical Cancer, Penile Warts
Acquired Immune Deficiency Syndrome: AIDS, HIV, ARC, PCP, Pneumonia, Meningitis, Herpes Simplex, Intravenous Drug Users, Addicts, Hemophilia, Homosexual and Bisexual Men and Sex Partners, Blood Transfusions, Candidiasis, Viral Infections, Kaposi's Sarcoma
Syphilis: Homosexual and Bisexual Men and Sex Partners, Heterosexuals, Chancre (Shanker), Paralysis, Senility, Blindness, Congenital Syphilis
Genital Herpes: Cervical Cancer, Prostatic Cancer
Vaginitis: Fungal Vaginitis, Hemophilus, Gardnerella
Other Sexually Transmitted Diseases: Body Lice and Mites, Vaginal and Urinary Tract Infections
Hepatitis: Viral Hepatitis, Homosexuality, Liver Cancer
Intestinal Parasites: Spirochetal Infections
Sexual Dysfunctions and Injuries
Premature Ejaculation, Impotence, Retarded Ejaculation, Erectile Dysfunction, Anorgasmia, Dyspareunia, Prolapse, Endometriosis, Ovarian Tumors, Vaginisumus, Accidents, Structural Damage, Deformities, Hormonal Abnormality
Black Infirmity
infirmity, high blood pressure, heart disease, arthritis, lupus, cancer, stroke, hardening of arteries, mental illness, worry, pandemonium, anxiety, pharmakeia

JESUS IS THE DELIVERER