THE BLOOD OF JESUS CLEANSES YOU FROM ALL SIN AND GUILT (1 JOHN 1:7). JESUS IS THE DELIVERER!!

DEMONBUSTER.COM
DELIVERANCE MANUAL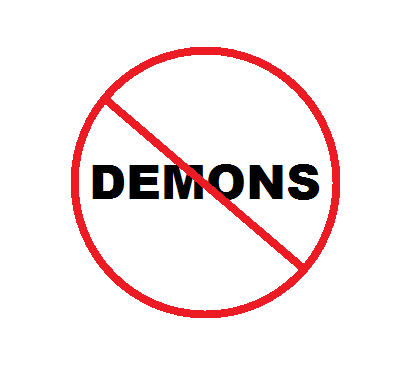 NO DEMONS ALLOWED

PARTAKER OF THE DIVINE NATURE

FROM ANOTHER MINISTRY
"The mature nature of our recreated spirit comes forth only as we feed it on the Word of God, allowing the Word to become a part of us. Insomuch that we and the Word are one. To be a partaker of the divine nature as set forth in II Peter 1:3-4, is to feed or partake of the Word of God. God's Word is His nature. God and His Word are the same. We can not separate God from His Word. Notice, II Peter 1:3-4 states: "He hath granted unto us His exceeding great and "Precious promises" (that's God's Word) "that through these (His Word promise to us) we might become partakers of the divine nature. God's very own spiritual, eternal-life nature? The Word of God--His Word is life, wisdom, holiness, power, health and healing, redemption, prosperity, strength, stability, etc. It is important to emphasize that this is possible only by feeding on the Word of God. As we feed on His Word, in some supernatural way, it changes us. It builds into us the same quality of nature and character that was seen in the life of JESUS. It is important that we understand that this is not something that happens to us automatically, just because one day we opened our hearts and invited JESUS in to be our Savior. This was only the beginning of our new life in the Spirit. II Tim 4:6-8 instructs us to exercise ourselves in the word's of faith and good teaching. There are some things in which God says "you do it," "you nourish yourself, I have provided the food, now you feed on it." It is our recreated human spirit that the Word of God is unveiled to us. So be exercised in the Word until that Word saturates our inner-being, establishes us, makes us master DELIVERERS from demon spirits and allows us to dominate the circumstances around us. The authority of the Word of God in the mouth of a "Word-person" is absolutely unmatched. It is a supernatural, spiritual, overcoming walk for those who will pay the price to exercise themselves in the Word as a "partaker of the divine nature." [We are a gun, and the "Word" is the ammunition. ]

JESUS IS THE DELIVERER
DON'T STOP HERE! SEE OUR INDEX FOR MORE ARTICLES.
THERE IS NO HATE, MALICE, RACISM, ETC. ON THIS SITE. THESE ARE SINS IN THE EYES OF GOD, AND ARE ALSO DEMONS. THE BIBLE MAKES IT CLEAR THAT SIN CANNOT GET INTO HEAVEN.