THE BLOOD OF JESUS CLEANSES YOU FROM ALL SIN AND GUILT (1 JOHN 1:7). JESUS IS THE DELIVERER!!

DEMONBUSTER.COM
DELIVERANCE MANUAL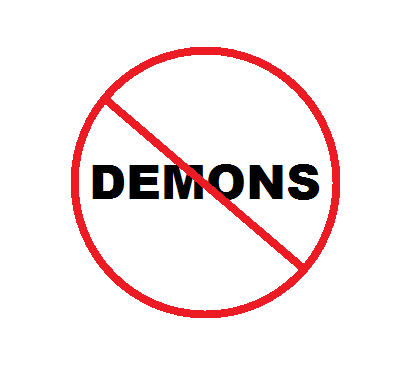 NO DEMONS ALLOWED

PASSIVE MIND, AND MIND CONTROL
THE DEVIL'S WORKSHOP

MIND CONTROL

Warfare and Your Mind
Your mind is the battlefield, however, the Lord has provided for your DELIVERANCE. You have to take authority over the demons in your mind and cast them out in Jesus' Name. As you are going through DELIVERANCE be sure to study the scriptures to know what the Lord Jesus has said about your mind so you will be able to stay free from the demons. Doubt, fear, some t.v. programs, ungodly music, cares, negative thoughts, worry, are some of the things that opens the door for the demons to come into your mind.
Luke 8:14 "And that which fell among thorns are they, which, when they have heard, go forth, and are choked with cares and riches and pleasures of this life, and bring no fruit to perfection."
Ephesians 6:11 "Put on the whole armor of God, that ye may be able to stand against the wiles of the devil."
Ephesians 6:17 "And take the helmet of salvation..."
To receive DELIVERANCE you must be a believer. John 14:12, Mark 16:17
Part of your warfare and DELIVERANCE is breaking the bondage over your conscious, subconscious, and unconscious mind. Command all bonds of serpents, chains, cords, metals, etc. to be cast off, cut off and removed in Jesus' Name.
Leviticus 26:13 "I am the Lord your God, which brought you forth out of the land of Egypt, that ye should not be their bondmen; and I have broken the bands of your yoke, and made you go upright."
Break ungodly soul ties from everyone. Godly soul ties are formed and are good, but when the ungodly soul ties are formed, people control you and you are not free to go forward with the Lord. Mothers with children, pastors, teachers, friends, husbands, wives, etc. these are a few of the people with whom you could have an ungodly soul tie with. Remember, if there is not an ungodly soul tie then you have done nothing by breaking it. However, if there is an ungodly soul tie and you don't break it - it could cost you a lot! Pray this. Father, in Jesus' name I break all ungodly soul ties with (name). That's how simple it is.
Circumcise ungodly thoughts in Jesus' name. This is a major part of warfare and DELIVERANCE of your mind. Thoughts of fear, dread, terror, lust, hate, etc. Any thought that you know Jesus would not give you - circumcise it in Jesus' name. It works! Praise God! In Jesus' name I circumcise all ungodly thoughts, thoughts of fear, worry, anxiety, hate, etc. That's how simple it is.
Colossians 2:11 "In whom also ye are circumcised with the circumcision made without hands, in putting off the body of the sins of the flesh by the circumcision of Christ." IT IS A SPIRITUAL THING. The carnal mind cannot comprehend the things of God - they have to be spiritually discerned.
II Corinthians 10:5 "Casting down imaginations, and every high thing that exalteth itself against the knowledge of God, and bringing into captivity every thought to the obedience of Christ." How do you do this? Circumcise the thoughts. "In the name of Jesus' I circumcise all ungodly thoughts and command you to leave in Jesus' name. That's how simple it is.
I. Thessalonians 5:8 "But let us, who are of the day, be sober, putting on the breastplate of faith and love, and for a helmet, the hope of salvation." Yes, when all is said and done - our faith in the Lord Jesus Christ is the only thing that will be left.
Philippians 4:6-8 "Be careful for nothing; but in every thing by prayer and supplication with thanksgiving let your requests be made known unto God. And the peace of God, which passeth all understanding, shall keep your hearts and minds through Christ Jesus. Finally, brethren, whatsoever things are true, whatsoever things are honest, whatsoever things are just, whatsoever things are pure, whatsoever things are lovely, whatsoever things are of good report, if there by any virtue, and if there be any praise, THINK on these things."
If you are having trouble and you cannot THINK on these things, cast the demons out of your mind and you will be able to THINK on these things instead of: I don't want to go to work; I can't do this; I don't want to live; I'm afraid, scared; I hate this, her, him, them, etc.
Repent, break and renounce all legal holds or legal grounds which demons of Mind Control have. Those known about or not known - may have passed through the bloodline.
Break Mind Control holds or ungodly soul ties from: names of family members, past or present friends (all living or dead), doctors, psychologists, psychiatrists, psychics, pastors, teachers, etc. Remember to forgive them. Unforgiveness is a legal right for demons to be in you and stay.
Repent, break and renounce any Mind Control manipulations you may have done knowingly or unknowingly toward anyone (name them).
Repent, break and renounce any groups, religions, occult practices or groups, music groups or individuals you may be controlled by.
Cast out Demons: In Jesus' name I command Fear, Mind Control, Manipulation, Occult, names of music groups or individuals, hate, anger, bitterness, unforgiveness, forgetfulness, fearfulness, anxiety, confusion, envy, jealousy, gossip, compromise, cravings, mental illness, depression, hopelessness, despair, addictions, lust, torment, terror, fears of all kinds, fear of dark, fear of people, fear of demons, fear of elevators, fear of heights (this list goes on and on), etc. to come out of me now. Keep commanding them to come out until you are free. The way that you know you have received DELIVERANCE is that you don't have those thoughts anymore! Amen.

"Loose angels in the heavenlies to go and bind any demons which would hinder the meetings or block the people from being able to get in to them. We have found this to be quite effective for the meetings and it frees the speaker from the attacks of the enemy so that he can concentrate on the messages. (Hint, Hint)
This past month has hit many in our area with attacks to the mind, confusion, insanity, inability to concentrate, mind control attacks, headaches, coupled with fear, are but some of the more common symptoms. Mind control, witchcraft and religious spirits, especially Catholicism and word faith, seem to be behind most of the attacks.
It is important to remember that the battlefield is the mind, and also the necessity to cast down every imagination and to bring captive every thought to the obedience of Christ. (2 Corinthians 10:5) Just tell the demons to shut up, (Loose an angel to put a gag in their mouth helps), and tell them your taking your thoughts captive to the obedience of Christ and casting down the imaginations they are feeding your mind. It helps to replace their thoughts with Scripture songs as it gives your mind something stronger to fight back with.
If you are having problems thinking in circles instead of thinking straight, (one idea building on another instead of going around and around), don't overlook the eastern religion spirits. Hinduism, new age, etc. These spirits will block one from thinking logically and they make it extremely hard for others to understand what it is you're trying to communicate.

FROM ANOTHER MINISTRY:
MIND CONTROL
DEMONS: Psychic Power, Psychic Prayer, Mind Control, Mind Control Occult, Witchcraft and Soul Ties.
Nullify the present and future sending patterns of the above listed demons. An intensified binding and losing attack on the main source sending these patterns can prevent transmission of control. Surround the person with a spiritual shield and angels. Ask the Lord to seal off the knowledge of this person's brain wave patterns from the devil. Command that their normal patterns not be tampered with and sever all channels between the person and sender. Close all open channels with soul ties of friends. Block invisible waves transmitted, claim restoration and healing of any damage to normal brain wave patterns.
Pray that the person be restored to the body of Believers, sealed off from Satan and empowered to serve only the Lord JESUS Christ.
Mind Control is the prime root cause for failure to and refusal to ask for spiritual gifts. Beelzebub interferes with the correct operation of the gifts. Ask JESUS to reveal the primary root cause. Ask the Lord to loose spirits of Joshua and Caleb.
Take full control, power and authority over Mind Control. The Spirit of False Prophet is against true Christians and the DELIVERANCE Ministry.
Mind Occult will provide a powerful pulling force to readmit a demon who was cast out. Seal off this power with the Blood of JESUS.
Bind Mind Control and break his control over the demons of lust, greed, anger, bitterness, pride, etc.
Objects, such as rings, become channels of psychic attack. Mind Control will keep you from walking in faith, operating in the Gifts of the Holy Ghost and believing God's Word. Romans 10:17 "So faith comes by hearing [what is told], and what is heard comes by the preaching [of the message that came from the lips] of Christ (the Messiah Himself)".
Legal grounds of Mind Control could be a curse and spirit of witchcraft. FASTING will break the power of the demons. Isaiah 58:6 "[Rather] is not this the fast that I have chosen: to loose the bonds of wickedness, to undo the bands of the yoke, to let the oppressed go free, and that you break every [enslaving] yoke?"
Curses: With daily binding and losing we can revoke and break all curses. RESIST AND COUNTER ATTACK!

PASSIVE MIND
FROM ANOTHER MINISTRY
Webster's definition - PASSIVE MIND: Receiving impression from external agents - not acting - being the objective of the action rather than the subject.
The passive mind does not accept completely the Word of God as Truth therefore it is always questioning and wondering. This questioning and wondering weakens the will, causing the person to be slow to obey God. This is the cause of most of the instability we see in Christians today. It causes us to be unsettled in our minds. God's purpose within is to establish and settle us (I Peter 5:6-11). If we refuse to stand against the devil, God cannot strengthen us.
Active Mind: The active mind studies and tests God's word, see it work, believes it, accepts it, trust it, and relies on it. It is continually learning more of God's will and obeying his precepts. How do you know a Christian? By watching him do what God has said in the Bible for him to do.
Mental passivity includes in its descriptive words: unreasoning, inactive, unenthusiastic, unresponsive, unqualified obedience to the commands of another, lawful or unlawful. (Mark 4:24 - futile mind; Ephesians 4:17-19 - seducing pastors or teachers who patronize you to get you on their side, many times opposing God's word; Romans 6:16 - You will become the slave of whomever you yield your mind to obey.) A person who does not successfully complete earthly duties shows mental passivity.
Consider and read these scriptures: Jeremiah 12:5; Romans 12:1-2; Ephesians 4:17-32; Philippians 2:13.
CAUSES OF THE PASSIVE MIND:
Manipulation by Jezebelic mother or father, and Ahab mother or father.
Ignorance of spiritual commandments given in the Old and New Testaments. (You can not depend on the pastor or evangelist to teach you God's word. Read and study and find out for yourself what the word says.)
Looking back and using the same method of drawing conclusions.
Draining mental energy by constant recriminations and unproductive activity of worrying, plotting and planning.
A quiet mind is at peace and resting in the Lord with full confidence in God even in times of trial. A passive mind is always active "spinning wheels" with thoughts running rampart through it jumping from one thing to another, almost never at peace or rest.
To a passive person, Philippians 2:3 means that God will work everything out for me. God does the willing and doing.
To an active person, Philippians 2:3 means that God will work in me as I obey His commandments and line myself up with His Will. Then His good pleasure is done in and through me.
Have you prayed for God to do something and it did not happen the way you thought or the way the preacher say it should happen. You need to find out for yourself what God's word says. His word is truth and we have become passive in our thinking and instead of knowing what the Word of God says we just consider what the preacher said. For example: Christians can't have demons. That's not what the Word of God says. JESUS himself said, "out of the hearts of men come evil..." Have you prayed for a certain job and didn't get it. Then you blame JESUS or think that He doesn't love you. That's a passive mind and a lie from satan.
We must repent, change our mind and change our conduct. The battle for our minds began in the Garden of Eden with Adam and Eve. In Matthew 3 we see the contrast between the minds of those obeying God and those in disobedience; II Corinthians 4:4, following the god of this world brings a blinded mind. Genesis 3:1-6, doubt, unbelief, questioning God, adding to what God has said brings instability. Romans 6:16, results of yielding to wrong person or attitudes, etc.
The passive mind is blind to the Word of God. In a Christian, the passive mind will hear and accept the devil's opinions about life and its situations. It looks at them in the devil's light rather than the Light of God. It uses great swelling words to argue with God - "But God".
An active mind should get stronger as it matures. An inactive mind desires to do these things but does very little (II Corinthians 4:16).
Deuteronomy contains the formula for the correct use of mind and heart. Deuteronomy 4:9, set your mind to remember what God has done; 4:29, seek God with your whole heart; 4:39, recognize that the Lord is God in heaven and on earth; there is no other; 4:29, fear God and keep His commandments; 6:5, love God with your entire being; 6:6, God's words shall be first in your mind and heart, etc.
CHARACTERISTICS OF THE PASSIVE MIND:
Passive Will - indecisive, torture of mind, embarrassment.
Passive Mind - inactive mind, hesitation, rashness, lack of concentration, lack of judgment, bad memory.
Passive Imagination - gazing, evil gazes, dulled vision, bound mind, can't think.
Passive Judgment - can't make a clear judgment on issues, misuses the verse on judge not. Many do not realize they are to judge every prophecy, fruit in our lives and in the lives of others, etc.
Passive Reason - closed mind, evil positiveness, infallibility.
Passive Conscience - moral degradation, moral stagnation, retrogression in life and service, false voice of God, false reasoning.
Passive Spirit - wrong thoughts, wrong spirit, inactive spirit, faint spirit, bound spirit, filthy spirit, mixed condition, impure spirit, absolutely powerless spirit, bound use of TONGUES, no liberty, wrong mental conclusions, mixed feelings about God, soulish spirit, quenching spirit, ignoring spiritual truths.
Passive Body - cessation of consciousness, passive sight, passive hearing, passive smell, passive taste, passive feeling, dulled consciousness, dead consciousness, unconscious habits, repulsive habits, peculiar habits, lethargy.
Passive Whole Man- dormant affections, dormant bodily needs, severity to body, indulgence of flesh, stoical feelings.

PARTIAL LIST OF DEMONS TO CAST OUT, IN THE NAME OF JESUS:
(Some of the above names may be repeated)
Rebellion, Passive Mind, Fleshly Mind, Immorality, Impurity, Indecency, Sorcery, Mind Control Drugs, Enmity, Strife, Jealousy, Anger, Ill Temper, Party Spirit, Peculiar Opinions, Moral Stagnation, Stoicism, Filthy Minded, Glutton, Weak Willed, Unlawful, Lack of Concentration, Retrogression, Listlessness, Lethargy, Skepticism, Indecision, Drugs, Mental Stagnation, Incoherence, Hesitation, Tortured Mind, Backsliding, Unsettled Mind/Emotions, Idiosyncrasies, Futile Mind, Evil Plotting/Planning, Intimidation, Doubt, Unbelief, Indecision, Worry, Forgetfulness, Heresies, Envy, Drunkenness, Carousing, Depressing, Despondency, Defeatism, Doubt, Dejection, Despair, Discouragement, Gloom, Burden, Disgust, Withdrawal, Daydreaming, Pouting, Fantasy, Pretension, Unenthusiastic, Unreality, Escape, Deceit, Importance, Believing Lies, Demonic Manipulation, Restless, Darkened Mind, Spiritism Spirits, Excessive Talking, Pushing to Extremes, Uncontrolled Will, Attitude of Infallibility, Inability to Reason, Lazy, Unteachableness, Spirit of Division, Antagonism to Truth About Evil Spirits, Lack of Moral Vision or Judicial Balance, Oppression of Self and others, Believing Teachings of Demons, Exaggerated View of Self (Good or Bad), Unqualified Obedience to Demons, Counterfeiting God, Presence of God, Divine, Human, Angelic and Satanic Things, Supernatural Visions and Voices, Dread, Compromise, Hopelessness, Self-seduction, heaviness, fear of failure, nervousness, unbelief, tension, mental illness, madness, senility, schizophrenia, paranoia, carelessness, suspicion, false love, fear of women, fear of men, distrust, automatic failure, confusion, frustration, self-righteousness, arrogance, lying, recriminating, unrepentant, blinded mind, mind control, excuses, dissension, not making decisions, pride, inability to listen, nerve irritation, evil positiveness, prejudice, procrastination, insomnia, roving, morbidity, maniac, apprehension, self-deception, unfounded fears, self-delusion, pride, occult spirits, Spiritism spirits, mind idolatry, intellectualism, rationalization, unholy laughter, ego, vanity, hate of men/women, hysteria, mockery, haughtiness, unresisting to evil, unresponsive to God, unproductive behavior, reprobate mind, cult spirits, excessive weeping, shame, embarrassment, emotionalism, rage, unrelaxd mind, vain imaginations.

Scriptural reading for Passive Mind: II Kings 4:8-25; Proverbs 2:2-7 3:5-10; 3:13-14, 24; 6:4-11; 17-18; 10: 9-20; Isaiah 26:3; 20:15-17; 55:8-9; Jeremiah 12:5; Daniel 6:14-23; Malachi; Matthew 3:2; Luke 1:27-38; 9:25-26; Romans 1:28; 6:16-19; 8:6-7; 10:12; 12:1-3; II Corinthians 4:4, 16; 10:3-5; 5:23; Galatians 5:24; 6:3-7; Ephesians 4:7; 17-20;21-24, 32; Philippians 3:13; 4:6-8; Colossians 1:21-23; 3:2; II Timothy 1:7; 2:21-26; James 1:7; I Peter 1:13; 4:7; 5:7-8; II Peter 3:1

JESUS IS THE DELIVERER
DON'T STOP HERE! SEE OUR INDEX FOR MORE ARTICLES.
THERE IS NO HATE, MALICE, RACISM, ETC. ON THIS SITE. THESE ARE SINS IN THE EYES OF GOD, AND ARE ALSO DEMONS. THE BIBLE MAKES IT CLEAR THAT SIN CANNOT GET INTO HEAVEN.