-- This is NOT the website of Gene Moody. It is the website of DEMONBUSTER.COM.

THE BLOOD OF JESUS CLEANSES YOU FROM ALL SIN AND GUILT (1 JOHN 1:7).
JESUS IS THE DELIVERER!!

DEMONBUSTER.COM
GENE AND EARLINE MOODY
DELIVERANCE MANUAL

MAIN PAGE IS AT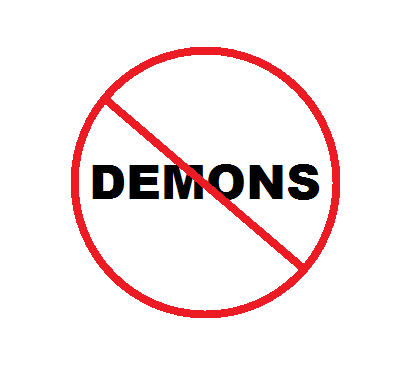 NO DEMONS ALLOWED

PERFECT FAMILY PORTIONS

PREFACE
If you want to have a successful family, you must have godly teaching, deliverance, counseling and discipline. We believe that God considers the family more important than the church! If you want godly churches, you must have godly families.
The husband is priest and head of the home. It is similar to him being king and her being queen of the home but he cannot treat the wife as if he is a dictator and she is a slave.
INTRODUCTION
Marriage is the greatest and oldest institution known to man. Marriage was created by God in the Garden of Eden (Gen. 2:24). God performed the first wedding ceremony bringing Adam and Eve together. Marriage was ordained before man had sinned. Home was created during the unblemished state of innocence in Eden. Marriage was in force before man had rebellion in his heart or before he had lost his blessed estate in Eden.
Before there were any parents on this earth, God commanded that a man or woman should leave their fathers and mothers, and cleave to their wife or husband.
Marriage laws pre-date governments, courts or any other human institution.
Revealing His great concern for the home, Christ honored a wedding with His presence, and here He performed His initial and first miracle (John 2:11).
PERFECT FAMILY - COL. 3:18-21
1. Husbands love your wives!
2. Wives submit to your husbands!
3. Children obey your parents!
4. Fathers do not provoke your children!
Fathers do not provoke your children to anger - to become exasperated to anger - to a force contrary to nature.
Memorize and follow these four scriptures. They tell you how to have a perfect family.
PERFECT RELATIONSHIP TO GOD
1. Children submit to parents; wife to husband; husband to Christ; and Christ to God.
2. God and Christ talk about us in Heaven; the Holy Spirit then brings the message to us.
KEY WORDS FOR FAMILY
1. Husbands - Agape Love - to love much (in a social or moral sense): beloved; of the heart; embracing especially the judgment and the deliberate assent of the will as a matter of principle, duty and propriety.
2. Wives - To Obey - be under obedience (obedient), put under, subdue unto, be subject to, be put in subjection under, submit self unto.
3. Children - Honor- (numerous, rich, honorable), to make heavy, weighty, honored.
4. Children - Obey - to hear under (as a subordinate),to listen attentively; to heed or conform to a command or authority; hearken, be obedient to, obey.
SCRIPTURES
FAMILY: HUSBAND ----> WIFE ----> CHILDREN
Read I Cor. 7 and I Pet. 3 which are the duties of the married state.
HUSBANDS
Responsible for the family to Christ; are priests and heads of the house; and must obey Christ. The key word and action is LOVE. A husband should also honor and have knowledge of his wife.
I COR. 7:3 BENEVOLENCE (Act of kindness)
EPH. 5:25 LOVE (1)
EPH. 5:28 LOVE (2)
EPH. 5:33 LOVE (3)
COL. 3:19 LOVE (4)
I PET. 3:7 KNOWLEDGE
I PET. 3:7 HONOR
Knowledge is to know, understand, allow, be aware of, feel, perceive, be resolved, can speak, be sure.
WIVES
Must be in subjection to their husbands in everything. The key word is SUBJECT (SUBMIT).
EPH. 5:22 SUBMIT
EPH. 5:23 HEAD
EPH. 5:24 SUBJECT IN EVERYTHING (1)
EPH. 5:33 REVERENCE
COL. 3:18 SUBMIT
I TIM. 2:11 SUBJECTION (2)
I TIM. 2:12 NOT TO USURP AUTHORITY
I PETER 3:1 SUBJECTION (3)
I PETER 3:5 SUBJECTION (4)
I PETER 3:6 OBEYED, CALLING HIM LORD
A husband and wife team is scriptural: Aquila and Priscilla (I Cor. 16:19). The woman should not try to usurp authority over the man or the church.
CHILDREN
Must obey and honor their parents. The key actions are to OBEY AND HONOR.
EXODUS 20:12 HONOR (1)
LEV. 19:3 FEAR
DEUT. 5:16 HONOR (2)
EPH. 6:1-4 OBEY, HONOR (3)
COL. 3:20-21 OBEY (4)
SOME SCRIPTURAL CAUTIONS TO PARENTS
EX. 20:5Idol worship - 3 to 4 generations of spiritual problems.
PSA. 15:4-5Vile person is despised.
PROV. 13:10After pride and insolence comes contention and trouble.
PROV. 18:19A child offended is hard to win or correct.
PROV. 22:8He that soweth iniquity shall reap calamity and failure.
PROV. 28:13He that covereth his sins shall not prosper - confess.
MARK 11:25-26Forgive ought against any or prayers are not answered.
EPH. 4:26-27Neither give place to the Devil; anger = demons.
COL. 3:13Forbearing and forgiving one another; be gentle.
2 THES. 5:22Abstain from every sort of evil.
DUTIES OF A GOOD WIFE
GEN. 2:18-25Help meet means counterpart, to complete, adaptable.
GEN. 3:16Desire shall be to husband.
PROV. 1:8Mothers should teach children.
I COR. 7:3-5 " 15-16Duties of the married state.
I COR. 11:1-7Covering of head and head of woman.
I COR. 14:34-35Women are forbidden to speak in church.
EPH. 5:21-24Duties of wives.
EPH. 6:1-9Duties of children and servants.
COL. 3:18Duties of wives.
I TIM. 2:9-15Women are not permitted to teach.
I TIM. 3:11-13Qualifications of wives.
I TIM. 5:9-15Rules for widows.
I PETER 3:1-6Old women to teach young women.
Duties of wives to love husband and God: subjection, conversation, hidden man of heart, meek and quiet spirit, trust God, called him lord, fit in, pure behavior, Godly lives, beautiful inside, gentle and quiet spirit, obey husband and honor him.
Summary
Bear children; bring-up children well, welcome husband's affections; husband is master; wife is responsible to husband; allow non-Christian mate to leave; marry only once; no longer has full right to her own body; be silent during church meetings; quiet and sensible in manner and clothing; live kind, good and loving lives; listen and learn quietly and humbly; be clean minded, not heavy drinkers, gossipers, lazy and nosey; be thoughtful and faithful, respectful and sensible; take care of homes; spend time there; help those who are sick or hurt; teach goodness; train younger women; and love husband and children.
SONG OF SOLOMON
A picture of Christ's love for the Church which should be a picture of the husband's love for the wife (EPH. 5:32, II COR. 11:2, REV. 21:2).
Read the whole book of Song of Solomon.
HUSBANDS AND WIVES ARE "ONE FLESH"
GEN. 2:23-25Cleave unto his wife and be one flesh.
GEN. 31:14-16Stranger in parents' home.
PS. 45:8-12Forget parents and own people.
MATT. 19:4-6Cleave and one flesh.
MARK 10:5-9Cleave and one flesh.
I COR. 6:13-17One flesh with a harlot or one spirit with God.
EPH. 5:31-32One flesh with mate.
Cleave: Cling, adhere, catch by pursuit, abide fast, cleave fast together, follow close hard after, be joined together, keep fast, overtake, pursue hard, stick, take. One: First, agree, one another.
PROVERBS TALKS ABOUT MEN AND WOMEN
2:16-22Safety from company of an evil woman.
5:15-20Be happy with wife.
6:20-35The mischief of whoredom.
7:1-27The cunning of a whore.
9:13-18The error of folly of a foolish woman (I Thes. 5:22)
11:22 Moral virtues and their contrary vices.
12:4 Moral virtues and their contrary vices.
14:1 Moral virtues and their contrary vices.
18:22 Moral virtues and their contrary vices.
19:13-14Moral virtues and their contrary vices.
21:9 " 19Moral virtues and their contrary vices.
22:14Moral virtues and their contrary vices.
23:26-28Moral virtues and their contrary vices.
25:24 Sundry maxims and observations of Solomon.
27:15-16Sundry maxims and observations of Solomon.
29:3 Sundry maxims and observations of Solomon.
30:20Sundry maxims and observations of Solomon.
31:2-3King Lemuel's lesson of chastity and temperance.
31:10-31The praise and properties of a virtuous woman.
Read the whole book of proverbs.
ABORTION
PS. 139:13-16We are made by God.
ISAIAH 29:15-16Potter and the clay.
ISAIAH 42:5God gives us breath and spirit.
ISAIAH 43:1 " 7Called thee by thy name.
ISAIAH 44:24Formed thee from the earth.
ISAIAH 45:9 " 12Created man upon the earth.
ISAIAH 49:1 " 5Made mention of my name in the womb.
ISAIAH 63:16Father is the lord.
ISAIAH 64:8Works of thy hand.
WE ARE GOD'S WORKMANSHIP
JER. 1:5Knew, sanctified " ordained before conception.
MATT. 1:20-21Conceived by Holy Ghost.
LUKE 1:15 " 41Filled with Holy Ghost in womb.
ROMANS 9:20-21God formed us.
GAL. 1:15-16Separated by God from mother's womb.
EPH. 2:10Christians are workmanship.
Abortion is murder and we have no right to take a child's life. We are created by God for his purpose; not ours.
ADULTERY
EX. 20:14Adulterer and adulteress.
LEV. 20:10Adulterer and adulteress put to death.
PROV. 6:32-33Put to death - woman breaketh wedlock.
MAL. 3:5Put to death - woman breaketh wedlock.
MATT. 5:27,28,32Commit adultery with divorced woman.
JOHN 4:17-18Five husbands - no husband now.
I COR. 6:15-20Adultery, fornication, sin, harlotry.
GAL. 5:16-21Lasciviousness, fornication, uncleanliness, adultery.
HEB. 13:4Bed is undefiled - God will judge whoremongers.
JAMES 4:4Adulterers and adulteresses.
Ten Commandments: Thou shalt not commit adultery. Adulterer and adulteress are equally guilty.
DIVORCE
DEUT. 24:3-4Going back to former husband after living with another.
MAL. 2:14-16Dealing treacherously with wife.
MATT. 5:31-31Except it be for fornication.
MATT. 19:3-9Except it be for fornication.
MARK 10:11-12Adultery - put away mate and marry another.
LUKE 16:18Commit adultery thru remarriage.
ROMANS 7:1-3Adulteress if husband is living.
I COR. 7:10-17, 20, 24Bond should not be lightly dissolved.
Divorce now affects at least one out of two families and one out of two remarried families also. Frequently a person has multiple divorces. The percentage of divorce will continue to increase in the future. There is only one way to stop divorce, and that is for the family to learn and obey the Holy Bible.
Summary
1. Do not commit fornication before marriage.
2. Get married and do not commit adultery.
3. Do not get divorced except for adultery. If possible, forgive mate and live in peace.
4. If divorced, do not get remarried, or go back to same mate after not fornicating with others.
5. If mate is put away for adultery, mate can remarry without committing adultery. Do not marry a divorced woman.
WINNING THE MATE TO THE LORD
I COR. 7:12-16Duties to unbelievers.
I PETER 3:1-7Duties to each other.
Otherwise, simply live a Christian life so that an unbeliever would want what we have.
FORBIDDEN TO MARRY UNBELIEVERS
GEN. 24:3Looking for a wife for Isaac.
GEN. 28:1Looking for a wife for Jacob.
DEUT. 7:3Heathen.
EZRA 9:12Strange marriages - Heathen.
NEH. 13:25Strange wives
II COR. 6:14Unequally yoked together with unbelievers.
II COR. 6:17Unclean things - unbelievers.
EPH. 5:11Have no fellowship with works of darkness.
Unbelievers are strange to Christians and should be avoided in marriage.
VARIOUS SCRIPTURES ABOUT FAMILY
GEN. 2:18Help meet for the man.
GEN. 29:32Bearing children desirable for the wife.
LEV. 21:7Priest's wife should be holy.
ESTHER 1:20Honor husbands.
ISA. 54:5God is husband of widow.
JER. 31:32God is husband of Israel.
JOHN 2:11Wine for the wedding.
I TIM. 3:2 " 12Husband of one wife.
TITUS 1:6Husband of one wife.
DUTIES OF HUSBAND
GEN. 31:50Not to afflict wife.
EX. 10:2Instruction to children.
DEUT. 4:9-10 " 11:19Instruction to children.
PS. 78:3-8Instruction to children.
PROV. 1:8Fathers should instruct sons.
PROV. 22:6Instruction to children.
PROV. 13:24; 19:18; 22:15; 23:13-14; 29:15-17 Correction of children.
I COR. 11:3Head of home.
EPH. 6:4Correction not to be unjust.
COL. 3:21Correction not to be unjust.
I TIM. 5:8Provide for family; have responsibility for finances.
REV. 1:6; 5:10 " 10:6Priests of God.
DUTIES OF A GOOD HUSBAND
Husband to love and honor your wife, do not provoke your children, priest and head of family, obey Christ, cleave unto wife and become one flesh, be happy with wife, give instruction and correction to children, provide for family, enjoy wife sexually and welcome her affections, allow non-Christian mate to leave, marry only once, no longer has full right to his own body, be kind to and have knowledge of wife, follow instructions of the Bible and live a Christian life.
HUSBANDS ARE PRIESTS AND HEADS OF HOMES
Husbands command household to keep way of Lord, tell the sons, teach the children, talk about the Bible, house will serve the Lord, our fathers told us, correct children's behavior and do not provoke children.
Husband to rule over wife, is lord of wife and head of woman. Wife is under obedience to husband, subject to husband in everything, to submit to husband and not to usurp authority of man.
SEXUAL RELATIONS
There should be a joy in your relations to your mate. Pray and ask God to help you achieve satisfaction. You should enjoy your mate and no one else. Desire each other's affections. Your body belongs to your mate. You are one flesh through sex. This part of your body requires regular exercise.
Prov. 5:15-21 Be satisfied with your wife's breasts.
Heb. 13:4 The marriage bed is holy and undefiled.
LIVING THE CHRISTIAN LIFE
Living an effective Christian life contributes to a happy family and proper relationship to God. Overnight, you are not going to become a perfect Christian or have a perfect family. You will work all your life trying to be more like Jesus. You will succeed in the degree that you are willing to work at these tasks.
The ideal is for both husband and wife to be Christians. They should then learn what the Holy Bible says and follow its instructions.
These principles will work even if you are not a Christian. However, they are much harder to apply if you don't have the help of Jesus Christ.

JESUS IS THE DELIVERER