THE BLOOD OF JESUS CLEANSES YOU FROM ALL SIN AND GUILT (1 JOHN 1:7). JESUS IS THE DELIVERER!!

DEMONBUSTER.COM
DELIVERANCE MANUAL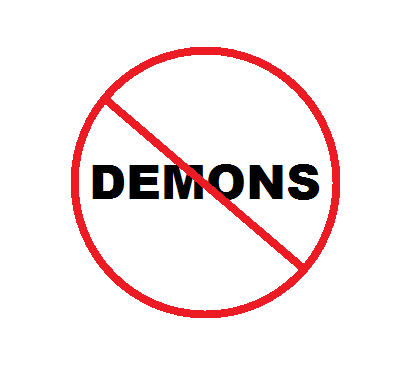 NO DEMONS ALLOWED

PICTURES - COULD BE DEMONIC

We received the following email.
"In two different churches that had picture of supposedly Jesus Christ.
These pictures were given out free at PROMISE KEEPER meetings. The image
is a white hooded Jesus. However as I looked at it from the back of the
church, the face turned into a skeleton! I walked closer and could see
the subliminal painting that was lightly covering the face. Then I
noticed a tiny small light at the top of the hood. What the subliminal did
was to turn this Christ image into the grand reaper!
I pointed this out to the pastor. He took the thing off the wall. Then
he asked me to pray that his spiritual eyes be opened.
Another picture that is being distributed is a wounded lion, bloody.
This picture shows a dove above the lion's head. On closer inspection, I
saw a perfectly formed devil. So, satan is using pictures with devilish
subliminals to blind. They can not see these things unless they are
pointed out to them."

Another Deliverance minister had a child who was having nightmares all the time. They did everything they knew what to do, but no success. Finally the Lord told them to look at the famous picture of the Guardian Angel on a wooden bridge overlooking two children that they had hanging over the child's bed.
Seeing nothing, they put a magnifying glass to it. They found demonic faces in the Angel's wings. When they destroyed the picture, the child had no more nightmares.



JESUS IS THE DELIVERER
DON'T STOP HERE! SEE OUR INDEX FOR MORE ARTICLES.
THERE IS NO HATE, MALICE, RACISM, ETC. ON THIS SITE. THESE ARE SINS IN THE EYES OF GOD, AND ARE ALSO DEMONS. THE BIBLE MAKES IT CLEAR THAT SIN CANNOT GET INTO HEAVEN.