THE BLOOD OF JESUS CLEANSES YOU FROM ALL SIN AND GUILT (1 JOHN 1:7). JESUS IS THE DELIVERER!!

DEMONBUSTER.COM
DELIVERANCE MANUAL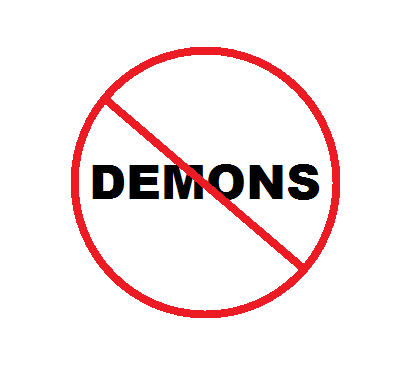 NO DEMONS ALLOWED

PIERCED EARS AND OTHER BODY PARTS
TATTOOS

Leviticus 19:28: You shall not make any cutting in your flesh for the dead, NOR print (tattoo) any marks upon you: I am the Lord.
Piercing your ears or other body parts could bring on sickness, diseases, and other problems (by the demons). Bell's Palsy and sexual problems are two known problems, as reported from other Deliverance ministries and this email -
"Regarding your article on pierced earrings, I am living proof that this
opens you up to bells palsy. I just recovered from bells palsy. I got BP
because of wearing pierced earrings. Needless to say, I
destroyed all of my pierced earrings. Please continue to warn others."
This also pertains to tattoos, needles, knives, razor blades, and anything that pierces the skin.
According to Bible History, the only people who had pierced ears/nose were sorcerers, prostitutes, and slaves. Because of this origin, you should not pierce your skin.
Hosea 2:13 And I will visit [punishment] upon her for the feast days of the Baals, when she burned incense to them and decked herself with her earrings and nose rings and her jewelry and went after her lovers and forgot Me, says the Lord.
Exodus 21:5-6 But if the servant [slave] shall plainly say, I love my master, my wife, and my children; I will not go free, then his master shall bring him to God [the judges as His agents]; he shall bring him to the door or doorpost and shall pierce his ear with an awl; and he shall serve him for life.
Deuteronomy 15:17 Then thou shalt take an awl, and thrust it through his ear unto the door, and he shall be thy servant for ever.
Too late now? Just ask the Lord to forgive you, and break any curses you placed on yourself. Now throw those pierced earrings or whatever away, and in the name of Jesus, cast out any demons that may have entered you because of the breaking of the skin.

A book by William Sudduth, WHAT'S BEHIND THE INK is highly recommended. "Tattooing, body piercing and other fads thoroughly and convincingly exposed."
Available from THE CHILDREN'S BREAD MINISTRY, PO BOX 789, PLAINVIEW, TX 79073-0789 www.thechildrensbread.net for $9.00.

JESUS IS THE DELIVERER
DON'T STOP HERE! SEE OUR INDEX FOR MORE ARTICLES.
THERE IS NO HATE, MALICE, RACISM, ETC. ON THIS SITE. THESE ARE SINS IN THE EYES OF GOD, AND ARE ALSO DEMONS. THE BIBLE MAKES IT CLEAR THAT SIN CANNOT GET INTO HEAVEN.